Anne Klein designer Vogue pattern V1325 Misses' Jacket, Pants and Blouse - new and uncut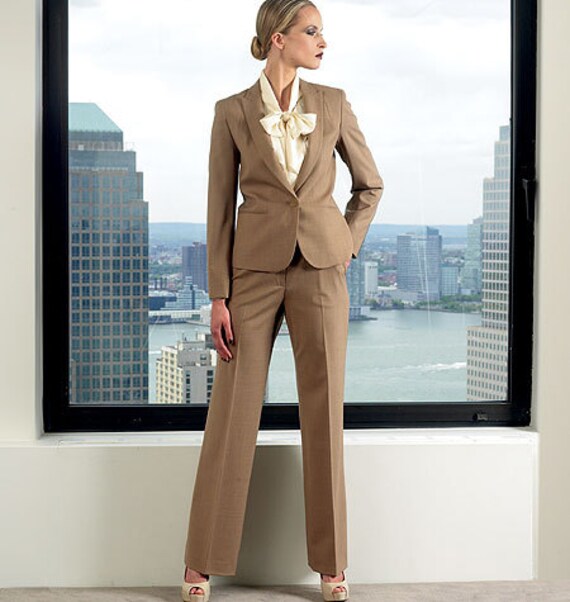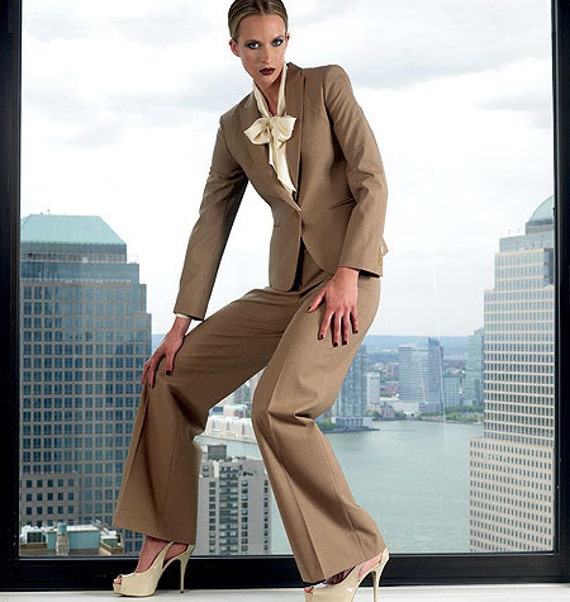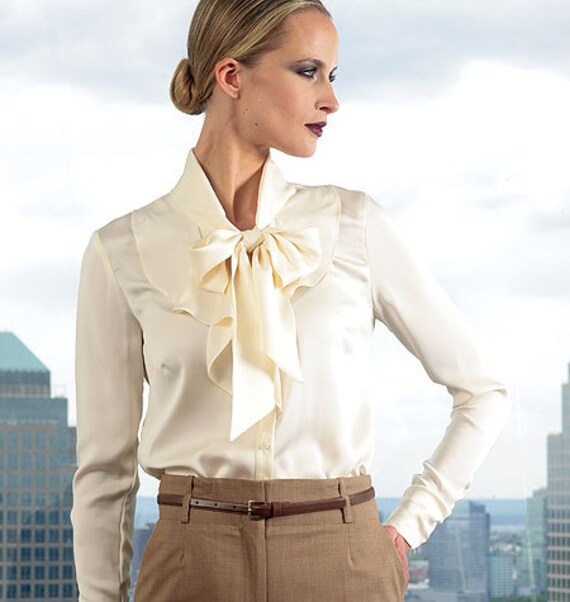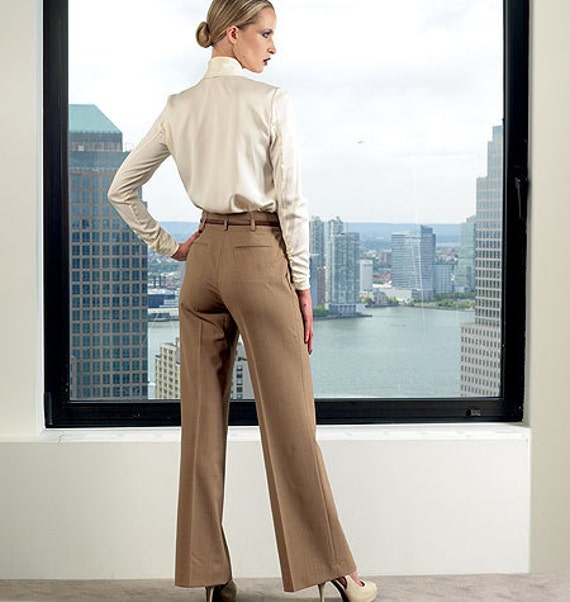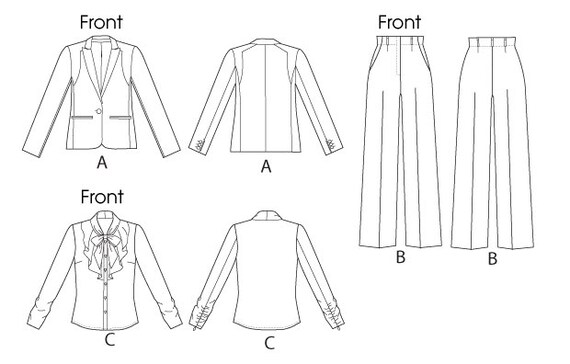 Preparation takes 1-2 business days
Arrives from the United States
---
Item details
This is a brand new, uncut, Vogue Pattern designer original by Anne Klein of New York. It is an Advanced sewing rating meaning: The finest patterns featuring the best of European and American Couture. Perfect for those who like the sewing challenge of professional tailoring and fine couture techniques. Expect intricate fashion shaping, hidden construction details, couture inner construction, fine touches of hand sewing and bias draping.

Pattern: UNCUT, folded in separate pieces
Instructions: Included
Envelope / Sleeve: Great to Excellent Condition

***Listing is for a sewing pattern, not a completed item.***

***Photos are of the design / pattern you will receive.***

MISSES' JACKET, PANTS AND BLOUSE: Fitted, lined jacket has collar, shoulder pads, yokes, side panels, no side seams, welt pockets, and two-piece sleeves with vent/button/buttonhole trim. Semi-fitted, slightly flared pants have raised waist with mock band, carriers, side front pockets, and fly front zipper/hook closure. Purchased belt. Bias, self binding finishes waist facing. Semi-fitted blouse has bias collar extending into tie ends, single-layer flounce (wrong side shows) with very narrow hem, french seams, two-piece sleeves with ruching/invible zipper, and narrow hem. Bias binding/neck facing finish neckline and armholes.
FABRICS: A, B: Mens Suiting, Linen, Crepe. C: Charmeuse, Crepe de Chine, Chiffon. Interfacing A, B, C: Nylon Fusible Knit.
Unsuitable for obvious diagonals.
*With Nap. **Without Nap.
NOTIONS: A: 1/2" Shoulder Pads, One 7/8" Button, Six 3/4" Buttons. B: 7" Zipper, Two Hook & Eye Closures, One 1/2" - 11/4" Purchased Belt. C: Seven 1/2" Buttons, Two 7"/9" Invisible Zippers.
Combinations: A5(6-8-10-12-14), E5(14-16-18-20-22)
Fabric widths given in inches.
SIZES 6 8 10 12 14 16 18 20 22
A
45"*/** 23/8 23/8 23/8 23/8 23/8 23/4 23/4 23/4 23/4 yds
60"*/** 13/4 13/4 13/4 13/4 13/4 21/8 21/8 21/8 21/8 yds
NYLON FUSIBLE KNIT INTERFACING A
18", 20" 4 41/8 41/8 41/8 41/4 43/8 41/2 45/8 43/4 yds
LINING A
45" 11/2 11/2 11/2 17/8 17/8 17/8 17/8 2 2 yds
B
45"*/** 23/4 23/4 23/4 23/4 23/4 23/4 23/4 27/8 27/8 yds
60"*/** 15/8 15/8 15/8 15/8 21/4 21/4 21/4 23/8 23/8 yds
NYLON FUSIBLE KNIT INTERFACING B - 18",20" - 5/8 yd.
LINING B
45" 3/4 3/4 3/4 3/4 7/8 7/8 7/8 1 1 yd
C
45"*/** 3 3 31/8 31/8 31/8 31/8 31/4 31/4 31/4 yds
60"*/** 17/8 2 21/8 21/4 21/4 23/8 27/8 27/8 27/8 yds
NYLON FUSIBLE KNIT INTERFACING C - 18",20" - 3/4 yd.
FINISHED GARMENT MEASUREMENTS
Bust
A 33 1/2 34 1/2 35 1/2 37 39 41 43 45 47 ins
C 36 37 38 39 1/2 41 1/2 43 1/2 45 1/2 47 1/2 49 1/2 ins
Hip
B 36 1/2 37 1/2 38 1/2 40 42 44 46 48 50 ins
Width, lower edge
A 38 39 40 41 1/2 43 1/2 45 1/2 47 1/2 49 1/2 51 1/2 ins
C 37 38 39 40 1/2 42 1/2 44 1/2 46 1/2 48 1/2 50 1/2 ins
Width, each leg
B 22 22 1/2 23 23 1/2 24 24 1/2 25 25 1/2 26 ins
Back length from base of you neck
A 22 1/2 22 3/4 23 23 1/4 23 1/2 23 3/4 24 24 1/4 24 1/2 ins
C 24 3/4 25 25 1/4 25 1/2 25 3/4 26 26 1/4 26 1/2 26 3/4 ins
Side length from waist
B 42 42 42 42 42 42 42 42 42 ins
Fabric widths given in centimeters.
SIZES 6 8 10 12 14 16 18 20 22
A
115cm*/** 2.2 2.2 2.2 2.2 2.2 2.5 2.5 2.5 2.5 m
150cm*/** 1.6 1.6 1.6 1.6 1.6 1.9 1.9 1.9 1.9 m
NYLON FUSIBLE KNIT INTERFACING A
46cm, 51cm 3.7 3.8 3.8 3.8 3.9 4.0 4.1 4.2 4.3 m
LINING A
115cm 1.4 1.4 1.4 1.7 1.7 1.7 1.7 1.8 1.8 m
B
115cm*/** 2.5 2.5 2.5 2.5 2.5 2.5 2.5 2.6 2.6 m
150cm*/** 1.5 1.5 1.5 1.5 2.1 2.1 2.1 2.2 2.2 m
NYLON FUSIBLE KNIT INTERFACING B - 46cm, 51cm- 0.6m
LINING B
115cm 0.7 0.7 0.7 0.7 0.8 0.8 0.8 0.9 0.9 m
C
115cm*/** 2.7 2.7 2.9 2.9 2.9 2.9 3.0 3.0 3.0 m
150cm*/** 1.7 1.8 1.9 2.1 2.1 2.2 2.6 2.6 2.6 m
NYLON FUSIBLE KNIT INTERFACING C - 46cm, 51cm- 0.7m
FINISHED GARMENT MEASUREMENTS
Bust
A 85 88 90 94 99 104 109 114 119 cm
C 91 94 97 100 105 110 116 121 126 cm
Hip
B 93 95 98 102 107 112 117 122 127 cm
Width, lower edge
A 97 99 102 105 110 116 121 126 131 cm
C 94 97 99 103 108 113 118 123 128 cm
Width, each leg
B 56 57 58 60 61 62 64 65 66 cm
Back length from base of you neck
A 57 58 58 59 60 60 61 62 62 cm
C 63 64 64 65 65 66 67 67 68 cm
Side length from waist
B 107 107 107 107 107 107 107 107 107 cm
---
---
More from this seller
---
Shipping & policies
Preparation takes 1-2 business days
Arrives from the United States
Estimated Shipping
I typically ship patterns the same day or next day but allow for two (2) business days.

***PLEASE MAKE SURE YOUR SHIPPING ADDRESS IS CORRECT. If it is not, and the shipping label has already been purchased, there is no way for me to correct the address on the printed label or refund the cost of shipping.***

I do not ship to USPS unconfirmed mailing addresses. If your address is listed as such, I will contact you and confirm your mailing address before shipment. It is best to double check your address so there are no delays in processing your order.

My shipping prices are a set price for USPS First Class Mail and include the cost of packaging and postage. All patterns are wrapped in tissue paper and sent in a white plastic sleeve. Cost is $3.00 for the first pattern and an additional $1.00 for every pattern thereafter.

I make allowances for those who request Priority Mail or an alternative shipping method at an additional cost.

---
Payments
I accept payments from PayPal and Direct Checkout allowing you the convenience of multiple payment options.
---
Returns & exchanges
I will refund the purchase price if the pattern(s) is misrepresented and you advise me of the problem within 3 business days from receipt/delivery of the pattern(s).

If it arrives damaged, you must keep all of the shipping materials and contact me to file a claim. I will require pictures of the damage emailed to me within 3 business days of reported issue/problem.

If you do not receive the package within a reasonable time, usually 2-5 business days, please inform me so I may take necessary steps to locate your item.

It is your responsibility to advise me as soon as possible, within 3 business days, if you are dissatisfied.

No returns or refunds honored for 'change of mind', 'purchased wrong size', etc., or any other reason not pertaining to a misrepresentation...All sales are final.


---
Additional policies
The most frequently asked questions are the following:

Q: Do I ship Internationally?
A: Yes, I will ask you for the pattern number(s) you are interested in and provide a shipping quote. If you are satisfied with the price quote I then open the pattern(s) you are interested in for purchase to your country.

Q: Are the patterns authentic and brand new?
A: Yes, they are authentic brand names and are brand new, never used.

Q: Do you offer discounts?
A: Yes, on occasion I offer coupons with varying percentages off. Coupons are redeemable on your next purchase.