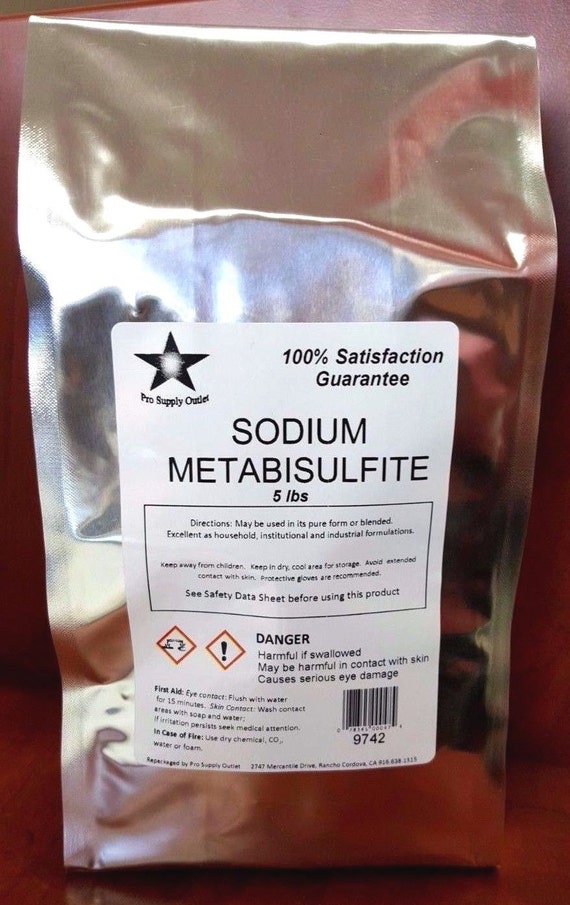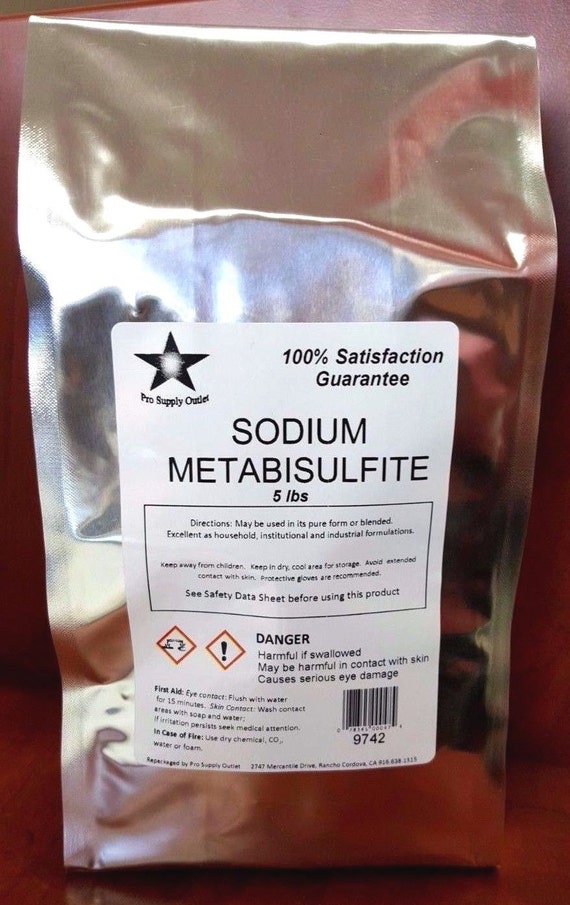 Preparation takes 1-2 business days
Arrives from the United States
---
Features
Made in Rancho Cordova, California
---
Item details
Sodium Metabisulfite 1-30 Lbs Choose your size- High Quality- Fast Shipping- Satifaction Guaranteed!

- 100% Satisfaction guaranteed!!
- Average delivery 1-3 business days via USPS Priority Mail within the US
- High quality material professionally packed in resealable gloss bags to ensure safe delivery!
- Phone orders accepted!! Call us toll free at: 855-248-9059

Description: Sodium metabisulfite or sodium pyrosulfite (IUPAC spelling; Br. E. sodium metabisulphite or sodium pyrosulphite) is an inorganic compound of chemical formula Na2S2O5. The substance is sometimes referred to as disodium (metabisulfite). It is used as a disinfectant, antioxidant and preservative agent.

Uses:
Food additive
It is used as a preservative and antioxidant in food and is also known as E223.

It may cause allergic reactions in those who are sensitive to sulfites, including respiratory reactions in asthmatics, anaphylaxis and other allergic reactions in sensitive individuals. Sodium metabisulfite and potassium metabisulfite are the primary ingredients in Campden tablets, used for wine and beer making. The acceptable daily intake is up to 0.7 mg per kg of body weight. Sodium metabisulfite has no side effects; it is oxidised in the liver to harmless sulfate and excreted in urine.

Sanitization and cleaning agent
It is commonly used in homebrewing and winemaking to sanitize equipment. It is used as a cleaning agent for potable water reverse osmosis membranes in desalinationsystems. It is also used to remove chloramine from drinking water after treatment.

Our Chemical Products are shipped with current globally harmonized Safety Data Sheets and Labeling. Quantities smaller than original package are carefully repackaged and sealed in smaller Foil, Plastic, or HDPE containers. Packaging is designed to minimize shipping costs and give you the best possible value for your compounds, craft making, toiletries and soaps. Shipments are classified ORM-D when applicable. Our packaging meets all US DOT specifications and our shipments are all made with reliable licensed carriers to deliver your high quality product in a timely manner.
Grade Definitions applied by manufacturer to original package are as follows:

U.S.P. / Food Grade: A chemical grade of sufficient purity to meet or exceed requirements of the United States Pharmacopeia (USP); acceptable for food, drug, or medicinal use; may be used for most laboratory purposes.

A.C.S.: A chemical grade of highest purity and meets or exceeds purity standards set by American Chemical Society (ACS).

Reagent: High purity generally equal to A.C.S. grade and suitable for use in many laboratory and analytical applications.

Technical: Good quality chemical grade used for commercial and industrial purposes. Not pure enough to be offered for food, drug, or medicinal use.

N.F.: A grade of sufficient purity to meet or exceed requirements of the United States National Formulary. (Since bought out and merged with the United States Pharmacopeia, USP-NF.)

Lab: A chemical grade of relatively high quality with exact levels of impurities unknown; usually pure enough for educational applications. Not pure enough to be offered for food, drug, or medicinal use.

Purified: Also called pure or practical grade, and indicates good quality chemicals meeting no official standard; can be used in most cases for educational applications. Not pure enough to be offered for food, drug, or medicinal use.

PURCHASE REQUIREMENTS / Terms of sale.

To purchase products you must meet the following criteria. Your order for products represents your confirmation that you meet the criteria and agree to the terms of sale.

I am of legal age.

This item is a consumer commodity that I am using for hobby or other household use.

As the user I understand that I am responsible for determining the suitability of this product for its intended use, and assume all risk and liability whatsoever in connection therewith. The manufacturer and seller make no representation or warranty, including merchantability expressed or implied. Seller and manufacturers' liability from any losses or damages resulting from any cause whatsoever shall in no event exceed the purchase price of this product.

This product will not be used for any illegal purpose.
---
---
More from this seller
---
Shipping & policies
Preparation takes 1-2 business days
Arrives from the United States
Estimated Shipping
---
Returns & exchanges
14 day limit for returns on unused items.