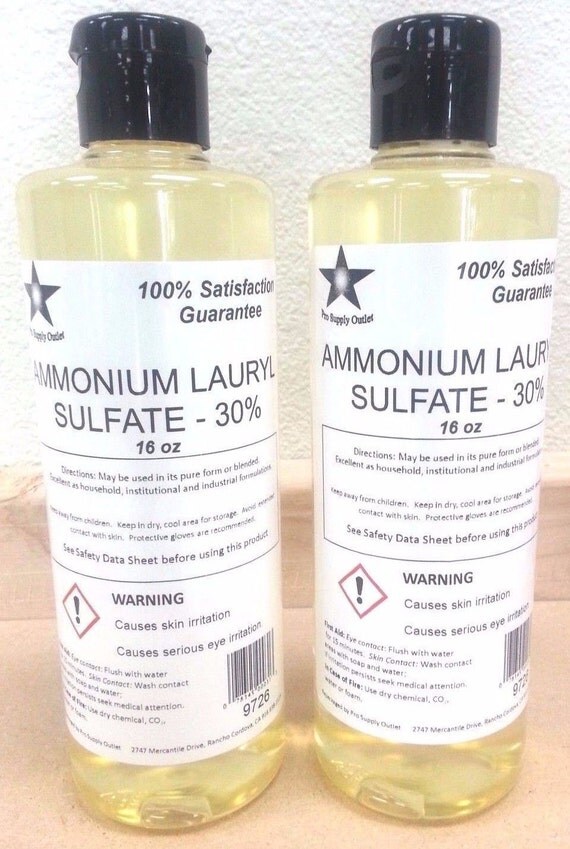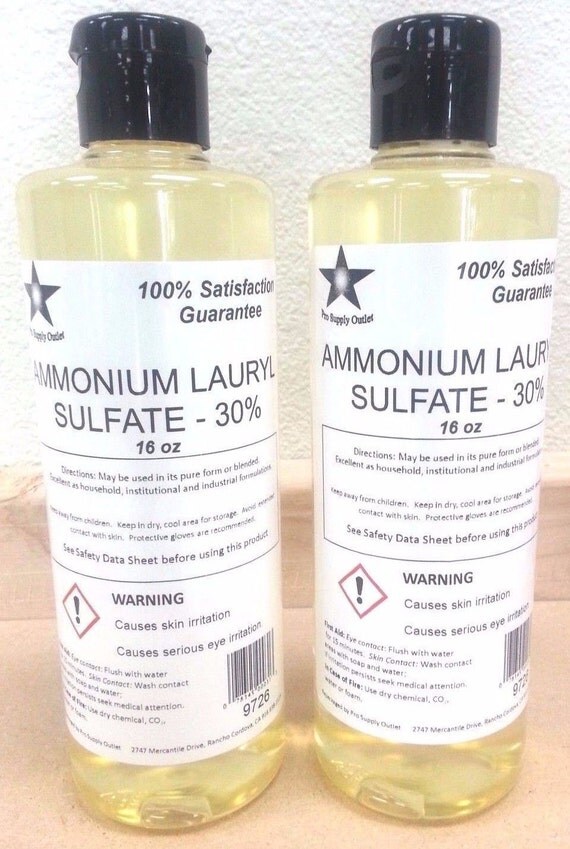 Preparation takes 1-2 business days
Arrives from the United States
---
Features
Made in Rancho Cordova, California
---
Item details
Ammonium Lauryl Sulfate (ALS) 30% Solution - Choose your size

- 100% Satisfaction guaranteed!!
- Average delivery 1-3 business days via USPS Priority Mail within the US
- High quality material professionally packed in resealable gloss bags to ensure safe delivery!
- Questions? Feel free to give us a call toll free at 1-855-248-9059

Description: Ammonium lauryl sulfate (ALS) is the common name for ammonium dodecyl sulfate (CH3(CH2)10CH2OSO3NH4). The dodecyl signifies the presence of a 12-member carbon chain in the molecular backbone which allows the molecule to bond with non-polar portions of molecules while the highly polar sulfate head allows the molecule to bond with polar molecules such as water. ALS is classified as an alkyl sulfate and is an anionic surfactant found primarily in shampoos and body-wash as a foaming agent. Lauryl sulfates are very high-foam surfactants that disrupt the surface tension of water in part by forming micelles around the highly polar water molecules at the surface-air interface.

Action in solution
Like many surfactants, ammonium lauryl sulfate makes a good base for cleaners because of the way it disrupts hydrogen bonding in water. (It is hydrogen bonding that is the primary contributor to the high surface tension of water.) In aqueous (water-based) solutions, the lauryl sulfate anions and the ammonium cations dissociate from each other. Above the critical micelle concentration, the anions then align themselves into a micelle, in which they form a sphere with the polar, hydrophilic heads of the sulfate portion on the outside (surface) of the sphere and the nonpolar, hydrophobic tails pointing inwards towards the center. The water molecules around the micelle in turn arrange themselves around the polar heads, which disrupts their ability to hydrogen bond with other nearby water molecules. The overall effect of these micelles is a reduction in surface tension of the solution, which affords a greater ability to penetrate or "wet out" various surfaces, including porous structures like cloth, fibers, and hair. Accordingly, this allows the solution to more readily dissolve soils, greases, etc. in and on such substrates.

Our Chemical Products are shipped with current globally harmonized Safety Data Sheets and Labeling. Quantities smaller than original package are carefully repackaged and sealed in smaller Foil, Plastic, or HDPE containers. Packaging is designed to minimize shipping costs and give you the best possible value for your compounds, craft making, toiletries and soaps. Shipments are classified ORM-D when applicable. Our packaging meets all US DOT specifications and our shipments are all made with reliable licensed carriers to deliver your high quality product in a timely manner.

Grade Definitions applied by manufacturer to original package are as follows:

U.S.P. / Food Grade: A chemical grade of sufficient purity to meet or exceed requirements of the United States Pharmacopeia (USP); acceptable for food, drug, or medicinal use; may be used for most laboratory purposes.

A.C.S.: A chemical grade of highest purity and meets or exceeds purity standards set by American Chemical Society (ACS).

Reagent: High purity generally equal to A.C.S. grade and suitable for use in many laboratory and analytical applications.

Technical: Good quality chemical grade used for commercial and industrial purposes. Not pure enough to be offered for food, drug, or medicinal use.

N.F.: A grade of sufficient purity to meet or exceed requirements of the United States National Formulary. (Since bought out and merged with the United States Pharmacopeia, USP-NF.)

Lab: A chemical grade of relatively high quality with exact levels of impurities unknown; usually pure enough for educational applications. Not pure enough to be offered for food, drug, or medicinal use.

Purified: Also called pure or practical grade, and indicates good quality chemicals meeting no official standard; can be used in most cases for educational applications. Not pure enough to be offered for food, drug, or medicinal use.

PURCHASE REQUIREMENTS / Terms of sale.

To purchase products you must meet the following criteria. Your order for products represents your confirmation that you meet the criteria and agree to the terms of sale.

I am of legal age.

This item is a consumer commodity that I am using for hobby or other household use.

As the user I understand that I am responsible for determining the suitability of this product for its intended use, and assume all risk and liability whatsoever in connection therewith. The manufacturer and seller make no representation or warranty, including merchantability expressed or implied. Seller and manufacturers' liability from any losses or damages resulting from any cause whatsoever shall in no event exceed the purchase price of this product.

This product will not be used for any illegal purpose.
---
---
More from this seller
---
Shipping & policies
Preparation takes 1-2 business days
Arrives from the United States
Estimated Shipping
---
Returns & exchanges
14 day limit for returns on unused items.