She Sells Sea Shells Photoshop Brushes and Clip Art - Sea Shells - Beach - Ocean
(1)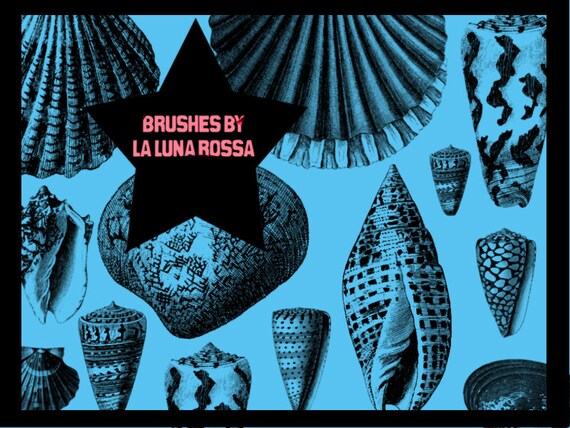 ---
Features
Made in Charlotte, North Carolina
---
Item details
Sea Sells Sea Shells premium brush pack contains 88 Photoshop brushes/stamps (.abr), and one sheet of clipart JPEGS. Use them to create greeting cards,wedding/party invites, in graphic design as elements, collages, decoupage, ATC/ACEO, multimedia projects and for scrapbooking.


With this purchase you will receive the following:
1 zip file with the 23 Photoshop brushes/stamps, and one full color clip art sheet.

*By purchasing and downloading these files you agree to the License Agreement.*

LICENSE AGREEMENT

These files are considered a design tool rather than a final design product, and are licensed to the purchaser's computer only.

YOU ARE PERMITTED THE FOLLOWING:

- Logo Design, branding (business cards, brochures, catalogs) banner design for yourself and your clients.

- Greetings cards, invitations, calendars in printed form only, until 2000 print impressions of all designs created with one set. Only Etsy sellers are allowed to send digital designs for print by their customers, and only if the design is a customizable one (you customize it personally) and you flatten the final image (so it is NOT on a transparent background). For standalone shops where designs are customized by the customer you have to purchase the Extended License.

- Bloggers are allowed to use our graphics in their personal blog design and blog posts. The graphics must be re-sized (72dpi) and the artwork must be flattened (no transparent background). You cannot upload the clip art in its original size on your blog; When our images are used in blog posts, credit must be included:La Luna Rossa Designs; If you are offering blog freebies designed with our images, you have to include the credit to us. Freebies can be desktop wallpapers, printables and designs which you created combining text and/or images in a creative way. We do not allow that you distribute freebies which consist solely of our clip art and nothing else.

- Books and magazines in printed form (standard license applies till 2000 print impressions). If you sell books and magazines in a PDF form, iPad books & magazines, or using a reseller website (you are using a 3rd party platform to sell and print the book) you have to purchase the Extended License. You have to include credit La Luna Rossa Designs, in a well visible place in the publication (both print and digital);

- Wall art such as posters, art prints, frames, any decoration for the wall for personal use only with the Standard License. For selling wall art, you have to purchase the Extended License.


YOU ARE PROHIBITED FROM THE FOLLOWING:

-You may not re-distribute the files in their original form. You are not allowed to sub-license, re-sell, lend, assign or gift our products. You cannot distribute or publish the product as is.

- You may not license products which you designed with our graphics for wholesale before you contact us.

- You may not create design templates, either on-line or off-line, including but not limited to website templates, blog templates, flash templates, business card templates, e-card templates and brochure design templates, without obtaining the Extended License.

- You may not sell posters and art prints, wall decals, any kind of wall art designed with our images without obtaining the Extended License

- You may not make iPhone cases, T-shirts, fabrics without obtaining the Extended License
- You may not sell products on reseller websites like Cafe Press, Zazzle, Snapfish and alike, without obtaining the Extended License

- Any resale of our graphics in the form of design resources, such as clip art, vectors, collage sheets, scrapbooking pages, papers, stickers, buttons, layout any scrapbooking resources (digital or print), is strictly prohibited even if you have the Extended License;

- If you want to use our graphics to design web, mobile or tablet apps, please contact us to first to obtain specific license. The Extended License may not apply in these cases.

- You cannot imply or claim that you are the author of the artwork. If you use the images for editorial purposes (print, web or tv) you have to include the credit adjacent to the product: La Luna Rossa Designs.
- You may not print a work containing these images in excess of 2000 times without obtaining an Extended License;
---
---
Nice graphics and photoshop brushes. I had a question about the clip art sheet and they were helpful telling me how to use it in Photoshop
Aug 8, 2016 by Wendy Oster
---
More from this seller
---
Digital downloads
---
Returns & exchanges
Refunds are not offered for any digital product because of the nature of the product. Tangible goods can be returned within 7 days in original packaging, and in original state for a refund of the price of the item. Shipping is non refundable.
---
Additional policies
LA LUNA ROSSA LICENSE AGREEMENT

These files are considered a design tool rather than a final design product, and are licensed to the purchaser's computer only.

YOU ARE PERMITTED THE FOLLOWING:

- Logo Design, branding (business cards, brochures, catalogs) banner design for yourself and your clients.

- Greetings cards, invitations, calendars in printed form only, until 2000 print impressions of all designs created with one set. Only Etsy sellers are allowed to send digital designs for print by their customers, and only if the design is a customizable one (you customize it personally) and you flatten the final image (so it is NOT on a transparent background). For standalone shops where designs are customized by the customer you have to purchase the Extended License.

- Bloggers are allowed to use our graphics in their personal blog design and blog posts. The graphics must be re-sized (72dpi) and the artwork must be flattened (no transparent background). You cannot upload the clip art in its original size on your blog; When our images are used in blog posts, credit must be included:La Luna Rossa Designs; If you are offering blog freebies designed with our images, you have to include the credit to us. Freebies can be desktop wallpapers, printables and designs which you created combining text and/or images in a creative way. We do not allow that you distribute freebies which consist solely of our clip art and nothing else.

- Books and magazines in printed form (standard license applies till 2000 print impressions). If you sell books and magazines in a PDF form, iPad books & magazines, or using a reseller website (you are using a 3rd party platform to sell and print the book) you have to purchase the Extended License. You have to include credit La Luna Rossa Designs, in a well visible place in the publication (both print and digital);

- Wall art such as posters, art prints, frames, any decoration for the wall for personal use only with the Standard License. For selling wall art, you have to purchase the Extended License.


YOU ARE PROHIBITED FROM THE FOLLOWING:

-You may not re-distribute the files in their original form. You are not allowed to sub-license, re-sell, lend, assign or gift our products. You cannot distribute or publish the product as is.

- You may not license products which you designed with our graphics for wholesale before you contact us.

- You may not create design templates, either on-line or off-line, including but not limited to website templates, blog templates, flash templates, business card templates, e-card templates and brochure design templates, without obtaining the Extended License.

- You may not sell posters and art prints, wall decals, any kind of wall art designed with our images without obtaining the Extended License

- You may not make iPhone cases, T-shirts, fabrics without obtaining the Extended License
- You may not sell products on reseller websites like Cafe Press, Zazzle, Snapfish and alike, without obtaining the Extended License

- Any resale of our graphics in the form of design resources, such as clip art, vectors, collage sheets, scrapbooking pages, papers, stickers, buttons, layout any scrapbooking resources (digital or print), is strictly prohibited even if you have the Extended License;

- If you want to use our graphics to design web, mobile or tablet apps, please contact us to first to obtain specific license. The Extended License may not apply in these cases.

- You cannot imply or claim that you are the author of the artwork. If you use the images for editorial purposes (print, web or tv) you have to include the credit adjacent to the product: La Luna Rossa Designs.
- You may not print a work containing these images in excess of 2000 times without obtaining an Extended License.