12,800 Vector Clip Art , Ornaments Clipart, Scrolls, Ribbons, Panels, Shields, Calligraphy, Border, Signs, Vinyl Cutter Plotter, CNC Designs
(2)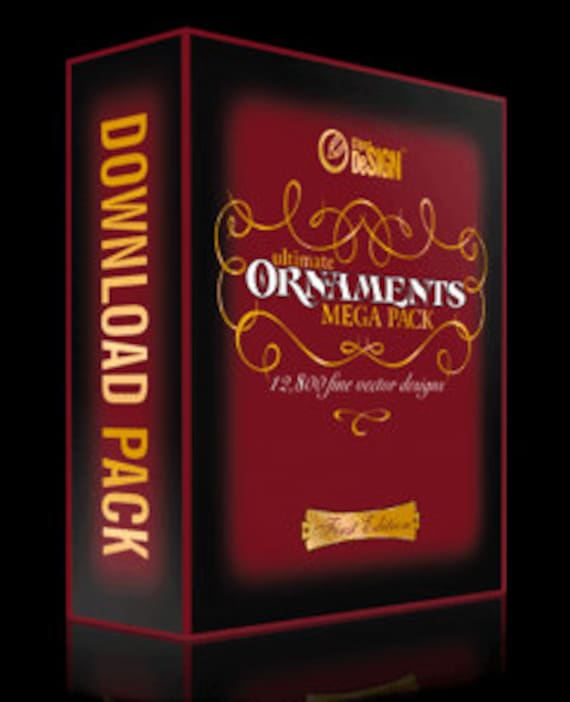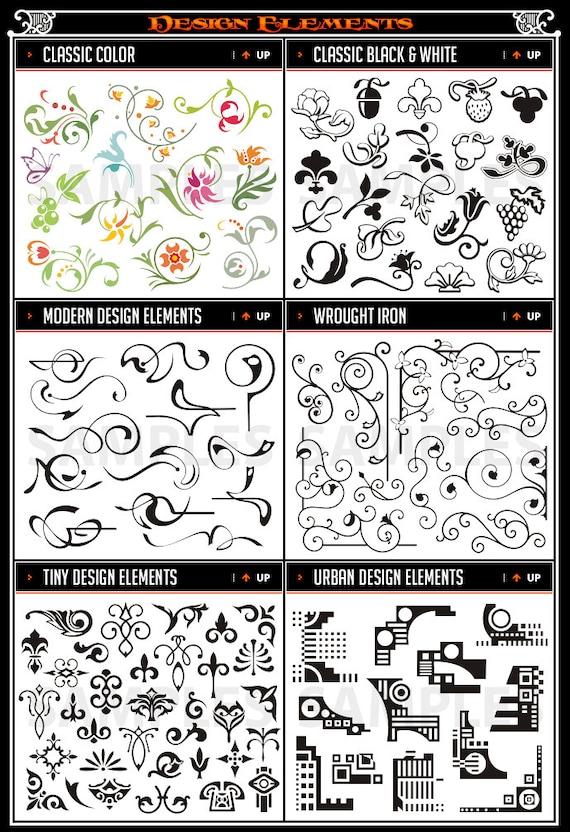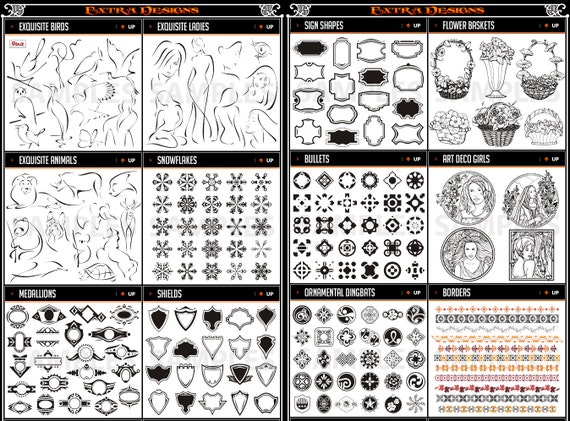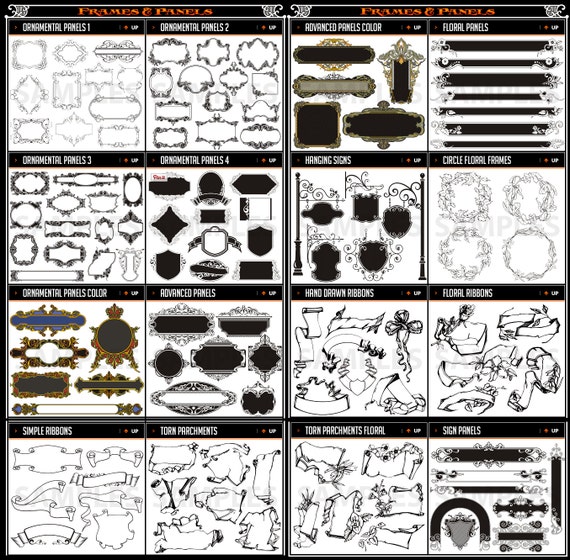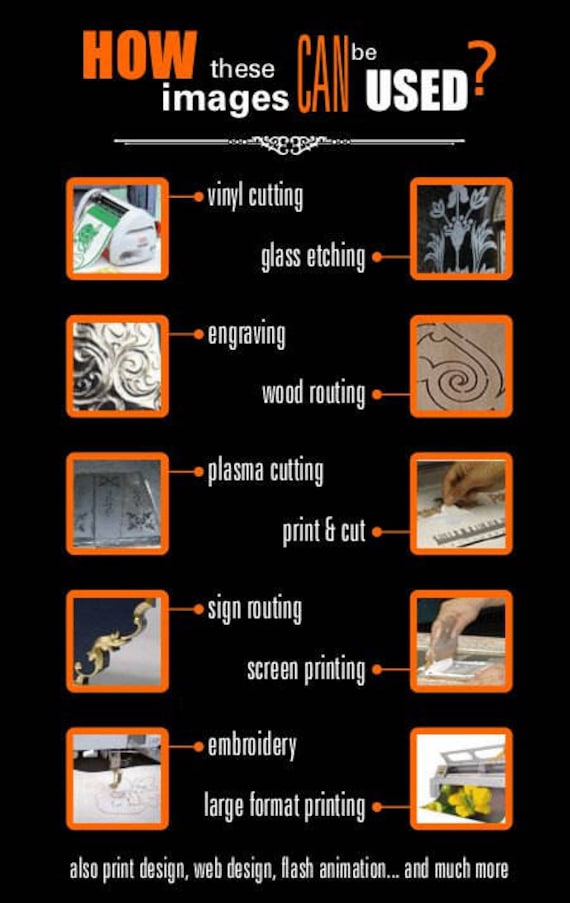 ---
Features
---
Item details
Please note: Images shown are only SAMPLE PREVIEWS from all the 12,800 unique designs included.

Clipart deSIGN is very pleased to present the most powerful collection of design elements, ornamental art, scroll designs, flourishes, frames and panels and ever!

58 categories are included:

Design Elements
Classic Color
Classic Black & White
Modern Design Elements
Wrought Iron
Tiny Design Elements
Urban Design Elements
Ornamental Designs
Modern Scroll Designs
Advanced Scroll Designs
Advanced Scroll Designs 2
2 Color Scroll Designs
Chinese Floral Designs
Japanese Floral Designs
Mexican Designs
Celtic Designs
Indian Designs
Floral Frieze Designs
Corner Designs
Floral Designs 1
Floral Designs 2
Floral Designs 3
Floral Designs 4
Rectangle Floral Designs
Rule Line Designs
Enhanced Scroll Designs
Classic Scroll Designs
Classic Frieze Designs
Wrought Iron Designs
Renaissance Scroll Designs
Frames & Panels
Ornamental Panels 1
Ornamental Panels 2
Ornamental Panels 3
Ornamental Panels 4
Ornamental Panels Color
Advanced Panels
Advanced Panels Color
Floral Panels
Hanging Signs
Circle Floral Frames
Hand Drawn Ribbons
Floral Ribbons
Simple Ribbons
Torn Parchments
Torn Parchments Floral
Sign Panels
Extra Designs
Exquisite Birds
Exquisite Ladies
Exquisite Animals
Snowflakes
Medallions
Shields
Sign Shapes
Flower Baskets
Bullets
Art Deco Girls
Ornamental Dingbats
Borders
Color Dingbats
Floral Dingbats


This package is definitely a must have for every designer, sign maker and creative professional. Read below to find out why:

:: Quantity - Talk about numbers! This package has been created with very a generous attitude. The "good measure, pressed down, shaken together, running over" mentality is what stands behind Clipart deSIGN's creative efforts. The result: 12,800 high quality vector images ready for professional use.

:: Quality - Despite the huge number of images, there is never a compromise in the quality Clipart deSIGN is famous for. You will be amazed at the vector perfection these images posses.

:: Diversity - Clipart deSIGN made sure our customers will have an abundance
of styles and categories to choose from. There are 58 creative categories in this package and even more visual styles to choose from.

:: Usefulness - We have provided not only ready to go designs, but a considerable number of design elements that will enable you to create your own custom designs. Discover the power of these creative tools now!

:: Professional - Why does Clipart deSIGN call their art professional? Check out the properties of their images to find out why:

::: Vinyl Ready - These images are intentionally prepared for vinyl cutting. This means closed paths, no overlaps, no crossed lines, no intersecting objects. Perfect for signage and vehicle decoration.

::: Optimized - All images are optimize and reduce the point numbers of our vectors - this way they will cut faster and smoother and if used in flash they will have much smaller size than usual.

::: Exquisite - Perfection of detail in each line is what Clipart deSIGN pays special attention to. These images are the most exquisite and perfected vectors you have ever seen.

::: Clean - You will enjoy clean details and easy to edit images.

::: Types of Images: ornaments, scrolls, panels, frames, rule lines, snowflakes, girls, women, art deco, design elements, bullets, dingbats, templates, ornamental designs, calligraphy, calligraphic designs, flowers, birds, floral designs, Japanese designs, Chinese designs, Celtic designs, Mexican designs, patterns, borders, Indian designs, floral designs, friezes, frieze designs, floral panels, scroll panels, signs, medallions, hanging signs, sign panels, ribbons, floral ribbons, stylized animals, stylized girls, women, ladies, stylized birds, sign shapes, shields

This product is sold for $229 on our web site:

http://clipart-design.com/ultimate_ornaments_mega_pack.htm

Etsy users will enjoy enormous discount pricing. For full image list and thumbnail preview please refer to the following links:

http://issuu.com/clipart-design/docs/uomp_de

http://issuu.com/clipart-design/docs/ornamentaldesigns

http://issuu.com/clipart-design/docs/framesandpanels

http://issuu.com/clipart-design/docs/framesandpanels

Each catalog shows images from the 4 major categories of this collection.

The download will come as full PDF catalog of all images. All images will be included as VECTOR FILES including separate AI, EPS and CDR files for each design.
---
---
Very nice patterns. I like it a lot.
May 15, 2015 by WoodyCnC
Fantastic assortment of designs. File came in email due to size, very easy to install.
Apr 3, 2015 by Steve Glenn
---
More from this seller
---
Digital downloads
---
Payments
We accept PayPal and all the payment options that PayPal offers.