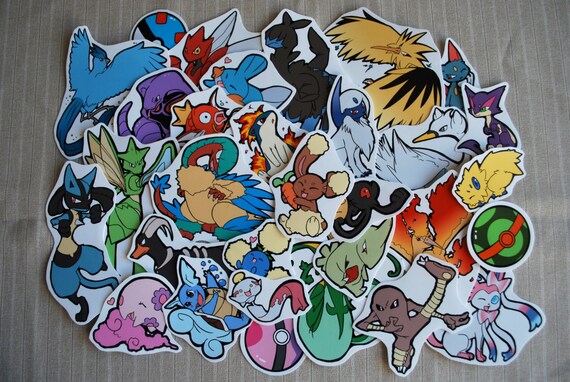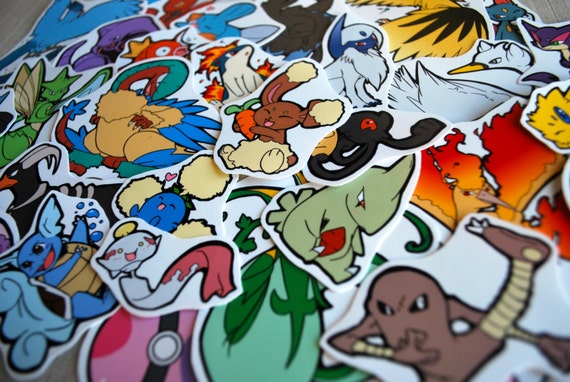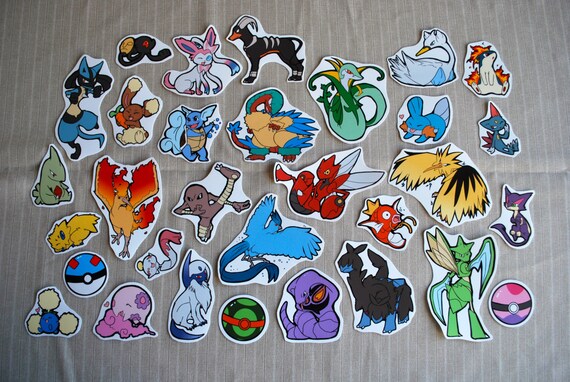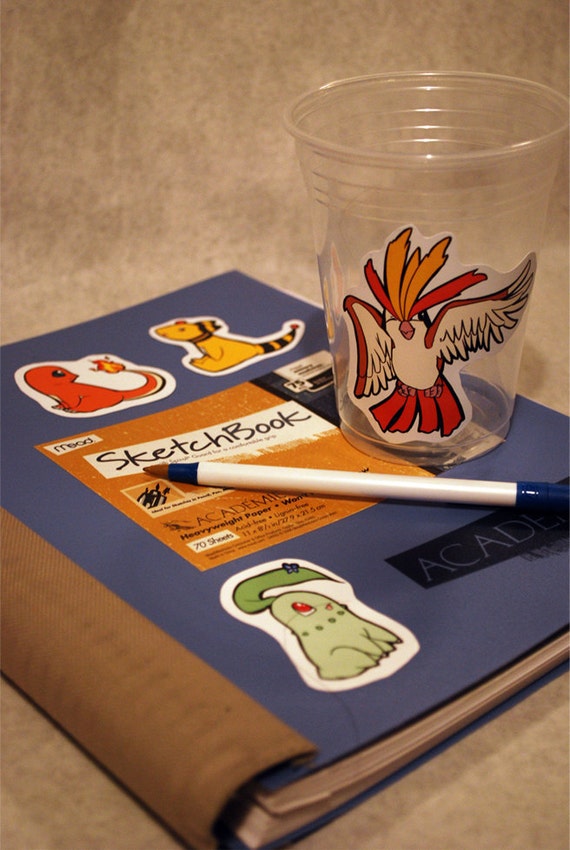 Arrives from the United States
---
Features
Made in Manhattan, Kansas
---
Item details
**This particular listing is for the entire second batch, and will include one of each sticker in the first batch (all 31 stickers).**

Their sizes are as follows. Each sticker is measured in inches and the sizes are shown as Height x Width. Please keep in mind that each sticker is cut by hand, so the white border surrounding the sticker my vary slightly.

008 Wartortle: 2.25 x 2
024 Arbok: 2.5 x 2
106 Hitmonlee: 2.75 x 2.25
123 Scyther: 4 x 2.5
129 Magikarp: 2 x 2
144 Articuno: 3.25 x 3
145 Zapdos: 2.75 x 3.5
146 Moltres: 3.5 x 2.5
156 Quilava: 2 x 1.75
189 Jumpluff: 1.5 x 1.75
212 Scizor: 3.25 x 2.75
215 Sneasel: 2 x 1.25
229 Houndoom: 2.75 x 2.75
246 Larvitar: 2.25 x 1.5
258 Mudkip: 2 x 2
358 Chimecho: 1.5 x 1.75
359 Absol: 3 x 1.5
427 Buneary: 2.5 x 1.75
448 Lucario: 3.75 x 1.75
497 Serperior: 3.25 x 2.75
509 Purrloin: 2 x 1.5
517 Munna: 1.75 x 2
562 Yamask: 1.25 x 2
567 Archeops: 2.75 x 3.25
581 Swanna: 2 x 2.5
595 Joltik: 1.25 x 2
634 Zweilous: 3 x 2.5
700 Sylveon: 2.5 x 2.75

Great Ball: 1.5 x 1.5
Dusk Ball: 1.5 x 1.5
Dream Ball: 1.5 x 1.5

Shipping anywhere in the contiguous US and internationally! Stickers usually arrive 3-6 business days after being mailed (US)! International orders can take anywhere from 1-3 weeks.

Stickers are mailed in a bubble envelope, sealed in their own sticker bags with the Nii-it! logo and instructions. They are printed on thick photo paper at were drawn and printed at 300dpi for maximum quality. The stickers were sketched, inked and colored digitally in openCanvas4.5+ and many hours were dedicated to designing each and every sticker specially. All stickers are made to order.

If you want to see more Pokemon stickers and packages, feel free to look around my shop! Thanks for viewing!

The Pokemon Sticker Project, a project I've undertaken to make stickers dedicated to the wonderful series, is well underway. And, the first and second batch of stickers are finally complete and ready for sale!

The second batch of stickers have 28 different Pokemon stickers and 3 Pokeball stickers. Each sticker has been digitally drawn by me and is original, and is not a tracing of any official art or other. It can also be dubbed 'fanart'.
---
---
Great seller
Feb 7, 2017 by Mary Ladjack
Dec 9, 2016 by Nicole Wohlgemuth
Aug 29, 2016 by haleypehrson
---
More from this seller
---
Shipping & policies
Arrives from the United States
Estimated Shipping
Shipping will be via USPS, and all shipping is listed for United States only. If you are an international buyer interested in one of my works, contact me so we can work out the shipping prices separately! And it's optional, but I recommend ALWAYS buying at least a confirmation delivery order or tracking number. If I feel a piece should absolutely have either of these, I'll have it included with the shipping price as well as an included statement saying so. Also, I WILL NOT ship the piece until payment is received!
---
Payments
I accept both money orders and Paypal, though Paypal is always quicker! I give a deadline of up to 5 days from the confirmed purchase date for the buyer to send payment, otherwise the artwork goes back up for sale, sorry!
---
Returns & exchanges
I'm unable to do exchanges, just because each artwork is unique and there is only 1 of each. I do however do refunds, but on certain conditions. If you do not receive the artwork in the condition listed, I will give back a refund in exchange for the piece mailed back to me. For lost artwork in the mail, I ALWAYS recommend shipping insurance and tracking so we'll know what happened to it. If you did buy the tracking and insurance, and it's lost in the mail, I'll try to rectify the problem by either trying to find it or giving a refund. If you did not buy the insurance though...sorry ):
---
Additional policies
Again, I ALWAYS recommend buying the insurance/tracking/confirmation from USPS when buying something from my store. It protects you, it protects me, it protects everybody! If I've already included it in to the shipping price, it will say so in the description. Otherwise, it's up to you to!

I love to answer questions or concerns, if you want to ask me ANYTHING, fell free to ask! I'd rather you feel safe and happy about your purchase! :)

I do take custom orders on occasions, feel free to email me or contact me here or on deviantArt to ask!