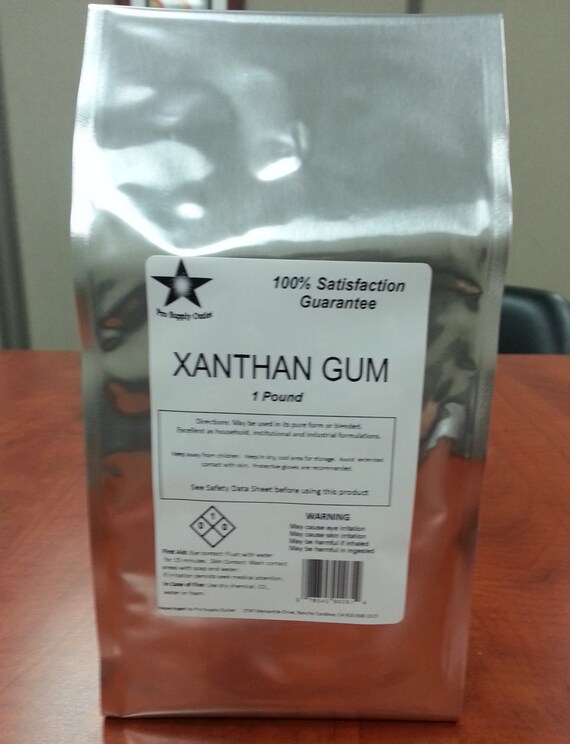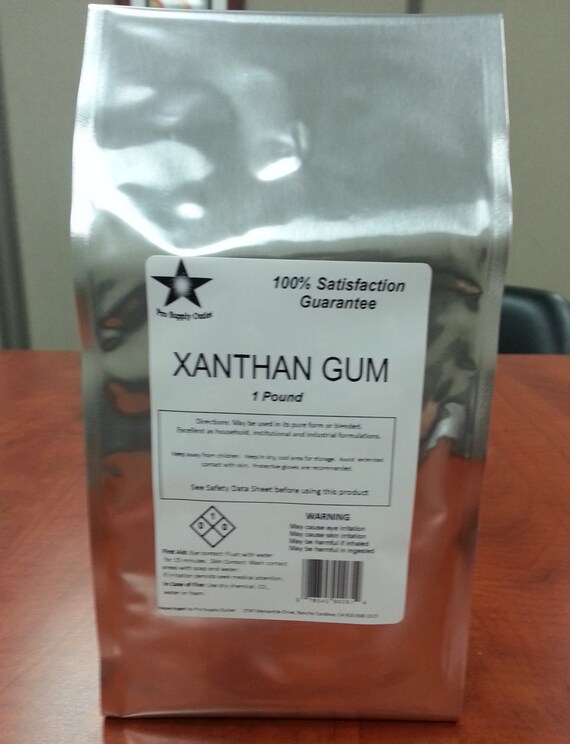 Preparation takes 1-2 business days
Arrives from the United States
---
Features
Made in Rancho Cordova, California
---
Item details
Xanthan Gum 5 Lb Pack w/ Free Shipping!
By: Pro Supply Outlet

- 100% Satisfaction guaranteed!!
- Average delivery 1-3 business days via USPS Priority Mail within the US
- High quality material professionally packed in resealable gloss bags to ensure safe delivery!
- Phone orders accepted!! Call us toll free at: 855-248-9059

Description: Xanthan gum (/ˈzænθən/) is a polysaccharide secreted by the bacterium Xanthomonas campestris, used as a food additive and rheology modifier,commonly used as a food thickening agent (in salad dressings, for example) and a stabilizer (in cosmetic products, for example, to prevent ingredients from separating). It is composed of pentasaccharide repeat units, comprising glucose, mannose, and glucuronic acid in the molar ratio 2.0:2.0:1.0. It is produced by the fermentation of glucose, sucrose, or lactose. After a fermentation period, the polysaccharide is precipitated from a growth medium with isopropyl alcohol, dried, and ground into a fine powder. Later, it is added to a liquid medium to form the gum.

Uses: One of the most remarkable properties of xanthan gum is its ability to produce a large increase in the viscosity of a liquid by adding a very small quantity of gum, on the order of one percent. In most foods, it is used at 0.5%, and can be used in lower concentrations. The viscosity of xanthan gum solutions decreases with higher shear rates; this is called shear thinning or pseudoplasticity. This means that a product subjected to shear, whether from mixing, shaking or even chewing, will thin out, but, once the shear forces are removed, the food will thicken back up. A practical use would be in salad dressing: The xanthan gum makes it thick enough at rest in the bottle to keep the mixture fairly homogeneous, but the shear forces generated by shaking and pouring thins it, so it can be easily poured. When it exits the bottle, the shear forces are removed and it thickens back up, so it clings to the salad. Unlike other gums, it is very stable under a wide range of temperatures and pH.
In foods, xanthan gum is most often found in salad dressings and sauces. It helps to prevent oil separation by stabilizing the emulsion, although it is not an emulsifier. Xanthan gum also helps suspend solid particles, such as spices. Also used in frozen foods and beverages, xanthan gum helps create the pleasant texture in many ice creams, along with guar gum and locust bean gum. Toothpaste often contains xanthan gum, wherein it serves as a binder to keep the product uniform. Xanthan gum also helps thicken commercial egg substitutes made from egg whites, to replace the fat and emulsifiers found in yolks. It is also a preferred method of thickening liquids for those with swallowing disorders, since it does not change the color or flavor of foods or beverages at typical use levels.

Xanthan gum is also used in gluten-free baking. Since the gluten found in wheat must be omitted, xanthan gum is used to give the dough or batter a "stickiness" that would otherwise be achieved with the gluten.

In the oil industry, xanthan gum is used in large quantities, usually to thicken drilling mud. These fluids serve to carry the solids cut by the drilling bit back to the surface. Xanthan gum provides great "low end"rheology. When the circulation stops, the solids still remain suspended in the drilling fluid. The widespread use of horizontal drilling and the demand for good control of drilled solids has led to its expanded use. It has also been added to concrete poured underwater, to increase its viscosity and prevent washout.

In cosmetics, xanthan gum is used to prepare water gels, usually in conjunction with bentonite clays. It is also used in oil-in-water emulsions to help stabilize the oil droplets against coalescence. It has some skinhydrating properties. Xanthan gum is a common ingredient in fake blood recipes, and in gunge/slime.


Our Chemical Products are shipped with current globally harmonized Safety Data Sheets and Labeling. Quantities smaller than original package are carefully repackaged and sealed in smaller Foil, Plastic, or HDPE containers. Packaging is designed to minimize shipping costs and give you the best possible value for your compounds, craft making, toiletries and soaps. Shipments are classified ORM-D when applicable. Our packaging meets all US DOT specifications and our shipments are all made with reliable licensed carriers to deliver your high quality product in a timely manner.
Grade Definitions applied by manufacturer to original package are as follows:

U.S.P. / Food Grade: A chemical grade of sufficient purity to meet or exceed requirements of the United States Pharmacopeia (USP); acceptable for food, drug, or medicinal use; may be used for most laboratory purposes.

A.C.S.: A chemical grade of highest purity and meets or exceeds purity standards set by American Chemical Society (ACS).

Reagent: High purity generally equal to A.C.S. grade and suitable for use in many laboratory and analytical applications.

Technical: Good quality chemical grade used for commercial and industrial purposes. Not pure enough to be offered for food, drug, or medicinal use.

N.F.: A grade of sufficient purity to meet or exceed requirements of the United States National Formulary. (Since bought out and merged with the United States Pharmacopeia, USP-NF.)

Lab: A chemical grade of relatively high quality with exact levels of impurities unknown; usually pure enough for educational applications. Not pure enough to be offered for food, drug, or medicinal use.

Purified: Also called pure or practical grade, and indicates good quality chemicals meeting no official standard; can be used in most cases for educational applications. Not pure enough to be offered for food, drug, or medicinal use.

PURCHASE REQUIREMENTS / Terms of sale.

To purchase products you must meet the following criteria. Your order for products represents your confirmation that you meet the criteria and agree to the terms of sale.

I am of legal age.

This item is a consumer commodity that I am using for hobby or other household use.

As the user I understand that I am responsible for determining the suitability of this product for its intended use, and assume all risk and liability whatsoever in connection therewith. The manufacturer and seller make no representation or warranty, including merchantability expressed or implied. Seller and manufacturers' liability from any losses or damages resulting from any cause whatsoever shall in no event exceed the purchase price of this product.

This product will not be used for any illegal purpose.
---
---
Exactly what I was looking for.
May 6, 2015 by packatak
---
More from this seller
---
Shipping & policies
Preparation takes 1-2 business days
Arrives from the United States
Estimated Shipping
---
Returns & exchanges
14 day limit for returns on unused items.