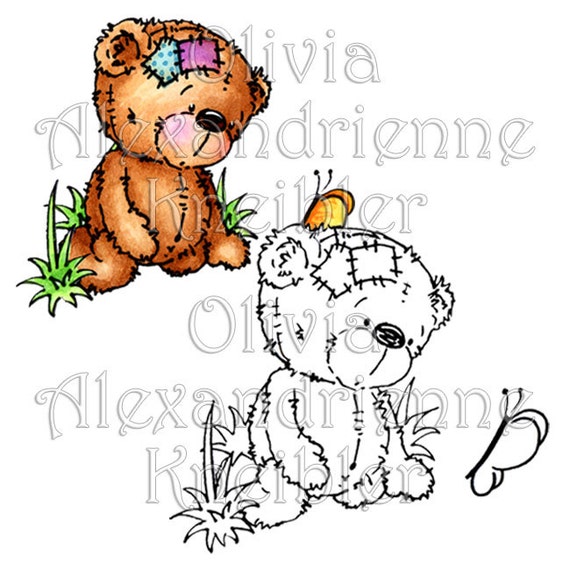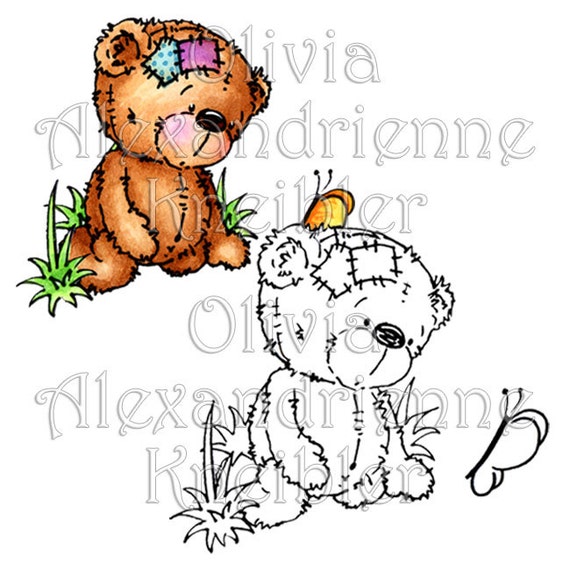 ---
Features
---
Item details
Raggedy Bear Wonder Digital Stamp and Hand Painted Version is part of the Raggedy Bear series. It was created by hand with pencil, marker and watercolor, then enhanced a bit on the computer and saved as a png with a transparent background. The transparent background makes it very easy to layer. Included in download are three images, the digital stamp is in both png and jpg, the painted version is in png.

File Type: PNG (with transparent background) Digital Stamp and hand painted version
JPG Digital Stamp
Resolution: high resolution, 350 dpi
File Size: 1.29 MB

SHIPPING:
There will be NO physical product, this is a digital download which will be available to you directly after your purchase.

ACCEPTABLE USE:
Please read the following before you make a purchase.
Refer to the POLICY page for more detailed information: http://www.etsy.com/shop/atelieroz/policy
By purchasing and/ or downloading this item, you agree to abide by the terms of the agreement.

LICENSES:
If you would like less restrictions of the use of my images a license will be required. Please contact me for more details.

This set is exclusively licensed commercially for embroidery digitizing, however it can still be purchased for personal use for embroidery digitizing. All other licenses are still available.

I'm always open for suggestions so please feel free to write me. If you have any questions please let me know.

Thank you for spending time here at Atelier Oz.
---
---
cutest lil bears "I've seen in a while
Apr 25, 2015 by Becky Machniewski
The stamp is wonderful. Thank you so much.
Apr 1, 2015 by kjmylly
---
More from this seller
---
Digital downloads
---
Payments
We accept PayPal which includes Visa, Mastercard, Discover, American Express and payments made directly from your bank account. If you pay using your bank account thru Paypal it usually takes around 5 business days to clear; once your payment clears we will process your purchase. Just FYI even if you don't have a Paypal account you can still make one time payments thru them.

Sales tax will be applied to buyers located in Kansas.
---
Returns & exchanges
I don't accept returns, exchanges, or cancellations
But please contact me if you have any problems with your order.
Additional return information
Due to the nature of the product no refunds will be given once the product has been downloaded.
---
Additional policies
I am currently in the process of updating my polices on use, etc. If you have any questions please contact me and I'll get back with you as soon as possible. Also, these policies are subject to change at any time. Below is my first update:

The prices are for personal and small business use (up to 100 of an image). If you anticipate, hope to, or are pretty sure you are going to sell more than 100 of an image please purchase a license which is available.

DIGITAL PRODUCT DESIGNERS
My artwork is available to create digital printable files for personal and/or commercial use. All image files must contain enough of your own artwork so that the image can be considered a new unique design. All files must be flattened, not available in layers, and not on light or white solid backgrounds. Acceptable file types are JPEG and/or PDF. All digital files can only be sold for personal use.

What you must do:
• You must change the image so that it will be transformed into a new unique image
• You must flatten your creation when it is finished
• You must sell only JPEG or PDF versions
• You must sell your creations for personal use only
• Credit is required with link back to my site or store

What you cannot do:
• No image can be made available as is, it must be changed to create a new image
• No image can be made available on a solid light or white background
• No image can be made available in layers
• No image can be resold as is
• No image can be sold for commercial use
• No image can be shared

By "changing the image" I'm not referring to changing my image itself, I am referring to what surrounds, is behind, in front of, overlapping, etc.

If you have any questions please contact me and I'll get back with you as soon as possible.

END OF UPDATES SO FAR, more to follow soon.
-------------------------------------------------------------------------------------------------------------

PLEASE READ the easy to understand and less detailed version of acceptable use before you make a purchase.

By purchasing and/ or downloading this item, you agree to abide by the terms of the agreement.

These images are for personal and small business use; no mass production is allowed, everything must be handmade.
Credit is required for commercial use and appreciated for personal use and all images remain copyrighted by me.

You MAY:
- Hand color, digitally color or print onto patterned paper
- Create and sell printed items such as cards, stationery, stickers, t-shirts and crafts.
- Digitize (digitized embroidery format) for personal use only

You may NOT:
- Sell the products digitally either as is or in a set.
- Sell, redistribute, share, or give away these images either as downloadables or in a CD
- Sell as art prints
- Use the images at POD sites such as CafePress and Zazzle
- Use the image/s to create rubber stamps, polymer stamps, or acrylic stamps

LICENSES:
If you would like less restrictions of the use of my images a license will be required. Please contact me for more details.

------------------------------------------------------------------------------------------------------------

PLEASE READ the more detailed information below if the above didn't completely answer your questions.

My Products are for Personal and Professional crafting use. However, all images remain copyrighted by me. For questions concerning licensing please let me know.

1.We retain all copyrights on all products, and all rights related to the original copyright. By purchasing our products, you are purchasing the right to use them for personal use only, subject to the following conditions.
2.Our Products are intended for small businesses or individuals who make handmade crafts, cards, labels, tags, scrapbook layouts, etc. The products may be used to make such finished original products in 100 count quantities as long as the items are handmade and properly marked with the graphic source, as indicated below. Other types of use are addressed within these terms.
3.You MAY do the following, consistent with these terms of use:
◦Remove the white background from an image and replace it with a transparent background. You may NOT share the original image or the image with the transparent background, however. If you decided to store the image in a "tubed" form, it can be for your use only, and neither the tube nor the tubed image may be shared.
◦Make a backup CD of our products that you have purchased, and in fact, we recommend this!
◦Use the purchased products in original projects and layouts and share those finished original projects, subject to the following conditions:
◦You must place a link back to our site, http://www.etsy.com/shop/atelieroz, and indicate that the original artwork is copyrighted. Such notice may be placed on the electronic version of project or layout itself, or in the credits for an item placed in an online gallery or submitted for any type of publication.
◦If the project or layout is printed and/or assembled and given or displayed in a 3-dimensional physical form, then you may place the notice on the project or layout itself, or on an attached card or tag.
◦The notice must be in a color and type large enough to be read easily, though if placed on the project or layout, it may be positioned on the project or layout so that the notice least interferes with the aesthetic appearance of the project or layout.
An acceptable form of notice is as follows:
Original artwork © Olivia A. Kneibler
http://www.etsy.com/shop/atelieroz
4.Purchased products may not be made directly available to others, in whole or in part, via download from any web page or via any newsgroups, electronic forums, email or email lists, or any other electronic or physical means, including copying to disk, tape, CD, DVD or any other format for provision to another person.
5.You may NOT use our original products:
◦To add to or to be used as any collections of graphics or printables intended for distribution by any means.
◦On any website or in email stationery, as individual images or otherwise as part of any creation of a website or email stationery, without prior permission. Please contact us at the address indicated below to obtain such permission, which shall be considered on a case by case basis. You may, however, put examples of finished projects you've created using our products on your website, provided that proper credit and notice is given as indicated above.
◦To create or distribute, whether or not for profit, email signatures or "tags", without complying with the conditions in these terms. You may not claim or sign the finished artwork as "yours" (such as, "Tagged by"), without identifying the source of the artwork used, nor otherwise give a false impression that you possess a valid license or copyright to the artwork. If you distribute the tags, regardless of whether you economically benefit from such distribution, you must apply for a commercial license.
◦To digitize any image for use in electronic embroidery, or to create any project or layout through any type of mass-production, regardless of the intended form of distribution, unless you have obtained a written licensing agreement for commercial use of the products. This requirement applies even if you do not economically profit from such distribution. An exception to this requirement is for projects shared electronically in our sites' email list, chats, and other officially sponsored activities. If you desire a license for commercial use of any of our products, or have any questions regarding permissible use of our products, please contact us at the address provided below.
◦In any other manner inconsistent with these terms of use, or in any manner that otherwise violates the original copyright or places our products in any jeopardy of violation of the original copyright by any person.
6.You may not give or otherwise transfer to anyone the right to use our products in part or in whole, including anything that contains any portion of our products, without express written permission. Requests for such permission will be handled on an individual basis.
7.While we will try to resolve any issues you may have with our products, we follow the same standard as other internet businesses and do not give refunds on downloaded items.
8.Any and all licenses for use shall terminate automatically without prior notice if you fail to comply with any terms of use. Any membership currently in effect shall also immediately terminate, and may not be renwed. Upon termination, you must immediately stop using the images, and destroy any and all copies of any images. Altelier Oz also reserves the right to recover from you damages for, but not limited to, any loss of sales, profits or goodwill caused by your failure to comply with these terms or any other additional wrongful acts, including those associated with use of graphics sold at Atelier Oz, especially any moral rights of the artist involved.
9.If you have any questions, suggestions or concerns please feel free to contact me.
You may CONVO me or contact Olivia at: oliviaandcompany@gmail.com

These Terms of Use are subject to change at any time, and apply to any purchaser or user of graphics from this website. Please check this page regularly for updates.