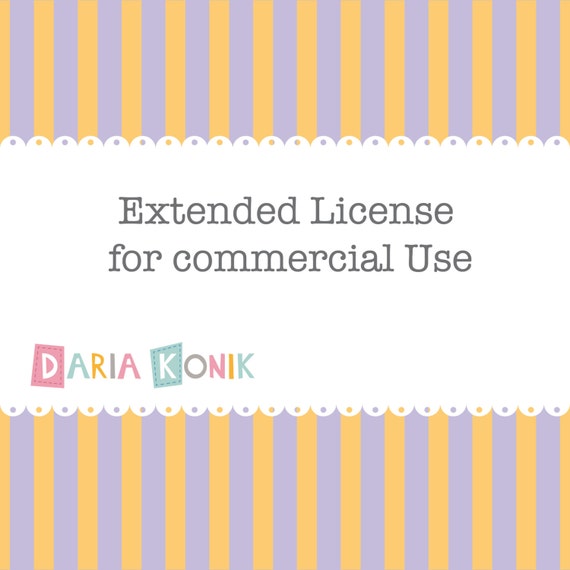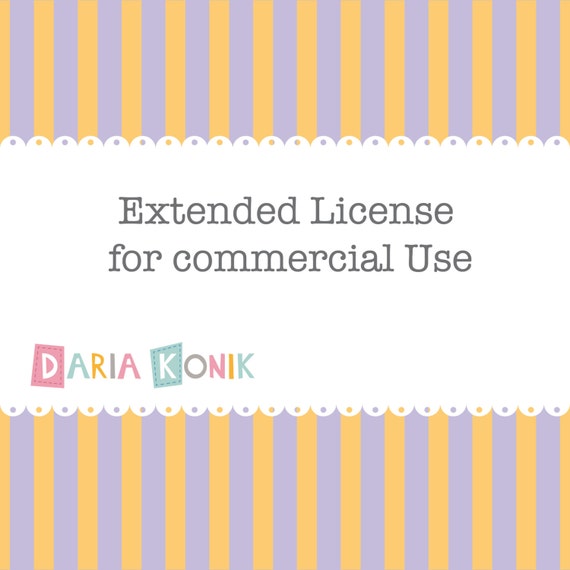 ---
Features
---
Item details
This is an extended commercial license.

Most items in my shop allow small commercial use anyway, but if you plan to use my artwork on more than 250 copies of an article for sale, you will have to purchase this license. It allows you to create up to 1000 copies of a digital or physical article using my designs in agreement with my shop policies.

https://www.etsy.com/shop/dariakonik/policy?ref=shopinfo_policies_leftnav

This license also allows you to transform my artwork into machine embroidery files and stickers for sale.

If you plan to create more than 1000 copies, please contact me.

One extended license must be purchased for each digital paper/clipart set.

The purchase of this license does not transfer copyright. All copyrights remain with dariakonik.


While purchasing the license, please leave the following information in the "note to seller" box:

1. your name/the name of your company

2. the kind of product (e.g. stationary, home decor) you plan to create using my artwork

If you have any question about what you are allowed or not allowed to do with this license, please contact me before purchasing.

Thank you for visiting my shop!
---
---
Thanks a bunch! Appreciate it!
Jul 23, 2015 by Bianca Chan
---
More from this seller
---
Digital downloads
---
Payments
Paypal and direct checkout
Paypal und Kartenzahlung
---
Returns & exchanges
Widerrufsbelehrung & Widerrufsformular

Verbrauchern steht ein Widerrufsrecht nach folgender Maßgabe zu, wobei Verbraucher jede natürliche Person ist, die ein Rechtsgeschäft zu Zwecken abschließt, die überwiegend weder ihrer gewerblichen noch ihrer selbständigen beruflichen Tätigkeit zugerechnet werden können:

A. Widerrufsbelehrung

Widerrufsrecht

Sie haben das Recht, binnen vierzehn Tagen ohne Angabe von Gründen diesen Vertrag zu widerrufen.

Die Widerrufsfrist beträgt vierzehn Tage ab dem Tag des Vertragsabschlusses.

Um Ihr Widerrufsrecht auszuüben, müssen Sie uns (Daria Konik, Denkhauser Höfe 114, 45475 Mülheim, Tel.: 0208/ 88379380, E-Mail: info@dariakonik.de) mittels einer eindeutigen Erklärung (z. B. ein mit der Post versandter Brief oder E-Mail) über Ihren Entschluss, diesen Vertrag zu widerrufen, informieren.

Sie können dafür das beigefügte Muster-Widerrufsformular verwenden, das jedoch nicht vorgeschrieben ist.

Zur Wahrung der Widerrufsfrist reicht es aus, dass Sie die Mitteilung über die Ausübung des Widerrufsrechts vor Ablauf der Widerrufsfrist absenden.

Folgen des Widerrufs

Wenn Sie diesen Vertrag widerrufen, haben wir Ihnen alle Zahlungen, die wir von Ihnen erhalten haben, einschließlich der Lieferkosten (mit Ausnahme der zusätzlichen Kosten, die sich daraus ergeben, dass Sie eine andere Art der Lieferung als die von uns angebotene, günstigste Standardlieferung gewählt haben), unverzüglich und spätestens binnen vierzehn Tagen ab dem Tag zurückzuzahlen, an dem die Mitteilung über Ihren Widerruf dieses Vertrags bei uns eingegangen ist. Für diese Rückzahlung verwenden wir dasselbe Zahlungsmittel, das Sie bei der ursprünglichen
Transaktion eingesetzt haben, es sei denn, mit Ihnen wurde ausdrücklich etwas anderes vereinbart; in keinem Fall werden Ihnen wegen dieser Rückzahlung Entgelte berechnet.

Erlöschen des Widerrufsrechts

Das Widerrufsrecht erlischt vorzeitig, wenn wir mit der Ausführung des Vertrages begonnen haben, nachdem Sie ausdrücklich zugestimmt haben, dass wir mit der Ausführung des Vertrages vor Ablauf der Widerrufsfrist beginnen und Sie uns Ihre Kenntnis davon bestätigt haben, dass Sie durch Ihre
Zustimmung mit Beginn der Ausführung des Vertrags Ihr Widerrufsrecht verlieren.

B. Widerrufsformular

Wenn Sie den Vertrag widerrufen wollen, dann füllen Sie bitte dieses Formular aus und senden Sie es zurück.

An

Daria Konik
Denkhauser Höfe 114
45475 Mülheim
Deutschland
E-Mail: info@dariakonik.de

Hiermit widerrufe(n) ich/wir (*) den von mir/uns (*) abgeschlossenen Vertrag über den Kauf der folgenden Waren (*)/die Erbringung der folgenden Dienstleistung (*)
_______________________________________________________
_______________________________________________________
Bestellt am (*) ____________ / erhalten am (*) __________________
________________________________________________________
Name des/der Verbraucher(s)
________________________________________________________
Anschrift des/der Verbraucher(s)
________________________________________________________
Unterschrift des/der Verbraucher(s) (nur bei Mitteilung auf Papier)
_________________________
Datum
(*) Unzutreffendes streichen


---
Additional policies
These policies may be updated at any time. Updated 10/29/13

All graphics were created by Daria Konik. You may not claim or pretend these images are your own.

Terms of use:
Please read the terms of use before purchasing an item from my shop. By buying an item you agree to the terms of use listed below.

Most of my items contain a small commercial license:

You may use the files for:

-(Digital) scrapbooking (personal use)
-Creating physical items (jewelry, magnets, paper craft items...) sold by you. The artwork should be used as part of your own design idea and not simply be resold as it is. If you want to turn my images into machine embroidery files or stickers, you'll have to purchase the extended commercial license.
-Creating labels and tags for physical items created and sold by you
-Creating digital items such as personalized invitations or party printables as long as you make something new with the images and flatten the final artwork for sale (no layered files).
-Personal business cards
-Personal printed media such as invitations, labels and cards for birthdays, weddings etc.
-Personal blogs, websites and shop banners
-If you are a teacher, you may use the files in your classroom


You may NOT:

-Resell or share the files, how they are or altered and claim as your own
-Share as a download or freebie
-Use the files for mass produced articles (more than 250 copies)
-Sell the images as part of a scrapbooking kit
-Sell the images as clip art or digital papers
-Use the images for professional web design for clients

If you want to produce and sell physical or digital items with more than 250 copies you'll have to purchase the commercial license from my shop. It allows you to create 251 to 1000 copies. If you'd like to use my files for some even bigger project, please get in touch so that we can discuss the process!

If you'd like to turn my artwork into machine embroidery files or stickers for sale, you'll also have to purchase the commercial license.

Feel free to contact me for licensing opportunities and custom work.

Some collections in my shop only allow personal use and no commercial use at all!
Please follow the item description of every item.

Please note that the colors on your screen may be slightly different from the colors on your printed product.

If you use my designs for your products, credit is not required but appreciated!

Please contact me if you have any questions!


Thank you!



Die meisten meiner Artikel erlauben ihre kommerzielle Nutzung in einem bestimmten Rahmen.

Die Designs dürfen benutzt werden für:

-(digitales) Scrapbooking (persönlicher Gebrauch)
-das Gestalten von 'physischen' Waren (Schmuck, Magnete, Papierartikel...), die von euch verkauft werden. Dabei müssen die Designs als Teil eurer eigenen Designidee verwendet werden und dürfen nicht einfach unverändert weiterverkauft werden. Wenn ihr die Designs in Dateien für Maschinenstickerei umwandeln oder als Sticker verkaufen wollt, müsst ihr die erweiterte kommerzielle Lizenz erwerben.
-das Gestalten von Labels und Anhängern für physische Waren, die von euch verkauft werden.
-das Gestalten von digitalen Artikeln wie personalisierten Einladungen oder Partydeko zum Ausdrucken, wenn ihr etwas neues mit den Bildern macht und das endgültige Artwork zum Verkauf auf eine Ebene reduziert
-persönliche Visitenkarten
-persönliche Printartikel wie Einladungen oder Karten für Geburtstage, Hochzeiten etc.
-persönliche Blogs, Websites und Shop Banner
-die Dateien dürfen von Lehrern im Unterricht verwendet werden

Die Designs dürfen NICHT:

-weiter verkauft oder verteilt und als eurer geistiges Eigentum dargestellt werden
-als Download oder Freebie angeboten werden
-für massenproduzierte Waren benutzt werden (mehr als 250 Kopien)
-als Teil eines Scrapbooking Kits verkauft werden
-als Clip Art oder Digital Paper verkauft werden
-für professionelles Web Design für Kunden gebraucht werden

Falls ihr physische oder digitale Artikel mit mehr als 250 Kopien herstellen und verkaufen möchtet müsst ihr die kommerzielle Lizenz aus meinem Shop kaufen. Diese erlaubt das Erstellen von 251 bis 1000 Kopien. Falls ihr meine Dateien für ein noch größeres Projekt verwenden möchtet, kontaktiert mich bitte, damit wir den Prozess besprechen können.

Falls ihr meine Designs in Dateien für Maschinenstickerei umwandeln und verkaufen wollt, müsst ihr ebenfalls die kommerzielle Lizenz erwerben. Das Gleiche gilt, wenn ihr meine Designs als Sticker verkaufen wollt.

Einige Kollektionen in meinem Shop erlauben nur den persönlichen Gebrauch! Bitte befolgt, was in den jeweiligen Produktbeschreibungen angegeben ist!

Bitte kontaktiert mich, falls ihr Fragen habt!

Danke!



Allgemeine Geschäftsbedingungen mit Kundeninformationen

Inhaltsverzeichnis
1. Geltungsbereich
2. Vertragsschluss
3. Widerrufsrecht
4. Vergütung
5. Überlassung der Inhalte
6. Einräumung von Nutzungsrechten
7. Mängelhaftung
8. Anwendbares Recht


1) Geltungsbereich

1.1 Diese Allgemeinen Geschäftsbedingungen (nachfolgend "AGB") der/des Daria Konik (nachfolgend "Lizenzgeber"), gelten für alle Verträge über die Lieferung von nicht auf einem körperlichen Datenträger befindlichen Daten, die in digitaler Form hergestellt und bereitgestellt werden (digitale Inhalte), die ein Verbraucher oder Unternehmer (nachfolgend "Lizenznehmer") mit dem Lizenzgeber hinsichtlich der vom Lizenzgeber auf der Internet-Handelsplattform Etsy (nachfolgend "Etsy") dargestellten digitalen Inhalte abschließt. Hiermit wird der Einbeziehung von eigenen Bedingungen des Lizenznehmers widersprochen, es sei denn, es ist etwas anderes vereinbart.

1.2 Vertragsgegenstand ist die Überlassung der vom Lizenzgeber angebotenen digitalen Inhalte an den Lizenznehmer in elektronischer Form unter Einräumung bestimmter, in diesen AGB genauer geregelten Nutzungsrechte.

1.3 Verbraucher im Sinne dieser AGB ist jede natürliche Person, die ein Rechtsgeschäft zu Zwecken abschließt, die überwiegend weder ihrer gewerblichen noch ihrer selbständigen beruflichen Tätigkeit zugerechnet werden können.Unternehmer im Sinne dieser AGB ist eine natürliche oder juristische Person oder eine rechtsfähige Personengesellschaft, die bei Abschluss eines Rechtsgeschäfts in Ausübung ihrer gewerblichen oder selbständigen beruflichen Tätigkeit handelt.

2) Vertragsschluss
2.1 Mit der Einstellung eines Artikels bei Etsy gibt der Lizenzgeber ein verbindliches Angebot zum Verkauf des digitalen Inhalts ab.

2.2 Der Lizenznehmer kann das Angebot des Lizenzgebers über das bei Etsy vorgehaltene Online-Bestellformular annehmen. Hierzu muss der Lizenznehmer den gewünschten Artikel zunächst in den virtuellen Warenkorb bei Etsy einlegen und anschließend die von Etsy vorgegebenen Bestellschritte durchlaufen. Durch Anklicken des den Bestellprozess abschließenden Buttons erklärt der Lizenznehmer die Annahme des Angebots, wodurch ein Vertrag über die vom Lizenznehmer zuvor ausgewählten Inhalte zustande kommt.

2.3 Der Vertragstext wird vom Lizenzgeber gespeichert und dem Lizenznehmer nach
Vertragsschluss nebst den vorliegenden AGB und Kundeninformationen in Textform (z. B. E-Mail, Fax oder Brief) zugeschickt. Zusätzlich wird der Vertragstext bei Etsy archiviert und kann vom Lizenznehmer über sein passwortgeschütztes Kundenkonto bei Etsy kostenlos abgerufen werden.

2.4 Der Lizenznehmer kann seine Eingaben vor Abgabe seiner Bestellung mit den von Etsy zur Verfügung gestellten technischen Mitteln korrigieren. Die Korrekturen können mittels der üblichen Tastatur- und Mausfunktionen direkt auf der Angebotsseite in den entsprechenden Eingabefeldern erfolgen.

2.5 Für den Vertragsschluss steht ausschließlich die deutsche Sprache zur Verfügung.

3) Widerrufsrecht
Verbrauchern steht grundsätzlich ein Widerrufsrecht zu. Nähere Informationen zum Widerrufsrecht ergeben sich aus der Widerrufsbelehrung des Lizenzgebers.

4) Vergütung
4.1 Für die Rechtseinräumung an den jeweiligen Inhalten erhält der Lizenzgeber eine
Pauschallizenzgebühr, deren Höhe sich aus der jeweiligen Artikelbeschreibung ergibt.

4.2 Die vom Lizenzgeber angegebenen Preise sind Gesamtpreise. Umsatzsteuer wird nicht ausgewiesen, da der Lizenzgeber Kleinunternehmer im Sinne des § 19 Abs. 1 UStG ist.

4.3 Bei Zahlungen in Ländern außerhalb der Europäischen Union können im Einzelfall weitere Kosten anfallen, die der Lizenzgeber nicht zu vertreten hat und die vom Lizenznehmer zu tragen sind. Hierzu zählen beispielsweise Kosten für die Geldübermittlung durch Kreditinstitute (z.B.Überweisungsgebühren,Wechselkursgebühren).

4.4 Dem Lizenznehmer stehen verschiedene Zahlungsmöglichkeiten zur Verfügung, die im Angebot des Lizenzgebers bei Etsy angegeben werden.

4.5 Ist Vorauskasse vereinbart, ist die Zahlung sofort nach Vertragsabschluss fällig.

4.6 Bei Auswahl der Zahlungsart "PayPal" erfolgt die Zahlungsabwicklung über den
Zahlungsdienstleister PayPal (Europe) S.à r.l. et Cie, S.C.A., 22-24 Boulevard Royal, L-2449 Luxembourg unter Geltung der PayPal-Nutzungsbedingungen, einsehbar unter https://www.paypal.com/de/webapps/mpp/ua/useragreement-full. Dies setzt u. a. voraus, dass der Lizenznehmer ein PayPal-Konto eröffnet bzw. bereits über ein solches Konto verfügt.

5) Überlassung der Inhalte

Die Überlassung der Inhalte erfolgt ausschließlich in elektronischer Form per E-Mail oder per Download.

6) Einräumung von Nutzungsrechten

6.1 Sofern sich aus der Inhaltsbeschreibung im Online-Shop des Lizenzgebers nichts anderes ergibt,räumt der Lizenzgeber dem Lizenznehmer an den überlassenen Inhalten das nicht ausschließliche, örtlich und zeitlich unbeschränkte Recht ein, die überlassenen Inhalte zu privaten sowie zu geschäftlichen Zwecken zu nutzen.

6.2 Eine Weitergabe der Inhalte an Dritte oder die Erstellung von Kopien für Dritte außerhalb des Rahmens dieser AGB ist nicht gestattet, soweit nicht der Lizenzgeber einer Übertragung der vertragsgegenständlichen Lizenz an den Dritten zugestimmt hat.

6.3 Die Rechtseinräumung wird gem. § 158 Abs. 1 BGB erst wirksam, wenn der Lizenznehmer die gemäß Ziffer 4 dieses Vertrages geschuldete Vergütung vollständig geleistet hat. Der Lizenzgeber kann eine Benutzung der vertragsgegenständlichen Inhalte auch schon vor diesem Zeitpunkt vorläufig erlauben. Ein Übergang der Rechte findet durch eine solche vorläufige Erlaubnis nicht statt.

7) Mängelhaftung

Es gilt die gesetzliche Mängelhaftung.

8) Anwendbares Recht
Für sämtliche Rechtsbeziehungen der Parteien gilt das Recht der Bundesrepublik Deutschland unterAusschluss der Gesetze über den internationalen Kauf beweglicher Waren. Bei Verbrauchern gilt diese Rechtswahl nur insoweit, als nicht der gewährte Schutz durch zwingende Bestimmungen des Rechts des Staates, in dem der Verbraucher seinen gewöhnlichen Aufenthalt hat, entzogen wird.