Black and Silver Effect Scalloped Edging Lace Trim with Black Sequins, per metre, by the yard. Art Deco style embroidered net applique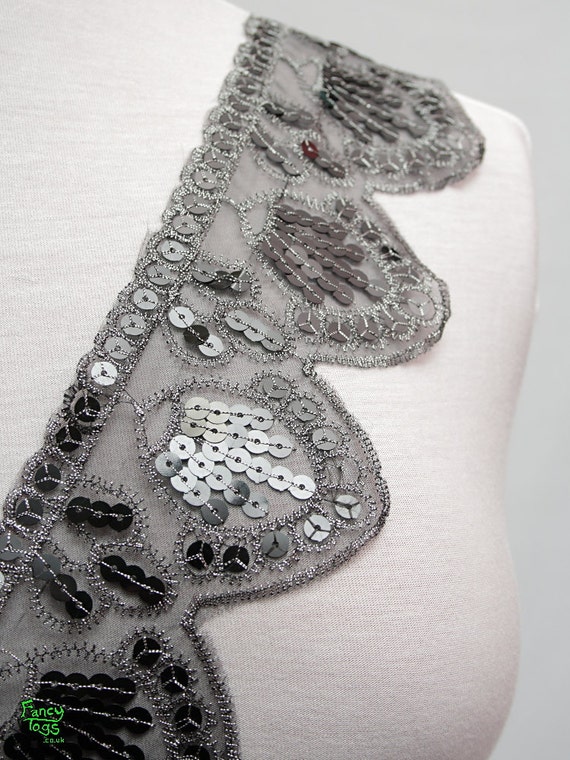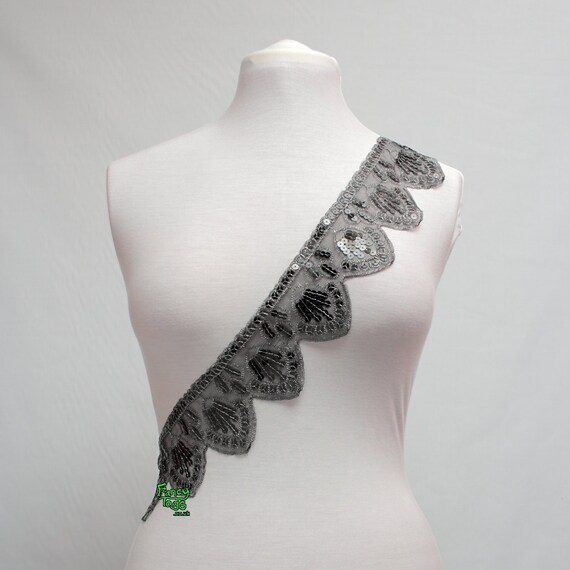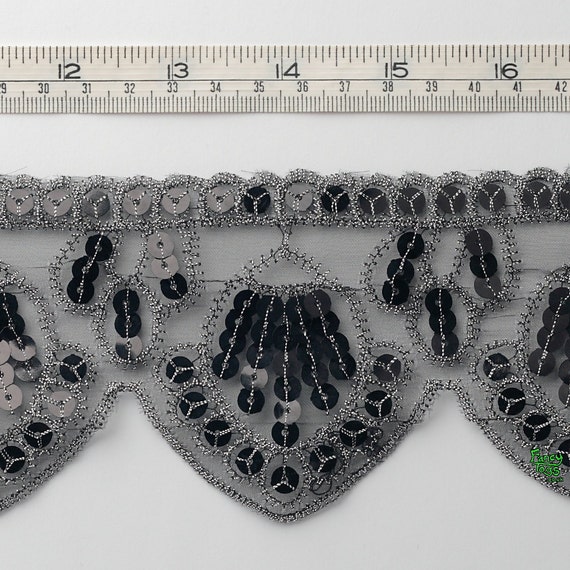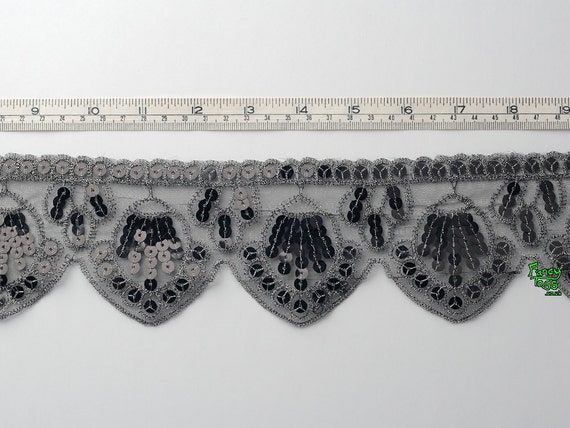 Preparation takes 1-3 business days
Arrives from United Kingdom
---
Item details
This is an elegant lace edging trim comprising a fine black net with silver coloured metallic thread and black sequins.

The effect is very Art Deco in feel, I can imagine sewing this on as an applique or edging trim on a flapper dress, or to embellish a classy black evening dress.

It would also look great layered over a coloured satin.

Sewing this as an edging onto black tulle would make a fantastic veil or headdress for a goth costume or alternative bride.

The overall width is approx 80mm (3.15 inches)

The pattern repeat is approx 72mm (2.8 inches)

We have priced per metre or by the yard, select your option from the dropdown menu.
1 yard = 0.915 m

As part of our dressmaking business we get to wander around wholesale warehouses stocked with beautiful haberdashery. We only ever pick out the best and most elegant for our own use, and now we are making these exquisite trims and materials available to discerning dressmakers and crafters on Etsy.

The bulk card is labelled as Two Birds Tailoring Materials indicating manufacture by Ningbo MH Group of China. Art (part code) is 06020-0265 and it appears to be no longer in production.

Unfortunately this lace came with no materials composition information, so officially is "unknown", and there are no care instructions. It is probably a nylon net with polyester sequins and some sort of metallic thread (possibly metallised polyester tape wound around a polyester or rayon thread core), but we make no guarantees on composition or it's care instructions.

Please note that the Right to Cancel does not apply to cut lengths of this trim, we are unable to accept returns unless faulty.

This lace will be shipped by Royal Mail 1st Class standard post (no signature) within the UK, and Royal Mail International Standard (airmail, no tracking, no signature) outside the UK.
---
---
More from this seller
---
Shipping & policies
Preparation takes 1-3 business days
Arrives from United Kingdom
Estimated Shipping
We expect to get stocked items in the post within 3 working days of order.
Items made to order and out of stock items can take upto 3 weeks to despatch.
We will let you know if it is going to take more than a couple of days to post items.

We will notify you when we despatch.

The normal method of postage is specified at the bottom of item description.
Larger orders may be sent by post or carrier dependant on destination, size and weight. Separate items ordered may be combined into a single parcel or split up.

Royal Mail's expected postal delivery times:
UK: 1-3 working days from despatch
EU: 3-5 working days from despatch
Rest of World: 5-7 working days from despatch
Royal Mail's estimates for international delivery are very optimistic, please allow an additional 2 weeks before worrying, and note that delivery times may be extended by public holidays and during busy periods.
International deliveries are not notifiable as lost until 20 working days (25 outside Europe) after the Royal Mail expected delivery date.

Parcels to the US are usually delivered in 2-3 weeks, however a few may take longer.

International customers are responsible for ensuring the goods are acceptable in their country and for payment of all local taxes, customs duty, processing and import fees.

Postal delivery times exclude customs processing which the customer may need to arrange.

Agreed Time for Delivery of Goods (as per regulation 42 of The Consumer Contracts (Information, Cancellation and Additional Charges) Regulations 2013) shall be:
- 6 weeks from order date for delivery to UK addresses
- 15 weeks from order date for delivery to addresses outside UK

Please make sure that your delivery address is correct when placing the order. Because of seller protection rules we will only ship to the address on the order. If a different address is requested after order, or the Etsy order address does not match the Paypal delivery address, we will unfortunately have to cancel the order and start again.
---
Payments
Payments with order please, orders will not be accepted without cleared payment.
We accept Paypal and also accept card payments by Etsy direct checkout.

We are UK VAT registered: VAT No. GB944441227
Prices shown include UK VAT for UK and EU sales. For sales outside the EU the prices shown include VAT at the 0% export rate, and a discount is factored into the shipping charges.
---
Returns & exchanges
We're a small family business that takes pride in our creations and want our customers to enjoy them as much as we do. We're always ready to talk reasonably to reasonable people, but to satisfy the law and to protect ourselves from unreasonable people we have to state a few terms and conditions (policies).

We use the best blank garments that are suitable and we expect our embroideries to last the life of the garment in normal reasonable use as a leisure garment and with proper care. We expect garments to fade gracefully with time, whilst the embroidery threads should remain strongly coloured. Some pilling of garments is expected with extended use, but our own testing has proved it to be minimal with the high quality garments that we use.

If you have any questions on care or any problems with the embroidery or garment then please contact us for advice as soon as possible, by phone, email or via Etsy messaging.

All our consumer sales on Etsy.com are subject to English laws, including the Consumer Rights Act 2015 and The Consumer Contracts (Information, Cancellation and Additional Charges) Regulations 2013.
The laws and regulations are complex and confusing. We have tried to explain simply how we uphold your consumer rights, but if you have any questions please contact us.

Right to Cancel:

The customer may cancel for any reason (including colour not liked or incorrect size) from order until the end of 14 calendar days after the day of delivery to customer, however this period can be extended if required as a gift (please contact us via Etsy Conversations for agreement before placing order).

Please inform us of cancellation in writing. You must send your cancellation notice before the cancellation period has expired, by post, email or via Etsy Conversations (sorry but we do not have a fax facility). We would prefer you to use Etsy Conversations for all Etsy orders so that records of communications are available to Etsy's administration. You may use the Cancellation Form provided but it is not essential. You are advised to retain proof of sending cancellation.

For cancellations we will refund the order value (including shipping of the item to customer), within 14 days of cancellation where goods have not yet been despatched, within 14 days of us receiving returned goods, or 14 days of giving us evidence of sending back. Refunds will be made using the original payment method. The customer is chargeable, up to original order value, for goods that are not received back or are returned damaged.

Bundles, multibuy offers, and quantity discounted items will be counted as a single item for the purposes of refunds and cancelled in their entirety. Partial cancellation is available if the customer pays non-discounted pricing, including delivery, for uncancelled components as if they were separate items.

If goods are cancelled after despatch to customer please refuse delivery and the delivery service will return to sender.

Cancelled goods that have been delivered to the customer must be sent back within 14 days of cancellation. Please return goods in a resaleable condition ie. original packaging, clean, undamaged and all tickets still attached. Customers are free to open packaging and try on clothing, we understand that you may not be able to refold clothing the same as despatched. Items that have had swing tickets removed or have been washed will be considered as worn and damaged by the customer.

Returns of cancelled items are to be arranged by the customer and are at customer cost. Returns are at customer risk and customers are recommended to ensure adequate packing and insurance for loss or damage in transit. A service with proof of posting and proof of delivery should be used.

For international returns from outside the EU please mark the parcel "RETURNED GOODS". You will need to attach a completed CN22 or CN23 form including our VAT number "GB944441227" and include a copy of our invoice crossed through with "RETURNED GOODS". We cannot refund import duties or taxes paid by you for receipt of the goods into your country, you will need to do that yourself, please keep copies of all paperwork and proof of posting of returned goods to support your application for refunds of import duties and taxes.

If a customer wishes us to arrange collection then they must make the goods available for collection and direct costs incurred for the return will be chargeable to the customer, we cannot guarantee that the cheapest service is used.

Goods supplied as specials to customer specification cannot be cancelled once the order has been accepted, and cannot be returned for refund if unwanted or incorrect size ordered.

The Right to Cancel does not apply to business purchasers.

8< - - - - - - - - - - - - - - - - - - - - - -

Cancellation Form

UK law now requires that we provide, before order, a "form" for you to cancel your order. Please print and use this form if you really want to, but it is not necessary for you to use it:

To
Clare Hughes trading as Fancy Togs
202 Charnwood Road
Shepshed
Loughborough
Leicestershire
LE12 9NR
United Kingdom

Telephone: +44(0)1509 504070 - We're happy to take your call 9am-9pm, 7 days a week (but after noon on Sundays please) - UK times

email: info [!at] fancytogs.co.uk

I/We [*] hereby give notice that I/We [*] cancel my/our [*] contract of sale of the following goods:
.
. . . . . . . . . . . . . . . . . . . . . . . . . . . . . . . . . .
.
. . . . . . . . . . . . . . . . . . . . . . . . . . . . . . . . . .
.
. . . . . . . . . . . . . . . . . . . . . . . . . . . . . . . . . .
.
.
Ordered on [*]/received on [*],
.
. . . . . . . . . . . . . . . . . . . . . . . . . . . . . . . . . .
.
.
Name of consumer(s),
.
. . . . . . . . . . . . . . . . . . . . . . . . . . . . . . . . . .
.
.
Address of consumer(s),
.
. . . . . . . . . . . . . . . . . . . . . . . . . . . . . . . . . .
.
. . . . . . . . . . . . . . . . . . . . . . . . . . . . . . . . . .
.
. . . . . . . . . . . . . . . . . . . . . . . . . . . . . . . . . .
.
Signature of consumer(s) (only if this form is notified on paper),
.
.
. . . . . . . . . . . . . . . . . . . . . . . . . . . . . . . . . .
.
.
Date
.
. . . . . . . . . . . . . . . . . . . . . . . . . . . . . . . . . .
.
[*] Delete as appropriate.


8< - - - - - - - - - - - - - - - - - - - - - -


Faulty Goods :

Faulty Goods may be replaced, repaired, fully or partially refunded. The legal requirements are quite complex, but we're proud of our products and prefer a happy customer, so we will do what we can to rectify problems in a reasonable manner. You have the right to reject faulty goods for full refund within 30 days of receipt, but there are lesser rights up to 6 months and then up to 6 years. We are responsible for any loss or damage during delivery to you.

Please contact us by before making any faulty goods returns, we will agree a suitable course of action which may include return of goods at our cost or alternative action that does not require return of goods. We will not refund carriage costs for unauthorised returns.

Our items are supplied as suitable for light duty leisure use with the proper care.
We exclude responsibility for any damage caused by wear and tear, excessive stretching, cutting, abrasion, incorrect care, heat, prolonged exposure to sunlight, chemicals, staining, unauthorised repair, heavy wear, rough handling or other inappropriate actions.
---
Additional policies
We can do commissions on different colours and garment types from those listed, and can modify or make to measure for hard to fit sizes - just send us a message. There may be an additional charge for such specials.

Please enquire for trade and wholesale. Different terms and conditions, pricing and policies would apply for trade sales. We can offer customised products to trade as well as stock items, please ask.

We operate from the UK mainland with all sales subject to English law, with disputes subject to resolution in English courts. The language used will be English. Basis of all values is British Pounds Sterling. Dispute resolution is also available through Paypal, Etsy or card providers (depending on payment method used).

These policies do not affect the customer's legal rights.

We are under a legal duty to supply goods that are in conformity with the contract.

Etsy listing pages are an "invitation to treat", not an "offer" by Fancy Togs. Customer Order and Payment is an "offer" and Contract will not be formed until Order Acceptance by Fancy Togs or dispatch of the goods (whichever is sooner). We reserve the right to decline an order.

Purchase of goods is subject to availability.

Errors and Omissions Excepted (E&OE)



Seller Information:

We are UK VAT registered: VAT No. GB944441227

Telephone: +44(0)1509 504070 - We're happy to take your call 9am-9pm, 7 days a week (but after noon on Sundays please) - UK times

You can email us at: info [!at] fancytogs.co.uk
but for Etsy orders please only use Etsy Conversations, as these are available to Etsy administration for order confirmation and dispute resolution purposes.

Address:
Clare Hughes trading as Fancy Togs
202 Charnwood Road
Shepshed
Loughborough
Leicestershire
LE12 9NR

We're not a "shop" premises so please phone before visiting!