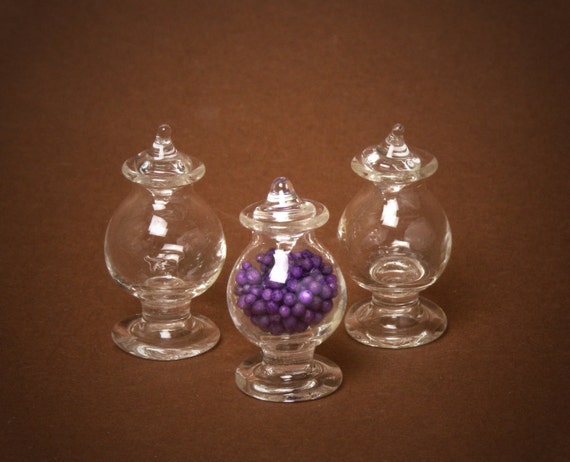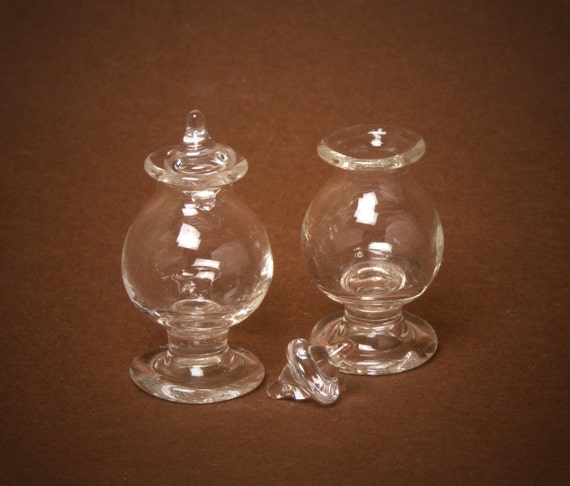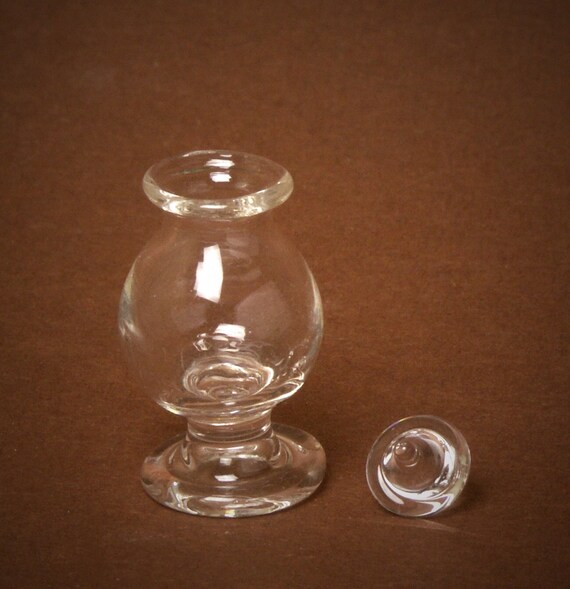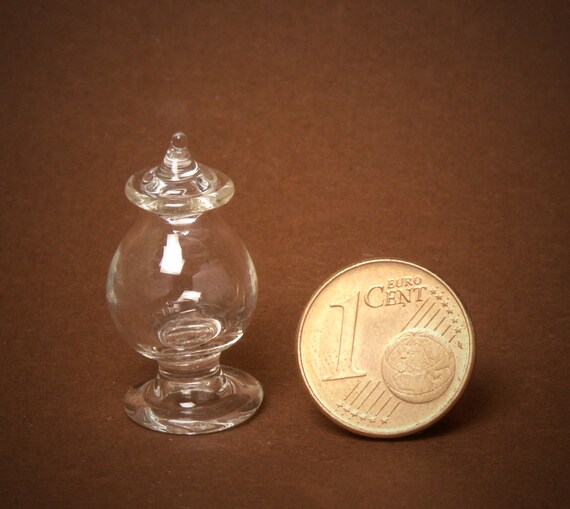 Preparation takes 1-2 business days
---
Item details
The elegant glass bowl in dollhouse scale 1:12 can be filled with candies, cookies, chocolate or what ever you see fit. The lid is loose.

This glass is an eye-catcher for every dollhouse kitchen!

Measurements:
Height with lid: 2.6 cm / 1.02 inch
Diameter: 2.0 cm / 0.79 inch


Attention: This article is expressly not a toy for children and not suitable for persons under 14 years of age!
---
---
beautifully in scale. Arrived super fast
May 8, 2018 by dianealterman
Love it . Looks great in my dollhouse. Came in one piece thankfully
Feb 20, 2018 by melmadrid1
Es war rechtzeitig da und ist wunderschön.
Jun 13, 2017 by krasab3
Shipped in a timely manner and well packaged. Lovely little glass candy jars. I love glass, and it's not always easy to find, and these are perfect.
Jan 21, 2017 by dragonintherain
Wonderful glass container for dollhouse delicacies. I filled it with miniature peppermint sticks and looks great!!!
Aug 24, 2015 by Maria
---
More from this seller
---
Shipping & policies
Preparation takes 1-2 business days
Estimated Shipping
Der Versand erfolgt per Post / DHL.

Jeder Sendung liegt eine Rechnung mit ausgewiesener MwSt. bei. Bitte beachten Sie, dass bei Lieferung außerhalb der EU zusätzliche länderspezifische Steuern und Zölle fällig werden können.
---
Payments
All major credit cards and debit cards are accepted through Paypal.

Paypal Note: You are not required to sign up with Paypal in order to use your credit/debit card.

Your items will be shipped once payment clears.
---
Returns & exchanges
I don't accept returns, exchanges, or cancellations
But please contact me if you have any problems with your order.
Additional return information
General Terms and Conditions - Information on Consumers' Right of Withdrawal

Contents
Part I: General Terms and Conditions
Part II: Privacy Policy
Part III: Information on Consumers' Right of Withdrawal


Part I - General Terms and Conditions

Section 1 – Vendor, inclusion by reference of the General Terms and Conditions

(1) The Vendor and contracting party for the merchandise presented in the Etsy Shop "DinkyWorld" is Bettina Kienitz, Trierer Str. 16, 54597 Burbach, phone +49-6553-9011 693, e-mail bettina@dinkyworld.net (referred to hereinbelow as the "Vendor" for short).

(2) The present General Terms and Conditions are a component part of any contractual agreement made between the Vendor and the respective Customer. The Vendor hereby objects to any terms and conditions that the Customer may have established and that contradict the present General Terms and Conditions.


Section 2 – Merchandise offered and conclusion of contract

(1) The Vendor is offering the merchandise presented in the Etsy Shop "Vintage4Moms" for sale to other Etsy users. The colors of the merchandise shown on the website may vary slightly depending on the internet browser and monitor settings used by the Customer; these variations are technically unavoidable.

(2) Selection of merchandise, conclusion of contract and implementation of the agreement shall all take place in German.

(3) The Customer shall select the merchandise desired by placing it in his "Cart" ("Warenkorb"). When the cart contains all merchandise desired, the Customer proceeds to the checkout by clicking on "Proceed to Checkout" ("Zur Kasse gehen"). The following page titled "Please confirm and submit your order" shall display a summary, so that the Customer can check for any incorrect input. On this page, the Customer can place his order with the Vendor by clicking on the button "Pay now" ("Jetzt bezahlen"); where the Customer uses Klarna ("Sofort") for payment, the order will be placed with the Vendor by clicking on the button "Next" ("Weiter") on the page titled "Transaction confirmation" ("Transaktion bestätigen"). Until the order is transmitted to the Vendor, the Customer may go back one or multiple steps in the browser to modify the data input or to completely discontinue the order.

(4) The Vendor is making a binding sales offer for the merchandise presented in his shop. By transmitting the order using the button "Pay Now" ("Jetzt bezahlen"), the Customer accepts the sales offer; The Vendor shall confirm the conclusion of the contract by e-mail (contract confirmation).

(5) The content of a contract concluded is stored by Etsy in the Vendor's and the Customer's Etsy user accounts and may be viewed by the Customer in his user account on the Etsy portal in section "Purchases and Reviews" ("Einkäufe und Bewertungen") in the "You" ("Du") menu. After conclusion of a contract, Etsy shall also send an e-mail with the content of the contract to the Customer. Beyond that, the Vendor neither saves the content of the contract nor does he provide access to it outside the Etsy platform.

(6) The Vendor shall inform the Customer by e-mail of any impediments preventing the delivery from being made, or of any other circumstances that might prevent contractual performance.


Section 3 – Prices and payment

(1) All product prices are total prices plus shipping costs. Prices include VAT.

(2) The shipping costs are listed in the respective product description under "Shipping & Returns" ("Versand & Rückgaben")

(3) Customer payments shall be received by Etsy Ireland Ltd, The Digital Hub, Rainsford Street, Dublin 8, D08 TCV4, Ireland, ("Etsy Ireland" for short) on behalf of the Vendor. Etsy Ireland forwards the amount paid to the Vendor.

(4) Etsy Ireland accepts credit card payments (VISA, MasterCard, American Express). In the Cart section, Etsy Ireland may offer additional means of payment, such as PayPal or Klarna ("Sofort").

(5) The provider reserves ownership of the delivered goods until the buyer has paid their purchase price in full.

(6) Where deliveries are made to countries outside the European Union, customs or acquisition tax for imported goods may have to be paid by the Customer to the customs authorities upon receipt of the shipment. These duties will accrue in addition to the purchase price and the shipping costs; the Vendor has no means of influencing them.


Section 4 – Right of withdrawal for consumers

(1) A Customer purchasing as consumer is entitled to a right of withdrawal in accordance with the statutory pre-requisites.

(2) A consumer means every natural person who enters into a legal transaction for a purpose that is mainly outside his commercial or self-employed professional activity.

(3) The pre-requisites and legal consequences of the German stipulations as to consumers' rights of withdrawal shall apply to consumers having their permanent residence outside of Germany also in those cases in which the consumer's national law does not provide for a right of withdrawal or provides for a shorter withdrawal period or for stricter requirements as to form.


Section 5 – Warranty

(1) For used goods, the parties agree that the period of limitation regarding warranty claims shall be shortened to one year. However, the shortened period shall neither apply to claims based on injury to life, body or health nor to claims for other damages arising from a grossly negligent or intentional breach of duty by the Vendor, by a legal representative of the Vendor or by a person used to perform an obligation of the Vendor.

(2) In all other regards, the warranty claims shall be governed by the statutory regulations.


Section 6 – Alternative dispute resolution

(1) For settling consumer disputes out-of-court, the European Union offers a platform for online dispute resolution at ec.europa.eu/consumers/odr ("ODR platform").

(2) The provider is willing to participate in an out-of-court consumer dispute resolution process.


Section 7 – Final provisions

(1) The laws of the Federal Republic of Germany shall apply, to the exclusion of the United Nations Convention on the International Sale of Goods (UNCISG). However, German law shall not apply to transactions with consumers having their permanent residence abroad to the extent the national laws applicable to those consumers set out provisions that cannot be contracted out to the detriment of the consumers.

(2) Should individual provisions of the present General Terms and Conditions prove to be invalid or impossible to implement, this shall not affect the validity of the remaining provisions.


Part II – Privacy Policy

(1) After conclusion of a purchase contract Etsy transfers to the Vendor the Customer's Etsy user name and his full name and billing address as they are stored in the Customer's user account. If the Customer has specified additional information with the order (eg a different delivery address or a phone number), it is also transferred to the Vendor.

(2) The Vendor shall process the data referred to in paragraph 1 for the performance of the contract, shipping of the merchandise, invoicing and recording payments. For shipping purposes, the Vendor may transfer the Customer's name and address to the contracted shipping company.

(3) The data remains stored by the Vendor until all claims arising from the order are fully fulfilled and until the applicable commercial and tax law retention periods have expired.

(4) The Customer may at any time, free of charge, request information from the Vendor about the stored data concerning him. Furthermore, the Customer may at any time request the correction of erroneous data.

(5) Regarding data processed by the Vendor according to the paragraphs above, controller of data protection is the Vendor (Bettina Kienitz, Trierer Str. 16, 54597 Burbach, Telefon 06553-9011 693, E-Mail bettina@dinkyworld.net). Beyond that, Etsy's Privacy Policy applies.

(6) If the Customer uses PayPal, Klarna or any other payment provider, the respective provider's privacy policy shall apply to the payment process additionally. In this context, the payment provider shall act on behalf of the Customer (Erfüllungsgehilfe), and not on behalf of the Vendor.

(7) On the Etsy platform, you may find Social Media Buttons; they can be recognized by the logos of the social media platforms (hereinafter "platforms") (Facebook: blue "f", Twitter: blue bird silhouette, Pinterest: red "p"). These are links to the respective platforms based in the United States (USA). Clicking on such a link calls the respective Platform's website; at the same time, the IP address of your device and the address of the page where the link is placed ("Referrer") will be transmitted to the Platform in the USA. The Vendor himself will neither collect, transmit nor otherwise process any data related to the use of the social media buttons.


Information on the right of withdrawal for goods delivered by post

Right of withdrawal
You have the right to withdraw from this contract within 14 days without giving any reason. The withdrawal period will expire after 14 days from the day on which you acquire, or a third party other than the carrier and indicated by you acquires, physical possession of the goods.

To exercise the right of withdrawal, you must inform us (Bettina Kienitz, Trierer Str. 16, 54597 Burbach, Telefon 06553-9011 693, E-Mail bettina@dinkyworld.net) of your decision to withdraw from this contract by an unequivocal statement (e.g. a letter sent by post or e-mail). You may use the attached model withdrawal form, but it is not obligatory.

To meet the withdrawal deadline, it is sufficient for you to send your communication concerning your exercise of the right of withdrawal before the withdrawal period has expired.

Effects of withdrawal
If you withdraw from this contract, we shall reimburse to you all payments received from you, including the costs of delivery (with the exception of the supplementary costs resulting from your choice of a type of delivery other than the least expensive type of standard delivery offered by us), without undue delay and in any event not later than 14 days from the day on which we are informed about your decision to withdraw from this contract. We will carry out such reimbursement using the same means of payment as you used for the initial transaction, unless you have expressly agreed otherwise; in any event, you will not incur any fees as a result of such reimbursement.

We may withhold reimbursement until we have received the goods back or you have supplied evidence of having sent back the goods, whichever is the earliest.

You shall send back the goods or hand them over to us without undue delay and in any event not later than 14 days from the day on which you communicate your withdrawal from this contract to us. The deadline is met if you send back the goods before the period of 14 days has expired.

You will have to bear the direct cost of returning the goods.

You are only liable for any diminished value of the goods resulting from the handling other than what is necessary to establish the nature, characteristics and functioning of the goods.


Information concerning consumers' right of withdrawal for freight forwarding deliveries

Right of withdrawal
You have the right to withdraw from this contract within 14 days without giving any reason. The withdrawal period will expire after 14 days from the day on which you acquire, or a third party other than the carrier and indicated by you acquires, physical possession of the goods.

To exercise the right of withdrawal, you must inform us (Bettina Kienitz, Trierer Str. 16, 54597 Burbach, Telefon 06553-9011 693, E-Mail bettina@dinkyworld.net) of your decision to withdraw from this contract by an unequivocal statement (e.g. a letter sent by post or e-mail). You may use the attached model withdrawal form, but it is not obligatory.

To meet the withdrawal deadline, it is sufficient for you to send your communication concerning your exercise of the right of withdrawal before the withdrawal period has expired.

Effects of withdrawal
If you withdraw from this contract, we shall reimburse to you all payments received from you, including the costs of delivery (with the exception of the supplementary costs resulting from your choice of a type of delivery other than the least expensive type of standard delivery offered by us), without undue delay and in any event not later than 14 days from the day on which we are informed about your decision to withdraw from this contract. We will carry out such reimbursement using the same means of payment as you used for the initial transaction, unless you have expressly agreed otherwise; in any event, you will not incur any fees as a result of such reimbursement.

You are only liable for any diminished value of the goods resulting from the handling other than what is necessary to establish the nature, characteristics and functioning of the goods.


Sample Withdrawal Form
(complete and return this form only if you wish to withdraw from the contract)

— To Bettina Kienitz, Trierer Str. 16, 54597 Burbach, Telefon 06553-9011 693, E-Mail bettina@dinkyworld.net:

— I/We (﹡) hereby give notice that I/We (﹡) withdraw from my/our (﹡) contract of sale of the following goods (﹡) / for the provision of the following service (﹡),

— Ordered on (﹡) / received on (﹡),

— Name of consumer(s),

— Address of consumer(s)

— Signature of consumer(s) (only if this form is notified on paper),

— Date
---
Additional policies
IMPRESSUM

Bettina Kienitz
Trierer Str. 16, 54597 Burbach, Germany
Tel: 06553-9011 693
Email: bettina [!at] dinkyworld.net