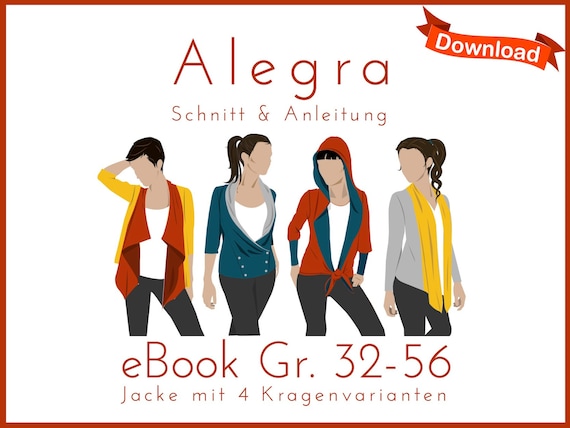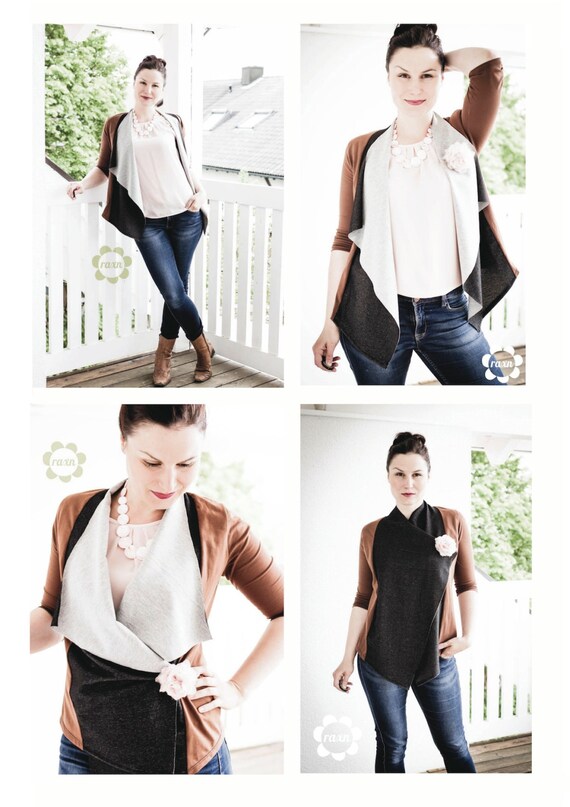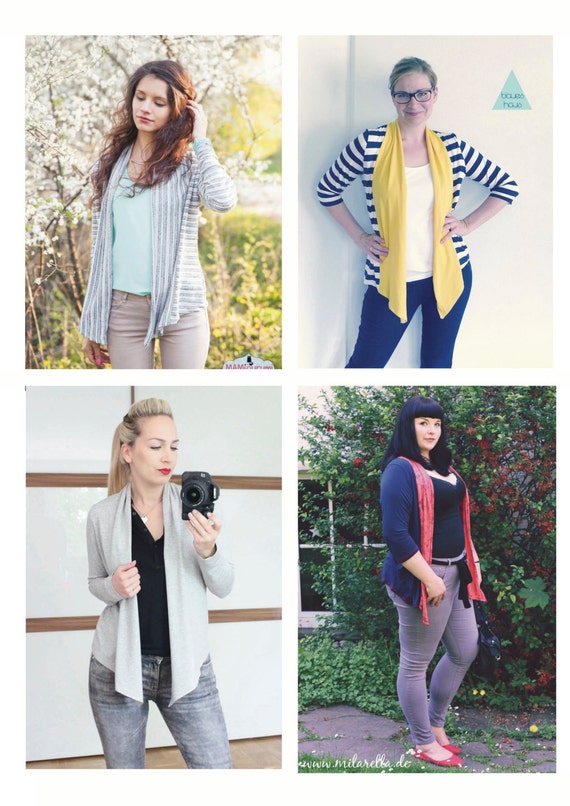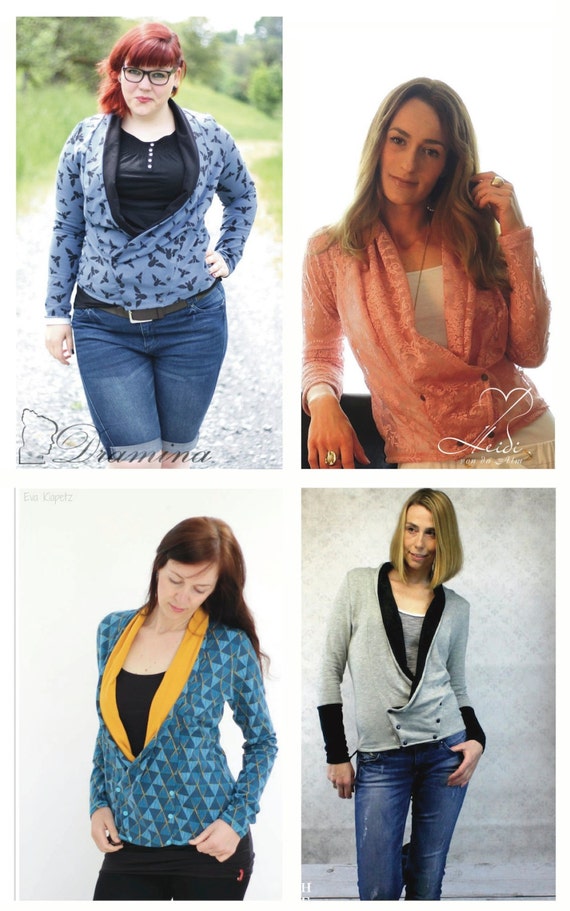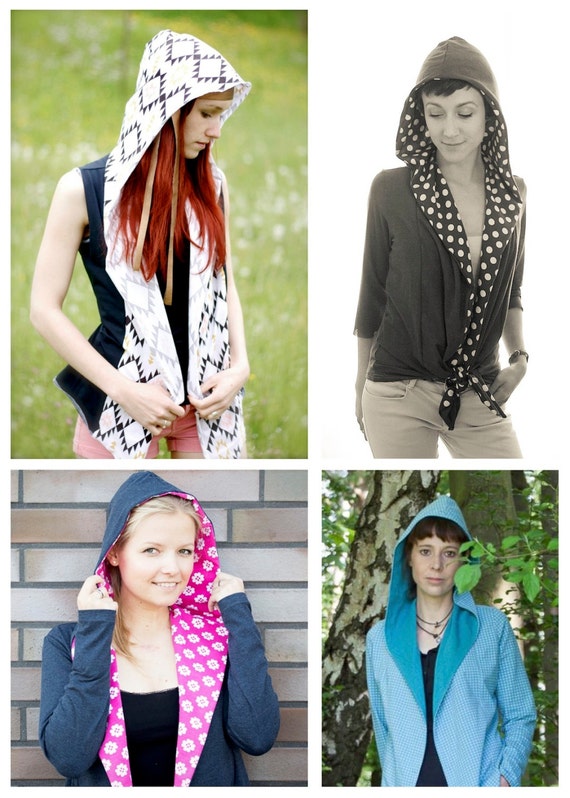 ---
Features
---
Item details
Sorry, we couldn't translate this to English.
Jacket Alegra
Sewing patterns & instructions (detailed illustrated instructions on german)
Gr. 32-56 (single size)

Difficulty •
Ideal for beginners

The eBook includes:

• illustrated instructions (for all versions / incl. dimensional tables)-I recommend not to print them, but at the PC/Tablet to read, to save printing costs.

• each base size 32-48 and 48-56 (for a better cutting allocation), consisting of front & rear part (with or without back darts), sleeve (3/4 & long, optional rib for 3/4)

• Collar 1 to the buttons
• Collar 2 open/knotted
• Collar 3 Hood (single-layer or lined)
• Collar 4 cut


All four versions are four looks that look totally different depending on fabric choice and combination.

The open collar version 2 and cut collar 4. knotted wonderful figure flatterer, again very sexy The female figure emphasizes the collar to the buttons and with back darts, this variant is also absolutely suitable for Office use. The hood acts even athletic, eleven times.

All versions are illustrated in detail in the eBook and described.
Even beginners should have absolutely no problems.

All Designbeispiele you can look at http://dasmilchmonster.jimdo.com/blog/.


Information on the fuel consumption:

Base with collar 1, 2, or 3 (long sleeve):

Size fabric consumption at 1.40 m full-width
32-36 = 1.60 m
38-40 = 1.65 m
42-48 = 1.75 m
50-56 = 2.20 m


Base with collar 1, 2, or 3 (3/4 sleeve):

Size
32-36 = 1.37 m
38-40 = 1.42 m
42-48 = 1.47 m
50-56 = 1.97 m


Collar lining (optional)

Size
32-36 = 88 cm
38-40 = 92 cm
42-48 = 95 cm
50-56 = 100 cm


Base with collar 4:

Size
32-36 = 1.80 m
38-40 = 1.90 m
42-48 = 2.00 m
50-56 = 2.10 m

To open the files, you will need the Adobe Reader. You can get it free of charge from Adobe.

Is this article a PDF sewing pattern (as a ZIP file) & manual to print on the standard printer, not finished paper cuts or finished garments. No liability can be accepted for any errors in the manual.

The eBook after purchase conveniently right here download!
(Excluding in advance, where the download will be released after receipt of payment)

Please note that the download of Tablet PCs and Internet-capable mobile phones does not always work properly. ZIP files must be used on mobile devices (smartphones or tablets) unzipped to.

© 2015 by Antonia MONTAÑO - the milk Monster
This cut may be used for private purposes and for the production of pieces/small series - also for commercial resale (unlimited), stating the origin. Mass production of the finished goods as well as copy, share, print or publication (partly) of the eBooks, is expressly prohibited and will be prosecuted for contempt.


zip. PDFs contain file
---
---
May 18, 2016 by morningsprite
I really love this pattern. I will likely make it again, and have already recommended it to others! One thing--the Etsy automatic translator makes the listing say this has an English translation, but it actually says German only if you look in the original language. There are enough clear photos I could sew it easily, and Google translator helped me figure out things like seam allowance.
Dec 10, 2015 by Tori
---
More from this seller
---
Digital downloads
---
Payments
Secure options
Etsy Studio keeps your payment information secure. Etsy Studio shops never receive your credit card information.
---
Terms & conditions
§ 1 Geltungsbereich, Kundeninformationen
Die folgenden Allgemeinen Geschäftsbedingungen regeln das Vertragsverhältnis zwischen Antonia Montaño Goertz und den Verbrauchern und Unternehmern, die über unseren Shop Waren kaufen. Entgegenstehende oder von unseren Geschäftsbedingungen abweichende Bedingungen des Unternehmers werden von uns nicht anerkannt. Die Vertragssprache ist Deutsch.



§ 2 Vertragsschluss
Die Angebote im Internet stellen ein verbindliches Angebot an Sie dar, Waren zu kaufen.
Sie können ein oder mehrere Produkte in den Warenkorb legen. Im Laufe des Bestellprozesses geben Sie Ihre Daten und Wünsche bzgl. Zahlungsart etc. ein. Erst mit dem Anklicken des Bestellbuttons nehmen Sie dieses Angebot auf Abschluss eines Kaufvertrags an. Sollten Sie Ihre Zustimmung zur sofortigen Freigabe des Downloads und dem damit verbundenen Verzicht auf Ihr Widerrufsrecht nicht erteilt haben, werden die Produkte erst nach Ablauf der Widerruffrist von 14 Tagen freigeschaltet. Sollten Sie Ihre Zustimmung erteilt haben, werden die Produkte nach Vertragsschluss zum sofortigen Download bereitgestellt.



§ 3 Zeitliche Begrenzung des Downloads
Sie können das Produkt nach der Freischaltung nur innerhalb der folgenden zeitlichen Begrenzung herunterladen: 100 Tage



§ 4 Downloadanzahl
Sie können das Produkt 10 - in Worten "zehn Mal" herunterladen.



§ 5 Regelung des Nutzungsrechts
Sie sind lediglich berechtigt, Privatkopien auf anderen Trägermedien anzufertigen. Der Weitervertrieb, die Weitergabe, Übertragung oder die Unterlizenzierung ist nicht gestattet.



§ 6 Kundeninformation: Speicherung Ihrer Bestelldaten
Ihre Bestellung mit Einzelheiten zum geschlossenen Vertrag (z.B. Art des Produkts, Preis etc.) wird von uns gespeichert.



§ 7 Kundeninformation: Korrekturhinweis
Sie können Ihre Eingaben vor Abgabe der Bestellung jederzeit mit der Löschtaste berichtigen. Den Bestellprozess können Sie auch jederzeit durch Schließen des Browser-Fensters komplett beenden.



§ 8 Gesetzliche Mängelhaftungsrechte
Für unsere Waren bestehen gesetzliche Mängelhaftungsrechte.



§ 9 Haftungsbeschränkung
Wir schließen die Haftung für leicht fahrlässige Pflichtverletzungen aus, sofern diese keine vertragswesentlichen Pflichten, Schäden aus der Verletzung des Lebens, des Körpers oder der Gesundheit, Garantien oder Ansprüche nach dem Produkthaftungsgesetz betreffen. Gleiches gilt für Pflichtverletzungen unserer Erfüllungsgehilfen und unserer gesetzlichen Vertreter. Zu den vertragswesentlichen Pflichten gehört insbesondere die Pflicht, Ihnen das Produkt frei von Rechtsmängeln zu verschaffen.




Widerrufsbelehrungen

Sie haben das Recht, binnen vierzehn Tagen ohne Angabe von Gründen diesen Vertrag zu widerrufen.

Die Widerrufsfrist beträgt vierzehn Tage ab dem Tag des Vertragsabschlusses.

Um Ihr Widerrufsrecht auszuüben, müssen Sie uns (Antonia Montano Goertz, Lindenthalgürtel 26, 50935 Köln, info@milchmonster.de, 0221- 4848541, ) mittels einer eindeutigen Erklärung (z.B. ein mit der Post versandter Brief, Telefax oder E-Mail) über Ihren Entschluss, diesen Vertrag zu widerrufen, informieren.

Zur Wahrung der Widerrufsfrist reicht es aus, dass Sie die Mitteilung über die Ausübung des Widerrufsrechts vor Ablauf der Widerrufsfrist absenden.

Folgen des Widerrufs

Wenn Sie diesen Vertrag widerrufen, haben wir Ihnen alle Zahlungen, die wir von Ihnen erhalten haben, einschließlich der Lieferkosten (mit Ausnahme der zusätzlichen Kosten, die sich daraus ergeben, dass Sie eine andere Art der Lieferung als die von uns angebotene, günstigste Standardlieferung gewählt haben), unverzüglich und spätestens binnen vierzehn Tagen ab dem Tag zurückzuzahlen, an dem die Mitteilung über Ihren Widerruf dieses Vertrags bei uns eingegangen ist. Für diese Rückzahlung verwenden wir dasselbe Zahlungsmittel, das Sie bei der ursprünglichen Transaktion eingesetzt haben, es sei denn, mit Ihnen wurde ausdrücklich etwas anderes vereinbart; in keinem Fall werden Ihnen wegen dieser Rückzahlung Entgelte berechnet.