2 matching arrowheads hand picked replica to make your own custom earrings,chakra amethyst crystal all natural arrow heads bird points ae113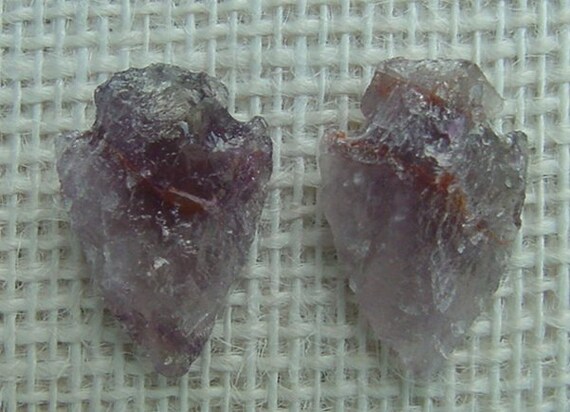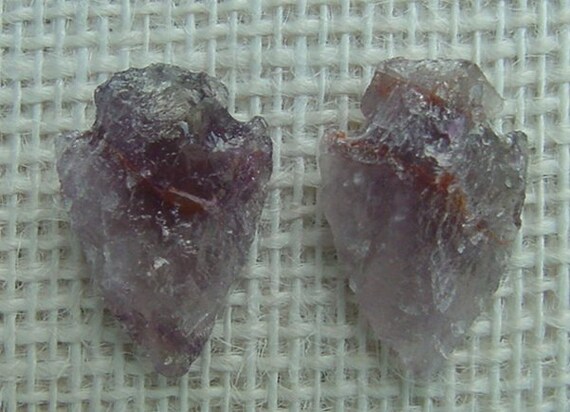 ---
Item details
2 matching arrowheads hand picked replica to make your own custom earrings,chakra amethyst crystal all natural arrow heads bird points ae113.

Size is about 1.10" inch arrowheads as seen in picture - arrow heads reproduction replica (YOU WILL RECEIVE THE ARROWHEADS IN THE PICTURE WHAT YOU SEE IS WHAT YOU GET) ARROWHEADS BIRD POINTS. These are special arrowheads, hand picked for color and quality, to where you can get the exact arrowheads you want, you know exactly the arrowheads you are getting for your project. This is real amethyst crystal arrowheads. To make your own custom earrings.

Amethyst Crystal is said to be linked with the Crown Chakra.
Amethyst Crystal is said it is connected with the Elements of Water and all the direction of the West.
Amethyst Crystal is said it is used in meditation and helps in increasing spiritual awareness.

Pair of arrowheads make your own earrings,ear weights,ear cuffs.
Make your own unique pair of custom earrings with a pair of arrowheads, your earrings or jewelry made your way.

1 pair of arrowheads very close to same size and shape and style of cut,you could electroplate the arrowheads to make them really stand out.

All of our photographs of our arrow heads, spear heads, fossils and fossil shells, alligator gar fish scales jewelry, and arrowhead jewelry are taken from a high quality camera, with great detail, however may the colors may vary depending on your settings on your computer or mobile device, if you have any questions please ask seller a question, all of our auctions are what you see is what you get unless otherwise stated in the description of the auction. Please make sure this auction is what you want before purchasing item.

Arrowheads Direct for reproduction arrowheads and spearheads have some of the most pretty all natural colors organic colorful awesome colors and patterns on the web 1 to 1 1/2" jasper and agate stone arrowheads replica reproduction also in grab bags, specialty colors and patterns.Arrowhead & spearhead collections and specialty arrowheads are hand picked for quality nd color start a collection or add to your collections.


Thanks for looking.
---
Shipping & policies
Arrives from the United States
Estimated Shipping