Crystal Chakra Meditation Kit for Radical Happiness / Spiritual Energy Healing Tools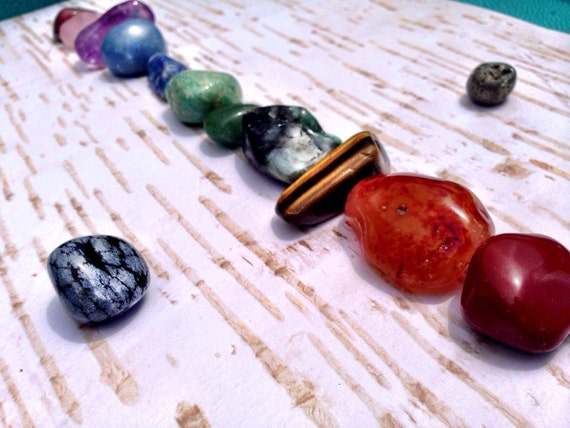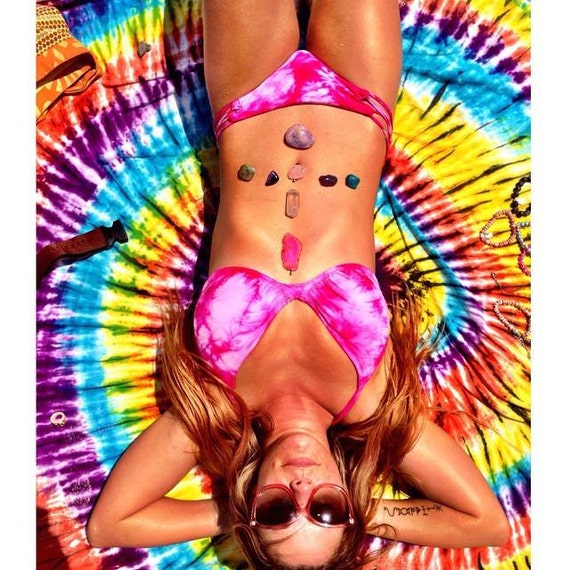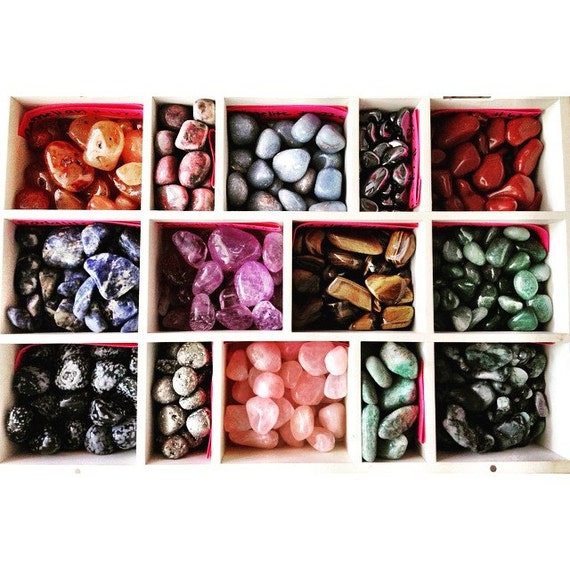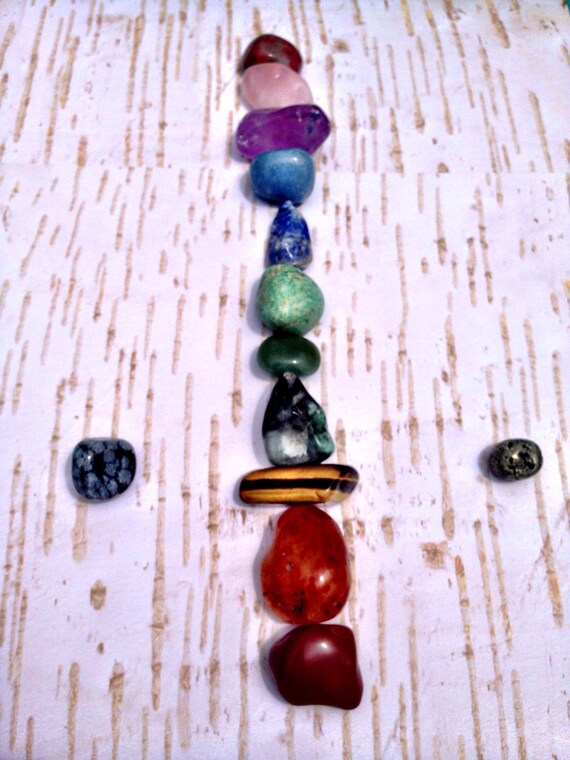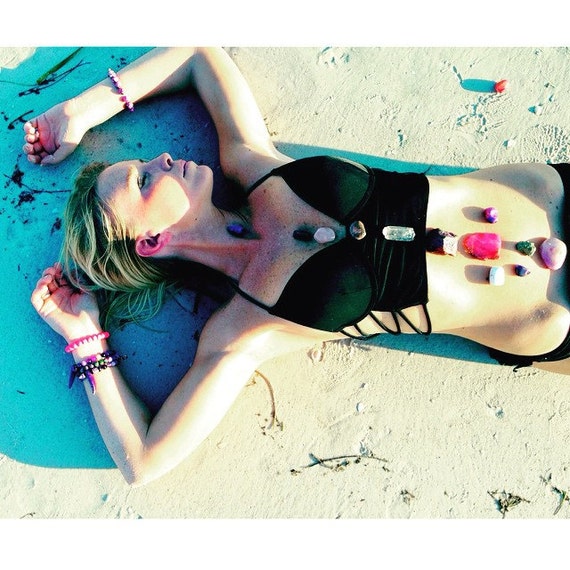 Preparation takes 1-3 business days
Arrives from the United States
---
Features
Made in Sarasota, Florida
---
Item details
14 Tumbled Stone Crystals 🌈
Each one for a different part of the body corresponding to the chakras and hands.
In order from top to bottom.

Crystals hold the wisdom of the earth and our ancestors <3

🔮💜Rhodonite💜🔮 (Crown Chakra or Halo Chakra) is a balancing stone, used to bring your yin and yang back to center. It activates the heart chakra and heals emotional wounds, especially trauma and shock. It is powerful in clearing energy in relationships; such as addictions, forgiveness, betrayal and abandonment. It promotes unselfish self-love, the most beautiful thing on the planet! Place the stone on your heart chakra for emotional wounds or on the skin for external wounds.

💗💕Rose Quartz💕💖 (Crown or Heart Chakra) is the stone of unconditional love and infinite peace. It is the most important crystal for the heart and the heart chakra, teaching the true essence of love. It purifies and opens the heart on all levels, and brings deep inner healing and self-love. It is calming, reassuring, and excellent for use in trauma or crisis.

💗😇💜Amethyst💜😇💗 (Crown Chakra or Halo Chakra) is a protective stone with a high spiritual vibration. Turns energy into love. It turns the average thoughts into higher vibrational thoughts and opens up pathways to great epiphanies. Traditionally, it is used for sobriety and overcoming addictions.

☁️😇Angelite😇☁️ (Third Eye Chakra) is a stone of awareness and peace. It helps you connect to the divine energy and angels. It enhances telepathic communication and enables out of body experiences. It helps with astrological understanding and "vibing" with others. It is overall a very whole and spiritual stone for tranquility.

💙🙏🏼Sodalite🙏🏼💙 (Throat Chakra) unites logic with intuition and opens spiritual perception, bringing information from the higher mind down to the physical level. This stone stimulates the pineal gland and the third eye and deepens meditation.

💚💙Amazonite💙💚 (Throat or Heart Chakra) has a powerful filtering action. It absorbs geopathic stress (cell phones, microwaves, etc) At a mental level, it filters the information passing through the brain and combines it with intuition. It is an extremely soothing stone. It calms the brain and nervous system and aligns the physical body with the etheric, maintaining optimal health. It assists in manifesting universal love.

💚💚Aventurine💚💚 (Heart Chakra) is a very positive stone of prosperity. Psychologically, is reinforces leadership qualities and decisiveness. It promotes compassion and empathy and encourages perseverence. It stabilizes one's state of mind, stimulates perception and enhances creativity. It promotes a feeling of well-being. It regulates emotional recovery and enables living within one's own heart.

🌷Emerald💚💖 (Heart Chakra) is a stone of inspiration and infinite patience. It is known as the "stone of successful love," it brings domestic bliss and loyalty. It enhances unity, unconditional love, partnership and friendship. If it changes colors, that signifies unfaithfulness. It calms the emotions and opens the heart chakra. It transforms and gives the wearer strength. It brings people together and enhances cooperation. Hold in your hand, especially the right hand or on the heart chakra during meditation.

🔥🌻☀️Gold Tiger Eye☀🌻️🔥 (Sacral or Solar Plexus Chakra) combines the earth energy with the energies of the sun to create a high vibrational state that is grounded. Drawing the spiritual energies to earth. It stimulates the rise of the kundalini energy. It is a protective stone that was traditionally carried as a talisman against ill wishing and curses.

⭐️🌟Carnelian (Sacral Chakra)🌟⭐️grounds and anchors you in the present reality. A stabilizing stone with high energy, it is excellent for restoring vitality and motivation, and for stimulating creativity. It is useful for dramatic pursuits. Carnelian has the ability to clean other stones.

🎈❤️Red Jasper❤️🎈 (Root Chakra) is stimulating. It grounds energy and rectifies injust situations. It brings problems to light before they come too big and provides insights into the most difficult situations. It makes an excellent "worry bead," calming the emotions when played with. Placed under the pillow, it helps dream recall. It assists rebirth and stimulates the base chakras. It detoxifies the circulatory system.

🌎Pyrite (Hands)🌎has the power to transform and restructure energies. It repels negative energy and dispels psychic interference from any source, strengthening the aura.

💎Hematite (Hands)💎is great for grounding and protection. It harmonizes the mind, body and spirit connection. It has a strong yang element and helps yin imbalances. It dissolves negativity before entering the aura, bringing peace and happiness.

⚫️Snowflake Obsidian⚫️ (Hands) is molten lava that cooled so quickly it had time to crystallize. Obsidian is a stone without boundaries or limitations. As a result, it works extremely fast and with great power. It's truth-enhancing, opening you up to what could be disempowering you.


Information about crystals provided is from the book "The Crystal Bible" by Judy Hall.

Want to find out which chakras are blocked? Check out this blog post: http://www.margiepargie.com/2014/11/26/are-your-chakras-in-check-quiz/

If you really want to change your life, consider doing my 28 day challenge: The Sexy Transformation Challenge! You will find out what is holding you back, where you have blocks and step by step how to increase your health & happiness, earn more money, eat delicious foods that will sculpt a sexy bod and tons of yoga and workout tutorials to get you in tip top shape! Check it out here: http://www.margiepargie.com/sexy-transformation-challenge-2/

K E E P S H O P P I N G : www.Etsy.com/Shop/ThePinkLoveGoddess

F O L L O W M E :

I N S T A : @PinkLoveGoddess @AerialYoga_Girl

F A C E B O O K : Margie Pargie

B L O G : www.MargiePargie.com

Y O U T U B E : Margie Pargie -or- Aerial Yoga School
---
---
Shipping & policies
Preparation takes 1-3 business days
Arrives from the United States
Estimated Shipping
I ship my items 1st class USPS. I package them in a bubble mailer 4x6in. I do include delivery confirmation. I can include insurance by request for the fee that it costs. You never know what kind of surprise you might find in your package. ;) I also offer expedited shipping, upon request.

If you would like me to ship internationally, you are responsible for duties, customs and taxes levied by your country.

---
Payments
I accept PayPal & all major credit cards. Once I receive payment, item will be shipped within 1-3 days. The only circumstance that would keep me from shipping same day is that I am traveling the USA filming a documentary about aerial yoga. I do not charge sales tax. Please contact me if you are having trouble and new to Etsy.



---
Returns & exchanges
I will exchange or refund items, if you pay for return shipping within 14 days. Please contact me by Etsy conversations or email yogamarge@gmail.com. I do not accept refunds or exchanges for custom orders.
---
Additional policies
I would love to do custom or wholesale orders, shoot me a message!