Needle Felted Animal Tutorial / Felting / Craft Supplies and Tools / Needle Felted Pattern / Needle Felting Mouse & Bunny / Wool Roving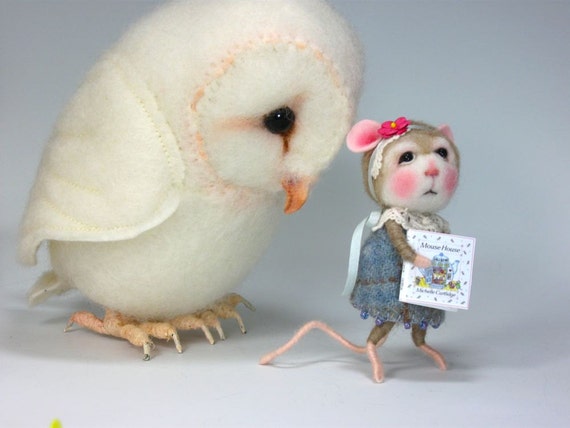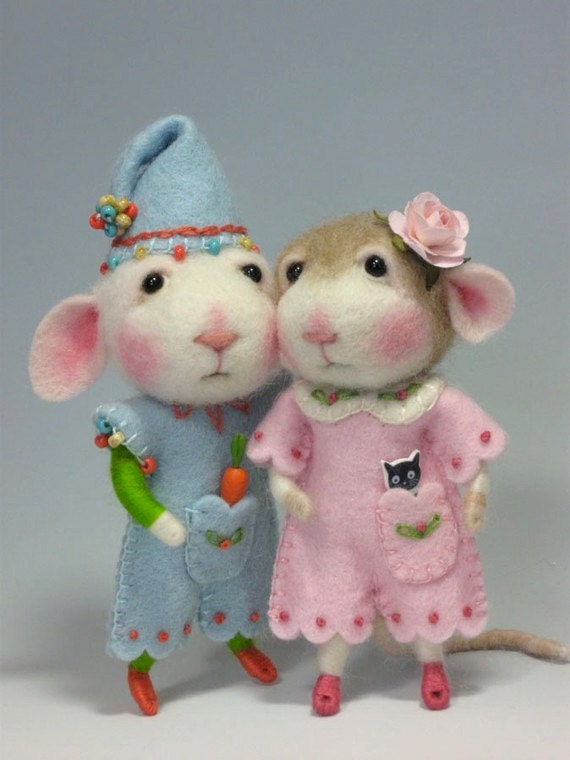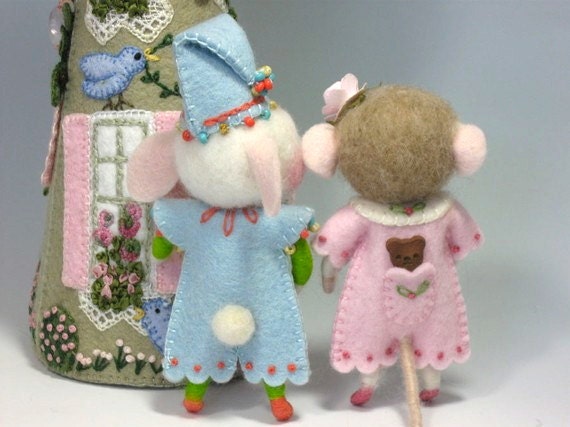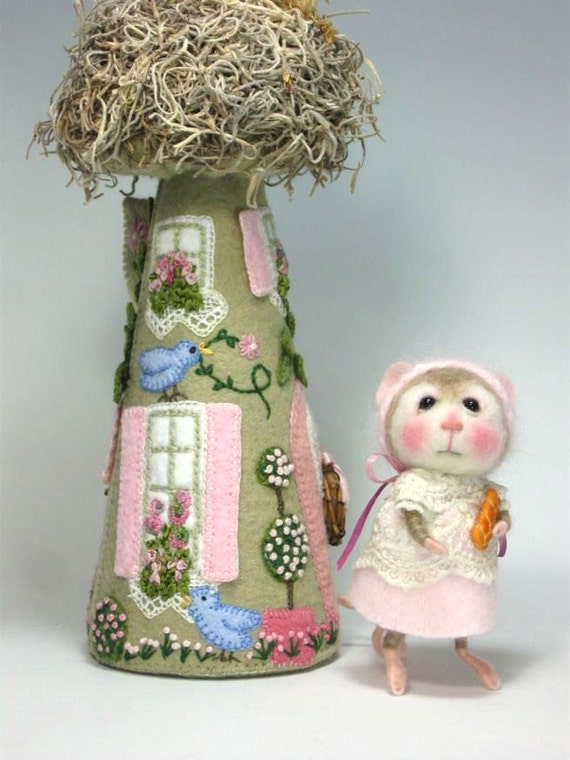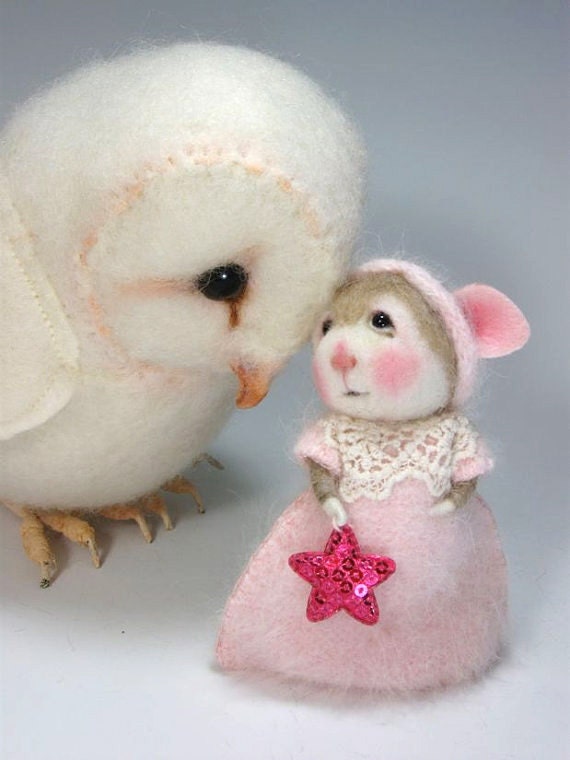 Arrives from the United States
---
Features
---
Item details
Hello!

Meet Peanut Bunner & Jilly Sannich the bunny and mouse class mascots in the 2nd and 3rd photos! They are the critters you will learn to create in this class. The other photos are some of my previous critters I created.

This is a class I am selling in PDF files, sent to your email address where you may click on the files to see the class. I am not selling the actual mouse, bunny, house or owls. The pattern for this class is to create a dressed mouse and bunny only.

Kits for this class are available also and there are NO instructions in the kits as they are a companion to the PDF Dressed Mouse and Bunny Class. Check the left section column in my Etsy store and you will see a kits section. If you do not see the dressed kit it may mean I sold out, however I would have more kits available in a day or two. I have other kits for my different classes so please read carefully to be sure you purchase the $25.00 dressed mouse and bunny kit.

OOAK Wool Needle Felted Dressed MOUSE & BUNNY Class


By Barby Anderson © 2011

I respectfully ask that you do not duplicate my class in any way as it is fully copyrighted. This is how I make my living and I appreciate you not sharing this class with anyone else.


PLEASE READ ALL OF THE INSTRUCTIONS BELOW BEFORE PURCHASING!


After purchasing this needle felting class I will be sending you the class and pattern via email in PDF files. The clothing pattern is also in a PDF attachment and is the actual size after printing out a copy of the pattern. I do not send this class to your home via physical mail, again I send it to your email address on PDF files.

This class is fully copyrighted, Barby Anderson © 2011. You may create the mouse and bunny from this class at your leisure as there is no set time to finish your project. Once you purchase the PDF files of this class it is yours and you may create your mouse and bunny whenever you would like. I work in my studio 6 days a week and am happy to help any student with their needle felted mouse or bunny.


I am very excited to share my knowledge on needle felting through my PDF "Needle Felted Dressed Mouse and Bunny Class" to help you create your very own 3-1/2" needle felted mouse and bunny. Yes, this class teaches you how to make BOTH the dressed mouse and dressed bunny along with tips on how to create a closed eye critter too! This listing is for my "Needle Felted Dressed Mouse and Bunny Class" © 2011 sent to you in PDF files and not for the actual wool bunny or mouse that are shown in the photos. Nor the owl or house. Again, the pattern for the clothing is in a PDF attachment for you to print. The clothing pattern included is just like the clothing "Peanut" and "Jilly" are wearing. If you would like a companion kit with wool supplies it is in another listing sold separately in my Etsy store. Please email me through my Etsy store if you have questions.

I do require that any person that creates and sells a similar mouse or bunny from this class to add to their listing or hang tag "The original pattern was designed by Barby Anderson, copyright 2011." Barby Anderson Etsy ID: barby303

I have 132 colored photos for you to follow in this PDF class along with my easy-to-read instructions under the photos. You may print one copy of this class for your records and it is not to be shared with any other person.

"Needle Felted Dressed Mouse and Bunny Class"


This will be a five-lesson class as shown below:

Lesson #1- Wrapping and needle felting the body

Lesson #2- Making the tail for the mouse and creating the head

Lesson #3- Creating the clothing and faces for the mouse and bunny

Lesson #4- Finishing the face, creating the ears and eyelids plus sewing up the inseam to the romper

Lesson #5- Creating closed eyes, adding the bunny tail and elf hat, plus adding a brown overlay for the mouse's head



A supply list will be included in your first lesson.

The photos of the dressed mouse and bunny in this listing are examples of what you would be learning to create. The mouse and bunny you will be creating have black bead eyes, a pink nose and mouth and pinkish flesh ears. The mouse and bunny are needle felted from wool and have wire armatures inside the arms and legs for posing, plus a string jointed head for movement. Everyone needle felts a little differently and so each creation by each student will vary. I have included many photos of the class mouse and bunny with step-by-step instructions in the five class lessons. This class was created for beginning needle felters, however it is challenging enough for the more advanced needle felter. The class teaches you how to create a mouse and bunny with hand stitched clothing. There are a few simple embroidery stitches you may use to embellish the outfits and you may look up the basic stitches online. I do not teach the actual embroidery stitches, however I explain which stitches I have on the outfits and there are many ways to embellish their outfits.

For those who have not needle felted this is a process of poking fluffy wool with a barbed needle hundreds of times to sculpt a shape. Needle felting is basically sculpting and painting with wool! The wool mouse and bunny you will be creating is not intended for children or pets.

Pipspatterns made the incredible companions for my critters such as owls, birds, Gnomes etc.
Willodel made the darling mushroom house, twolefthands made the darling wool houses, buttonsbyrobin makes wonderful mini buttons for the pockets, dreamalittle7 makes the wee bird friends that my critters hold in their arms. All here on Etsy!
---
---
More from this seller
---
Shipping & policies
Arrives from the United States
Estimated Shipping
I ship within one or two business days when you purchase any item in my store. I email the PDF file class purchases within 12 to 24 hours and most are sent very quickly. When you purchase a class, you buy the PDF attachments for the class that I send you via email. You may print a copy for yourself also. My classes and patterns are fully copyrighted and I ask kindly that you please respect that.
---
Returns & exchanges
I am always happy to help you if you have any questions pertaining to refunds, just send me a convo!