Instant Download - Bridal Shower Recipe Cards - Printable - Romantic Flowers -Shower Game - Baby Shower - Weddings Guestbook Lilac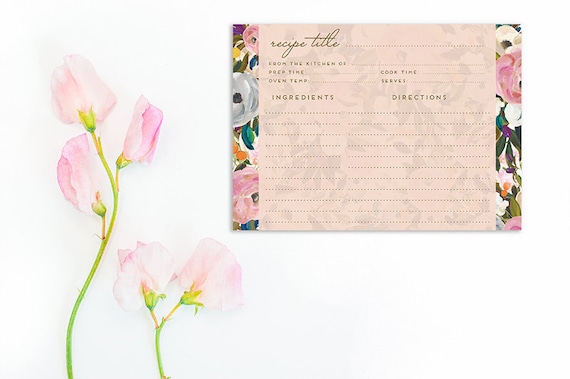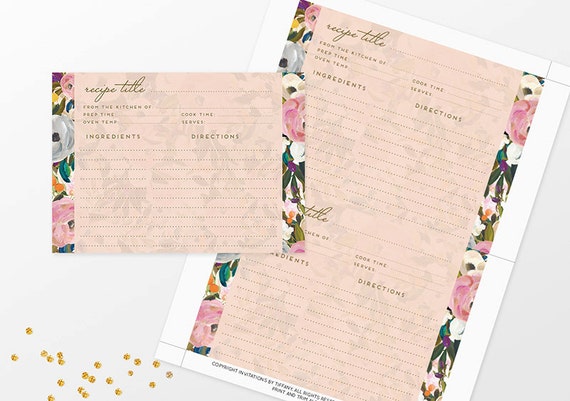 ---
Features
---
Item details
Instantly download and print your recipe cards! Your file will be sent to you immediately upon payment via Etsy.

View all the games in this set here:
https://www.etsy.com/shop/InvitationsByTiffany?ref=hdr_shop_menu&search_query=lilac
________________________________________________________________

**********IMPORTANT INFORMATION**********

This listing for a DIGITAL file. No physical item will be mailed to you.

***Please take your time to read my shop policies BEFORE purchasing. By making this purchase, you are agreeing to my shop policies.

ALL SALES ARE FINAL and we do not issue any cancellations, refunds or exchanges.

***NO cancellations, refunds or exchanges will be issued if your payment is pending or you have not receive your customized file/game in time for your party. Please be mindful of our business hours and production time and plan AHEAD of time to receive your files before your deadline/party.***

________________________________________________________________


___________________ D E T A I L S
Card size 5" x 7"
PDF file - 2 cards per page with trim marks to help you cut
Cards will be exactly like the picture shown (not customizable, not a template)


___________________ O R D E R
1. Purchase this listing
2. Download your file from Etsy
3. Print on card stock sized 8.5" x 11" (we recommend you print at a print shop)
4. Trim and enjoy!


ALL SALES ARE FINAL.


L I C E N S E
By purchasing this listing, you are licensed to use this file for personal, noncommercial use only. You may not share, e-mail/mail, copy, reproduce, upload, or otherwise transfer any files, with or without financial gain, to a separate third-party for use.

Unless expressly authorized, nothing from Invitations by Tiffany may be reproduced, duplicated, copied, sold, resold or exploited for any commercial purpose without our prior written authorization.


Thank you!

© 2014 Invitations by Tiffany | All rights reserved
---
---
Digital downloads
---
Payments
We accept both Paypal and credit cards.

**Paying by eCheck via PayPal will take 3-5 days for the payment to clear then your files will be available for download. We will not issue any refund while your payment is pending. Please plan ahead of time for this delay to receive your files before your deadline/party.
---
Returns & exchanges
ALL SALES ARE FINAL and we do not issue any cancellations, refunds or exchanges. However, if you are unsatisfied with your product for any reason please contact us and we will work with you.
---
Additional policies
All items are for personal, non-commercial use only.

CURRENT PRODUCTION TIME:
- Emails will be responded to within 1 business day
- Digital invitations - 3 business days for the first proof. If you added the rush proof listing to your order, your first proof will be sent to your email within 1 business day.
- Printed flat card invitations - 2-3 weeks
- Printed pocket folds or special order items - 5-8 weeks



*************************************************************************************


________________ I N S T A N T . D O W N L O A D S ________________
Your file will be sent to you immediately upon payment via Etsy. Need help downloading your files? Etsy has a help page on downloading digital items here: https://www.etsy.com/help/article/3949

We love to print our instant downloads at Staples.

**Paying by eCheck via PayPal will take 3-5 days for the payment to clear then your files will be available for download. We will not issue any refund because while your payment is pending. Please plan ahead of time for this delay to receive your files before your deadline/party.


________________ P R I N T I N G ________________
For the size option (fit, actual size or shrink oversized pages), choose actual size when printing from home. Home printers have a larger "No Print Area" so part of the file may not print out. You can try setting your printer to "Fit" instead of "Actual Size" to make the artwork fit into the printable area; however, setting your printer to "Fit" mode will make your file smaller when it prints. Therefore, when you cut your games in half, this will make your games look off center. For best results you can go to a print shop (like Staples) to get it printed. Make sure to tell the print shop employee to print your file in "Actual Size" print mode for it to print out correctly.


*************************************************************************************


________________ W O R D . T E M P L A T E S ________________
Basic knowledge of Word and Pages needed.

1. Instantly download your files from Etsy
2. Change our pre filled sample text with your own wording (artwork and color or artwork cannot be changed)
3. Print on card stock 80lb - 110lb (depends on printer) sized 8.5" x 11" and trim your cards. It's best to print your templates at a print shop.

*We do not embed fonts into our documents due to copyright protection. However, we do include a list of our favorite free font combinations which you can search for online and download yourself.



*************************************************************************************


________________ S A M P L E S ________________
Samples are not customizable but are available so you can see and feel the quality of the paper and design. It also allows you to see how your invitation will look.


*************************************************************************************


________________ W E D D I N G . I N V I T A T I O N S ________________
Wedding invitations are available as digital/printable files or printed. Pricing and information for printed invitations can be found on our website at: www.invitationsbytiffany.com

We work with very talented graphic designers and to respect all their hard work, final files are sent as flatten JPG or PDF files. If you need unflatten PDF files for your printing company, we will email those files to your company directly.


________________ P R O O F S
After payment is received, we will email you your proof within 3 business days. Three sets of proofs are included in your order. Email all your changes in one email so you do not waste your set of proofs. If you wish to make further changes, additional proofs after the third is sent will be $10 each. PLEASE REVIEW YOUR PROOFS CAREFULLY TO ENSURE THAT ALL GRAMMAR AND PUNCTUATION IS CORRECT AND PROPER AS DESIRED.

*Invitations will not be worked on until all information has been provided. This may also delay the delivery of your proof.

**All information must be typed out (no scans or pictures). Write names and information the way you want them display on the invitation (with all accent marks) because we will copy and paste your exact information to your invitation. Use this website to help you include the accent marks. http://www.lexilogos.com/keyboard/vietnamese.htm


________________ C O L O R S
Color and font choices can be found here:
http://www.invitationsbytiffany.com/#!colors--fonts/c13xc

Need a different color? Go to www.colorpicker.com and use their color chart to find your perfect shade. Then give us the color code (consisting of numbers and letters) at the top of the chart. Please keep in mind that we are not responsible if the colors on the printed invitation look different from your computer monitor. Monitors come in different color displays/settings and printers may not always print the exact same colors as seen on the monitors. Our advice is to check the color on the printer you plan on using to ensure that the printed color is as desired.

Returns that are based on color are not accepted. Since all computer monitors are different, your printed invitations may not match exactly what you see on your monitor. Your printed invitations will be close to the colors shown on our printed color card, but due to the custom nature of printing, these colors may not match perfectly. Although your color may not always be an exact match, please keep in mind that we make every effort to ensure that your invitation comes out beautiful and pleasing to the eye. We suggest you purchasing a sample of our invitation before purchasing your digital or printed invitation.


________________ V I E T N A M E S E . F O N T S
The main text of the invitation can only be chosen from the Vietnamese Fonts section. The bride and groom's names may be chosen from the Script Fonts section.


________________ F O N T S
*We do not provide the names of the fonts that we use.


________________ V I E T N A M E S E . T R A N S L A T I O N
Our translation fee starts at $35 and goes up depending on the complexity and length. Please send the text that you would like us to translate via email for a quote.


________________ L A N G U A G E S
We would be happy to offer it in your preferred language. Since we are only fluent in English and Vietnamese, you would have to provide us with the complete text and layout for the invitation and inserts. This will, however, cost extra for the layout changes.


________________ W O R D I N G . C H A N G E S
If you would like to change the wording, please provide us the exact wording to determine if it requires a layout change. Layout changes start at $5 and goes up depending on how much it change the design.


________________ D E S I G N . C H A N G E
Layout and design changes will cost extra. The extra cost will depend on the extent and difficulty of the changes. Please provide a detailed description of your changes in the special instructions box in the order form and we will send you a quote within 3 business days. Once you approve the quote by responding to the email, we will send you the PayPal invoice 3 business days.


________________ C U S T O M . D E S I G N S
We do not offer custom designs at this time due to personal time constraints.


________________ F I N A L . F I L E S
For printed or digital invitations, please review the proof carefully. Once you approve the proof and the final files are sent to the printer or your email, no other changes will be made. Your approval, via email, is acknowledgement that you are satisfied with the proof. We are not responsible for any mistakes found after your approval and final files are sent or printed.

The final product will be sent via email in high resolution, print ready, JPG files. The file will include the industry standard bleed on all sides to allow for trimming.

*Final files are all flatten. If you need unflatten PDF files for your printing company, we will email those files to your company directly.

**If you would like your order sent in another format, please let us know before your final files are created. We highly recommend you consulting with your printing company before final files are created.
Here are some examples of the different types that we can send to you: http://www.invitationsbytiffany.com/#!fileoption/c1ok9

**If you wish to make further changes after the final files are created, additional proofs will be $10 each and high resolution printable files will be $30.

**After final files are created and sent, if you need additional printable files (either in the same or different format because your printing company could not print the previously sent files) the fee is $25.


________________ P R I N T I N G . S U G G E S T I O N S
1. Paper. We would suggest printing on card stock paper 100# and up since it is thicker than regular paper and adds to the elegance of your invitations.
2. Where to buy your paper. You can go to a local supply store (e.g. Kinkos, Office Depot, Staples, Michaels, etc.) or you can buy online (e.g. PaperAndMore.com, etc.).
3. Where to print. You can definitely print it from home or at your local printing store. We suggest you print a few samples with your printer at home and if you are unhappy with your printer, then you should go to a printing store and have them print it for you. Always make sure to have them print a sample set before printing all your invitations.
4. Cutting. You can buy a small paper trimmer from your local crafts store and do it yourself, ask your local print shop to use their paper trimmer, or have the print shop cut it for you.


________________ H O M E . P R I N T I N G
For the size option (fit, actual size or shrink oversized pages), choose actual size when printing from home. Home printers have a larger "No Print Area" so part of the file may not print out. You can try setting your printer to "Fit" instead of "Actual Size" to make the artwork fit into the printable area; however, setting your printer to "Fit" mode will make your file smaller when it prints. Therefore, when you cut your games in half, this will make your games look off center. For best results you can go to a print shop (like Staples) to get it printed. Make sure to tell the print shop employee to print your file in "Actual Size" print mode for it to print out correctly.


*************************************************************************************


______________ S A L E S T A X (CA STATE CUSTOMERS) ______________
Sales tax will be applied to all orders shipped to California state.


*************************************************************************************


________________ L I C E N S E ________________
You are allowed to access and use of good by Invitations by Tiffany for personal, noncommercial use only. You may not share, e-mail/mail, copy, reproduce, upload, or otherwise transfer any files, with or without financial gain, to a separate third-party for use.

Unless expressly authorized, nothing from Invitations by Tiffany may be reproduced, duplicated, copied, sold, resold or exploited for any commercial purpose without our prior written authorization.



Got more questions? You can find most answers here: http://www.invitationsbytiffany.com/#!faq/c1vql

Or email us at
info [!at] invitationsbytiffany.com