Halloween Iron On Heat Transfers Witch Esmeralda Vintage Flash N Able Cute Loot Craft Crafting Witches DIY Kit T821011 9x10" Cauldron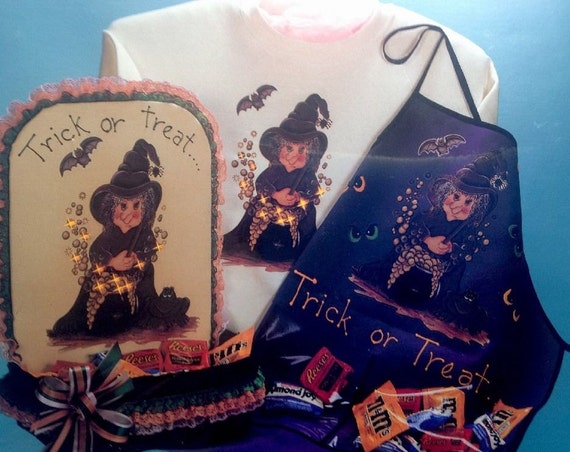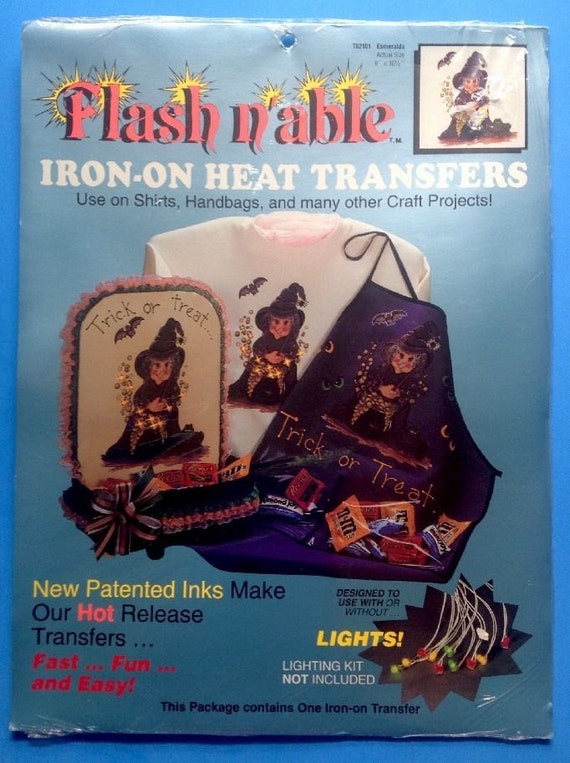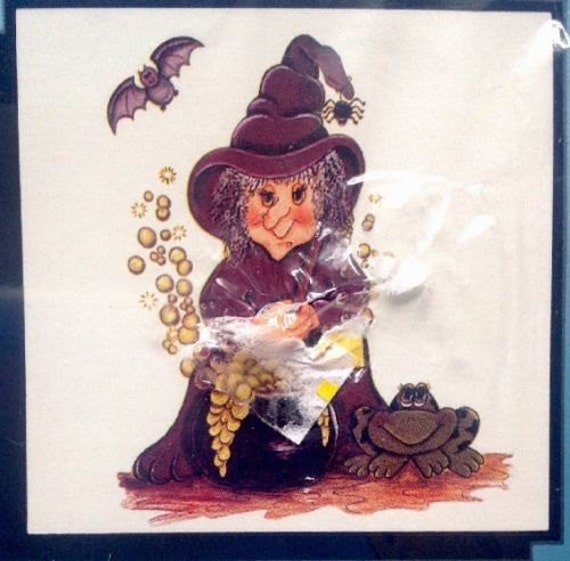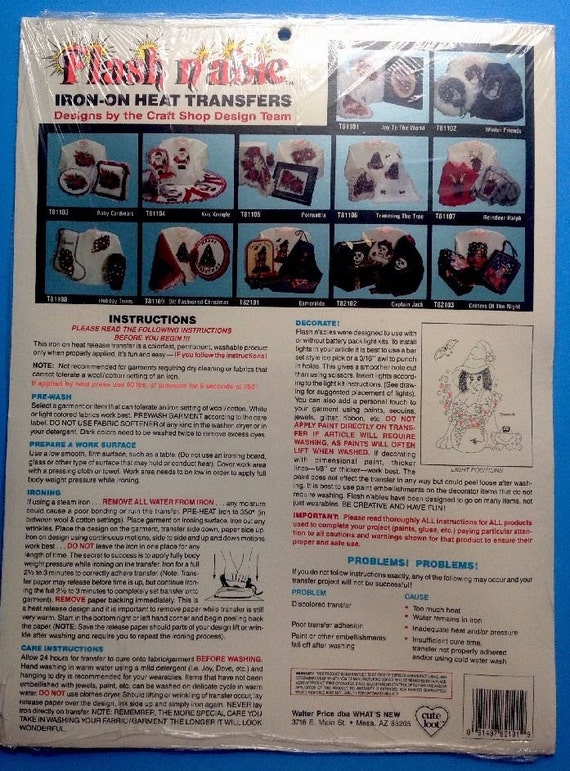 Arrives from the United States
---
Features
---
Item details
---
FAQs
Please message me directly on etsy to discuss. Please do not purchase an item with the intention to customize as a listing "Just For You" needs to be created first. Thank you
Size Charts for all products offered may be viewed in the photos as well as on the "About Me" Section of my etsy store and of course, feel free to contact me if you require assistance https://www.etsy.com/shop/AngelsByMillie#more-section
Please adhere to the instructions on the clothing label
YES! Designs are available on several different clothing options, including Hoodies, for Men, Women, Children, Toddlers and Baby. Several household products like pillows and prints are also available. Please just message me on etsy PLEASE NOTE: Please do not place an order for a product not included in the listing and just ad a note at checkout. I need to create a NEW listing for you to accommodate your requests. Its a simple process and easy to do
Vintage items may be shipped via first class, priority or express mail worldwide and ship within a day Printed items, such as T-shirts, hoodies, coffee mugs, tote bags, pillows, home goods, baby and kids clothing is handled my my USA based printing company production partner. The estimated processing time WILL be visible to you PRIOR to checkout and will be based on their volumes and your location, This data changes automatically to set appropriate expectations That said, NO, Unfortunately, I can't ensure delivery prior to the timeframe set at checkout. While many items ship with a few business days, I have no control over processing times You CAN request expedited shipping at checkout, however, it will not expedite processing time
Your tracking number will be visible (and clickable) once your item has shipped. You may locate this number in your purchase history on etsy and it is attached to the original transaction. Please note that not every mail carrier scans a package at each location, or data is delayed. Rest assured, if you see a tracking number, your order has shipped. DHL tracking converts to USPS 90% of the time as your local post office will typically deliver the package for DHL. That said, sometimes it is easier to check the USPS site with your tracking for the most up to date status
As every viewing device is different, please keep in mind that color may vary in person versus while viewed on a mobile device or computer .
For T-shirts, Hoodies, Baby Clothes, etc, please Request a cancellation within: 1 hour of purchase Why? Because your order is sent electronically to my Printing partner for processing. While at times, due to overwhelming volumes on their end, I might have more wiggle room to cancel, that is not always the case as they are pretty quick to start processing orders I never mind cancellations -- I prefer them over returns --but at times, my hands are tied and the only option would be for you to return the item upon delivery. If you have questions or concerns OR even a "need by" date, message me prior to purchase to help you. I am pretty much glued to my etsy app so I am always just a message away Thank you for choosing my store
Please message me directly on etsy to discuss. Please do not purchase an item with the intention to customize as a listing "Just For You" needs to be created first. Thank you
Size Charts for all products offered may be viewed in the photos as well as on the "About Me" Section of my etsy store and of course, feel free to contact me if you require assistance https://www.etsy.com/shop/AngelsByMillie#more-section
Please adhere to the instructions on the clothing label
YES! Designs are available on several different clothing options, including Hoodies, for Men, Women, Children, Toddlers and Baby. Several household products like pillows and prints are also available. Please just message me on etsy PLEASE NOTE: Please do not place an order for a product not included in the listing and just ad a note at checkout. I need to create a NEW listing for you to accommodate your requests. Its a simple process and easy to do
Vintage items may be shipped via first class, priority or express mail worldwide and ship within a day Printed items, such as T-shirts, hoodies, coffee mugs, tote bags, pillows, home goods, baby and kids clothing is handled my my USA based printing company production partner. The estimated processing time WILL be visible to you PRIOR to checkout and will be based on their volumes and your location, This data changes automatically to set appropriate expectations That said, NO, Unfortunately, I can't ensure delivery prior to the timeframe set at checkout. While many items ship with a few business days, I have no control over processing times You CAN request expedited shipping at checkout, however, it will not expedite processing time
Your tracking number will be visible (and clickable) once your item has shipped. You may locate this number in your purchase history on etsy and it is attached to the original transaction. Please note that not every mail carrier scans a package at each location, or data is delayed. Rest assured, if you see a tracking number, your order has shipped. DHL tracking converts to USPS 90% of the time as your local post office will typically deliver the package for DHL. That said, sometimes it is easier to check the USPS site with your tracking for the most up to date status
As every viewing device is different, please keep in mind that color may vary in person versus while viewed on a mobile device or computer .
For T-shirts, Hoodies, Baby Clothes, etc, please Request a cancellation within: 1 hour of purchase Why? Because your order is sent electronically to my Printing partner for processing. While at times, due to overwhelming volumes on their end, I might have more wiggle room to cancel, that is not always the case as they are pretty quick to start processing orders I never mind cancellations -- I prefer them over returns --but at times, my hands are tied and the only option would be for you to return the item upon delivery. If you have questions or concerns OR even a "need by" date, message me prior to purchase to help you. I am pretty much glued to my etsy app so I am always just a message away Thank you for choosing my store
---
---
More from this seller
---
Shipping & policies
---
Payments
---
Returns & exchanges
---
Additional policies