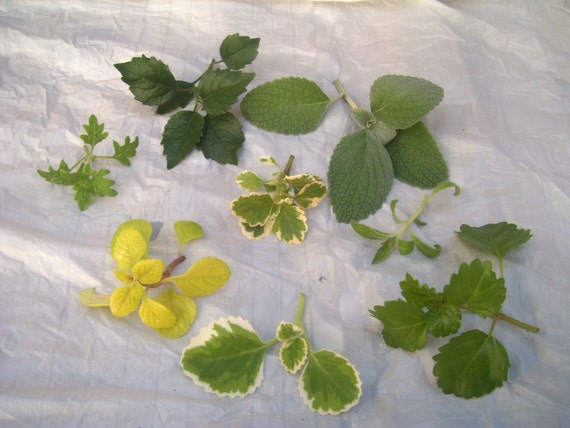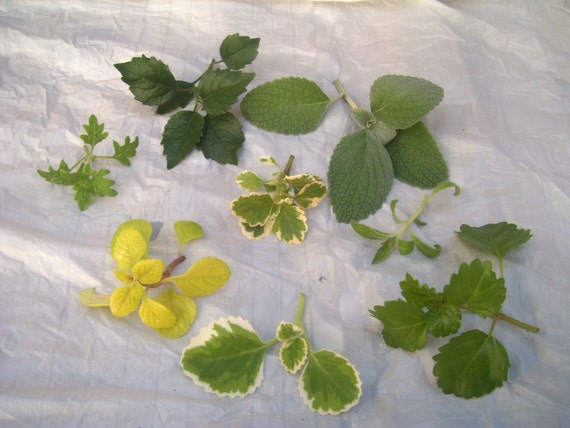 Arrives from the United States
---
Features
---
Item details
The Plectranthus genus has been getting a lot of press the last few years, and for good reason. This large group of plants includes such diverse plants as the vintage "Swedish ivy" (not a real ivy) houseplant and many of the "Oreganos" (not a real oregano either) used in cooking. Many have a strong fragrance and taste as they are in the mint family. In fact, if you purchase any food that has "oregano flavor" listed as an ingredient, it is actually Plectranthus amboinicus, not oregano that is used since it has a stronger oregano flavor than real oregano. I have put together a group of varieties that all make great hanging basket candidates or ground covers in a mixed planter or bed. This collection contains a cross section of foliage types from variegated to silver to lacy, and a wide mix of flavors if you want to use them for cooking too. You will get at least 25 varieties each of which will include 2-3 unrooted cuttings in an individually labeled bag from my collection of 34 varieties listed below. Plectranthus are related to coleus and are known to root just as easily so I have avoided the added expense of rooting these in pots before shipment.



Since many buyers use these for culinary herbs, I use NO pesticides on them, so you might get an occasional white fly on a cutting. A little rubbing alcohol in a spray bottle of water will keep them under control.



I will select 25+ available varieties for you from these varieties (not all varieties are available all the time);



amboinicus

amboinicus variegatus

amboinicus ochre flame

argentatus

argentatus hillhouse

argentatus silver shield

aurea marginatus

caninus

caninus fuzzy wuzzy

coleiodes

coleiodes marginatus tomentosus

discolor green and gold

ecklonii erma

ernestii

fosteri green on green

fosteri marginatus

golden edge

grandidentatus

hadiensis tomentosus carnegie

hilliardiae

madagascariensis lothlorien

madagascariensis marginatus

menthol eucalyptus

mona lavender

oertendahlii emerald lace

oertendahlii uvongo

prostratus

saccatus cerveza 'n' lime

spicatus nelspruit

turpentine (marribiodes?)

venteri "snowflake"

verticillatus (australis)--swedish ivy

verticillatus variegatus

zuluensis



I have a 100% satisfaction guarantee for both safe arrival and major damage with either a free replacement, including shipping, or a total refund. After all, these are inexpensive plants and are not worth any hard feeling over. Gardening should be fun! Just email me with any problems you have and I will make it right. That is why I have a 100% positive feedback rating.
---
---
More from this seller
---
Shipping & policies
Arrives from the United States
Estimated Shipping