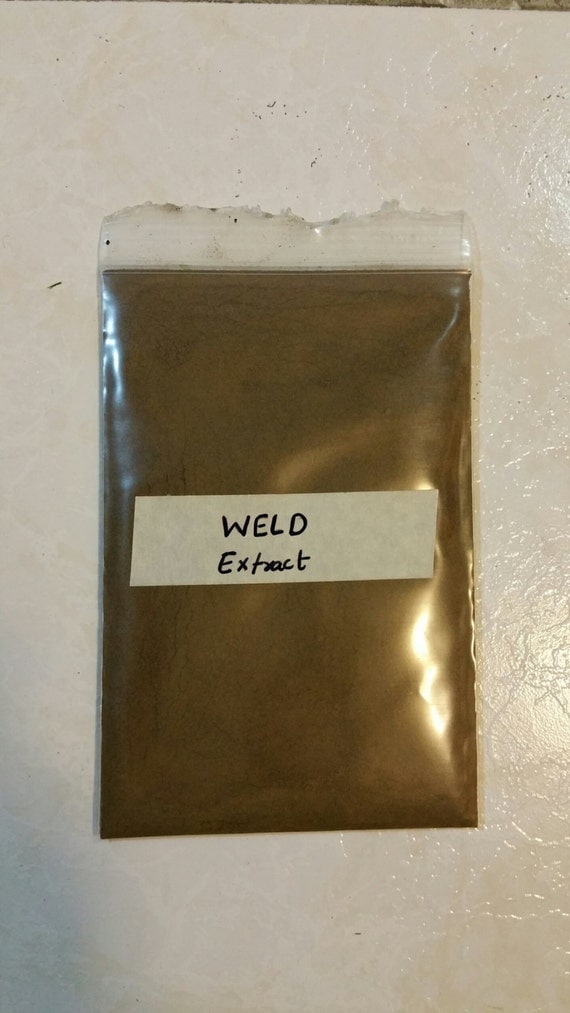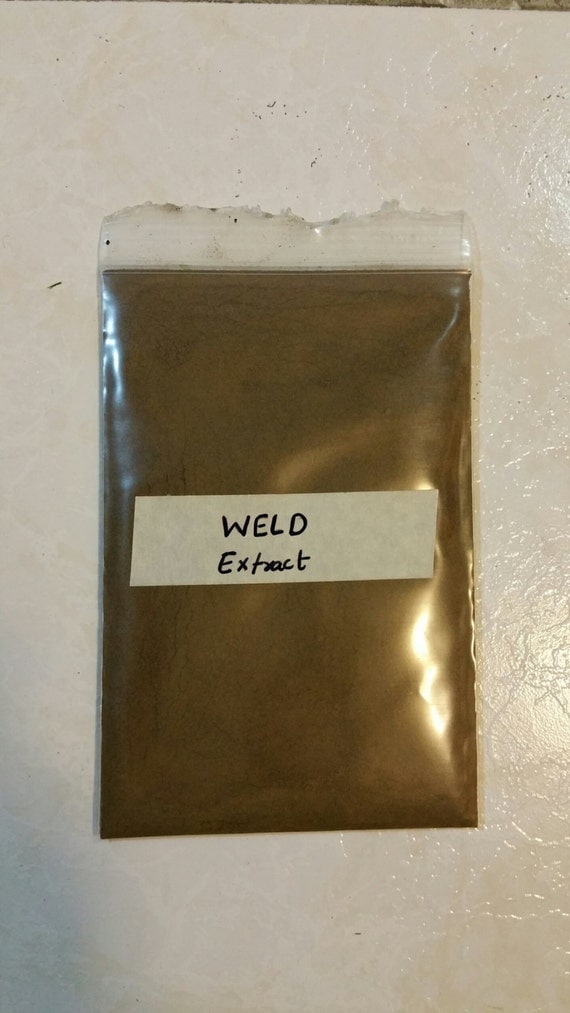 Preparation takes 1-2 business days
Arrives from the United States
---
Item details
We will be also adding spun silk yarn, more natural dyes and mordant to our supplies shop.

ASK FOR DISCOUNT ON MORE QUANTITY. SCROLL DOWN TO SEE HOW MUCH YOU CAN SAVE ON MORE.

This is Weld Extract Natural Dye. Weld (Reseda Luteola) is also known as Dyers Weld, Dyers Rocket, and Dyers Mignonette. It produces an excellent light and washfast yellow than any other yellow natural dye and is a strong clear yellow to combine with indigo for emerald and leaf greens. Traditionally cultivated throughout Europe as a yellow dye plant it still flourishes on embankments or beside railways and roads. It can be used with any kind of fiber, combined with any mordant and most other dye extracts to obtain a very wide range of lightfast colours. For deep yellows, this dye develops best in slightly hard water – for example by adding sodium carbonate or calcium carbonate (chalk) to your bath. If you don't mind the smell, you could try letting the weld ferment in water for a couple of days, either before or after simmering it. Do not go over 160* F to get perfect yellow.

When dyeing weld with silk and wool most often dyers mordant alum with cream of tartar. But in case of Weld cream of tartar should be avoided otherwise yellow will not come up. Same applies for other hard water dyes such as madder. Cream of tartar is best suited for soft water loving dyes.

Use 3% wof (weight of fabric) for medium depth.
Mordant protein fiber with 15% alum to wof then dye with weld. For cellulose fiber 1st apply tannic

Weld is light fast, but dyed fiber or textiles should be washed in cold water, as the dye is slightly soluble in hot water.

Wash and mordant the fiber.
Make a paste with 1 teaspoon (5 grams) weld extract and a small amount of warm water. Fill a saucepan with water and add the weld extract paste.
(Mix about one third of a teaspoon of chalk (calcium carbonate) with a small amount of boiling water in a container and add to the pot with the weld) - the step listed in bracket should be avoided, instead add calcium carbonate at the end of dyeing, means right after you turn off the heat add the dissolved calcium carbonate.

Add the pre-wetted mordanted fibre. Bring the dye bath to a gentle simmer for weld extract and then keep at that temperature for 45 to 60 minutes, stirring gently from time to time. Leave overnight to cool.

This Weld extract is imported from Europe and is an approved dyestuff for the Global Organic Textile Standard (GOTS )

For dyeing recipes I recommend the following books
1. The Art and Craft of Natural Dyeing : Traditional Recipes for Modern Use by J.N.Liles
2. Wild Color, Revised and Updated Edition: The Complete Guide to Making and Using Natural Dyes
Dean, Jenny; Casselman, Karen Diadick
If you don't want to buy these books you can look up at your local public library and scan the pages you like.

Note J N Liles does mention about Weld dye but does not have any recipes for dyeing with weld. He and many other mention
Weld have the strongest light and wash fastness. It is one of the most expensive dye.
---
---
exactly as expected... prompt shipping
Aug 10, 2017 by Jeanne
Jun 24, 2017 by Cheyenne Mistretta
Fantastic dye as always. (Copper mordant for this green)
Mar 5, 2017 by Elizabeth Ives
This shop is an excellent source for natural dye materials.
Oct 7, 2016 by Deboeah Cohen
Arrived as described and produced a great color on fabric. Thanks!
Sep 13, 2016 by afstanton
---
More from this seller
---
Shipping & policies
Preparation takes 1-2 business days
Arrives from the United States
Estimated Shipping