Super soft pastel range air drying clay - baby imprint kit (each kit makes up to 6 newborn prints)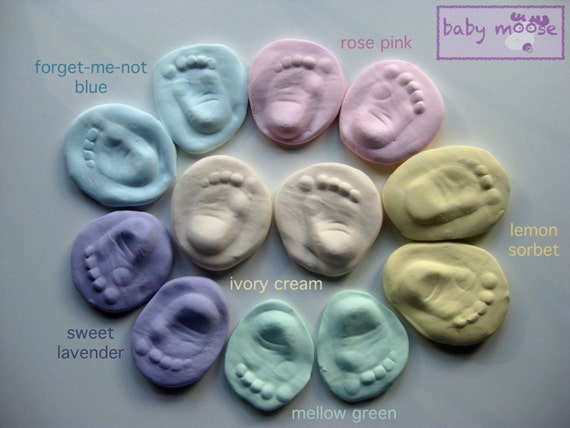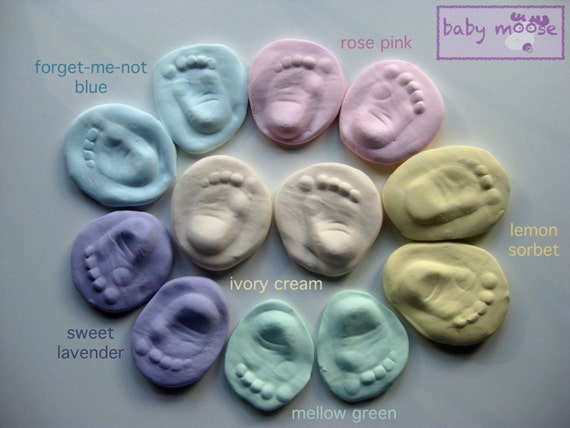 Arrives from United Kingdom
---
Features
Made in Birmingham, United Kingdom
---
Item details
We understand that nothing is as beautiful as the baby in your life.

When my children were small the range of handprint casting kits on the market was very limited. Often the only kits available were those with a frame, a small amount of white clay which would make just one print and a hefty price tag.

This inspired me to develop my own set of air-drying coloured clays which are super-soft, safe and made in the UK. Baby moose had been born.

Baby moose provides you with a fantastic, great value product which captures the fine detail of those tiny fingers and toes as a keepsake for you, your family and friends. 100g of our super soft clay dough will be enough for 4-6 newborn prints. Your purchase includes:


* 100g of soft pastel shade clay dough, please select from the drop down menu (100g will be enough for at least 4 newborn prints)

*Bow ribbon- 1 metre of 15mm thickness ivory bow/hanging ribbon.

*Hole piercing tool

*Detailed instructions

*Packaged in cream organza bag (20cm x 13cm)

(technical apology! - The photographs appear to make the prints look as though they are 'sticking out' . This is not the case ans is an optical illusion caused by the angle of the photograph and colour combination of the items. The items are imprints and baby's foot was pressed into the clay)

Description

This super soft clay dough is a safe, non toxic and easy to use product. All clays shrink, some up to 30% however, this clay has minimal shrinkage (less than 5%) so you can be sure the impression you make basically stays that way. The clay dough is ready to use straight from the pack, full instructions are included but it is pretty self explanatory. Just take the amount you need for the 1st set of prints (wrap the rest in cling-film to use later), knead it a little, roll it out for a smooth surface, then press baby's hand or foot into it. You hardly need to apply any pressure at all which makes it the perfect product for those tiny little hands and feet.

There are a few tips included in the instructions as I found my little one is a real fist clencher! If you're not happy with the print, just simply knead and roll it again. Leave the clay-dough with imprints to dry out naturally (no need to bake).

100g of soft clay dough will produce 4-6 newborn prints. This will obviously be less for older babies.

The drying process can take from 2 days to a week and will depend on the thickness of the prints' base and the temperature/humidity of the room it's left in. Once dried, you'll have an everlasting keepsake of your baby's tiny hand and foot imprints.

The clay comes foil and film wrapped as exposure to light and air will start the drying process.


If you have any queries regarding the product and its use then please contact us and we will be happy to assist you.

Thank you for looking.
---
---
More from this seller
---
Shipping & policies
Arrives from United Kingdom
Estimated Shipping