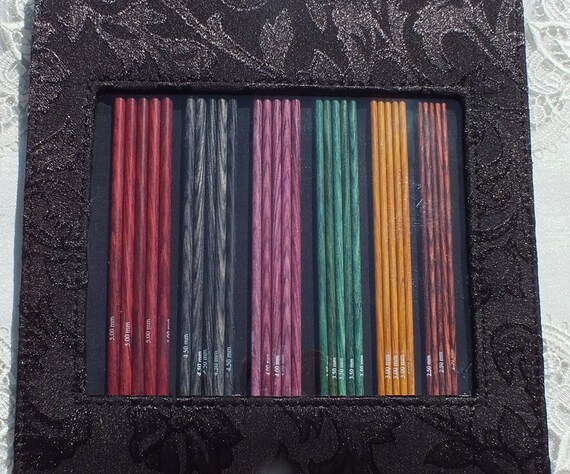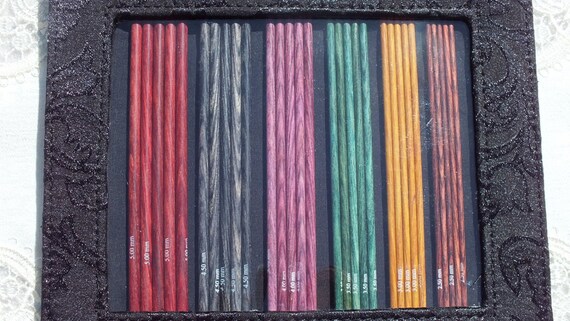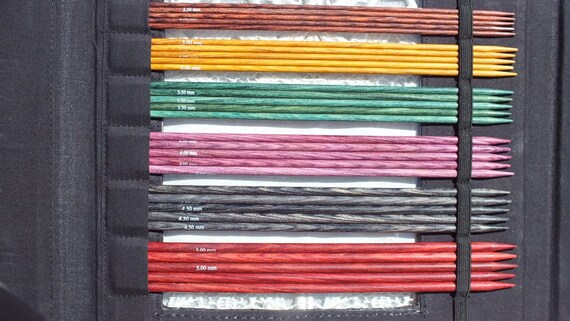 Preparation takes 4-6 weeks
---
Item details
Set of 6 sizes of needles

2.50mm (US 1.5) - Burgundy Rose
3.00mm (US 2.5) - Yellow Topaz
3.50mm (US 4.0) - Aquamarine
4.00mm (US 6.0) - Fuchsia Fan
4.50mm (US 7.0) - Grey Onyx
5.00mm (US 8.0) - Cherry Blossom

in Black jacquard fabric case
1 Needle view sizer

► Conveniently packaged set of most popular sized needles in 8" length
► Perfect for small projects and ideal for sock knitters
► Radiant colour assortment for easy identification and organization
► Packaged in an attractive fabric case with see through window.
► Perfect points, flawlessly tapered – ideal for all yarns and every project
► Polished wood surface works effortlessly with every type of yarn
► Lightweight & strong


The knitter's favorite needle: Providing hours of pleasurable knitting with no hand fatigue

~~~

the shown table lace is not included. It is my decoration.
---
Shipping & policies
Preparation takes 4-6 weeks
Estimated Shipping
Shipping information

If you have different shipping addresses in PayPal and in Etsy then your orders are shipped to Paypal address only. We do not ship to addresses given after customers order and payment

It is buyer's responsibility to ensure that the correct shipping address is provided for through Paypal and that it matches the shipping address in Etsy.

Items normally ship within 1-2 business days ater the payment received. I will notify you if this won't be possible for any reason. If I will be away from my computer for more than a day, this will be stated in my shop announcement.

Depending on the size of your order will be dispatched by German Post or DHL and we ship worldwide.

We carry a general risk of shipment. Therefore, we ship the goods to your and our benefit insured by registered mail or parcel.

Please note that cross-border deliveries additional charges may apply (such as in the case of an intra-Community acquisition) and / or charges, in the form of tariffs, to be borne by you. Program for cross-border traffic are prepared by the corresponding documents for the customs by us.
---
Payments
1. Payment is due immediately via PayPal to complete each order. For buyers who wish to pay with a credit card without a PayPal account: At checkout click on the PayPal icon and you will be redirected to PayPal, click the "I do not have a PayPal account" and follow the instructions (you will not be required to create an account to complete a purchase).

All payments must be received within 48 hours from purchase. Items will not be shipped until full payment has been received.

I do not accept PO-Box addresses for invoice and delivery!


2. Payment Options
For deliveries abroad we offer the following payment options, provided that the relevant product description in the offer otherwise provides:

- Prepayment by bank transfer
- Paypal
---
Returns & exchanges
I gladly accept returns
Contact me within:
14 days of delivery
Ship items back within:
30 days of delivery
I don't accept exchanges or cancellations
But please contact me if you have any problems with your order.
The following items can't be returned or exchanged
Because of the nature of these items, unless they arrive damaged or defective, I can't accept returns for:
Custom or personalized orders
Perishable products (like food or flowers)
Digital downloads
Intimate items (for health/hygiene reasons)
Items on sale
Conditions of return
Buyers are responsible for return shipping costs. If the item is not returned in its original condition, the buyer is responsible for any loss in value.
Additional return information
If you are unhappy with your purchase for any reason, please contact me within 7 days of receiving your order.

I will accept returns of yarn that is in its original condition and will refund the purchase price through Paypal, but you are responsible for return shipping.

Loss or damage protection is buyer's responsibilities - please convo for postal insurance and tracking service at additional costs (postal rate) billed through revised invoice.

Refunds are offered if the wrong items are shipped.

No order will be cancelled nor will return+refund be approved due to
- buyer's mistake with Paypal shipping address
- cancellations after goods were shipped
.
Please understand that colors may appear different on different monitors, displays, smartphones, cameres, ... for a variety of reasons. When in doubt, please contact me for clarification prior to commiting to purchase. Returns due to color reasons are subjected to 30% restocking fees.
All returns must be approved through convo.

Any requests for refunds or returns must be received within 7 days of the parcel arriving. All items must be in original condition. Shipping charges will not be refunded.

All refunds will be considered on a case by case basis.
When I receive the item I will issue a refund to your PayPal account for the purchase price of the piece/pieces.
Shipping costs are not refundable
---
Additional policies
About Us/ Instructions for revocation/
Standard Business Terms and customer information/ data protection declaration

About Us

Legal website operator identification:

1001masche.de Angela Schmidt e.K.
Holder: Angela Schmidt
Hegebergstraße 26a
21502 Geesthacht
Germany
Telephone: 041521394753
Telefax: 041521394754
E-Mail: etsy@1001masche.de
listed in the commercial register of the local court Lübeck
Commercial register number - Part A of the commercial register - 7677





Alternative dispute resolution:
The European Commission provides a platform for the out-of-court resolution of disputes (ODR platform), which can be viewed under https://ec.europa.eu/odr.

We are a member of the initiative "FairCommerce" since 24.11.2015.
For more information, see: www.fair-commerce.de




Revocation right for consumers
(A 'consumer' is any natural person who concludes a legal transaction which, to an overwhelming extent, cannot be attributed to either his commercial or independent professional activities.)

Instructions for revocation

Revocation right
You have the right to revoke this contract within fourteen days without specifying any reasons.
The revocation period is fourteen days with effect from the day,

- on which you or a third party nominated by you, which is not the carrier, had taken possession of the products, provided you had ordered one or more products within the scope of a standard order and this/these product/products is/are delivered uniformly;

- on which you or a third party nominated by you, which is not the carrier, had taken possession of the last product, provided you had ordered several products within the scope of a standard order and these products are delivered separately;

- on which you or a third party nominated by you, which is not the carrier, had taken possession of the last part delivery or the last unit, provided you had ordered a product, which is delivered in several part deliveries or units;

In order to exercise your revocation right, you must inform us (1001masche.de Angela Schmidt e.K., Hegebergstraße 26a, 21502 Geesthacht, Telephone number: +49 4152 1394753, Fax number: +49 4152 1394754, E-Mail address: widerruf@1001masche.de) of your decision to revoke this contract by means of a clear declaration (e.g. a letter sent via post, fax or email). You can use the enclosed specimen revocation form for this, which however is not mandatory.

In order to safeguard the revocation period, it is sufficient that you send the notification about the exercise of the revocation right before the expiry of the revocation period.

Consequences of the revocation

If you revoke this contract, we shall repay all the payments, which we received from you, including the delivery costs (with the exception of additional costs, which arise from that fact that you selected a form of delivery other than the most reasonable standard delivery offered by us), immediately and at the latest within fourteen days from the day on which we received the notification about the revocation of this contract from you. We use the same means of payment, which you had originally used during the original transaction, for this repayment unless expressly agreed otherwise with you; you will not be charged any fees owing to this repayment.

We can refuse the repayment until the products are returned to us or until you have furnished evidence that you have sent the products back to us, depending on whichever is earlier.

You must return or transfer the products to us immediately and, in any case, at the latest within fourteen days with effect from the day on which you inform us of the revocation of this contract. The deadline is maintained if you send the products before the expiry of the fourteen-day deadline.

You bear the direct costs for returning the products.

You must pay for any depreciation of the products only if this depreciation can be attributed to any handling with you that was not necessary for checking the condition, features and functionality of the products.

Criteria for exclusion or expiry

The revocation right is not available for contracts

for delivery of products, which are not prefabricated and for whose manufacturing an individual selection or stipulation by the consumer is important or which are clearly tailored to the personal requirements of the consumer;
for delivery of products, which can spoil quickly or whose use-by date would be exceeded quickly;
for delivery of alcoholic drinks, whose price was agreed at the time of concluding the contract, which however can be delivered 30 days after the conclusion of the contract at the earliest and whose current value depends on the fluctuations in the market, on which the entrepreneur has no influence;
for delivery of newspapers, periodicals or magazines with the exception of subscription contracts.

The revocation right expires prematurely in case of contracts

for delivery of sealed products, which are not suitable for return for reasons of health protection or hygiene if their seal has been removed after the delivery;
for delivery of products if they have been mixed inseparably with other goods after the delivery, owing to their condition;
for delivery of sound or video recording or computer software in a sealed package if the seal has been removed after the delivery.

_________________________________________________________________________________

Specimen - revocation form

(If you wish to revoke the contract, please fill up this form and send it back to us.)

- To 1001masche.de Angela Schmidt e.K., Hegebergstraße 26a, 21502 Geesthacht, Fax number: +49 4152 1394754, Email address: widerruf@1001masche.de :

- I/we (*) herewith revoke the contract concluded by me/ us (*) regarding the purchase of the following products (*)/
the provision of the following service (*)

- Ordered on (*)/ received on (*)

- Name of the consumer(s)
- Address of the consumer(s)
- Signature of the consumer(s) (only in case of a notification on paper)
- Date

(*) Cross out the incorrect option.


___________________________________________________________________________________________________

Standard Business Terms and customer information / data protection declaration

I. Standard business terms

§ 1 Basic provisions

(1) The following business terms are applicable to all the contracts which you conclude with us as a supplier (1001masche.de Angela Schmidt e.K.) via the etsy Internet platform. Unless otherwise agreed upon, the inclusion, if necessary, of your own conditions is ruled out.

(2) A 'consumer' in the sense of the following regulations is every natural person who concludes a legal transaction which, to an overwhelming extent, cannot be attributed to either his commercial or independent professional activities. The term 'businessman' refers to every natural person, legal person or legally responsible partnership that concludes a legal transaction in pursuance of his/its independent professional or commercial activity.

§ 2 Conclusion of the contract

(1) The subject-matter of the contract is the selling of products .

(2) If we set up an item vis-a-vis etsy, the activation of the supply-side domain at etsy encompasses the binding offer associated with the conclusion of a purchase contract under the conditions specified on the page associated with the item in question.

(3) The purchase agreement takes place via the online shopping cart system as follows:
The products intended for purchase are moved to the "shopping cart". You can select the "shopping cart" using the appropriate buttons on the navigation bar and make changes there at any time. After selecting the payment method and selecting "proceed to checkout" or "pay with PayPal", personal information and payment data is entered. Finally, all of the order data is shown again on the order summary page.

If you use an upfront payment system (e.g. Paypal or Sofortüberweisung), you will initially be transferred to the website of the payment system provider. Finally, you will be routed back to Etsy on the order summary page.

Before submitting the order, you have the ability once more to review or change any information on the order summary page (you may also use the "back" button on the Internet browser), or to cancel the purchase.
By clicking the appropriate button to submit the order, you declare acceptance of the order in a legally binding way by which the purchase agreement takes place.

(4) The execution of the order and the sending of all the details necessitated by the conclusion of the contract take place via e-mail, in a partially-automated manner. Consequently, you have to ensure that the e-mail address that you have deposited with us is the correct one, and that the receipt of the respective e-mails is guaranteed. In particular, you have to ensure that the respective e-mails are not blocked by a SPAM filter.

§ 3 Individually-designed products

(1) You are to use the on-line ordering system to provide us with the respective details, texts or files that are necessary for the customised designing of the products in question. This can also be done via e-mail, in which case it must be done in a prompt manner after the contract has been concluded. Any potential specifications issued by the supplier regarding file formats are to be borne in mind.

(2) You are obligated to ensure that you do not transfer data whose contents violate the rights of external parties (especially copyrights, rights to names and trademark rights) or break existing laws. You explicitly free us from any and all claims related to this matter that may be raised by external parties. This also applies to the costs associated with any legal representation that may become necessary in this regard.

(3) We do not check the transferred data for textual accuracy. In this respect, we assume no liability for errors.

(4) Insofar as such a provision is specified in the product description, you shall receive a correction template from us, which you should check in a prompt manner. If you approve of the design, you are to approve the correction template for execution through a counter-signature in text format (e.g. e-mail).
Tasks related to the creation of the product in question are not carried out without your approval.
You are responsible for checking the correction template for accuracy and completeness and bringing any potential errors to our attention. We assume no liability for unqueried errors.

§ 4 Right of retention, reservation of proprietary rights

(1) You can only exercise a right of retention if the situation in question involves claims arising from the same contractual relationship.

(2) The goods remain our property until the purchase price is paid in full.

§ 5 Warranty

(1) The statutory warranty rights are applicable.

(2) As a consumer, you are requested to promptly check the product for completeness, visible defects and transport damage as soon as it is delivered, and promptly disclose your complaints to us and the shipping company in writing. Even if you do not comply with this request, it shall have no effect on your legal warranty claims.

§ 6 Choice of law, place of fulfilment, jurisdiction

(1) German law shall apply. This choice of law only applies to customers if it does not result in the revocation of the protection guaranteed by the mandatory provisions of the law of the country in which the respective customer's usual place of residence is located (benefit-of-the-doubt principle).

(2) If you are not a consumer, but a businessman, a legal entity under public law or an institutional fund governed by public law, our place of business is the place of jurisdiction as well as the place of fulfilment for all services that follow from the business relationships that exist with us. The same condition applies to situations in which you are not associated with a general place of jurisdiction in Germany or the EU, as well as situations in which the place of residence or the usual place of residence is not known at the time of commencement of proceedings. This has no bearing on the capacity to call upon the court associated with another place of jurisdiction.

(3) The provisions of the UN Convention on Contracts for the International Sale of Goods are explicitly inapplicable.

_______________________________________________________________________________________


II. Customer information

1. Identity of the seller

1001masche.de Angela Schmidt e.K.
Hegebergstraße 26a
21502 Geesthacht
Germany
Telephone: 041521394753
E-Mail: etsy@1001masche.de


Alternative dispute resolution:
The European Commission provides a platform for the out-of-court resolution of disputes (ODR platform), which can be viewed under https://ec.europa.eu/odr.

2. Information regarding the conclusion of the contract

The technical steps associated with the conclusion of the contract, the contract conclusion itself and the correction options are executed in accordance to the regulations "conclusion of the contract" in our standard business terms (part I.).

3. Contractual language, saving the text of the contract

3.1 Contract language shall be English.

3.2 The complete text of the contract is not saved with us. Before the order is sent, the contract data can be printed out or electronically saved using the browser's print function. After the order is received by us, the order data, the legally-mandated details related to distance selling contracts and the standard business terms are re-sent to you via e-mail.

4. Main features of the product or service

The key features of the goods and/or services can be found in the respective quote.

5. Prices and payment arrangements

5.1 The prices mentioned in the respective offers represent total prices, as do the shipping costs. They include all the price components, including all the incidental taxes.

5.2 The dispatch costs that are incurred are not included in the purchase price. They can be viewed by clicking the appropriate button on our website or in the respective quote, are shown separately over the course of the order transaction and must additionally be borne by you, insofar as free delivery is not confirmed.

5.3 If delivery is made to countries outside of the European Union, we may incur unreasonable additional costs, such as duties, taxes or money transfer fees (transfer or foreign exchange fees charged by the banks), which you must bear. You must also bear the costs arising from money transfers in cases in which the delivery is made to an EU Member State, but the payment is initiated outside of the European Union.

5.4 The payment methods that are available to you are shown by clicking the appropriate button on our website or are disclosed in the respective quote.

5.5 Unless otherwise specified for the respective payment methods, the payment claims arising from the contract that has been concluded become payable immediately.

6. Delivery conditions

6.1 The delivery conditions, delivery date and existing supply restrictions, if applicable, can be found by clicking the appropriate button on our website or in the respective quote.

Unless a different period is specified in the item description or our delivery conditions, the goods are delivered within 3-5 days after the conclusion of the contract (in case an advance payment has been agreed upon, after the payment authorisation).

6.2 If you are a consumer, the following is statutorily regulated: The risk of the sold item accidentally being destroyed or degraded during shipping only passes over to you when the item in question is delivered, regardless of whether or not the shipping operation is insured. This condition does not apply if you have independently commissioned a transport company that has not been specified by us or a person who has otherwise been appointed to execute the shipping operation.

7. Statutory warranty right

Liability for defects is governed by the "Warranty" provisions in our General Terms and Conditions of Business (Part I).

last update: 07.12.2017




___________________________________________________________________________________________________________________

Data protection declaration

Unless stated otherwise below, the provision of your personal data is neither legally nor contractually obligatory, nor required for conclusion of a contract. You are not obliged to provide your data. Not providing it will have no consequences. This only applies as long as the processing procedures below do not state otherwise.
"Personal data" is any information relating to an identified or identifiable natural person.

Collection, processing, and transfer of personal data in orders
When you submit an order we only collect and use your personal data insofar as this is necessary for the fulfilment and handling of your order as well as processing of your queries. The provision of data is necessary for conclusion of a contract. Failure to provide it will prevent the conclusion of any contract. The processing will occur on the basis of Article 6(1) b) GDPR and is required for the fulfilment of a contract with you.
Your data is transferred here for example to the shipping companies and dropshipping providers, payment service providers, service providers for handling the order and IT service providers that you have selected. We will comply strictly with legal requirements in every case. The scope of data transmission is restricted to a minimum.

Duration of storage
After contractual processing has been completed, the data is initially stored for the duration of the warranty period, then in accordance with the retention periods prescribed by law, especially tax and commercial law, and then deleted after the period has elapsed, unless you have agreed to further processing and use.

Rights of the affected person
If the legal requirements are fulfilled, you have the following rights according to art. 15 to 20 GDPR: Right to information, correction, deletion, restriction of processing, data portability. You also have a right of objection against processing based on art. 6 (1) GDPR, and to processing for the purposes of direct marketing, according to art. 21 (1) GDPR.

Contact us at any time. Our contact details can be found in our imprint.

Right to complain to the regulatory authority
You have the right to complain to the regulatory authority according to art. 77 GDPR if you believe that your data is not being processed legally.

Right to object
If the data processing outlined here is based on our legitimate interests in accordance with Article 6(1)f) GDPR, you have the right for reasons arising from your particular situation to object at any time to the processing of your data with future effect.
If the objection is successful, we will no longer process the personal data, unless we can demonstrate compelling legitimate grounds for the processing that outweigh your interests or rights and freedoms, or the processing is intended for the assertion, exercise or defence of legal claims.

If personal data is being processed for the purposes of direct advertising, you can object to this at any time by notifying us. If the objection is successful, we will no longer process the personal data for the purposes of direct advertising.

last update: 25.04.2018