Vintage Wiss Pinking Shears, in original box, with directions in bottom of box! These still work very well. J Wiss & Sons, Newark NJ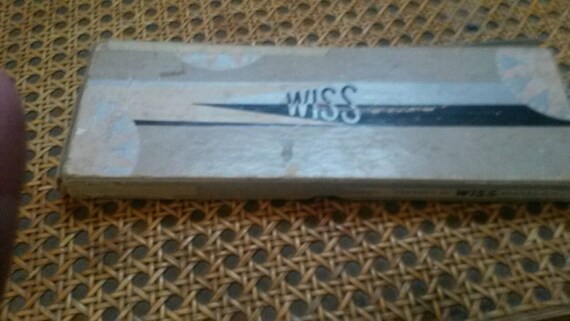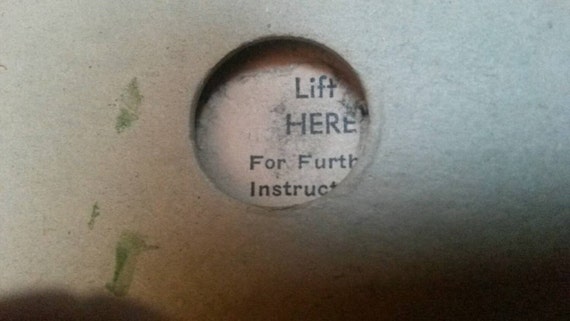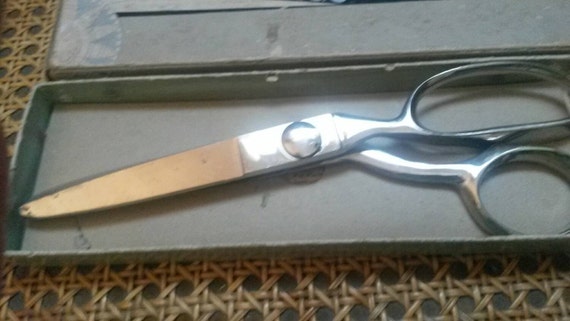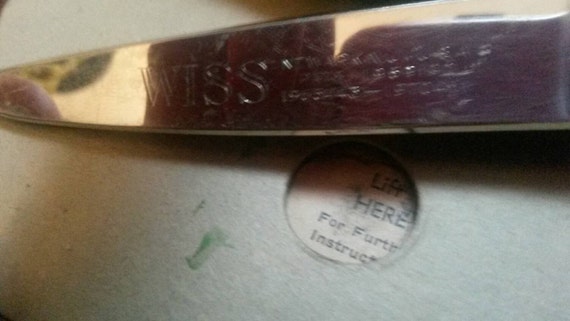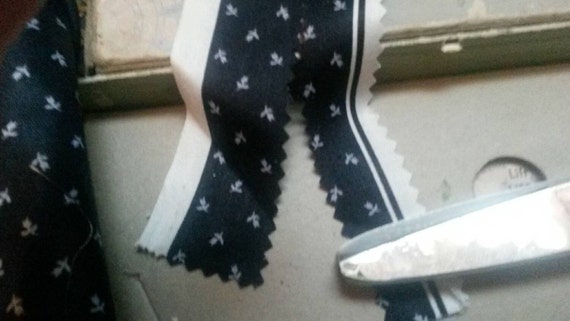 Preparation takes 3-5 business days
Arrives from the United States
---
Features
---
Item details
Details for a Wiss pinking shears. The entire length equals nine and a half inches. The cutting part measures 3 inches. It's made of steel. Its heavy in the hand. It still cuts true. It comes from J Wiss of Newark NJ. I could not find a date on the box but is old I will show you in the pictures the explanation on how to use them is in the bottom of the box. Instructions include how to secure maximum usefulness with pinking shears. When I was a girl only a seamstress, someone who really sewed for the love of it, owned pinking shears. My grandmother was Pennsylvania Dutch, and she made many quilts along with all of her clothes. And she owned her own pinking shears. It gave the finished look at least that's what she told me. Personally I have learned that for myself. It definitely adds to the look of the garment, making it appear to be store bought, which is what we all wanted. My friend was a great seamstress herself and I only found out later in life that she comes from a long line of seamstresses. However her mother wasn't one of them. What she was, was her mother's model. Her mother loved to sew. And she loved even more to so for her daughter, my friend's mother. My friend got out her mother's wedding gown for me to see what she could do to keep her mother's love in the lives of her five daughters. With yards and yards of the most gorgeous, creamiest looking, lengths of satin. We SAT there looking at this gorgeous abundance of satin , I'm telling you I've never seen anything so rich looking, and this was made at least 60 years ago? Now I am the type of person who has No problem cutting up garments that I'm not really attached to, to be used in my own art quilts. So I'm not real sentimental about fabric. I think if you have it, use it. You give it a second life when you do it. This gorgeous wedding dress none of her girls wanted to wear in their own weddings. Not that they could have. This woman was petite, I'm talking tiny. Well anyway, my friend and I agreed, to tuck it back away because there was no great hurry for the project that she had in mind, which was to use her mother's wedding dress in individual crazy quilts for her 5 daughters. She mainly wanted me to see it before she decided to cut it, if she could cut it. Miss repurpose here, was dumbfounded. She sounded doubtful. And I couldn't bear to think of all that creamy satin up in the attic not being loved by anyone. And as we were packing it away I was rambling on about how perfect this would be. I was holding it, caressing it, and I turned one piece inside out just to look and see what a perfect seamstress would have done on the inside where no one sees. I'll tell you, knocked me over, to see the perfection of the seamstress with this gown. The outside is gorgeous but we knew it would be. She could have flipped it inside out and worn it that way. I exaggerate. but it was beautiful inside also! And all because this seamstress knew how to use her tools. Specifically, her pinking shears. Each seam was the same width and after being pinked you would have expected some variation? Nope. this was perfection like I've never seen. First of all miles of seams. Then miles of pinked seams. And each 1 was pinked to perfection. It does make A difference. This seamstress, must have had such a love for her craft, that she would have done nothing differently. I imagine her as smiling and humming as she went about her craft. with all the care she gave to the finished inside and the gorgeous outside she knew it mattered. Not her reputation, this woman was making wedding dresses for people who wanted her to make them. Back in the day there were a lot of women who sewed. But now I know there were probably only a select few who were truly seamstresses. I don't know if the woman who made the wedding gown owned a J.Wiss. What I do know is that she used pinking shears and yes, it most definitely did make a difference.
---
---
More from this seller
---
Shipping & policies
Preparation takes 3-5 business days
Arrives from the United States
Estimated Shipping
UNITED STATES POSTAL SERVICE is so helpful and will calculate shipping fees based on size and weight of the package, and the distance between our shop and the destination for your package. I plug in the required information, they do the math and prepare the shipping label. Its easy and accurate. My packages are picked up at my front door. The sooner they leave my house, the quicker they arrive at yours!u
---
Payments
Direct Checkout with credit/debit cards , Etsy gift cards, and PayPal.
---
Returns & exchanges
Full refund within 14 days, buyer pays return postage. This does not include custom orders.
---
Additional policies
Custom orders on the quilts, would be my dream come true. If you can convey what you want your special gift quilt to say to the special recipient, I can have it ready in a week. They are such great gifts because they are personal, and they can be from the heart while not being over the top. And they aren't at all expensive, prices range from $25 - $50, based on size and embellishments you'd like. I want them to be cuddled, to see kids using them as forts slung over dining table chairs. I just now finished one in bold primary colors...when I was looking through embellishments I have, the thought of hopscotch came to me, and I took off from there! Visit the shop and check out what's happening at Letstrythatagain. Where Rick's always got something going on in his wood shop, that I want for our house! He is a master carpenter who is learning what it means to slow down and enjoy the scenery. He has some really cool ideas for Letstrythatagain, more reasons for you to visit us and check it all out! Custom orders are his specialty. We hope to see you soon!