MAMMALS-41 Collection of 175 vintage images animals Siberian Bear Wild Cat Onager Ass Gibbon Rat High resolution digital download printable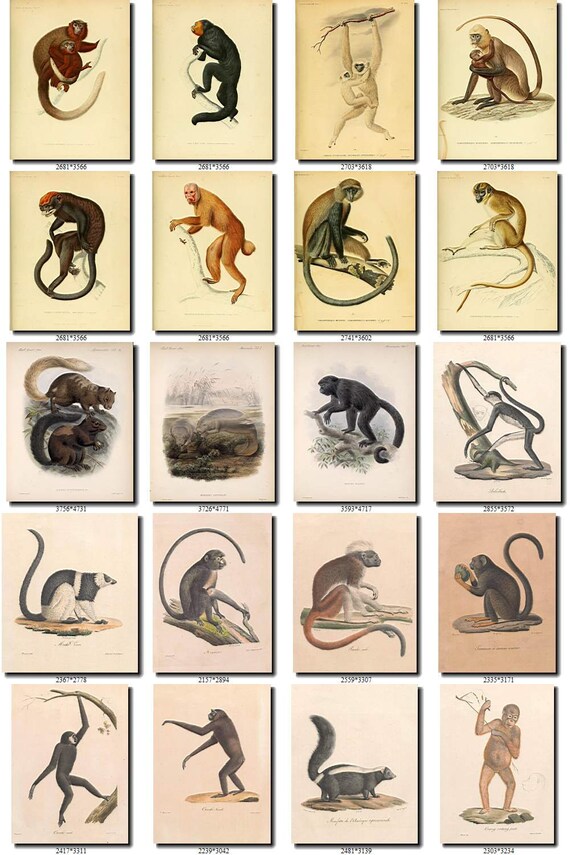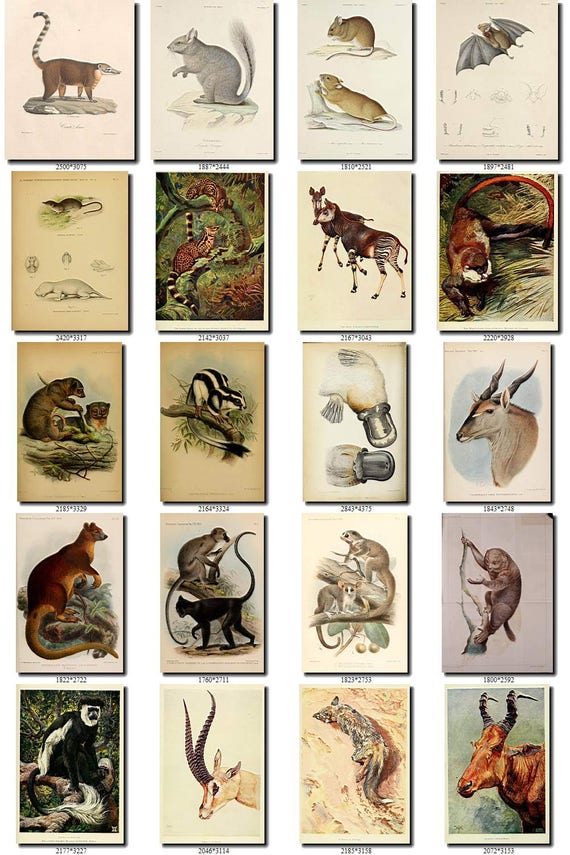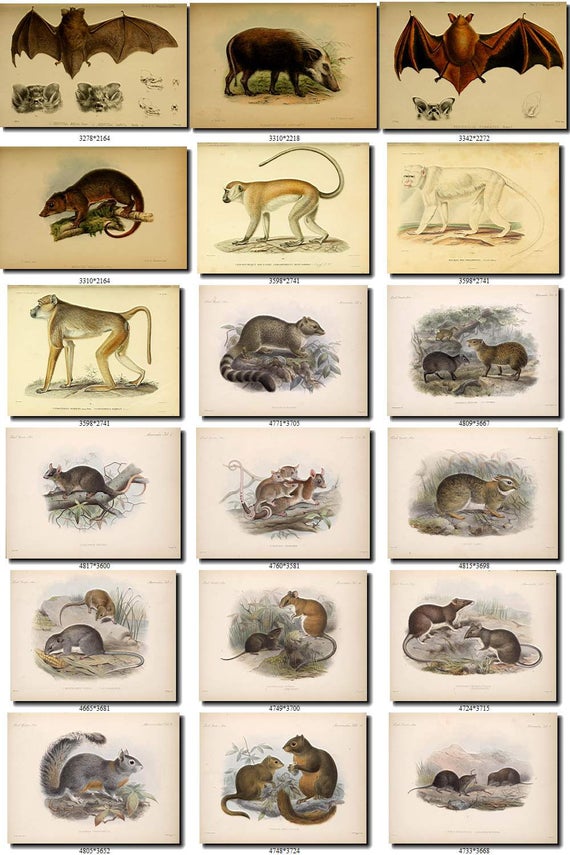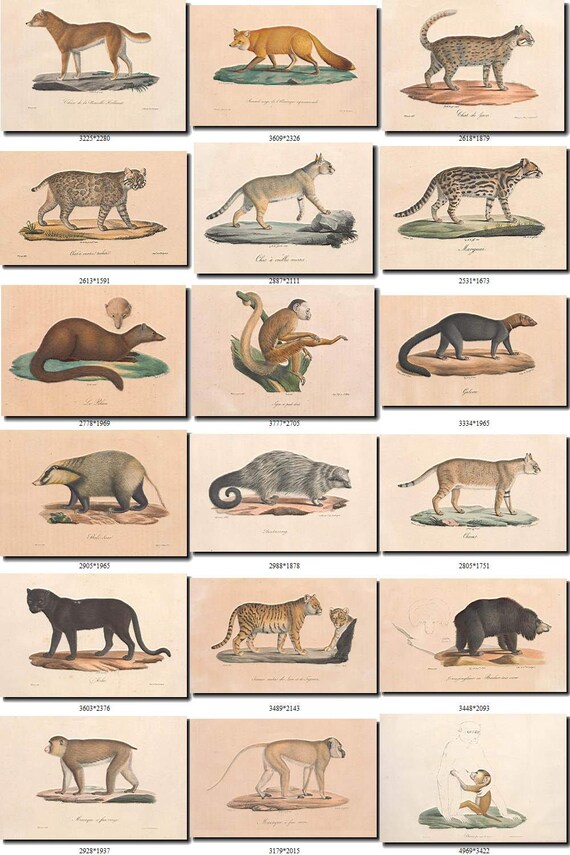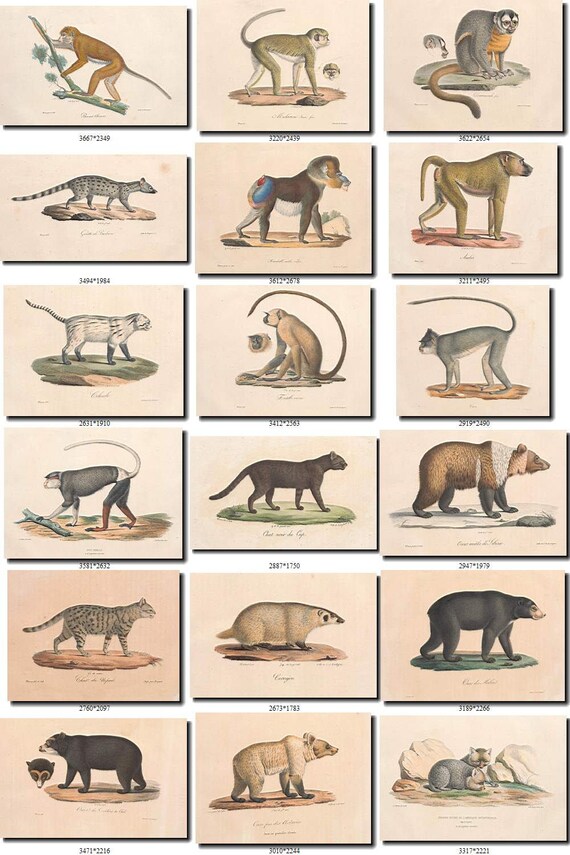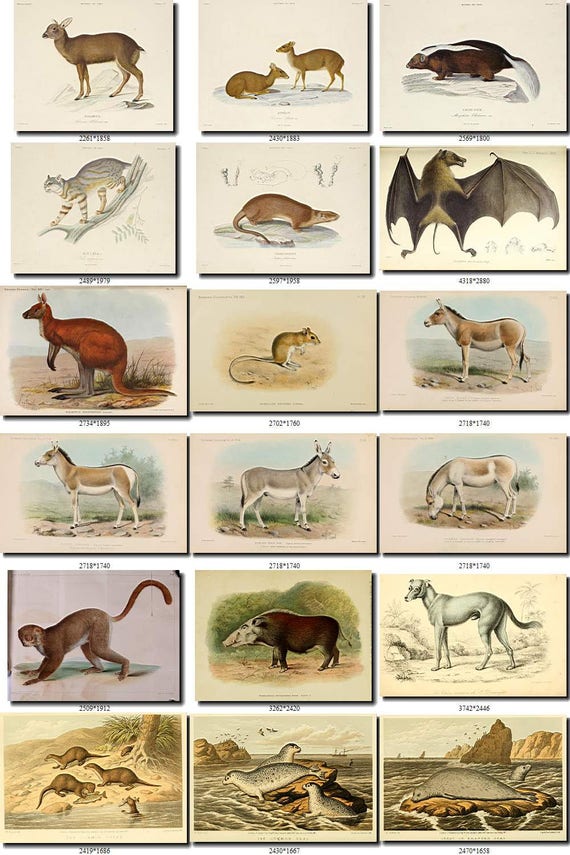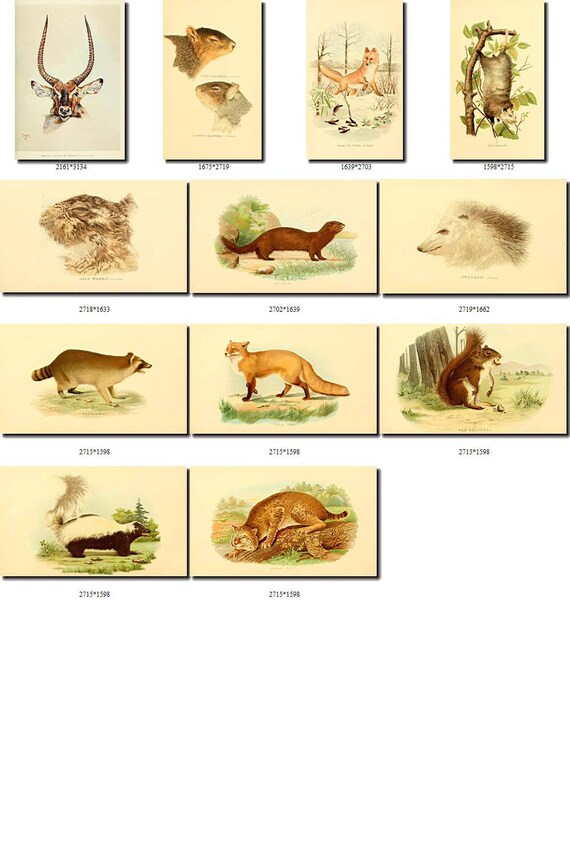 ---
Features
---
Item details
artscult.com - all images from artvintages.com

Instant digital download of 175 vintage pictures of mammals in high resolution (300 dpi, sizes from 1500x2700 px to 4900x3400 px). Look at pictures to see sizes in pixels (click "Zoom", divide size in pixels on 300 - you'll get size of print in inches with high quality, ex. 2400/300=8''). Total size of the collection is 227 Mb.

Each file has a name of shown animal in English or Latin (ex. "Clouded Leopard.jpg" or "Cercopithecus Ruber (L).jpg"). Names of shown species are listed below, at the end of description.

All images are in JPG format, separate files. Perfect for use in crafting, decoupage, collage, altered art, prints, etc. Images are in public domain in USA and may be used for any personal or commercial purposes. Information about source books is included.

Look at my other MAMMALS general collections:
https://www.etsy.com/shop/ArtVintages/search?search_query=mammals+-label
or sorted MAMMALS collections:
https://www.etsy.com/shop/ArtVintages/search?search_query=mammals+label
or all MAMMALS collections:
https://www.etsy.com/shop/ArtVintages/search?search_query=mammals

All-in-one MAMMALS collections:
https://www.etsy.com/shop/ArtVintages/search?search_query=all+mammals

DISCOUNTS:
Save money - Use coupons shown here:
https://www.etsystudio.com/listing/168468869/

SHIPPING DETAILS:
Digital download (TXT file with link on file in zip format on dropbox and google drive, and gallery view). Before purchase, please, make sure that you are able to download large size files. Download may take long time some cases.

NAMES of shown species:
Albino Red Squirrel, Angola Waterbuck or Penrice's Sing-Sing, Asiatic Black Bear or Himalayan Black Bear or Tibetan Black Bear, Atetes Belzebuth (L), Atilax Vansire (L), Bat, Black Binturong, Black Lemur or Ruffed Lemur, Black Squirrel, Blakc or Silver Gray Fox, Blarina Micrura (L), Bobcat or Red Lynx, Brasilian Cat, California Ring-Tailed Cat or Northern California Ring-Tailed Cat or Robber Raccoon-Fox, Calocephalus Vitulinus (L), Canis Familiaris (L) (L), Capra Sibirica Lydekkeri (L), Celebus Grey Cuscus or Celebean Cuscus, Central American Squirrel Monkey or Red-Backed Squirrel Monkey or Oersted's Titi Monkey or Black-Crowned Central American Squirrel Monkey, Cercocebus Hagenbecki (L), Cercopithecus Ruber (L), Cercopithecus Rufo-Viridis (L), Cervus Chilensis (L), Chilean Pudu or Southern Pudu, Chinese Red Panda, Chipmunk, Clouded Leopard, Cobus Defassa, Colobus Occindentalis, Common Colomus Monkey of Central Africa, Common Otter, Common Seal, Conepatus Semistriatus Chilensis (L), Cusimanse, Cynocephalus Leucopheus (L), Dasyprocta Isthmica (L), Dasyprocta Mexicana (L), Dasyurus Viverrinus Maugei (L), Dendrolagus Inustus Maximus (L), Diana Monkey or Diana Guenon, Didelphis Cinerea (L), Didelphis Derbiana (L), Domestic Dog, Dusky Titi or Orabassu or Orabassu Titi or Red-Bellied Titi or Red-Bellied Titi Monkey, Dusky Titi or Red Titi Monkey or Red Titi, East African Eland or Patterson's Eland, Eastern Red Fox, Equus Onager Africanus, Equus Onager Castaneus, Equus Onager Indicus, Equus Onager Onager, Ermine or Large Weasel, Felis Javanensis (L), Felis Rufa (L) (L), Felis Silvestris Caligata (L), Felis Tigrina (L), Fire-Bellied Squirrel or Mexican Red-Bellied Squirrel, Fisher or Pennant's Marten or Pekan or Black Cat, Five-Horned Giraffe, Flying Squirrel, Forsyth's Major Sifaka, Fox Squirrel, Fox, Gabb's Rabbit or Costa Rica Forest Rabbit, Gazella Thomsoni, Genetta Victoriae, Ghor Khar, Giant Eland or Western Giant Eland or Gingi Jonga, Golden-Bellied Mangabey, Golden-Faced Saki Monkey, Grant's Gazelle, Gray Fox, Gray Squirrel, Great or Bearded Seal, Greater Spot-Nosed Monkey or Greater White-Nosed Monkey or Putty-Nosed Monkey or Spot-Nosed Guenon or White-Nosed Guenon or The Hocheur, Greenland Seal, Grey Cuscus or Common Cuscus or Northern Common Cuscus or Common Phalanger, Grey Seal, Grey Weeper Capuchin, Gulo Leira (L), Hagenbeck's Kangaroo, Hapale Aedipus (L), Hapale Rufimanus (L), Hesperomys Couesi (L), Hesperomys Panamansis (L), Hesperomys Sumichrasti (L), Hesperomys Teguina (L), Heterocephalus Glaber Progrediens (L), Heteromys Desmarestinaus (L), Heteromys Longicaudatus (L), Hog Badger, Hooded or Crested Seal, Horse, Hylobates (L) (L), Hylobates (L), Hylobates Funereus (L), Indian Binturong or Himalayan Binturong, Jack Rabbit, Jackal of Uganda, Jackson's Hartebeest, Jungle Cat, Kerivoula Aerosa (L), Kerivoula Lanosa (L), Kiang, Kobdo Onager, Lagotis Criniger (L), Large Genet, Leopardus Geoffroyi Melas (L), Lichanotus Avahi (L), Lion X Tiger Metis (L), Long-Lipped Brown Bear, Macacus Carbonarius (L) (L), Macacus Carbonarius (L), Macacus Erythraeus (L), Macacus Philippinensis Alba (L), Macacus Sinicus (L), Mainland Lar Gibbon or Central White-Handed Gibbon or Central Lar Gibbon, Malabar Langur or Dark-Armed Malabar Langur or Southern Plains Gray Langur or Dussumier's Malabar Langur or Dussumierв•Ёріs Sacred Langur, Manatus Australis (L), Marbled or Ringed Seal, Matschie's Tree-Kangaroo or Huon Tree-Kangaroo, Melarine (L), Mephilis Vulgaris (L), Microcebus Minor (L), Mink, Mus Lutescens (L), Mus Rupestris (L), Naked-Eared Squirrel Monkey or Golden-Backed Squirrel Monkey or Short-Tailed Teetee or Short-Tailed Squirrel-Monkey or Geoffroy's Squirrel Monkey or Bare-Eared Squirrel Monkey, Nocthora Trivirgata (L), North African Genet, Northern Mandrill, Notopteris Macdonaldii (L), Nubian Wild Ass, Nyctipithecs Lemurinus (L), Okapi, Okapia Johnstoni, Olive Baboon or Anubis Baboon, Opolemur Thomasi (L), Opoosum, Opossum, Pampas Cat or Colocolo, Persian Onager, Pileated Tamarin or Red-Capped Tamarin, Pithecus Satyrus (L), Platypus or Duck-Billed Platypus or Water Mole, Potamochaerus Chaeropotamus Keniae (L), Potamochoerus Africanus (L), Potto or Bosman's Potto or Potto Gibbon, Raccoon, Red Fox, Red Howler or Villous Howler or Guatemalan Howler, Red Squirrel, Red Uakari or Red Bald-Headed Saki or Red Acari, Rock Squirrel or Varied Squirrel or Long-Tailed Spermophile, Rufus Mexican Woodrat or Rusty Woodrat, Sacred Langur or Indian Langur or Grey Langur or Hanuuan Langur Entellus or Hanunan Langur Entellus or Bengal Hanuman Langur or Northern Plains Gray Langur, Salvin's Big-Eyed Bat, Sciurus Granatensis Griseogenys (L), Semliki Waterbuck, Semnocebus Albigena Rothschildi (L), Semnopithecus Comatus (L), Semnopithecus Nemeus (L), Serval Cat, Short-Sabered Cat, Siberian Bear or Collared Bear, Skunk, Sorex Verae-Pacis (L), Spotted Wild Cat, Stenoderma Chilensis (L), Striped Possum or Common Striped Possum or Striped Phalanger, Sutra Felina (L), Sylvisorex Sorelloides (L), Tanzania Sykes Monkey or Maritime White-Throated Guenon or Tanganyika Sykesв•Ёріs Monkey or Rufiji Blue Monkey, Tapirus Dowi (L), Tatusia Novem Cincta (L), Taxus Luscus Labradorius (L), Ursus Malaianus (L), Ursus Ornatus (L), Ursus Pyrenaeus (L), Vespertilio Chiloensis (L), Vespertilio Formosus (L), Vespertilio Velatus (L), Vulpes Fulvus (L) (L), Wallace's Dasuyre or Red-Tailed Pouched Mouse, Walrus, Waters's Gerbil, Werner's Guenon, White Bear, White-Lipped Peccary, White-Nosed Cercopithecus Monkey, White-Nosed Coati, Wild Cat, Yellow Baboon or Savanna Baboon.
---
---
More from this seller
---
Digital downloads
---
Payments
PayPal payment only accepted (including payment with a credit card via PayPal without having PayPal account)
---
Returns & exchanges
I gladly accept returns and exchanges
Contact me within:
14 days of delivery
Ship items back within:
30 days of delivery
I don't accept cancellations
But please contact me if you have any problems with your order.
The following items can't be returned or exchanged
Because of the nature of these items, unless they arrive damaged or defective, I can't accept returns for:
Custom or personalized orders
Perishable products (like food or flowers)
Digital downloads
Intimate items (for health/hygiene reasons)
Conditions of return
Buyers are responsible for return shipping costs. If the item is not returned in its original condition, the buyer is responsible for any loss in value.
Additional return information
Full refund available if you are not satisfied with your item. Please feel free to email me. Thanks
---
Additional policies
Images from my collections are in public domain in the US.