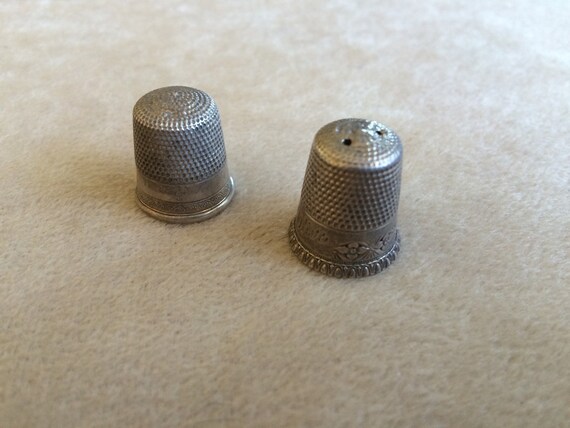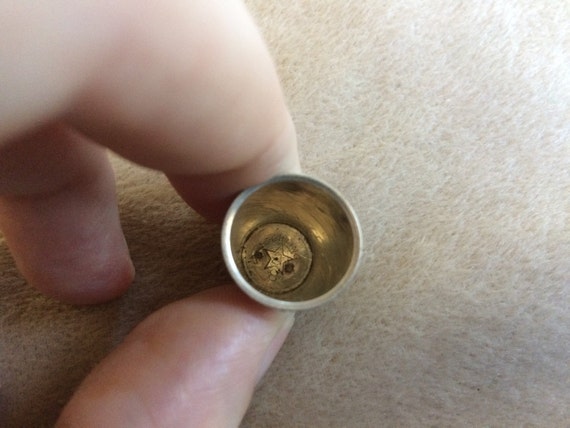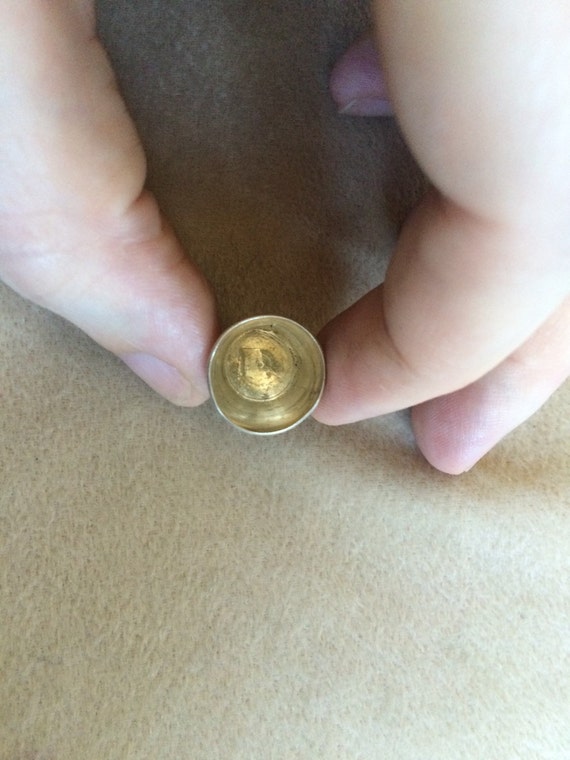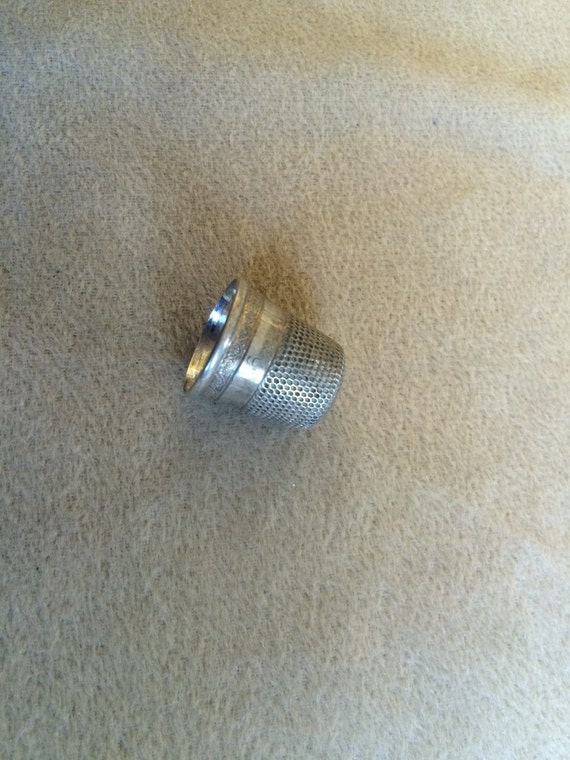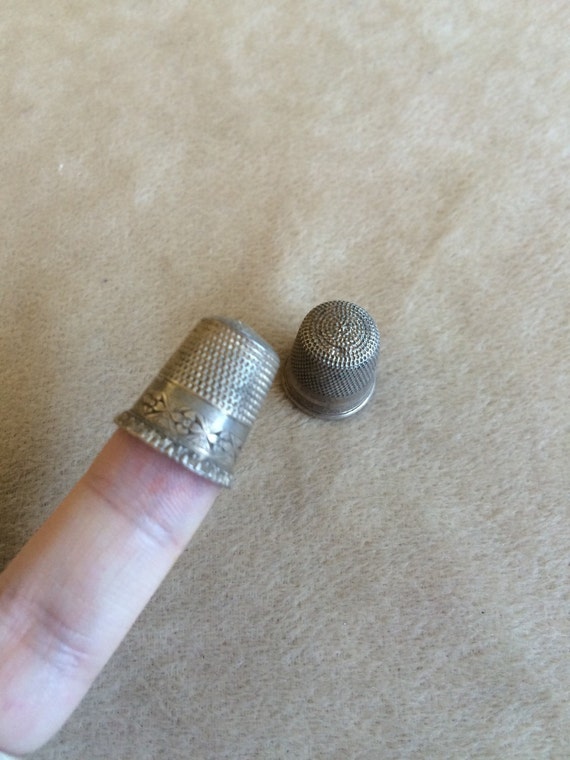 ---
Features
---
Item details
Lot of two c1900s antique sewing thimbles. Size 9 and 8. One has a slight dent to the side. The other, nicer one has two vent holes and is mint condition. This one is very nicely engraved and chased design.

Both tested and/or marked for solid 925 Sterling silver.
---
Shipping & policies
Estimated Shipping
SHIPPING: I ship worldwide (with very few exceptions) using Canada Post parcels with tracking as standard; except for low cost items which will be shipped regular parcel unless otherwise requested. Items usually arrive within about 10-12 business days to most USA addresses. This is the best overall option in terms of cost vs. speed for most people. If you prefer a different shipping method or company, no problem! I can have things arrive as quickly as you require. Please contact me (see also SPECIAL & NEXT-DAY DELIVERY below)

PRICES: Shipping price rates, as listed on items, are at-cost to me and I make no profit from shipping costs. Yes, it is expensive to ship tracked outside of North America, but I have had too many "lost" or "undelivered" international parcels to use cheaper options which do not have tracking.

SPECIAL & NEXT-DAY DELIVERY: If you need something immediately, provided I receive your request in time, I can usually have your item from here to your USA/Canada address by the following day; or within 2 days maximum depending on my schedule. Price is approximately $70 for this, at cost to me. Please contact me ASAP if you want next-day delivery of your item! Please contact me for rates and available special delivery services to other international locations (outside North America).

SHIPPING SCHEDULE: I generally ship orders within 1 to 3 business days of cleared payment. This is not my day job so my time is limited but I try to be as fast as possible. In the rare case of any delay past the listed processing time, I will notify you by message ASAP (for example: I am out of town at time of order, or Etsy takes longer than usual to process your payment).

FOREIGN CUSTOMS: Any customs fees, import taxes, or duty fees are the responsibility of the buyer. Such fees, if any, are imposed at the border by your country's government. They are not an additional shipping charge and I have no control over them. Further, I have no control over, nor responsibility for, any delivery delay due to an item being held up for any length of time with customs in your country. I do not and will not falsify customs documents, description or value. Doing so is illegal, against Etsy policy, and voids insurance.

EXCLUSIONS: None at this time.

NON-DELIVERY & THEFT: In the extremely unlikely event you do not receive your item due to non-delivery or theft (Example: tracking says item is delivered but you didn't receive it, or you receive an opened box missing item[s]), then all claims will be handled through insurance. If you're not sure about insurance on an order, please ask before paying!
To file a claim for theft, I will require photos of the packaging if available, a police report and depending on country, a mail theft report - which must be filed by the buyer. Insurance may request some additional info on a case by case basis.
Any refunds in such cases will come from insurance payout only: I AM NOT RESPONSIBLE, PERSONALLY OR AS A SHOP HERE, FOR STOLEN ITEMS. That means in plain terms if insurance does not allow the claim, I cannot refund you. Please Note: In the worst case, you may be able to recover the price of a stolen item via homeowner's or renter's insurance.

DAMAGE: In the unlikely event your item arrives damaged (Example: broken watch crystal), then repair costs will be handled through insurance. If you're not sure about insurance on an order, please ask before paying! In order to file a claim for damage, I will require pictures of the packaging and damage to the item, as well as, if available, an estimate of repair costs if item is fixable. Insurance may request some additional info on a case by case basis. All claims will be handled through insurance. I AM NOT RESPONSIBLE, PERSONALLY OR AS A SHOP HERE, FOR DAMAGED ITEMS. All that said, my items are packed well with lots of bubble wrap, and damage is a very unlikely thing, amounting to less than 5 cases in 10+ years. I have had no problems with claims/repairs in the very few cases I've experienced, and as with a case of non delivery or theft, I will do my absolute best to assist you.
---
Payments
PAYMENT: I accept PayPal and all major credit cards. I do not charge tax.

LAYAWAY and PAYMENT PLANS: I do offer flexible layaway and payment plans via instalments. Please contact me!

RESERVATIONS: I will reserve most items for you for a 1 week period, generally, after which payment is to be made in full. Any longer than 1 week, or on some higher priced items, I will require a minimum $100 or 10% NONREFUNDABLE deposit due to people reserving things and then changing their minds days (or months) later. Purchasing something here -whether by layaway, reserve or other method- is a legally binding contract for sale of the item, just like at any other store. If you break that by backing out of the sale, you do not get your deposit/down payment back. Alternatively to reservation, we can discuss a payment plan or layaway. I'm very flexible, so feel free to contact me with whatever you had in mind!
---
Returns & exchanges
I don't accept returns, exchanges, or cancellations
But please contact me if you have any problems with your order.
Additional return information
I am a private collector, and not a retail store. I am selling used, vintage items. As such, I do not take returns or refunds except in case of gross misrepresentation (Example: item is described as solid gold when it's only gold plated). Such incident has never happened, as all items are researched and described in detail, honestly and to the best of my ability at time of listing. If an item is damaged in transit I will be glad to work with you; please see shipping policies. Basically though: all sales are final -- as per the Vintage Industry Standards for all retailers of all used/antique goods both online and 'brick & mortar'.

I AM NOT RESPONSIBLE, PERSONALLY OR AS A SHOP HERE, FOR BUYER'S ABUSE OF AN ITEM OR ACCIDENT (Example: item is dropped on the floor and broken). I am also not responsible for buyer's remorse, so please view the pictures and read the listings carefully. Please request any additional info or pictures if you are unsure before buying. This means if you break your item by accident, abuse, or change your mind after ordering, I will not refund you for it.

As stated, I am a very small, part-time sideline business with basically a one-man staff and cannot offer returns and refunds like a big retail store. Moreover, my policy is basically the same as at any brick & mortar antique shop which deals in pre-owned vintage pieces. "All sales final, no returns or exchanges".
---
Additional policies
AUTHENTICITY: I guarantee my items to be original, authentic and genuine, unless explicitly stated otherwise. Please see item listings. I do not deal in fakes/replicas/knockoffs etc.

GUARANTEES: I cannot guarantee watch accuracy, nor water resistance. All my items, being vintage and used, are sold AS-IS unless stated otherwise. Please see further info below.

INFO ON VINTAGE WATCHES: Vintage mechanical watches are delicate, intricate pieces of micro machinery and can be fragile. They should be regularly serviced by your watchmaker/jeweller (about every 5 years is the industry standard recommendation) to maintain function and prevent wear of internal parts. They may also need occasional repair just like any other piece of antique machinery. This is normal! Any watch I have personally had serviced* before sale will be noted in the listing and will usually come with receipt of service from my watchmaker. Most watches I sell, though running, will NOT be serviced, as it's obviously not viable for me to service every watch I come across.

There is eternal debate among collectors and other owners over servicing a vintage watch religiously vs. those who will go for decades between services so long as their watch keeps working. That decision is ultimately up to you.

BUYING AND TRADING: I do often purchase items, with payment upon receiving the item if we cannot meet locally. If you are interested in selling a vintage timepiece, feel free to contact me. I also occasionally accept trades for items, and have had great experiences with trading here. Again, contact me if you would like to trade, with or without cash, for one of my items. The worst I'm going to say is no! I am generally interested in vintage watches and associated items such as guarantee papers, boxes, advertising displays, signs, etc for watch brands particularly Tudor, Rolex and Omega.

OTHER: Watch stands, bits of advertising, or dealer display signs which I sometimes use in my listing pictures, are for display only and not included in sale unless stated otherwise. Finally, my policies are listed at the bottom of every single page in my shop, and it is your responsibility to read them and/or ask questions before purchasing items. By purchasing an item, you agree abide by the policies here, just as you would at any other store, online or brick & mortar. This is backed up by consumer law in all of North America, the UK and most parts of Europe as well. I hate to be so blunt about it, but I have had a few issues with people not bothering to read anything and then demanding I make exceptions to my policies and/or the law for them.

*"Serviced" means the watch has been completely disassembled, cleaned, and any broken parts replaced. Any water-resistant gaskets, and depending on need, also the mainspring and crystal may be replaced as well. The watch is then reassembled, tested for function and regulated for accuracy. Further details beyond such basic service, if applicable, will generally be noted in the listing.