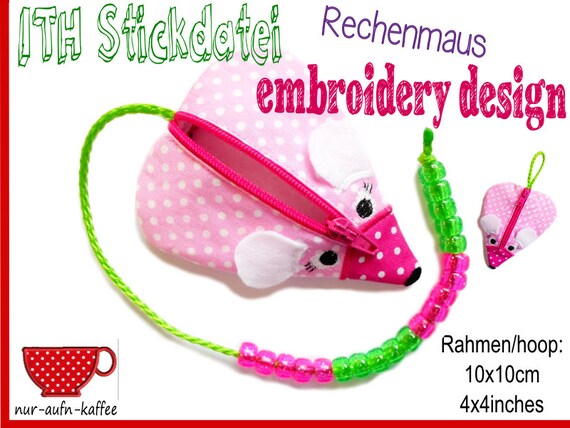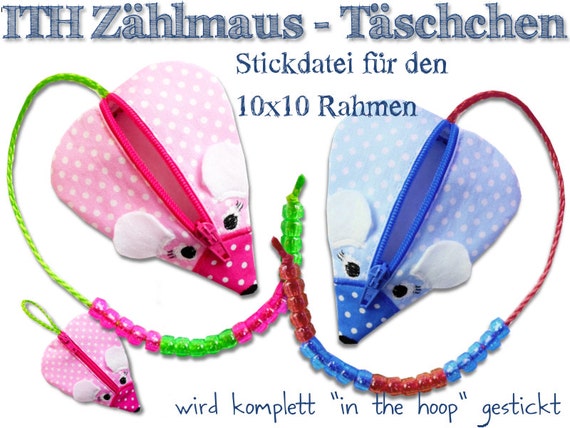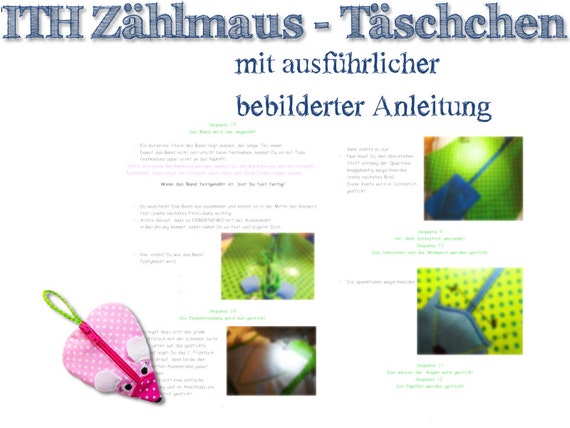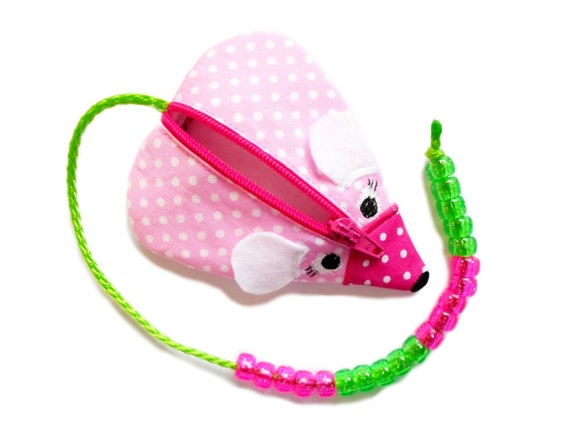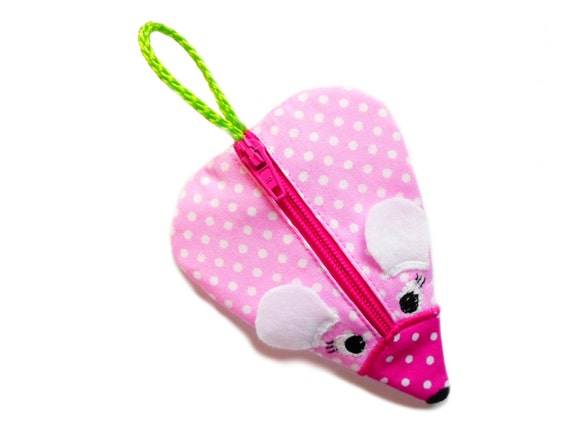 ---
Features
Made in Erkelenz, Germany
---
Item details
Sorry, we couldn't translate this to English.
Our sweet mouse of computing is now finally also as ITH embroidery file to do it yourself. It is a great gift for newcomers to school finished stitched.

This file is specially created for the small frame 10 x 10.

Please note: you will get the embroidery file only in the PES format.
With the very detailed illustrated instructions can also untrained sticker/innen ran dare love.
The pattern for the fabric parts and the color system overview is also included.

IT IS A DIGITAL PRODUCT, NOT A FINISHED MOUSE.

After payment, you can immediately download you the following files: pattern embroidery file instructions the finished embroidered mouse has a size of approx. 8x10cm materials used (without band) digital product in the PES format other formats on demand this article is a DOWNLOAD article.

The manual is there only on german terms and conditions: the colors of embroidery patterns are freely chosen by us, you may customize according to your wishes yourself.
BUT: The digital change of file is not allowed. Passing on, swap, sell, this file is not permitted.

The finished embroidered mice may like to small commercial part, stating the author "only-on the coffee" to be sold. Please no mass production!

* hoop: 4 x 4 the format for the file is: PES instant download * * this design is a digital design. You MUST have on embroidery machine and a way to transfer the files from your computer to your embroidery machine. * files will be available to download once payment is confirmed pleas note: the instructions are ONLY german!
---
---
Digital downloads
---
Payments
-------------------------------------------------------
Allgemeine Geschäftsbedingungen mit Kundeninformationen
-------------------------------------------------------


Inhaltsverzeichnis
------------------
1. Geltungsbereich
2. Vertragsschluss
3. Widerrufsrecht
4. Preise und Zahlungsbedingungen
5. Liefer- und Versandbedingungen
6. Eigentumsvorbehalt
7. Mängelhaftung
8. Anwendbares Recht
9. Datenschutz


1) Geltungsbereich
1.1 Diese Allgemeinen Geschäftsbedingungen (nachfolgend "AGB") der/des Annika Kutscha (nachfolgend "Verkäufer"), gelten für alle Verträge, die ein Verbraucher oder Unternehmer (nachfolgend "Kunde") mit dem Verkäufer bezüglich der vom Verkäufer auf der Internet-Handelsplattform Etsy (nachfolgend "Etsy") dargestellten Waren und/oder Leistungen abschließt. Hiermit wird der Einbeziehung von eigenen Bedingungen des Kunden widersprochen, es sei denn, es ist etwas anderes vereinbart.
1.2 Verbraucher im Sinne dieser AGB ist jede natürliche Person, die ein Rechtsgeschäft zu Zwecken abschließt, die überwiegend weder ihrer gewerblichen noch ihrer selbständigen beruflichen Tätigkeit zugerechnet werden können. Unternehmer im Sinne dieser AGB ist jede natürliche oder juristische Person oder eine rechtsfähige Personengesellschaft, die bei Abschluss eines Rechtsgeschäfts in Ausübung ihrer selbstständigen beruflichen oder gewerblichen Tätigkeit handelt.

2) Vertragsschluss
2.1 Das Zustandekommen des Vertrages über die Etsy-Website richtet sich nach Ziffer IV der Allgemeinen Geschäftsbedingungen für die Nutzung der Internetplattformen der Etsy. Dort ist der Vertragsschluss wie folgt geregelt:
"Stellt ein Mitglied als Verkäufer einen Artikel oder eine Leistungsbeschreibung ein, gibt es ein verbindliches Angebot ab, dass jedes andere Mitglied den Artikel oder die Leistung zu dem angegebenen Preis erwerben kann. Der Vertragsschluss kommt zustande, wenn ein anderes Mitglied (Käufer) die hierfür vorgesehene Schaltfläche (derzeit: "zahlungspflichtig bestellen") anklickt und den Vorgang bestätigt."
2.2 Für die Abgabe seines Angebots klickt der Kunde auf der Produktseite des Verkäufers bei Etsy entweder auf den Button "In den Warenkorb" oder auf den Button "Direkt zur Kasse gehen" und durchläuft anschließend die von Etsy vorgegebenen Bestellschritte. Im letzten Schritt des Bestellprozesses klickt der Kunde auf den Button "zahlungspflichtig bestellen", wodurch der Bestellvorgang abgeschlossen wird.
2.3 Der Vertragstext wird vom Verkäufer gespeichert und dem Kunden nach Vertragsschluss nebst den vorliegenden AGB und Kundeninformationen in Textform (z. B. E-Mail, Fax oder Brief) zugeschickt. Zusätzlich wird der Vertragstext bei Etsy archiviert und kann vom Kunden über sein passwortgeschütztes Kundenkonto bei Etsy kostenlos abgerufen werden.
2.4 Der Kunde kann seine Eingaben vor Abgabe seiner Bestellung mit den von Etsy zur Verfügung gestellten technischen Mitteln korrigieren. Die Korrekturen können mittels der üblichen Tastatur- und Mausfunktionen direkt auf der Angebotsseite in den entsprechenden Eingabefeldern erfolgen.
2.5 Für den Vertragsschluss steht ausschließlich die deutsche Sprache zur Verfügung.
2.6 Die Bestellabwicklung und Kontaktaufnahme finden per E-Mail und automatisierter Bestellabwicklung statt. Der Kunde hat sicherzustellen, dass die von ihm zur Bestellabwicklung angegebene E-Mail-Adresse zutreffend ist, so dass unter dieser Adresse die vom Verkäufer versandten E-Mails empfangen werden können. Insbesondere hat der Kunde bei dem Einsatz von SPAM-Filtern sicherzustellen, dass alle vom Verkäufer oder von diesem mit der Bestellabwicklung beauftragten Dritten versandten Mails zugestellt werden können.




6) Eigentumsvorbehalt
Tritt der Verkäufer in Vorleistung, behält er sich bis zur vollständigen Bezahlung des geschuldeten Kaufpreises das Eigentum an der gelieferten Ware vor.

7) Mängelhaftung
Es gilt die gesetzliche Mängelhaftung.

8) Anwendbares Recht
Für sämtliche Rechtsbeziehungen der Parteien gilt das Recht der Bundesrepublik Deutschland unter Ausschluss der Gesetze über den internationalen Kauf beweglicher Waren. Bei Verbrauchern gilt diese Rechtswahl nur insoweit, als nicht der gewährte Schutz durch zwingende Bestimmungen des Rechts des Staates, in dem der Verbraucher seinen gewöhnlichen Aufenthalt hat, entzogen wird.

9) Datenschutz
9.1 Personenbezogene Daten werden nur erhoben, wenn sie der Kunde dem Verkäufer von sich aus zur Vertragsabwicklung oder bei der Anmeldung zum E-Mail-Newsletter zur Verfügung stellt. Die bei dieser Gelegenheit angegebenen personenbezogenen Daten werden zur Vertragsabwicklung sowie zur Bearbeitung der Anfragen des Kunden genutzt.
9.2 Die E-Mail-Adresse des Kunden wird darüber hinaus für eigene Werbezwecke genutzt, sofern der Kunde hierin ausdrücklich eingewilligt hat. Der Kunde kann seine Einwilligung gegenüber dem Verkäufer jederzeit widerrufen.
9.3 Die personenbezogenen Daten des Kunden werden im Rahmen der Vertragsabwicklung an das mit der Lieferung beauftragte Transportunternehmen weitergegeben, soweit dies zur Lieferung der Ware erforderlich ist.
9.4 Nach vollständiger Abwicklung des Vertrages werden die Daten des Kunden mit Rücksicht auf steuer- und handelsrechtliche Aufbewahrungsfristen gesperrt und nach Ablauf dieser Fristen gelöscht, sofern der Kunde in die weitere Verwendung seiner Daten nicht ausdrücklich eingewilligt hat.
9.5 Der Kunde hat ein Recht auf unentgeltliche Auskunft über seine gespeicherten Daten sowie ggf. ein Recht auf Berichtigung, Sperrung oder Löschung dieser Daten. Er kann sich bei Fragen zur Erhebung, Verarbeitung oder Nutzung seiner personenbezogenen Daten unentgeltlich an den Verkäufer wenden.


---
Returns & exchanges
3) Widerrufsrecht
Verbrauchern steht grundsätzlich ein Widerrufsrecht zu. Nähere Informationen zum Widerrufsrecht ergeben sich aus der Widerrufsbelehrung des Verkäufers.