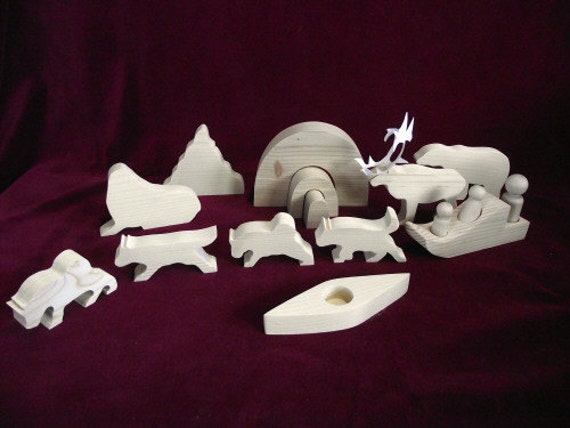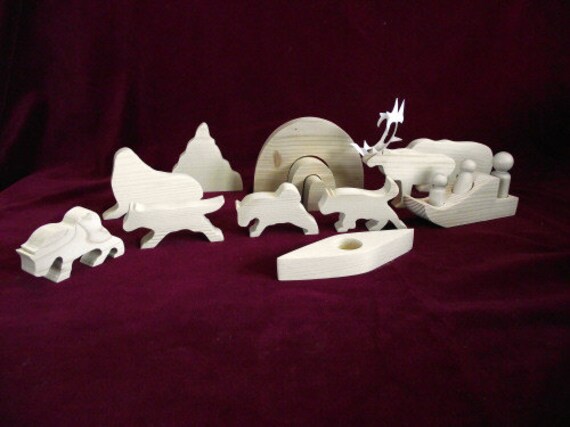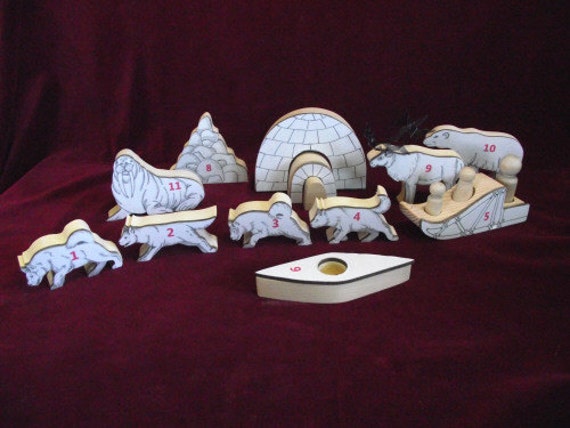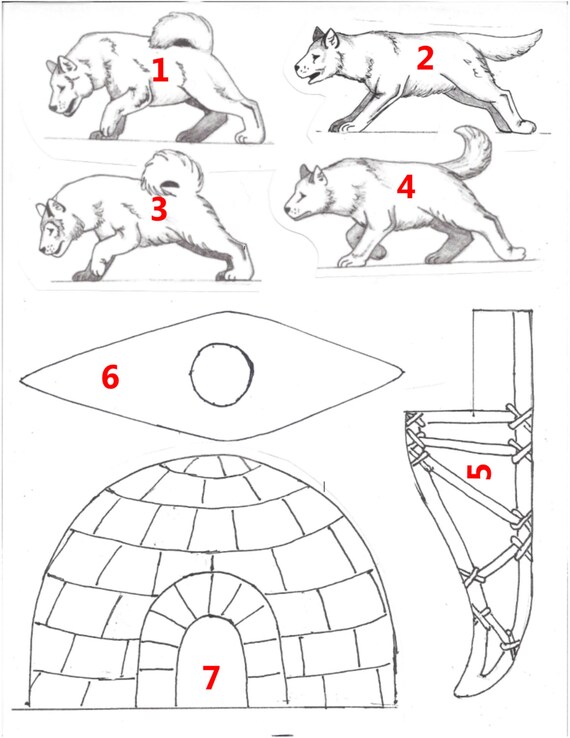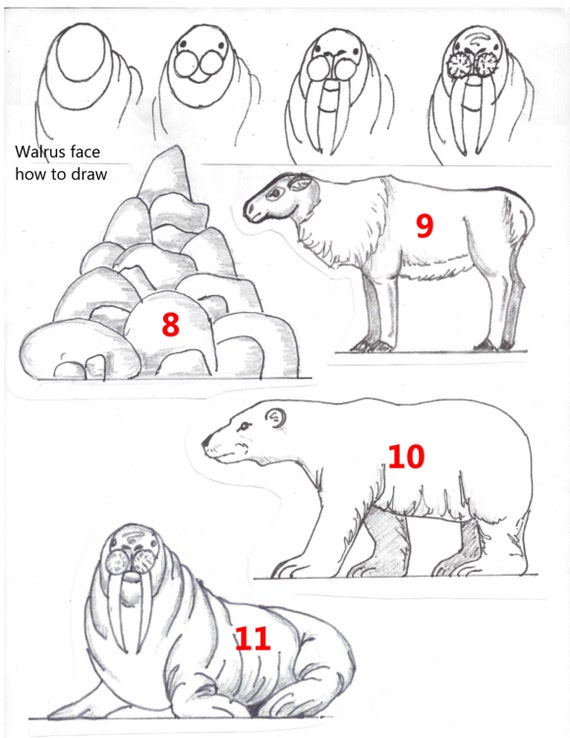 Preparation takes 1-3 business days
Arrives from the United States
---
Features
Made in Traverse City, Michigan
---
Item details
Inuit/Eskimo Family of the Far North in Unfinished Wood Cutouts. With this new series of native families, I am trying to give you a basic, generic set of figures to get you started. These sets will show transportation, food sources, homes, terrain, and maybe some other things important to the family's way of life. By doing your research, you can make these sets come alive for children. I wanted them to be a good educational tool as well as just a fun play set.

This item will be listed as 1 or 2 available. If you need more of this item, please convo us and we be glad to fill your order. We are running into a storage problem in trying to keep at least 5 of each item in stock, so our slower items, or items that do not usually sell in multiples are going to be listed as only 1 or 2 available and Ron will cut them as needed. It may take a little longer to ship this item if it is not in stock and Ron has to cut it, but usually not more than a day.

This set features the Inuit/Eskimo people of the far north. The Inuit/Eskimo people were nomadic hunters and gatherers, traveling to find food. The People are Peg Dolls that can be painted or dressed, depending on your talents. Transportation: Kayak and Dog Sled that the peg people can fit into. The dogs are shown without harness so you can paint on the harness or make a removable harness. Food Sources: Walrus, Caribou, Polar Bear. These animal's skins were also used for clothing and housing. Research these animals for coloring tips. Fishing was also important so you can add to this set by choosing some whales from the Denizens of the Deep set or by cutting paper or felt fish that can be strung on a drying rack. There are more animals and birds in the far north too (Wolves, Seals, Moose and Musk Ox and many smaller animals), but each of these sets has to have limits! (which is why there are only 4 sled dogs) Add animals as you like, either from our other sets or wherever you find them. The tundra does not have a lot of trees, but there are some and we have several tree assortments available if you want to add trees. Homes: The ice igloo is the first home that comes to mind, but the Inuit also had more permanent homes made from hides. These were similar in shape to the igloo so paint one side like an igloo and the other side like a hide hut from the shape provided if you like. I have also included a large pile of rocks in this set. The tundra has few landmarks not buried by snow, so the Inuit people would make tall piles of rock for landmarks and messages called Inuksuk. Some of these were quite elaborate. A study of these, along with finding stones and building an Inuksuk would be a great project.

The first 2 photos show the set as you will receive it plus instructions and Antlers. Photo 3 has our patterns leaning against the cutouts to show you better how they will look after painting. The caribou has plastic antlers colored dark gray. The next 2 photos are your drawing guides. Be sure to copy them off!

This set will work fine as a general play set as it is. It can also be a basis for learning more about the peoples who live in the Far North. There are lots of books and Internet sites to provide information! Different areas also have different traditions, clothing, etc, if you really want to get into the research.

This set is cut mostly from 3/4 inch thick pine, but the sled, igloo and kayak are cut from the heavier 1-1/4 inch thick pine so the peg dolls can fit in them. They are UNFINISHED pine and have been lightly sanded only. You may want to do some more sanding in the hard to reach areas or, if you want the edges rounded over, you will need to do that too. I am trying something new for the antlers on the caribou. I don't like the look of the heavy wood blobs that wind up sitting on wood deer heads for antlers. If the antlers are cut thin, they snap off, so the blobs that you paint antlers on have become the answer. I am having Ron cut a slit in the top of the deer head and then fitting a set of heavy card stock antlers in the slot. These can be bent to look more natural and replaced as needed. Cutting the antlers out of plastic (think milk carton or clear blister pack plastic) would be another option. The walrus is facing you so the tusks are not a problem, but drawing the face might be. I have included a step by step on that one, so be sure to download the drawing guides.

As usual, you can purchase the whole set or just parts of the set. If purchasing just a few pieces, please give me the name of the set, the ID number and OUR NAME for the piece as well as how many of each you want. You will have to "convo" us with the information. The total price must be more than $5.00 to make shipping worth while. Please be sure to give us an up to date ZIP-CODE (USA) so we can figure shipping on your custom cuts.

List of pieces with approximate measurements and price:
Pieces are 3/4 in thick except the Sled, Kayak, Igloo which are 1-1/4 in. thick.

1. Sled Dog, paw raised 3-1/4 in. long x 1-3/4 in. tall....$ 3.25
2. Sled Dog, running 3-1/2 in. long x 1-1/2 in. tall.........$ 3.25
3. Sled Dog, pulling 3-1/4 in. long x 2 in. tall.................$ 3.25
4. Sled Dog, pacing 3-1/2 in. long x 2 in. tall.................$ 3.25
5. Dog Sled, 5-3/4 in. long x 1-3/4 in. tall......................$ 4.50
6. Kayak, 5-1/2 in. long x 1-3/4 in. wide.......................$ 2.25
7. Igloo Stacker, 5-1/2 in. wide x 3-3/4 in. tall...............$ 5.50
8. Inuksuk, Rocks, 4-1/8 in. tall x 4-1/8 in. wide............$ 2.50
9. Caribou, 4-1/4 in. long x 2-5/8 in. tall plus antlers.....$ 3.50
10. Polar Bear, 4-3/4 in. long x 2-5/8 in. tall...................$ 3.50
11. Walrus, 4-1/2 in. long x 2-7/8 in. tall........................$ 3.00
12. People, 1 #5 lg. boy, 1 # 3 Girl with Skirt and
1 #8 Sm. Boy NO SUBSTITUTIONS. Other
size pegs will NOT fit in the dog sled or kayak....$ 1.10
Instruction sheet and pattern for Caribou Antlers, Card Stock Antlers provided one time only.

Small pieces can be a choking hazard. This set is not recommended for children under 3 years of age or anyone still "taste testing" everything. You know your child best, please purchase according!!

Shipping/handling is for complete set. Shipping is by Priority Mail in the USA with delivery in 2 to 3 business days from mailing.

**********************************************************

YES! WE DO COMBINED SHIPPING!! SEE POLICIES!

***********************************************************

IMPORTANT INFORMATION..........PLEASE READ!!

Our pine cutout items are designed and copyrighted by me (Phyllis). They are free hand drawings and will not be the same side to side. I feel this gives them more character and individualism. The items are then hand cut one at a time by Ron with his band saw. They are lightly sanded. All this means that no two will be exactly alike. Pieces of stackers and puzzles are not interchangeable. Pieces of stackers and puzzles must be all "right" side up to fit together properly. If a piece is flipped over, it won't fit! This makes the stacker more challenging and less boring over time. If this is an issue for your young ones, we suggest that one side be painted in dark colors and the other side in light colors. For instance, a rainbow could be primary colors on one side and pastel colors on the other. Due to differences in printers, hand cutting and sanding, the drawing GUIDES provided for our cutouts are never going to fit exactly. They are merely GUIDES to help you with details as you finish your cutout!

Our hand cut items are cut from pine grown in the USA and occasionally Canada. The lumber is marked KDHT which means it is KILN DRIED (to reduce the moisture content) and HEAT TREATED (pasteurized, heated to partial sterilization to kill bugs and bacteria). Our items are sold UNFINISHED. Although Ron lightly sands our hand cut items, there could still be rough spots, sharp edges, or even a few splinters. It is up to you to finish sanding the items to your liking before applying any paint or finish. We don't recommend any one finish over another. It is up to you to choose the type of finish you prefer and read the labels to be sure it is child safe!

WARNING!!!
We do not recommend any of our products for children under 3 years of age. Small pieces can be a choking hazard so if your child (or pet) is still taste testing everything, use common sense when purchasing. You know your child best; buy wisely! Remember, anything that can pass through a toilet paper roller is a choking hazard!

PLEASE READ!!!
Information on COMBINED SHIPPING can be found in our POLICIES. Look for the POLICIES AND SHIPPING tab under the photos to the right! Most questions will be answered there. Policies are broken down into sections so you don't have to read everything to find what you are looking for.
---
---

This set is really beautiful. I bought it for my grand niece who is part Inupiat (Arctic Alaskan Native). Thanks so much.

Dec 13, 2017 by SheilaRsews

Will be a great set, great business to deal with!

May 19, 2017 by runannie

Fantastic and creative! Love this set, thank you!

Sep 12, 2016 by Sea Lopez
---
More from this seller
---
Shipping & policies
Preparation takes 1-3 business days
Arrives from the United States
Estimated Shipping
New shipping increases on Jan. 21, 2018. Small parcels will get a bit of a break from last years big hit. US will pay the same for 1 oz. up to 5 oz. and then by the ounce from 5 oz. up to 15.999 oz. First Class USA will still extend up to 15.999 oz (commercial) instead of stopping at 13 oz so that is good. Priority Mail USA is also increasing in price with other changes in packages too.

I am doing my best to get the shipping right, but there will be glitches. We will refund any overpayment as usual. Our USA Priority Mail shipping prices are based on shipping to Zone 8, so if you live closer to Michigan your shipping will be less than it shows on the listings. Hope this helps!


Welcome to the nightmare that is shipping! OK, here is what we do to try and bring you the lowest price and the best service. In the USA we use USPS (United States Postal Service) because we can get pickup at the mailbox or door which saves us a 14 mile round trip to the nearest Post Office. (We don't have the volume in large boxes to have UPS, Fed Ex, etc. stop by.) We can pay for postage, print shipping labels and packing slips on line through ETSY as the orders come in. Etsy now has a "processing" time of 24 to 48 hours before funds are available to us for shipping, so this will slow things down a bit. No more same day shipping, but we can usually manage next day shipping.

We carry a large variety of items in our shop that come in all shapes and sizes. Keeping a large supply of boxes in all sizes is a storage nightmare. USPS carries a good range of box sizes that they will send us free of charge, folded flat. The drawback is, they are for Priority Mail only! Sigh..........

A padded envelope or small boxed parcel weighing under 16 oz. can be shipped first class mail anywhere in the USA for the same by the ounce fee. So we do, usually. (We do add about $2.00 handling fee on padded envelopes to help cover the cost of the envelopes.) The exceptions are light weight things that fit just right in those lovely little Priority Mail boxes that the Post Office furnishes! When the weight is over 15.999 oz., we ship Priority Mail. This includes the Flat Rates and Regional Rates. I do prefer to send vintage breakables by Priority on the theory that the faster it goes and the less handling it receives along the way the less chance of breakage there is!

Here is the way we figure shipping fees on items over a pound. We take the weight and size of the parcel and use the shipping cost to the West Coast. That is about the highest shipping rates for us! We charge retail and the post office gives us a small discount for paying on line which helps us pay for packing materials. The difference between Retail and our discounted price must be at least $2.00 or we will charge the difference as a handling fee. Again, want the actual shipping rate to your address? E-mail/convo us and we'll give you that rate on orders over 16 oz. Please do that BEFORE checking out however, so we can do a custom order for you!

COMBINED ORDERS: If you are ordering several items at once, contact us for the actural shipping/insurance fee BEFORE you check out. We can box up the items and give you a combined shipping rate to your address that could be a lot less expensive than our "guesstiment" listed on the site!

We always combine shipping where we can. We also use Flat Rate and Regional Rates where we can if it is cheaper. However, since we have such a wide variety of items all with different weights and size issues, it is impossible to show combined shipping prices on our listings! It just does not work for us.

We will refund, thru ETSY, shipping that is overpaid by $2.00 or more. So, if you would rather just order from the listing in the shop, you will still pay only the proper amount of shipping.

INSURANCE: We insist on insurance on all breakable Vintage items. We also insist on insurance on any vintage item or combination of vintage items shipped together with a combined value of over $100.00. If you want insurance on any other item, just let us know and we will add the insurance fee to the invoice. If insurance is required we will make a note of it in the item description and add it to the shipping fees.

USPS is now offering insurance on items up to $100.00 in total value shipped Priority Mail free of charge in the USA.

Insurance is always a good idea for orders over $100.00.

DELIVERY CONFIRMATION: We include Delivery Confirmation on all orders in the USA. Tracking is also included in shipments within the USA.

PACKING MATERIALS: We use padded envelopes, usually bubble wrap, for flat things like puzzles. We use USPS Priority Mail boxes which are made of recycled materials and we scrounge used boxes from local stores. For inside cushioning we use newspaper, previously used packing peanuts, bubble wrap (some new, some used). We collect used packing materials from a number of local stores and factories. It saves us, and you, money and the businesses don't have to pay to have someone haul old packing materials away. It's a win-win situation!

LOCAL PICKUP: If you live close by and want to pick up your items, that's fine with us. Just let us know what you want ahead of time so we can have it ready for you. Just remember.....we do not have a store or even an organized warehouse, nor regular hours. You cannot just drop in and shop!! We really don't encourage "shoppers" at our home. Even I can't find items in the back room! Ron is the only one who knows where things are......sort of. You really need to shop on-line to see what is available. Since we live out in the country, a meeting in Traverse City could be arranged on our day in town if you prefer. We won't deliver to your door, but we don't mind meeting you someplace we are going anyway!

GIFT SHIPPING: We will ship to a "Giftee's" address if explanations are made and instructions are clear as to where the item is to be shipped. Please don't just give a different name and address as a shipping address that doesn't match your Etsy name and address. Now that would be very confusing for me.
---
Payments
We now accept only Etsy Payments.

Please make sure the name and address on your Etsy order matches the name and address on any payment accounts. If they don't, please explain why or fix the problem since it will pop up every time you order something on line. It is for your own protection and mine, so I will question mismatched information!

Buyers from Michigan: We are now charging sales tax on orders in Michigan. The sales tax fee will be added when you pay thru Etsy Payments. Washington state is also charging sales tax on all items shipped to that state. Etsy will be collecting that.

Canceling an order can be a problem because we ship FAST! If you can notify us before we ship, we will gladly cancel the transaction. Otherwise, see refunds and exchanges below.
---
Returns & exchanges
I gladly accept returns
Contact me within:
7 days of delivery
Ship items back within:
14 days of delivery
I don't accept exchanges or cancellations
But please contact me if you have any problems with your order.
The following items can't be returned or exchanged
Because of the nature of these items, unless they arrive damaged or defective, I can't accept returns for:
Custom or personalized orders
Perishable products (like food or flowers)
Digital downloads
Intimate items (for health/hygiene reasons)
Items on sale
Conditions of return
Buyers are responsible for return shipping costs. If the item is not returned in its original condition, the buyer is responsible for any loss in value.
Additional return information
Please make sure you actually want the item before you make your purchase order! If you have doubts or questions about an item, contact us before ordering. Refunds and exchanges are costly in time and money for all concerned. But, if you must, you must, so here are the policies regarding it.

Items must be returned in the same condition in which they were sent, in the same box or envelope if possible and with the same care in packaging. Contact us immediately if you intend to return somethng. We will not accept returns more than 7 days past when you received the item. EU countries have up to 14 days past when you receive an item to return it.

If you just change your mind and want to return an item, we will refund the price of the item but not the shipping. You pay the shipping to return the item by the same method of shipment. After we receive the item, we will refund the price of the items through ETSY. You MUST contact us within 7 days of receiving your item to get a refund!

If the item you receive is not what you ordered, not as described or otherwise our fault, we will refund shipping both ways as well as refunding the item price with our sincere apologies. Again, the refund is through ETSY. You MUST contact us within 7 days of receiving your item to get a refund!!

If an item was damaged in transit, please notify us and the Post Office within 10 days of receiving the item. If the item was insured, we will help you with the forms you need. If the item was not insured, we will work with you to make it right. Please notifiy us within ten days, longer than this is NOT acceptable. If you send us photos of the damage immediately upon receipt of your items, we will either replace or refund depending on the circumstances.


If an order is not received. There is tracking available on all USA orders so we should be able to track down your order. It may take awhile, but we will do our best. If the order is totally lost and can't be found, we will help you with USPS forms for lost packages.

Please understand , we do not have control over shipped packages once it leaves our hands! Be absolutely sure that your address is correct on both your payment accounts and Etsy. If you have recently changed your address, it may revert back to your old address several times before the new address is accepted on Etsy! Computers can be very stubborn about changes. We have no way of knowing if the address received is correct...........it is the only one we are provided with so that is where your items will be shipped. We cannot be responsible for orders shipped to an incorrect address so double check to be sure it is correct!!

If all tracking and other resources fail on a order not received, we will refund the item price after 60 days, but not the shipping fees. You need to file a claim with your postal service if your package is not received in a timely fashion and tracking is not helping.

Customized orders cannot be returned.
---
Additional policies
CONTACTING US: The easiest way to contact us is through Etsy's convos. Just look for the "contact seller" button, click on it, and type away. This works just like e-mail but it goes through Etsy so it won't get spammed! If that makes you nervous, you can e-mail us direct at clickclackcol@aol.com, but you might wind up in the spam file. Be sure to put something in the subject line that lets us know you're not spam!!

WHOLESALE, BULK, CONSIGNMENT: We are retired! We no longer do wholesale, bulk or consignment selling! Don't ask and I won't be forced to throw things at you. If you are talking about a smaller quanity, like maybe a dozen of something, we might consider it depending on what it is. It probably won't hurt to ask.........I have a bad shoulder so my aim is not real good. We do not give discounts on "bulk" orders!

CUSTOM ORDERS: see above! Actually, we will do some customizing of our regular items if it is not too involved. There will be a one time $10.00 design fee for simple changes. If you want bigger changes, you can ask, but be prepared to duck! We will NOT do customized design work just for you that we cannot sell to other customers in our shop. It is too time consuming for us and too expensive for you.

CUSTOM CUTS: Ordering custom cuts: If you only want part of a set, the sets are broken down and priced individually so you can do this. Just convo us through Etsy with a detailed list of the items you want. Please list the set Name, then the item ID and name and how many you want of each item. Remember, I cannot see what is in your shopping cart! We will also need a ZIP-CODE (USA) in order to figure shipping. Any custom order MUST total at least $5.00 to make shipping/handling practical for both of us!


Unfortunately, we have been having a slight problem with customers ordering custom cuts of certain items (like 20 large mushrooms from the Mushroom/toadstool Set or just one of this and one of that from a number of sets) and then never paying for them. This is time consuming for us in the first place and then almost impossible to re-sell if the customer just walks away. So, we are going to ask for a non-refundable deposit on these orders BEFORE we start cutting with the balance due when we finish and are ready to ship. If you are one of our regular repeat customers, this will not apply to you. We are not happy with this arrangement because we like to trust our customers, but this seems to be a growing problem.

GIFT WRAPPING: At this time we are not offering gift wrapping. We will send an item to a "gift address" and include a note saying who it is from, but not wrapping. I'm just not very good at it and Ron is hopeless!

FEEDBACK: Leaving feedback is important. It lets other buyers know if we are doing a good job or not. So of course we only want positive feedback! If you have a problem with an order, please contact us and let us try to solve the problem BEFORE you leave feedback. We can no longer leave feedback for our customers ! Etsy has removed that option for sellers.

ALLERGY CONCERNS: Etsy said we should let our customers know about our home. OK. We are non-smokers and I don't let anyone else smoke in our house either. That said, we can't guarantee that our vintage items come from non-smoking households. I do wash all the glass, china, and silver before it is sold.

We live in the country and we have pets and poultry. We have several cats and a Rottweiler mix dog. That means we also have a rather large dog door so we don't have to play doorman all the time, and that means the cats can bring in just about anything they can haul through that door. Soooooo, we have the occasional wild bird flying around the kitchen, chipmunks and gophers to be rescued and tossed back outside etc., etc. Their latest thing to bring in is nightcrawlers. I think they want Ron to go fishing and bring them some fresh fish. They are just furnishing the bait, doing their part! The chickens (truly free range) only wander in if someone leaves the door open, they haven't figured out the dog door yet. With all this coming and going, pollen does make it's way in to both the house (where I work) and the pole barn (where Ron works). We have 4 large black walnut trees, 2 mulberry trees, an English walnut tree, a mountain ash, a silver maple and lots of lilacs around the house and lots of pines and sugar maple and apple trees across the pasture. Lots of other outside flowering plants and veggie garden stuff in the summer. Oh, and I also have a lot of houseplants. And, since we live in farm country, someone is always plowing something, or spreading something or harvesting something. If you have allergy concerns, please contact us.


There, I think I have finally reached the end of this novel, but if you can think of anything I've missed, please let me know!

Phyllis McIntyre