Love Bundle - Digital Scrapbooking Kit, digital papers, digital elements, INSTANT DOWNLOAD, commercial use
(8)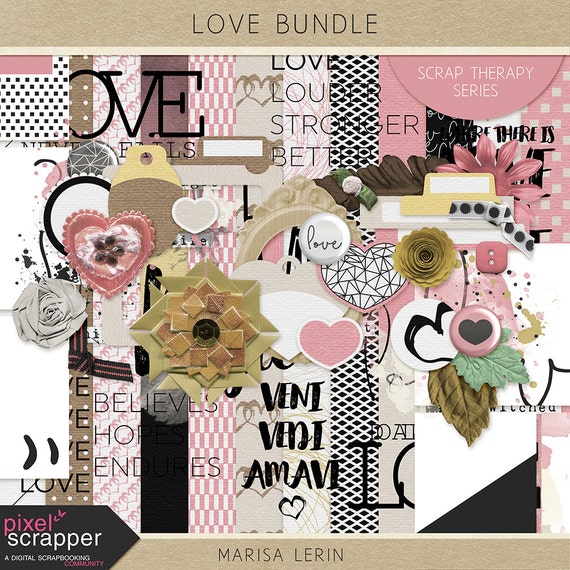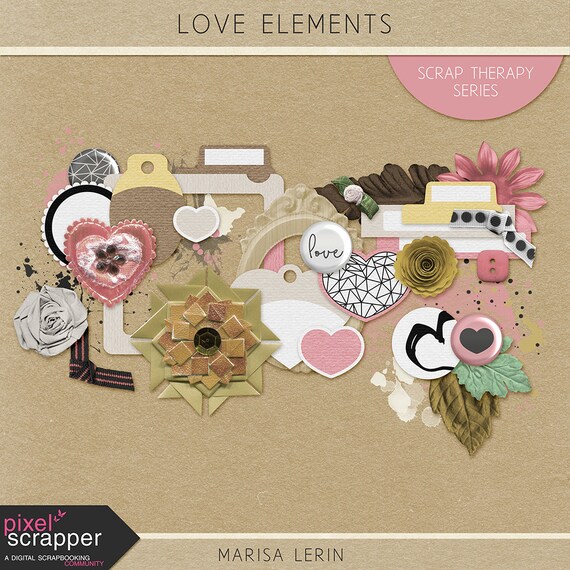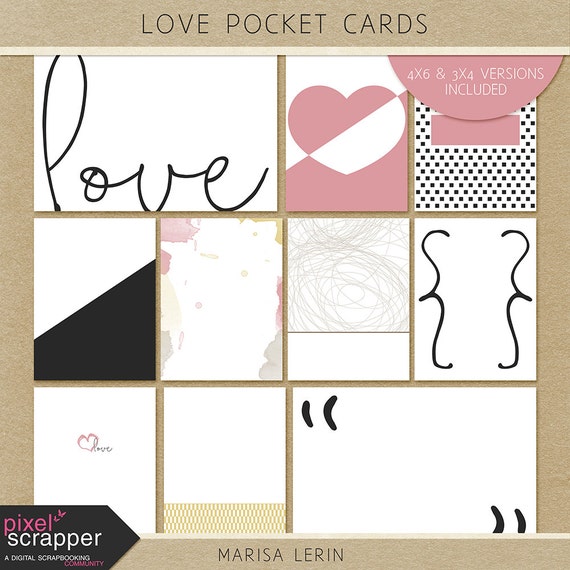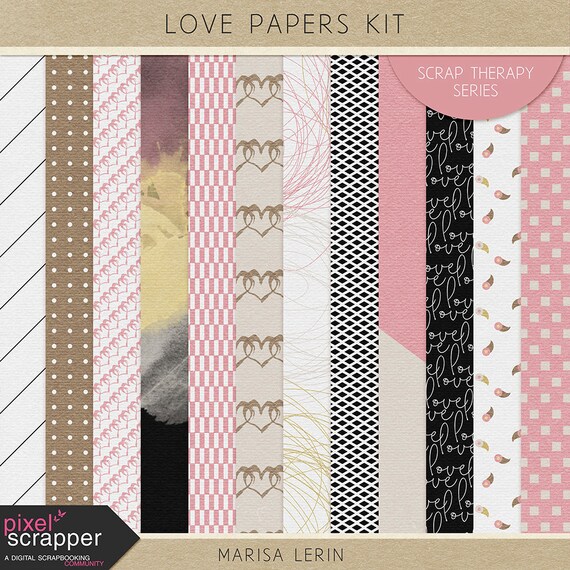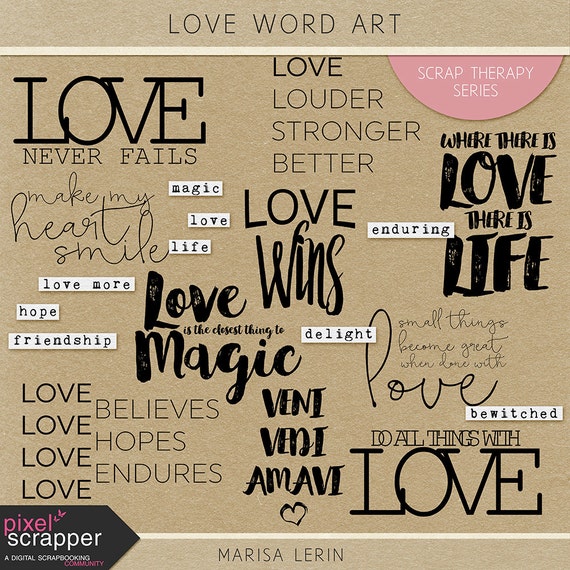 ---
Features
Made in Santa Cruz, California
---
Item details
ITEMS INCLUDED IN DOWNLOAD
:::::::::::::::::::::::::::::::::::::::::::::::::::::::::::::::::::::::::::::::::::::::::::::::::::::::::::::::::
• 18 JPG textured digital papers (12" x 12")
• 80 PNG digital elements

All images are 300 DPI professional print quality: perfect to print, or to use as digital files.

-----------------------------------------------------------------------------------------------
These are DIGITAL PRODUCTS, and are DOWNLOADABLE ONLY. NO physical items will be shipped.

You will be able to download this product as soon as your checkout is complete.
-----------------------------------------------------------------------------------------------


HOW TO USE
:::::::::::::::::::::::::::::::::::::::::::::::::::::::::::::::::::::::::::::::::::::::::::::::::::::::::::::::::
These items are meant to be used with an image editing program such as PhotoShop, Gimp or PaintShop Pro. They can be printed out on your home printer, or at a professional printing shop.

You will need a program for unzipping the downloaded file. See here for help: http://feedback.pixelscrapper.com/knowledgebase/articles/326537-trouble-opening-downloaded-files


EXTENSIVE COMMERCIAL USE LICENSE
:::::::::::::::::::::::::::::::::::::::::::::::::::::::::::::::::::::::::::::::::::::::::::::::::::::::::::::::::
These items come with an extensive commercial use license. You *do not* have to purchase a separate commercial use license to use these items commercially in your own products.

Unlike most other commercial use licenses that you will find, my commercial use license even allows you to use my items in digital kits that you sell, as long as you *significantly modify* the item in some way, and your kit includes at least 50% completely original items (see below).

Personal use is of course allowed as well.

Please Do:
--------------
• Use the item however you want for personal use!
• Use the item in commercial layouts, designs, posters, advertisements, etc.
• Use the item on physical products like mugs, shirts, etc. which you sell.†
• Adapt and remix the item, then sell or distribute the resulting derivative
works as digital files (it is important that you *significantly modify* the
original file).††
• Use the item for commercial logo design (as long as you contact me about it
first).
• Attribution is not required (though always appreciated).

Please Do Not:
-------------------
• Resell or distribute the digital file "as is" without first getting my permission.
• Distribute a kit of digital files that contains only modified versions of Pixel
Scrapper graphics (at least 50% of the items in any digital kit you distribute
should be your unique creations, and any Pixel Scrapper content included
*must be modified*).
• Upload any derivative works to a stock image website.

Derivative Works Licensing:
-----------------------------------
Derivative works may be distributed under any license that you choose, as long as it does not directly contradict my terms of use. Most common "PU", "CU", "S4H", and "CU for CU" licenses are fine.

If you make over $100k:
-------------------------------
† You may use my graphics on printed physical products that you sell as long as your total income related to the sale of these kinds of goods is less than $100,000 USD per year. If you, your company, or your subsidiaries make more than $100,000 per year related to selling printed physical goods, please contact me to work out a special contract before selling items printed with my graphics.

†† You may sell or distribute your derivative works as digital files as long as your total income related to selling or distributing digital files is below $100,000 USD per year. If you, your company, or your subsidiaries make more than $100,000 per year related to the sale or distribution of digital files, please contact me to work out a special contract before distributing any derivative works created with my graphics.

Full Terms of Use:
-----------------------
IMPORTANT: For full license text and FAQs it is important that you read my complete terms of use available at: https://www.pixelscrapper.com/tou
---
---
I love how many elements are included!
Sep 10, 2017 by David Deutsch
I am really pleased with this bundle. Some great things
May 13, 2016 by Fran
Love having the opportunity to receive these scrapbook pages at an affordable price. There is so many elements in this kit. Beautiful colors on the scrapbook pages and the clipart is cute too.
Oct 26, 2015 by stacey keckheath
great kit. just what I was looking for in digi paper. Excellent quality.
Oct 26, 2015 by Kristen
What else can I say... LOVE!!!
Oct 23, 2015 by Miranda and Nicole
---
More from this seller
---
Digital downloads
---
Returns & exchanges
INSTANT DOWNLOADS REFUND POLICY
:::::::::::::::::::::::::::::::::::::::::::::::::::::::::::::::::::::::::::::::::::::::::::::::::::::::::::::::::
If you wish to cancel your purchase within 30 days, and have not downloaded any of the files, I can provide you with a full refund of everything you have paid. If you have downloaded any of the files, unfortunately I cannot provide you with a refund, because of the nature of digital goods.

If you are having any trouble with your purchase please let me know so that I can help you get everything sorted out to your satisfaction!

HELP OPENING DOWNLOADED FILES
:::::::::::::::::::::::::::::::::::::::::::::::::::::::::::::::::::::::::::::::::::::::::::::::::::::::::::::::::
If you are having trouble opening your downloaded files, please see my help page at: http://feedback.pixelscrapper.com/knowledgebase/articles/326537
---
Additional policies
EXTENSIVE COMMERCIAL USE LICENSE
:::::::::::::::::::::::::::::::::::::::::::::::::::::::::::::::::::::::::::::::::::::::::::::::::::::::::::::::::
My graphics come with an extensive commercial use license. You *do not* have to purchase a separate commercial use license to use my items commercially in your own products.

Unlike most other commercial use licenses that you will find, my commercial use license even allows you to use my graphics in digital kits that you sell, as long as you *significantly modify* the item in some way, and your kit includes at least 50% completely original items (see below).

Personal use is of course allowed as well.

Please Do:
--------------
• Use the item however you want for personal use!
• Use the item in commercial layouts, designs, posters, advertisements, etc.
• Use the item on physical products like mugs, shirts, etc. which you sell.†
• Adapt and remix the item, then sell or distribute the resulting derivative
works as digital files (it is important that you *significantly modify* the
original file).††
• Use the item for commercial logo design (as long as you contact me about it
first).
• Attribution is not required (though always appreciated).

Please Do Not:
-------------------
• Resell or distribute the digital file "as is" without first getting my permission.
• Distribute a kit of digital files that contains only modified versions of Pixel
Scrapper graphics (at least 50% of the items in any digital kit you distribute
should be your unique creations, and any Pixel Scrapper content included
*must be modified*).
• Upload any derivative works to a stock image website.

Derivative Works Licensing:
-----------------------------------
Derivative works may be distributed under any license that you choose, as long as it does not directly contradict my terms of use. Most common "PU", "CU", "S4H", and "CU for CU" licenses are fine.

If you make over $100k:
-------------------------------
† You may use my graphics on printed physical products that you sell as long as your total income related to the sale of these kinds of goods is less than $100,000 USD per year. If you, your company, or your subsidiaries make more than $100,000 per year related to selling printed physical goods, please contact me to work out a special contract before selling items printed with my graphics.

†† You may sell or distribute your derivative works as digital files as long as your total income related to selling or distributing digital files is below $100,000 USD per year. If you, your company, or your subsidiaries make more than $100,000 per year related to the sale or distribution of digital files, please contact me to work out a special contract before distributing any derivative works created with my graphics.

Full Terms of Use:
-----------------------
IMPORTANT: For full license text and FAQs it is important that you read my complete terms of use available at: https://www.pixelscrapper.com/tou