O/On30 Scale Stone Miners Cottage/Cabin*Logging Camp Bunkhouse 1:48 Hydrocal Kit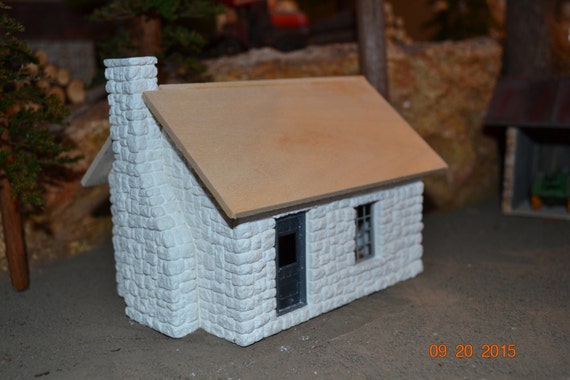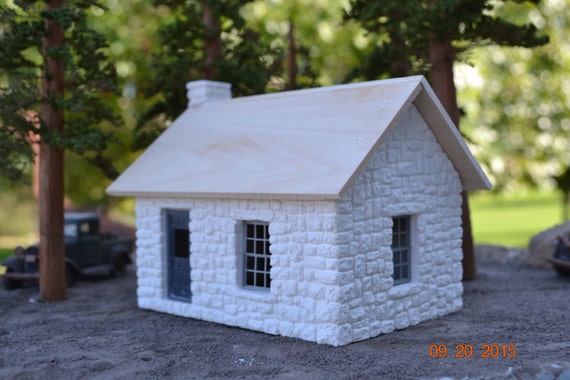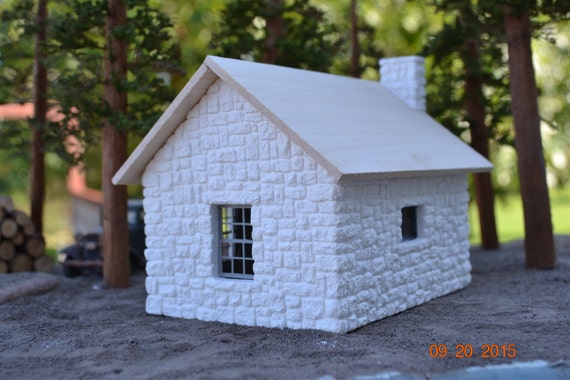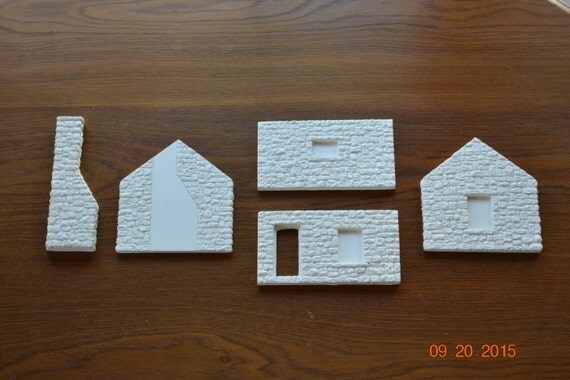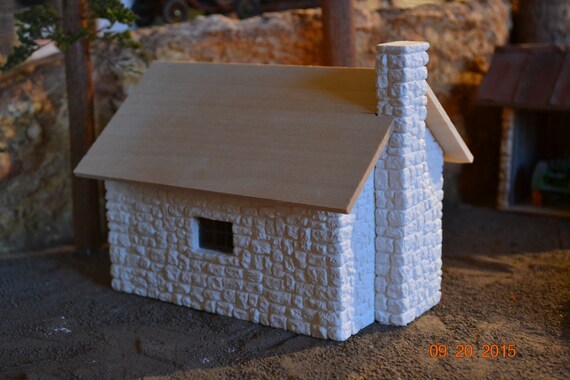 ---
Features
---
Item details
For your consideration here is a small stone miners cottage/cabin or logging camp bunkhouse, made out of white hydrocal. This listing is just for the four sides, plus the fireplace or chimney chase. You'll need to pick up one Grandt Line #3719 window, two Grandt Line #3704 windows, one Grandt Line 3601 door and some roofing material.

When all together, not including any roof lines you add, this shed measures 3 7/8" wide, 5 3/4" long, and the top of the roof peak is right at 4" tall. The top of the chimney is 4 3/4" tall. Makes for a very cool building with the stone chimney.

Also several other kits available right now, check them out in my other listings....I'll be listing all of them in the next few days as I get time.

If you decide to purchase, your kit will be very carefully packaged, ship quick usually via Priority Mail and I always enter a tracking number the day your item ships. Always happy to combine shipping, in fact, if you are interested in several of my buildings, let me know which ones and I can write up a special listing for exactly what you need! I might add this one last thing, if you are interested in any of my On30 buildings, but prefer the hydrocal parts of the buildings to come assembled, for a minimal fee for the time involved, I do sometimes put one together here and there when time allows. Thank you for looking....Thanks for looking....

Here are some extra photo's I couldn't fit here on the site....

http://s405.photobucket.com/user/mtj54/library/On30%20Miners%20Cottage--Loggers%20Bunk%20House
---
---
Shipping & policies
Arrives from the United States
Estimated Shipping
I will keep you posted and always provide a tracking number whether it is shipped via USPS or FedEx.

Once in awhile I list something that is larger and requires motor freight shipping or individual haulers, if you see something of mine like this you are interested in, let me know and I can show you how and where to start looking for shipping quotes. Shipping is so easy to arrange but I have learned at times the hard way, I'll help get you pointed in the right direction.



---
Payments
I will work with you on the payment of your choice. Paypal, money orders, personal checks work for me as well if you don't mind waiting for your check to clear....Payment expected within one week, but if you need more time we can work something out, Occasionally, I will list an item "No Paypal" in order to keep costs down.

I am occasionally asked if I do layaway. Absolutely! I've been in the position many times where I see something I love but the timing isn't always perfect. Let me know what you have in mind, we'll work it out so it works for both of us!


---
Returns & exchanges
In this day and age, shipping costs have risen to the point where returning items just isn't practical so in general, I do not accept returns. But, I'd like to think I make up for that. Photo's are so easy to take and send anymore, if you aren't sure about this or that, please, ask questions, ask for more photo's, that is no trouble at all, I promise!

Now, If you feel your item has been misrepresented in any way, please let me know and I will respond quick as possible. I will do everything I can to try & make it work out.....but again, 1st & foremost, check out the item you are interested in carefully, I post hi resolution photo's and I am more than happy to provide you with as many photo's as you need to help you make an informed decision. I am only able to post 5 photo's on Etsy, but through convo's I can and will send as many as you need! Many of the items I sell on Etsy are not small and since we are probably talking about old antiques, all sales are "as is" sales. I cannot stress enough if you are not familiar with what you are buying, ask tons of questions, I am also always willing to answer your questions in person as well! I may be somewhat new to Etsy, but I have been selling on Ebay for years and I would be more than happy to share my Ebay feedback with you, it is 100% positive with thousands of transactions. I wish I would have found Etsy earlier!

But I certainly understand we all have different idea's about items, but that is where the extra photo's and questions come in handy and I am only too happy to answer any and all questions to your satisfaction. I do not hide anything and I answer all questions truthfully! I humbly consider myself to be an excellent seller and more often than not if and when there is a problem, it usually arises because someone is unfamiliar with something and that can be on my end and yours. I am far from an expert, but at least when it comes to antiques, I have had 40 years of looking, watching, buying, getting familiar with what I'm buying and I will share that info with anyone, anytime, not just for personal gain! My dad once told me the only good deal was a deal where both parties walk away happy. You have my word I'll do everything in my power to make that happen.


---
Additional policies
This is not a business, more of a hobby, After 40-45 years of collecting it's just time to part with some of the neat things I have brought home through the years. On the seldom occasion when I do bring something new home, something old has to go to make some room. I collect a little bit of everything, so you never know what I'll be listing next.