Planner Stickers College // Printable Erin Condren Planner Stickers // For Happy Planners MAMBI // Instant Digital Download PDF & JPG
(10)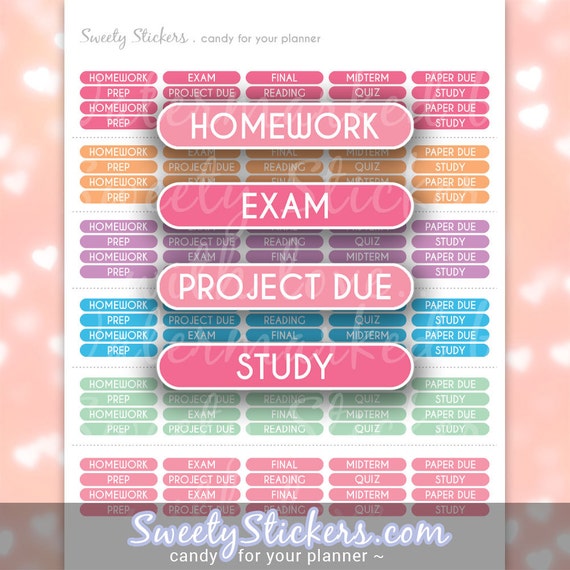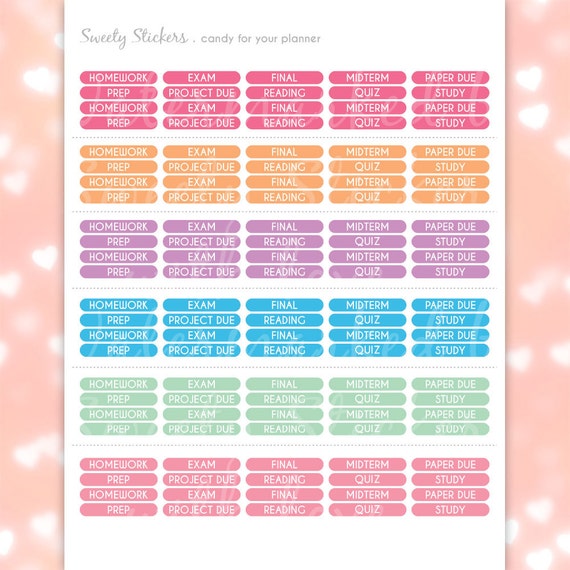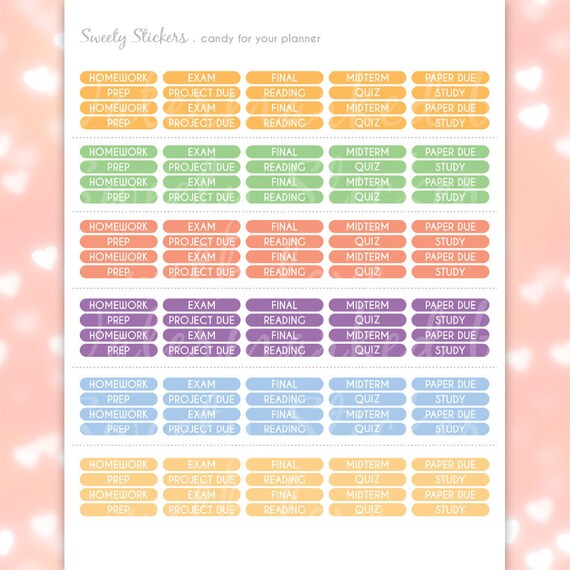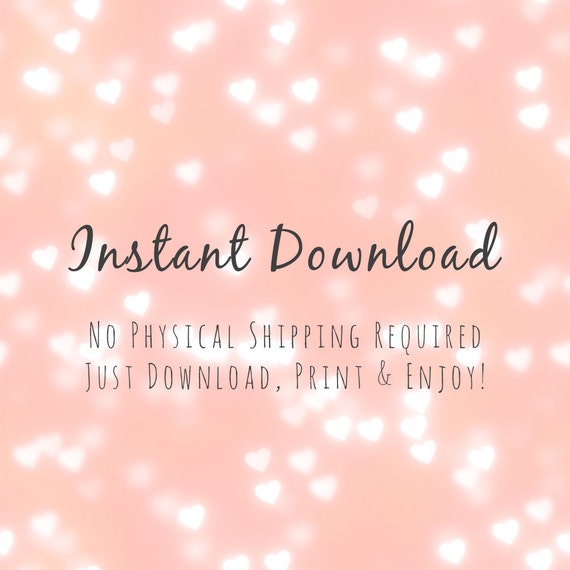 ---
Features
---
Item details
" Sweety Stickers . candy for your planner "

It's hard to get through college without some good planning. With all the projects, papers, assignments, homework, exams, quizzes, and more...

It's easy to see how one could get overwhelmed.

These printable college planner stickers will allow you to organize yourself better. They cover 10 different scenarios, including:

--- Homework, Exam, Final, Midterm, Paper Due, Prep, Project Due, Reading, Quiz, & Study

All stickers are designed at the MDN Header Size, but you don't have to use them in your header.

These will fit in your Erin Condren planners, and Happy Planners too.


✿ I'M GOING TO GET THESE ✿
+ 2 premium sets of Printable College Planner Stickers
--- all stickers are designed to fit Erin Condren, and Mambi Happy Planners
----- 240 college planners stickers (1.5" x 0.25")
----- they are at the MDN Header Sticker size
--- in Letter Size PDF and JPEG ( 8.5" x 11" ) formats for easy prints
------- high resolution designs at 300 dpi. (So it will look great at on your planner.)
------- this product is totally digital. You won't be getting any physical product. (No worries about waiting days for this to arrive in the mail. No more running out of stickers for your life planner.)
+ Exclusive membership to our Members Only Planner Girls Newsletter.


✿ I NEED TO REMEMBER THIS ✿
1. No watermarks will on your downloaded files.
2. Sticker designs are for personal use only.
3. Please don't share it. If you have any friend who likes our work please refer them to our store.
4. Colors may vary upon printing due to computer color calibration.
5. No "Cut Line Files" are included.


✿ THIS IS HOW I WILL PRINT THESE ✿
+ Please use the correct sized sticker paper to print them out.
+ Don't scale the page as it won't fit correctly in your planner. Always print actual size.
+ If you have a cutting machine like Silhouette Cameo (http://amzn.to/1LLWJvv) you can use them to cut the stickers. If not, simply use scissors it will work just fine.
+ No "Cut Line Files" are included.


✿ MORE SWEETY STICKERS I'LL LOVE ✿
+ More Header Stickers:
--- https://www.etsy.com/shop/SweetyStickers?section_id=17927397
+ Our Store Homepage:
--- https://www.etsy.com/shop/SweetyStickers
+ More Flag Stickers:
--- https://www.etsy.com/shop/SweetyStickers?section_id=17760406
+ More Box Stickers:
--- https://www.etsy.com/shop/SweetyStickers?section_id=17760408
+ More VIP Packs:
--- https://www.etsy.com/shop/SweetyStickers?section_id=17804811
+More Sticker Sets:
--- https://www.etsy.com/shop/SweetyStickers?section_id=17819739


✿ THIS IS HOW I WILL DOWNLOAD THESE ✿
You'll be able to access this purchase instantly after payment. Here's how you'll be getting it:

1. Upon payment completion, you'll get an email from Etsy with the download link. This should arrive within 5 minutes or so.

2. Alternatively, you can also access the purchase by going to:

Etsy Account > Purchases > Download Button (It's located next to the name of the item purchased)

Thank you!


✿ WAIT! I FORGOT MY LITTLE GIFT ✿
Before you go... take this rose with you! We just wanted to let you know how much we enjoyed you shopping with us. So this is a little gift to thank you for shopping with Sweety Stickers...


___________░▒░
___________░▒▒▒░
_________▒░▒░▒░▒
________▒░░░▒░░░▒
______▒▒░░░▒░░░░▒
____▒▒░░░░▒░░░░░▒
_█_▒▒░░░░▒░░░░░░▒
_██▒░░░░▒▒░░░░░░▒█
_██▒░░░▒▒▒░░░░░▒ █_ █
█_██░░▒▒▒█░░░░▒ █ ██
████░░████░░░░░███
_██████████░░░████
__███████████████
___█████████████
____█_██_██_███___█
_______█_ ██ _██__███
___███___ ██ _█_ █████
_███▓██__██__ ███▓██
_████▓██_██_ ███▓██
__████▓██ ██_██▓███
____██▒▒▒_██_█████
_____▒░░░▒██_███ ▒▒▒▒
____▒░░░░░▒████▒▒░░░▒
____▒░░░░░░▒█▒░░░░░░░▒
_▒▒░░░░░░▒▒▒▒▒▒░░░░░▒
▒░░░░░░░▒▒▒▒▒▒▒▒░░░░▒
▒░░░░░░▒░▒▒▒▒▒▒░░░░░▒
_▒▒▒▒▒▒░░▒░▒░░▒▒▒▒▒▒
___▒░░░░░▒██▒░░░▒▒
_▒░░░░░░▒_██_▒░░░░▒
▒░░░░░░▒__██__▒░░░░▒
▒░░░░░▒___██___▒░░░░▒
_▒░░░▒____██____▒░░░▒
__▒░▒_____██____▒░░▒
__▒▒______██____▒░▒


✿ P.S. ✿
+ Follow us on Instagram!
--- https://instagram.com/sweetystickers/
---
---
Perfect! Got them for my sister who is in college planner and she loves them!
Jan 22, 2017 by Jenny318
Jun 17, 2016 by Sarah Pearce
Thank you I love them, they are a college planner must have!
Apr 29, 2016 by meilyssa1
Think about omitting the word "stickers" as this is not a sticker sheet. It is misleading when using a phone app. The title/description is so long that the "pdf download" words are not visable. The first line of the title clearly uses the word "stickers". These are not stickers and should not be labeled as such in any part of the title.
Mar 20, 2016 by sarah smile
Feb 5, 2016 by Goldmine and Coco
---
More from this seller
---
Digital downloads
---
Payments
We accept:

[+] Paypal

[+] Credit Card payments
---
Returns & exchanges
Since all purchases are digital, refunds cannot be given after the items are purchased or sent. Because of the nature of our products, we do not give any returns, refunds or cancellations.

But still, if you're not satisfied with your purchase, please ... contact me.

I'll see what I can do to accommodate you and fix the problem.