Fire Opal: 0.82ct Red Orange Faceted Oval Shape Mexican Gemstone, AAA Color Imagine Design Create Importer Dealer Gems As Unique as You O33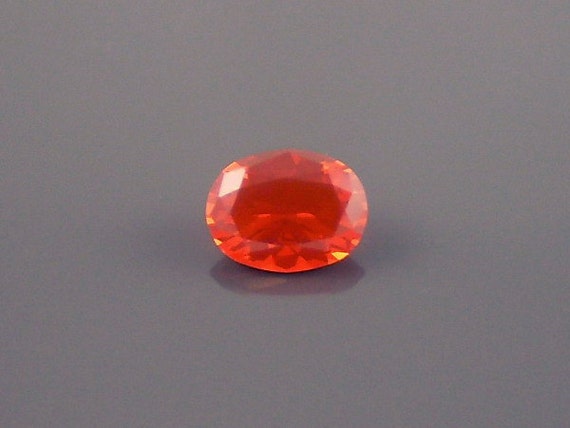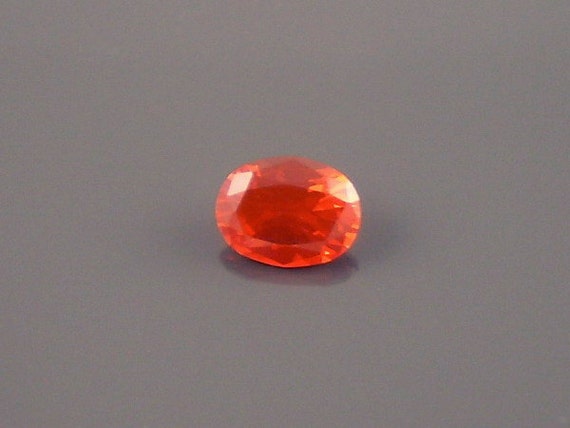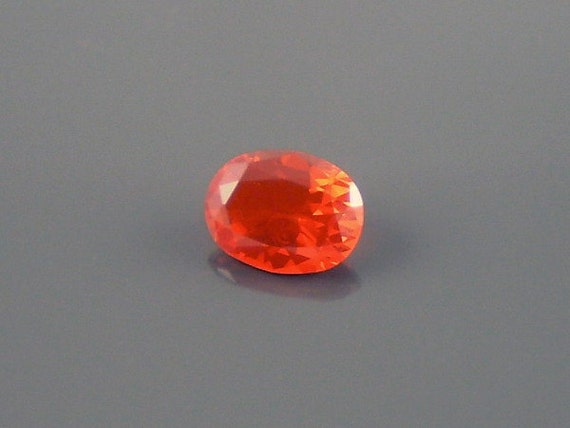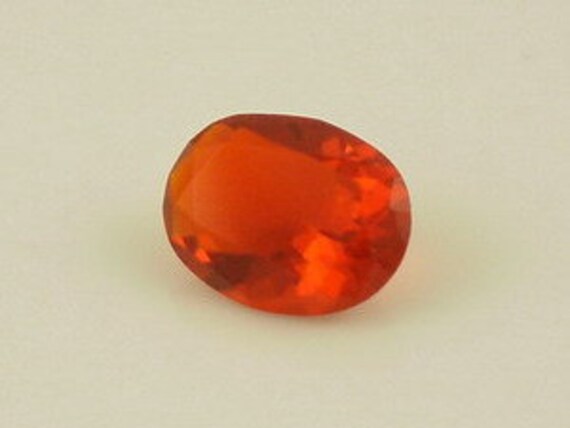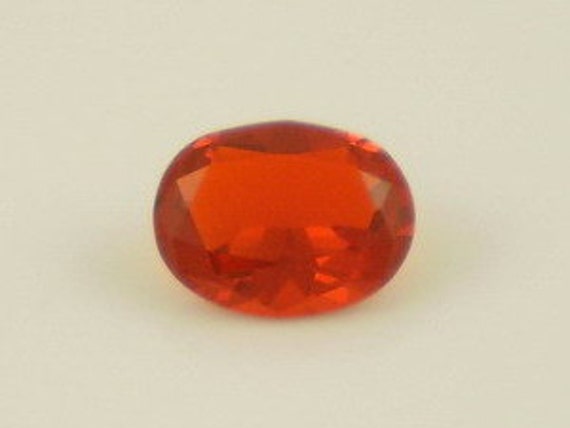 Preparation takes 1-2 business days
Arrives from the United States
---
Item details
Gem Type: Fire Opal
Weight: 0.82ct
Shape: Oval
Color: reddish Orange (rO)
Tone: Medium Light (4)
Saturation: Strong (5)
Clarity: Eye-Clean
Measurement: 8.11x6.26x3.95mm
Proportions: Good
Finish: Very good
Cut: Good
Treatment: None
Stock# O33

rO 4/5

◊ Fire Opal

◊◊ Mined: Queretaro, Mexico

"Fire Opal" is a term used for colorful, transparent to translucent opal with a background color that is a fire-like hue of yellow to orange to red. It might or might not exhibit "play-of-color" (the typical flashes of spectral colors that can be seen when a precious opal is turned under a source of light). Most fire opal does not have play-of-color. The defining characteristic of fire opal is the fiery hue of yellow, orange, red or cherry that serves as a uniform background color throughout the stone. These colors are thought to be caused by the presence of small amounts of iron in the opal.

The value of a fire opal is based upon the desirability and uniformity of its color, with yellow being on the low end of value and red (cherry opal) being on the high end. Transparent stones are preferred over translucent stones.

The best opals of Mexico come from regions of mountains of volcanic lava. The principal Mexican opal mines are in the state of Queretaro. The oldest mine in Querétaro is Santa Maria del Iris this mine was opened around 1870 and has been reopened at least 28 times since. At the moment there are about 100 mines in the regions around Querétaro, but most of them are now closed. The best quality of opals came from the mine Santa Maria del Iris, followed by La Hacienda la Esperanza, Fuentezuelas, La Carbonera and La Trinidad. Important deposits in the state of Jalisco were not discovered until the late 1950s.

Opal is the world's most popular phenomenal gem. Many cultures have credited opal with supernatural origins and powers. Arabic legends say it falls from the heavens in flashes of lighting. The ancient Greeks believed opals gave their owners the gift of prophecy and guarded them from disease. Europeans have long considered the gem a symbol of hope, purity, and truth.

Opal is one of the US birthstones for October (along with tourmaline). 

Hardness & Toughness

- Hardness       5 to 6 1/2 on Mohs scale

- Toughness     Very poor to fair

Care & Cleaning

- Ultrasonic cleaning:   Never

- Steam cleaning:        Never

- Warm, soapy water:  Safe

Thank you for taking an interest in MJGemstones! We are an importer, dealer, and wholesaler of one-of-a-kind hand cut natural gemstones. We specialize in faceted colored gems and diamonds. The high quality gems you see listed for sale are the exact high quality stones that you will receive when you buy with us. Our gems are in stock and ready to ship (RTS). We love working with custom designers and want to be a part of your unique creation.

Jewelers and custom artisans have set our genuine gems into many types of settings. These settings include rings (cocktail rings, engagement rings, and right-hand rings), custom pendants, necklaces, earrings (matching pair), bracelets, and wire wrapped jewelry. Cottage industry sellers and artistic creative jewelry designers have also used our gems for their jewelry creations.

Each gemstone is a piece of art produced by traditional lapidary methods, beginning with loose gemstones being cut from a natural crystal. The shape of the finished loose gemstone is normally determined by the shape of the rough.  Standard gem shapes are pear, emerald, oval, round, heart, trillion, square, and half-round domed cabochon.

The precious stone can be calibrated by the gem cutter to specific sizes for easy mounting. If there is enough material, a parcel, or parcels can be cut from the same lot of rough. Most high-end center stones and engagement stones are rare one-of-a-kind pieces and are not calibrated. 

Our unique stones are also used for lost wax casting, stone setting, OOAK jewelry making, engagement rings, wire wrapping, and general DIY (jewelry) supply. Our customers buy our stones for a wide range of purposes, including gem collecting, as gifts, birthday presents, and wedding presents.

Our gem craft supplies can be used by an artistic jewelry designer or professional jeweler to make creative jewelry. Many jewelers use the lost wax casting technique, which allows the artisan to make a single custom piece such as a ring, pendant, necklace, engagement ring, cocktail ring, right-hand ring, or bracelet.  A cottage industry seller normally makes many custom pieces at one time in order to streamline their process and be efficient.

Material that jewelry designers use to mount our gems include gold (14k, 18k, 22k), silver, platinum, palladium, tungsten, steel, jewelers wire, wood, bone, carved antler, cloth, and metal clay.

Gemology students use our gems for study stones. The gemologist uses a binocular microscope to learn about the inclusions in a study stone. The inclusion scene can tell you about the gem's origin and whether it has been treated.  Other tools used by gemologists are the 10x triplet jeweler's loupe, dichroscope, refractometers, polariscope, color filter (Chelsea filter), tweezers, spectroscope, and UV lights. These gemological tools can be found for sale on the internet. 

All gemstones are mined from the earth, from many exotic localities around the world. Different mines can produce different colors of the same type of gem. Some of the more common places include Montana, USA, Burma (Myanmar), Thailand, Cambodia, Laos, Vietnam, Russia, Australia, Sri Lanka, Africa (Ethiopia, Kenya, Tanzania, Mozambique, Nigeria, Madagascar) Brazil, Columbia, and Mexico.

Gemstones are called by many different names, such as, "loose gems", "precious gems", and "semi-precious gems".  Sometimes the names are a bit vague: "faceted stones", "cabochons", "AAA quality supply", "study stones", "rare mined crystals", "beads", "jewels", or, bluntly, "a rock". These slang words and phrases for gems are constantly changing. All the cool cats call them "sparkly bling" or "rocks" :-)
---
---
More from this seller
---
Shipping & policies
Preparation takes 1-2 business days
Arrives from the United States
Estimated Shipping
We process your order and ship out your gems with in two days of receiving payment.

Our standard shipping is 1st Class USPS with tracking. Delivery times vary from three to five days.

We can ship using faster methods. Contact us for other options.
---
Payments
We accept Paypal, credit or debit cards, e-checks and Etsy gift cards.


---
Returns & exchanges
Item(s) must be returned back within 7 days for a full refund of your purchase price minus shipping and Esty fees. We stand behind our products 100%. We can give you a replacement or a refund promptly upon receiving the item. Send it back to the address on the invoice, AND be sure to include a copy of the invoice. The gemstones are examined by a CERTIFIED GEMOLOGIST prior to an issue of a refund; if the gemstones are altered in any way then no refunds or exchanges are permitted