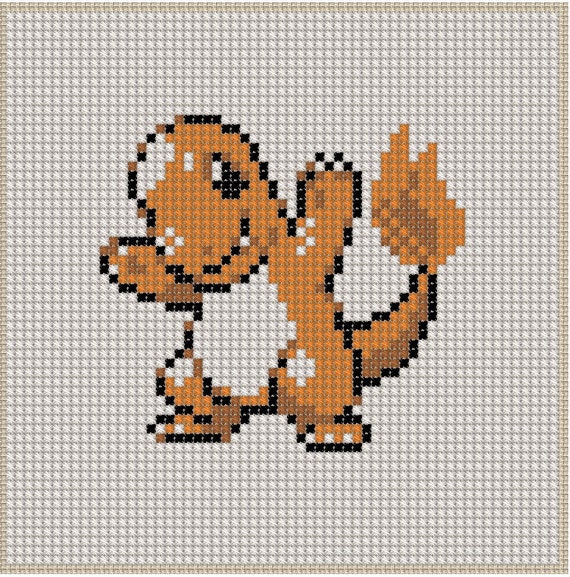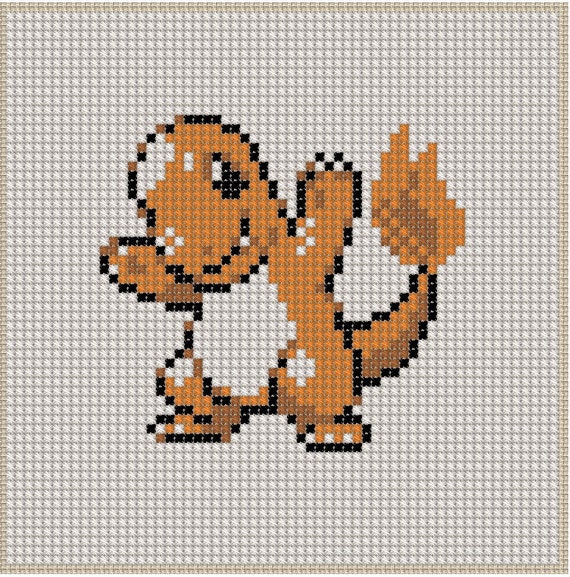 ---
Features
---
Item details
THIS PDF Pattern includes:
. Basic cross stitch tutorial.
. Pattern with the design in color, black and white and legend.

. Skill Level: easy
. Basic Skills Necessary: Basic cross stitching.

Size of Pattern:
61 x 61 Stitches

Aprox. Finished Sizes:
14 count: 4.29" W x 4.29" H
16 count: 3.75" W x 3.75" H
18 count: 3.33" W x 3.33" H

This pattern forms part of the Silver Collection, all of the patterns in this collection have a compatible size of 61 x 61 stitches including the borders, please find our other patterns belonging to this series.

For this Cross Stitch pattern, you will also find our beginners guide on how to stitch, called Cross_Stitch_Manual.pdf in which you can read some tips on how to stitch and links to helpful resources.


----------------------------------
About Charmander:

It evolves into Charmeleon starting at level 16, which evolves into Charizard starting at level 36.

Along with Bulbasaur and Squirtle, Charmander is one of three starter Pokémon of Kanto available at the beginning of Pokémon Red, Green, Blue, FireRed, and LeafGreen.

Charmander is a bipedal, reptilian Pokémon with an orange body, though its underside and soles are cream-colored. It has two small fangs visible in its upper and lower jaws and blue eyes. Its arms and legs are short with four fingers and three clawed toes. A fire burns at the tip of this Pokémon's slender tail, and has blazed there since Charmander's birth. The flame can be used as an indication of Charmander's health and mood, burning brightly when the Pokémon is strong, weakly when it is exhausted, wavering when it is happy, and blazing when it is enraged. It is said that Charmander dies if its flame goes out.

Charmander can be found in hot, mountainous areas. However, it is found far more often in the ownership of Trainers. As shown in Pokémon Snap, Charmander exhibits pack behavior, calling others of its species if it finds food.
----------------------------------



::: Sell what you sew! ::: Items made using this pattern may be sold in your own shop. Just please be sure to give me credit for the design.

Re-sale and distribution of pattern pieces and instructions is expressly prohibited. Please do not sell or distribute this pattern.

::: Instant Download ::: Delivery of this digital product is automated. You will receive an immediate download link once payment has been confirmed. If you have problems downloading directly, please contact me.

Please note this is a PDF pattern only. No fabric, floss, or other materials are included in the listing. The finished cross stitch shown in the photos is for demonstration purposes only.

© Copyright 2015 Pokepats.

Happy Sewing!