REPTILES & AMPHIBIAS-22 Collection of 110 vintage images animals Frog Tegu Turtle Snake Toad Lizard digital download printable pictures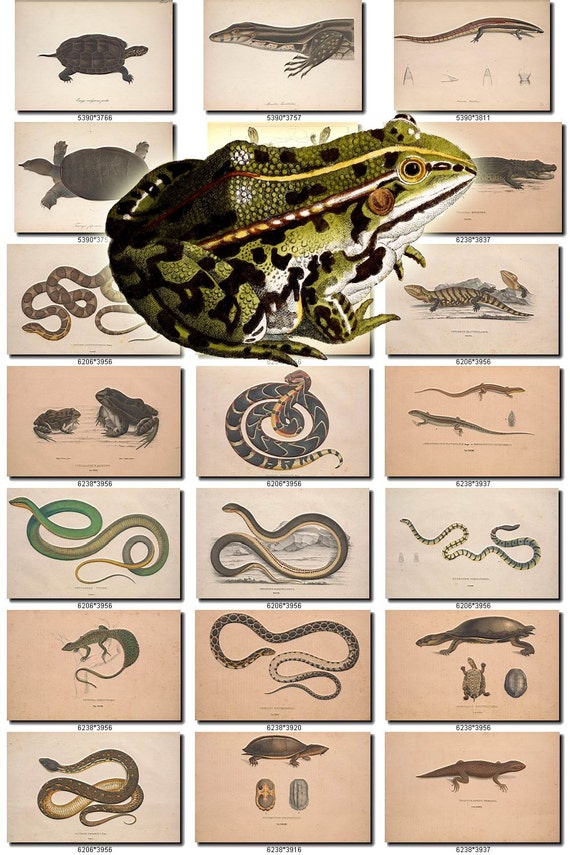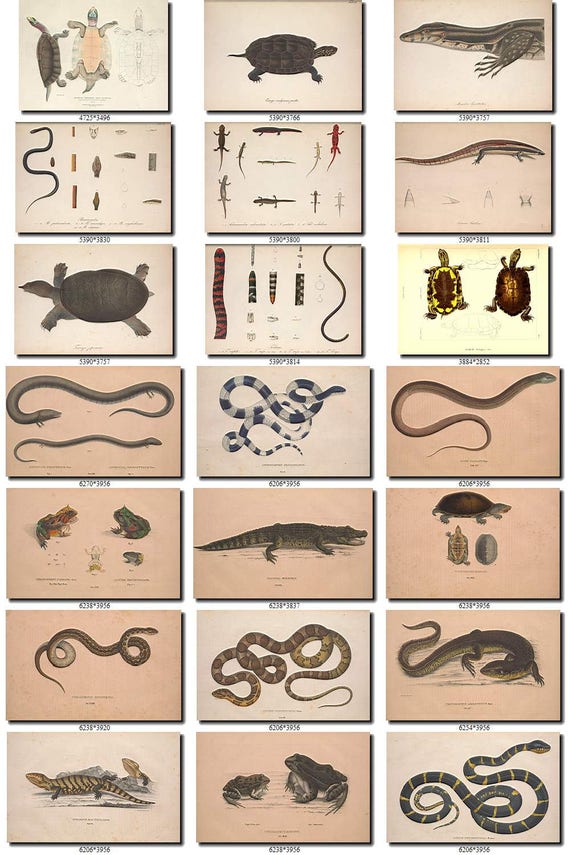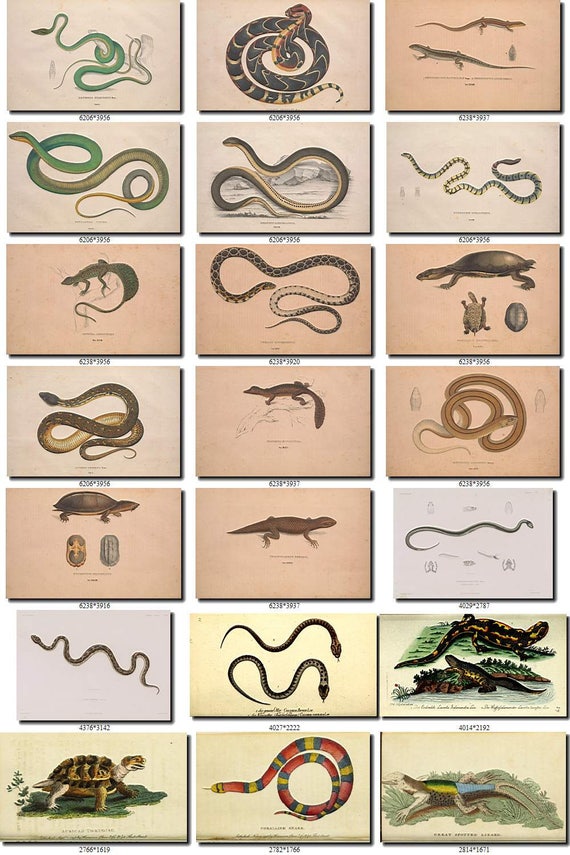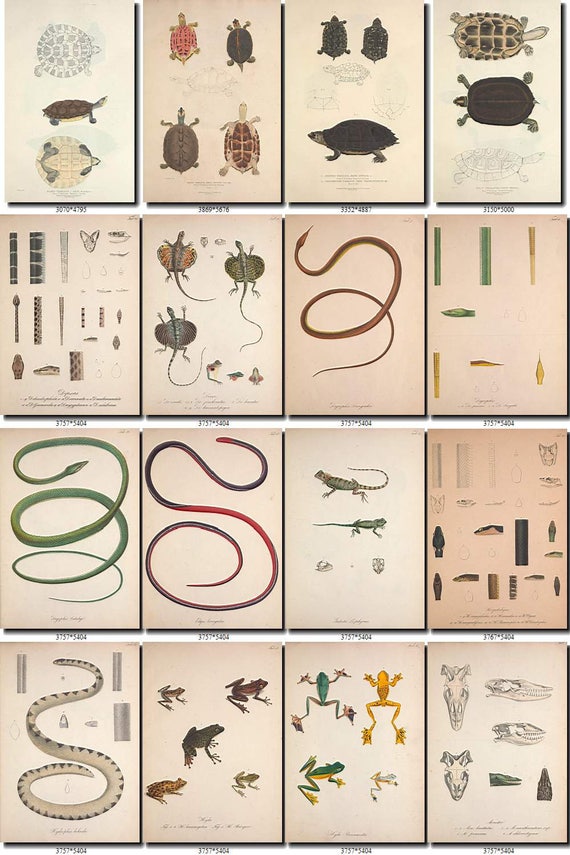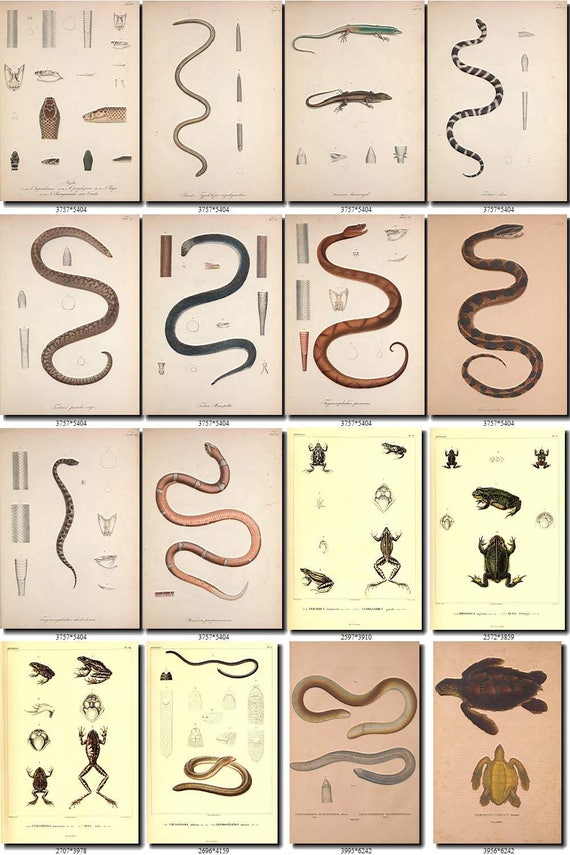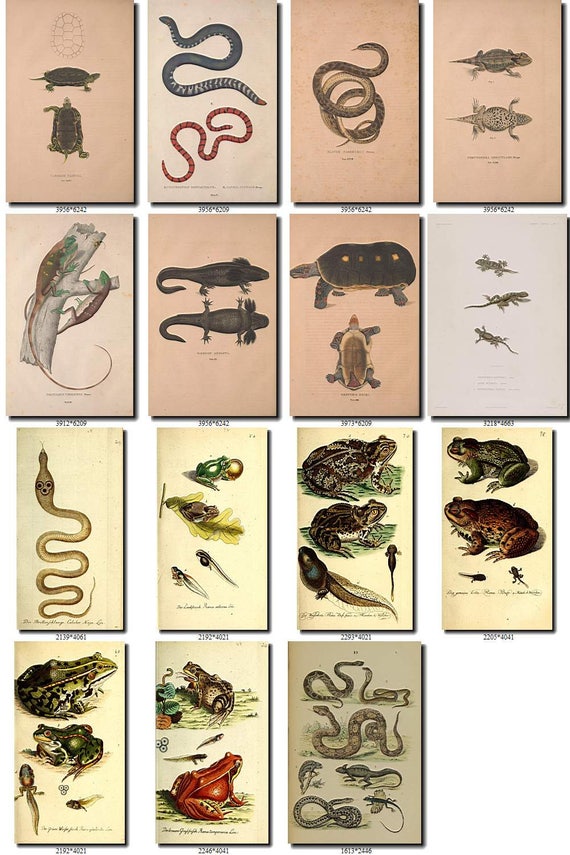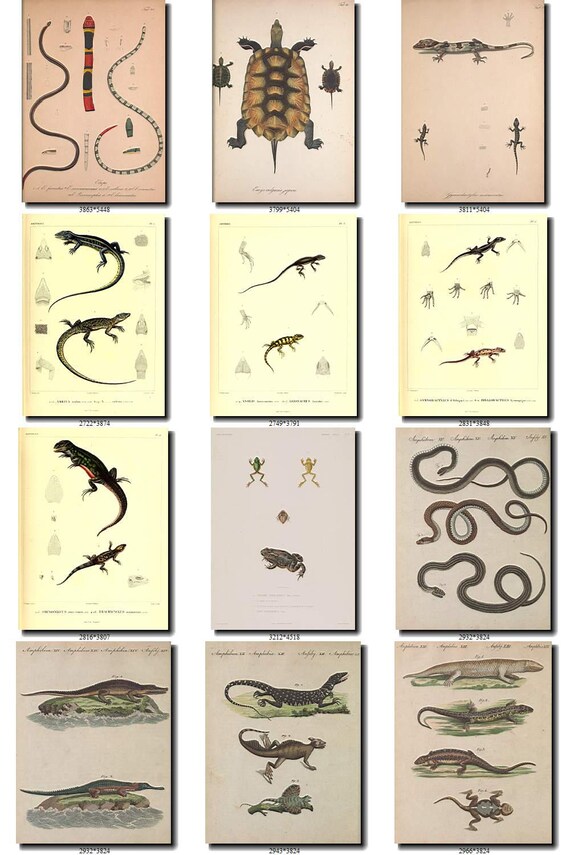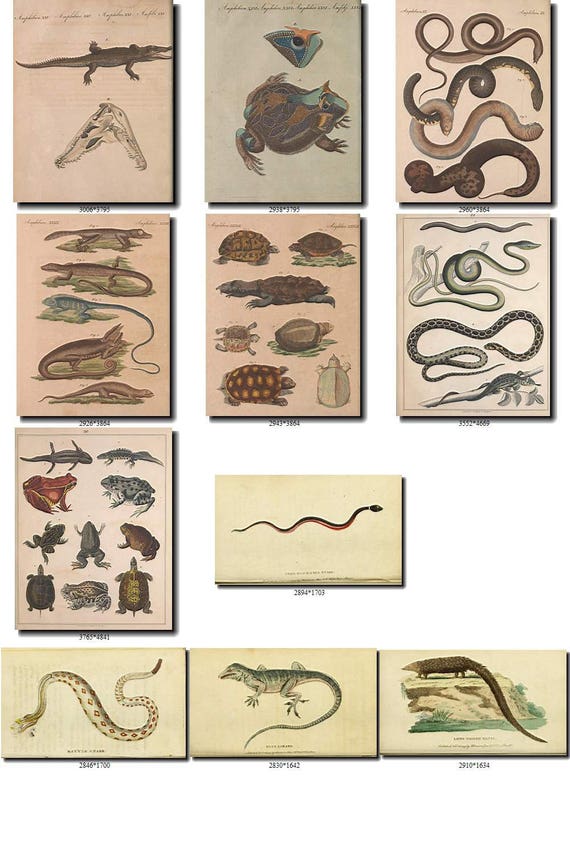 ---
Features
---
Item details
artscult.com - all images from artvintages.com

Instant digital download of 110 vintage pictures of reptiles and amphibias (lizards, snakes, turtles, frogs, crocodiles and related) in high resolution (300 dpi, sizes from 1600x2400 px to 3900x6200 px). Look at pictures to see sizes in pixels (click "Zoom", divide size in pixels on 300 - you'll get size of print in inches with high quality, ex. 2400/300=8''). Total size of the collection is 242 Mb.

Each file has a name of shown animal (ex. "Baska Terrapin, emys baska.jpg" or "tortrix boa.jpg"). Names of shown species are listed below, at the end of description.

All images are in JPG format, separate files. Perfect for use in crafting, decoupage, collage, altered art, prints, etc. Images are in public domain in USA and may be used for any personal or commercial purposes. Information about source books is included.

Look at my other REPTILES & AMPHIBIAS collections:
https://www.etsy.com/shop/ArtVintages/search?search_query=amphibias

All-in-one REPTILES & AMPHIBIAS collections:
https://www.etsy.com/shop/ArtVintages/search?search_query=all+reptiles

DISCOUNTS:
Save money - Use coupons shown here:
https://www.etsystudio.com/listing/168468869/

SHIPPING DETAILS:
Digital download (TXT file with link on file in zip format on dropbox and google drive, and gallery view). Before purchase, please, make sure that you are able to download large size files. Download may take long time some cases.

NAMES of shown species:
Acrochordius Dubius, African Tortoise, Agama Galeotes, Agama Mutabilis, Alytes Obstetricans, Ameiva Caelestis, Ameiva Oculata, Amphisbaena Flavescens, Amphiuma Didactylum, Amphiuma Tridactylum, Anguis Fragilis, Anolis Fusco-Auratus, Aspidoclonion Semifaciatum, Aspidolaimus Rufescens, Basilisk, Baska Terrapin, Bipes Pallasii, Blue Lizard, Boa Constricter, Bufo Calamita, Bufo Cinereus, Bufo D'orbignyi, Bufo Fuscus, Bufo Pantherinus, Caecilia Leucogaster, Caecilia Tentaculata, Caiman, Ceratophrys Dorsata, Chamaeleo Bifidus, Chameleon, Champsa Fissipes, Chelonia Virgata, Cinosternon Hirtipes, Clemmys Caspica, Cobra Di Capella, Coelopeltis Rhombeata, Coluber Aesculapii, Coluber Berus, Coluber Chersea, Coluber Communis, Coluber Hippocrepis, Coluber Lichtensteinii, Coluber Naja, Coluber Quadristriatus, Coluber Rufescens, Common Viper, Coralline Snake, Crocodilurus Amazonicus, Cyclodus Flavigularis, Cylindrophis Resplendens, Cystignathus Gracilis, Cystignathus Pachypus, Dactylethra Delalandii, Dipsas Dendrophila, Dipsas, Dracaena Guianensis, Draco Fimbriatus, Draco Haematopogon, Draco Lineatus, Draco Viridis, Dryiophis Langaha, Dryiophis Prasina, Dryophis Catesbyi, Dryophis Fulgida, Dryophis Splendidus, Eaved Terrapin, Echidna Arietans, Echis Carinata, Elaphe Parreyssii, Elaps Bivirgatus, Elaps, Emys Baska, Emys Crassicollis, Emys Guttata, Emys Kachuga, Emys Orbignyi, Emys Picta, Emys Tectum, Emys Thuji, Emys Vulgaris Japonicus, Emys Vulgaris Picta, Erpeton Tentaculatus, Eucnemis Viridi-Flavus, Flying Dragon, Galeotes Lophyrus, Gecko Fimbriatus, Gerrhonotus Lichenigerus, Gerrhosaurus Flavigularis, Gonyasoma Viride, Great Spotted Lizard, Gymnodactylus D'orbignyi, Gymnodactylus Marmoratus, Helicops Carinicaudus, Herpatodryas, Hydrophis Hibrida, Hydrophis Melanurus, Hyla Burgeri, Hyla Leucomystax, Hyla Reinwardtii, Hyla Zebra, Ilysia Scytale, Kachuga Terrapin, Lacerta Agilis Erythronota, Lacerta Agilis, Lacerta Alligator, Lacerta Basilicus, Lacerta Gangetica, Lacerta Lacustris, Lacerta Monitor, Lacerta Salamandra, Lacerta Stellio, Lacerta Stincus, Lacerta Volans, Leiosaurus Fasciatus, Leiuperus Marmoratus, Lepidosternon Microcephalus, Lepidosternon Phocaena, Long-Tailed Manis, Lophura Amboinensis, Monitor Bivittatus, Monitor Prasinus, Naja, Periops Hippocrepis, Phryniscus Nigricans, Phrynocephalus Olivieri, Phrynops Geoffroyana, Phrynosoma Orbiculare, Phyllodactylus Gymnopygus, Platydactylus Egyptiacus, Polychrus Virescens, Psammophis Pulverulenta, Pseudo-Typhlops Oxyrhynchus, Python Peronii, Pyxicephalus Americanus, Rana Arborea, Rana Bufo Fuscus, Rana Bufo, Rana Cornuta, Rana Esculenta, Rana Gigas, Rana Temporaria, Rattle Snake, Rattlesnake, Rhacoessa Hypoxantha, Rhinechis Agassizii, Salamandra Nebulosa, Salamandra Scutata, Salamandra Subcristata, Scincus Mulleri, Scincus Smaragd, Siredon Axolotl, Siredon Pisciforme, Small Black and Red Snake, Spotted Terrapin, Staurotypus Triporcatus, Stenocercus Rosei-Ventris, Stenostoma Albibrons, Terrapene Clausa, Testudo Boiei, Testudo Granulata, Testudo Lutaria, Testudo Matamata, Testudo Rostrata, Testudo Scripta, Testudo Tabulata, Thicknecked Terrapin, Thuju Terrapin, Tortrix Boa, Tortrix Pseudoeryx, Tortrix Xenopeltis, Trachycyclus Marmoratus, Trachysaurus Peronii, Trigonocephalus Puniceus, Trigonocephalus Rhodostoma, Trionyx Japonicus, Triton Cristatus, Trtrix, Tupinambis Exanthematicus, Xenodon Purpurascens.
---
---
More from this seller
---
Digital downloads
---
Payments
PayPal payment only accepted (including payment with a credit card via PayPal without having PayPal account)
---
Returns & exchanges
I gladly accept returns and exchanges
Contact me within:
14 days of delivery
Ship items back within:
30 days of delivery
I don't accept cancellations
But please contact me if you have any problems with your order.
The following items can't be returned or exchanged
Because of the nature of these items, unless they arrive damaged or defective, I can't accept returns for:
Custom or personalized orders
Perishable products (like food or flowers)
Digital downloads
Intimate items (for health/hygiene reasons)
Conditions of return
Buyers are responsible for return shipping costs. If the item is not returned in its original condition, the buyer is responsible for any loss in value.
Additional return information
Full refund available if you are not satisfied with your item. Please feel free to email me. Thanks
---
Additional policies
Images from my collections are in public domain in the US.