1970's leathercraft book 70's Larry hemard vintage how to make leather boots bracelet sandals moccasins watchband purse belt vest 1972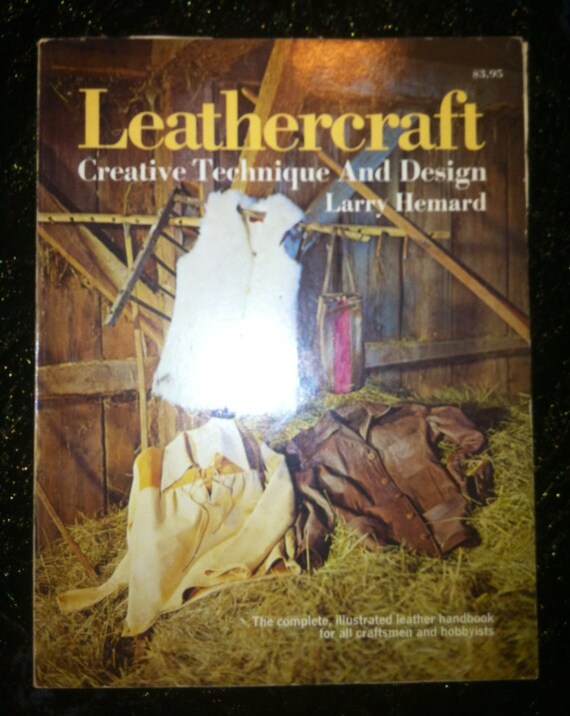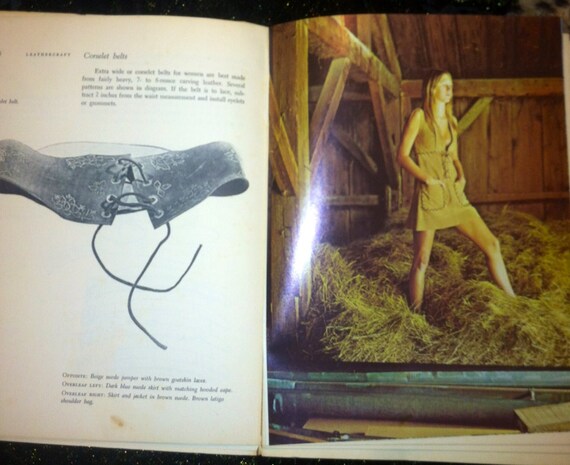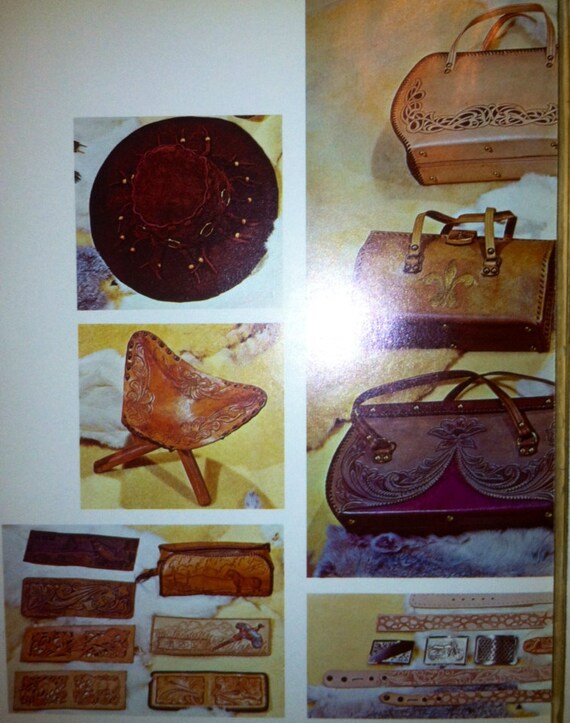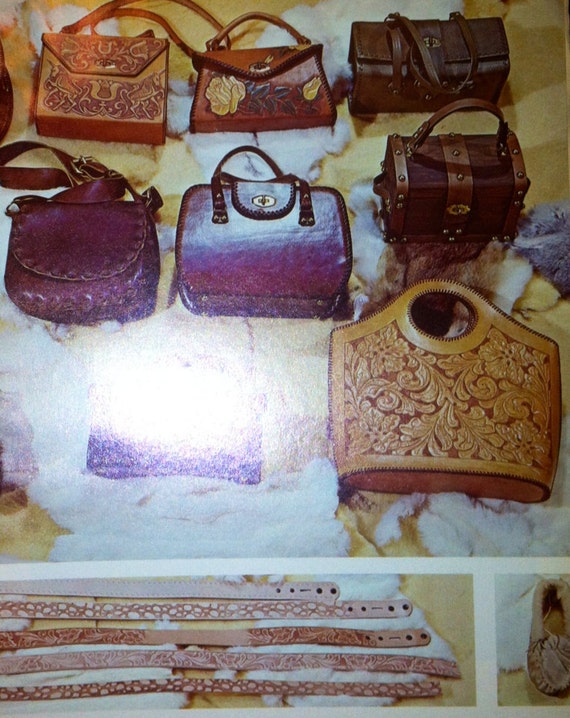 Arrives from the United States
---
Features
---
Item details
Serious kick butt book. Has every bloomin Bohemian leather dream. Also coversthe styles found at Ren fairs, motorcycle world, rock n rollers, highlander fest, any music festival, ect, I have worked festivals for decades and there is always the leather booth. But rarely do I find folks deviating from the standard design this book not only has all the primo iconic designs but variations to crank up the umphh and be unique. On top of that there are stellar things I haven't seen a thousand times over.
Leathercraft
Creative technique and design
Larry Hemard
1972
The complete illustrated handbook for all craftsmen and hobbyists.
Contents:
Endless purses
Hats mens women's
Scarves
Poncho
Vests
Sewing leather clothing from patterns
Sandals
Moccasins
Viking boots
Belts
Watchbands
Wristbands
Corselet belts
Sashes
Fancy closures
Art carving
Cover tired on back, water stains , missing worn spot. The spine glue is shot so most pages loose from spine. They are all accounted for and in correct order .
---
---
More from this seller
---
Shipping & policies
Arrives from the United States
Estimated Shipping
We use USPS shipping and our post is closed on Sat and Sun. If you would like to add insurance, deliver comfirmation, or anything else let us know. When I ship flat rate priority they now include some insurance and tracking. I am not responsible for any package once it has been shipped.
---
Payments
We currently accept payments through PayPal. If you have a valid credit or debit card, you can use Paypal to pay even if you do not have a Paypal account. Etsy checkout and Gift Cards. You must pay for your order within 3 days of ordering.
---
Returns & exchanges
All sales are final. However every situation is not the same and there may be a time when this policy can be overruled. Always feel free to communicate with me with reason and respect.
---
Additional policies
PAPERS AND CARDS:
I most of the time make notation in the listing of something that could be an issue. Paper products(wrapping paper) sometimes there will be darkened,yellowed hues on the folds.
Common on paper(cards) is a speckled dot age darkening or yellowing. Envelopes are usually an issue. A lot of them have sealed themselves through the decades, I have steamed many an envelope back open. They will almost never be a crisp white like you find today. They used a more natural off white shade 50's or older. They were thinner light gauged. I do have ample envelopes to sift through to find a mate for your card and will try my best. For safety sake I price these listing for the card only, the envelope is just an extra toss in if it has one or I find one.


NEW OLD Vintage stock:
I have a lot of new old stock. Clothing, ect. sometimes it is bagged or pinned up I do not undo, unpackage these items. They have made it 50 plus years in this condition and some folks like original packing. If you purchase new/old stock I do not promise on what you will find when you unpackage it. You could find darkening on the fold line, holes from the straight pins, ect.The prices I use on these listings reflect this uncertain outcome. So the risk is yours and new/stock sales are final. If you do have an issue contact me for I can help fix a rainbow of issues.

ODORS:
I didn't think I would have to discuss this to Etsy folks but after a year and a few situations, I find I assumed wrong. Vintage is old. After hanging about in different conditions over the years it picks up odors. After working in this field for 30 years I am pretty good with the tricks of proper care for Vintage. Moth balls, musty, ect, yuck odors I work to remove. Good old smell that makes vintage awesome like the smell of an old book ect. I leave be. I make note in the listings if there is a strong odor I catch. Fabrics: I wash (by hand or machine) all washable garments, dry clean the rest. Again, our sense of smell is opinion, no one is right or wrong. You may not care for the smell of my laundry detergent or fabric sheets, just wash it again. I keep my prices low enough that if an additional dry cleaning is needed it's covered, like with coats. I know this is stating the elephant in the room but it has to be done thanks to one.

CONDITION:
Yes, vintage is old. I list solid, sound items. The older the item the more fragile. Keep this in care when handling. Gentle hands, not forcing zippers ect. will aide in preserving your vintage for a longer life span with use.

COLOUR:
Your computer monitor may display different color variations from the photos.