Art Nouveau photo album, large red empty genuine antique Jugendstil vintage scrapbook, old portrait book in good condition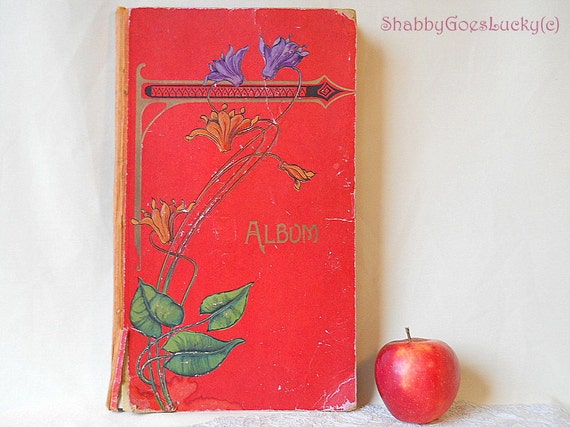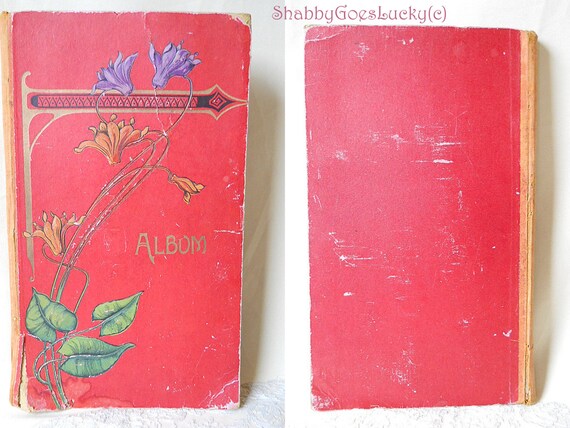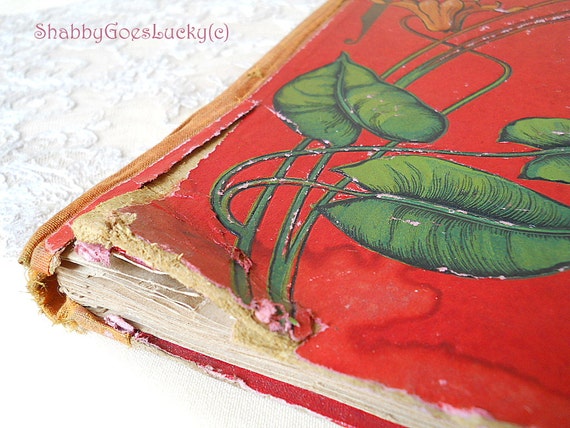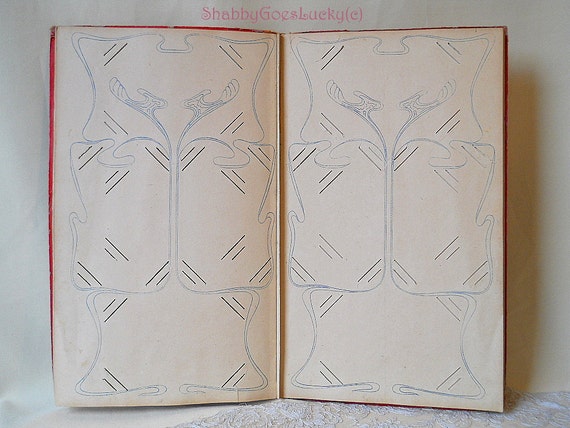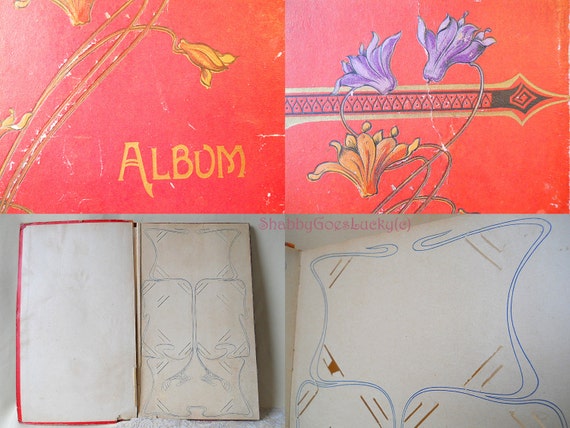 Preparation takes 1-2 business days
---
Features
---
Item details
Art Nouveau photo album, large red empty genuine antique Jugendstil vintage scrapbook, old portrait book in good condition

Here is a beautiful old photo album, made 1890 – 1910 in the Art Nouveau era. This is the genuine article, not a reproduction! Our antique photo book is large, measuring 39 cm / 15 ¼ inches by 23 cm / 9 inches. It contains 26 pages of thick paper, all cut to hold photographs & printed frames as you can see in the listing photographs.

Our Art Nouveau portrait book is in fairly good condition considering its age; only the binding on the lower left corner is damaged, looks like an old water - damage & some of the paper bridges inside are loose. All the pages hold together perfectly! The flower ornament on the outer cover is embossed & beautifully preserved, only on the red background are some scratches.

*Please notice:
We will ship all items worldwide in an insured package on Priority mail and provide a tracking number.
---
---
More from this seller
---
Shipping & policies
Preparation takes 1-2 business days
Estimated Shipping
I'll ship your purchased items within 1-3 day after receiving payment.
All prices quoted are retail prices (including VAT) and not negotiable.
Also given fixed prices and shipping costs are not to negotiate. If you buy more than one item in one go, I will always calculate shipping costs as low as possible for you.
All possibly overpaid shipping fees will be refunded.

According to German law you will receive a bill for your purchasing.
According to § 19 UStG Kleinunternehmerregelung, VAT will be expelled from them separately.

Shipping times can vary greatly depending on your location. There is no way to accurately predict when your package will arrive, especially due to events such as random custom inspections and holidays. Delays in customs and at the border can increase the transit time and International orders can take 3 - 4 weeks to arrive. If you need your item for a specific date, please order early!
I'll ship to your address listed in your Etsy account at the time of sale, please ensure this is the correct address and let me know if it needs changing.
I am not responsible for import duty if there is any; if your country is to levy such a duty, you will pay for it.

---
Payments
Payment for goods ordered is expected by Etsy Payments or PayPal within 7 work days. I do also accept Etsy gift cards.
All non-paid transactions within 7 work days of purchase will be cancelled and the goods put up for sale again.
Your purchased items will be shipped only after full payment has been received & confirmed.


---
Returns & exchanges
Revocation, Refunds and Exchanges
The European consumer protection directive 2011/83/EU (VRR) and, accordingly, German Laws EGBGB §246 section 2 subsection 3.1 and BGB §312 apply.

You, the customer, may cancel the contract within 14 days without giving any reasons, whereby the period of revocation starts the day of the delivery of the goods, or delivery of the last item in case of separated shipments, to the customer or any third party appointed by the customer to receive the delivery.
To exercise your right of revocation, you have to inform me,

Caya Chiquita Viertel
Theresenstr. 25
28203 Bremen
Germany
shabby.goes.lucky (at) gmail.com (replace (at) with @ for sending e – mail)
Phone: +49 15168156890,

explicitly expressing your wish to revoke the contract. You can do so by using the revocation form provided by me in your shipment, or using the given phone number, e-mail address, or the Etsy convo system. I will confirm your declaration without undue delay via Etsy convo. You keep the terms of revocation as long as you send this information within the period mentioned above.

As to the consequences of the cancellation, all authorized returned merchandise will be refunded, including original shipment cost, but except for additional shipment fees caused on account of the customer (e.g. by having me, the seller, use any other delivery service than suggested in my original offer).

I will pay the refund without undue delay within 14 days as soon as you explicitly express your wish to revoke the contract AND return any merchandise received within 14 days after exercising the revocation. I will issue the refund via the same payment method originally used by you, the customer, unless you inform me, in time, doing otherwise. I will not, under any circumstances, charge any extra fee for this. I do have the right to withhold payment until either I have received the unused and originally packed merchandise back or have at least received proof of you having sent the merchandise by providing me with a valid tracking number.

It is the customer's responsibility to send me the merchandise back unharmed and originally packaged within 14 days after exercising the revocation. The customer will bear any costs arising from this shipment. The customer will also be held responsible for any undue damage or wear done to the merchandise after his receiving the shipment.

Since my shipments are, as a rule, sufficiently ensured against damage during transportation, the customer will generally not be held responsible, financially, for damages done during transportation; the customer is responsible, however, in helping secure the insurance payment by following the procedures necessary to do so (e.g. declaring damage without delay, providing photos and demanded forms), otherwise forfeiting any right to refunding.

It is the buyer's responsibility to verify the correctness of style and size of the products before you purchase. I make sure that photos accurately represent my products. All items are either vintage or antique and / or hand-made with great care and attention. If you have any questions or concerns please feel free to contact me via Etsy Conversations. I have made every effort to display as accurately as possible the colours of my products that appear at the site. However, as the actual colours you see will depend on your monitor, I can not guarantee that your monitor's display of any colour will be exactly accurate.

Please also note that, generally, for goods produced to customer specification a right of revocation does not apply according to BGB § 312d Section 4. A right of revocation does also not apply if you have purchased goods for your own commercial or independently professional activities.

Model withdrawal form for physical products:
(complete and return this form only if you wish to withdraw from the contract)
To: Caya Chiquita Viertel
Theresenstr. 25
28203 Bremen
Germany
shabby.goes.lucky (at) gmail.com (replace (at) with @ for sending e – mail)
Phone: +49 15168156890,
- I/We (*) hereby give notice that I/We (*) withdraw from my/our (*) contract of sale of the following
goods (*)/for the provision of the following service (*),
- Ordered on (*)/received on (*),
- Name of consumer(s),
- Address of consumer(s),
- Signature of consumer(s) (only if this form is notified on paper),
- Date
___________
(*) Delete as appropriate.


(Wenn Sie den Vertrag widerrufen wollen, dann füllen Sie bitte dieses Formular aus und senden Sie es zurück.)
- An Caya Chiquita Viertel
Theresenst. 25
28203 Bremen
Germany
shabby.goes.lucky (at) gmail.com (replace (at) with @ for sending e – mail)
Phone: +49 15168156890,
- Hiermit widerrufe(n) ich/wir (*) den von mir/uns (*) abgeschlossenen Vertrag über den Kauf
der folgenden Waren (*)/ die Erbringung der folgenden Dienstleistung (*)
-Bestellt am (*)/erhalten am (*)
-Name des/der Verbraucher(s)
-Anschrift des/der Verbraucher(s)
- Unterschrift des/der Verbraucher(s) (nur bei Mitteilung auf Papier)
- Datum
_______________
(*) Unzutreffendes streichen.

---
Additional policies
Terms and conditions
The provisions of German law (BGB)

§ 1 Scope
For the relationship between ShabbyGoesLucky (hereinafter "Seller") and the customer are exclusively those terms and conditions. Opposing or deviating from these terms and conditions and recognizes the seller does not expressly contradict them.
Conflicting conditions of the customer are only valid if the seller expressly agrees in writing. The seller is entitled to their terms and conditions subject to change without notice for any reason. If a change in the General Booking Conditions lose all previously published Terms and their effect, before a change in incoming orders, however, dealt with under the old terms and conditions.

§ 2 Contract
1) The contract is acceptance of the buyer's order concluded by the seller. The assumption is generally upon receipt of a confirmation, with the latest performance. If an item is not available, the Seller will inform the customer about the undeliverable.
2) Minor, the intended use does not impair deviations of the goods to descriptions and illustrations are technically feasible and cannot be excluded. All the illustrations are not to scale.

§ 3 Delivery
1) Delivery dates or periods are not binding unless expressly agreed otherwise.
2) In case of delivery failure due to force majeure, civil disturbance, including strikes and lockouts, the statutory provisions, ie The buyer is exempt from the obligation to pay as much as the seller of the obligation to deliver.
3) The delivery of the goods is at buyer's risk.

§ 4 Payment
Payments due from the buyer to have to perform in accordance with the terms of payment with the order mentioned.

§ 5 Retention of title
1) The seller retains title to all goods supplied by it to a buyer until they are finally and fully paid.

§ 11 Severability clause
If any provision of this agreement invalid or unenforceable invalid or unenforceable after the conclusion of which the validity of the remaining unaffected. In place of the invalid or unenforceable provision will be replaced by a valid and enforceable provision, the effects of the economic objectives come closest to what the parties have followed the invalid or unenforceable provision. The above provisions apply in the event that the contract proves to be incomplete.

Privacy Policy:
The seller collects and uses personal data solely for the purpose of order processing and customer contact and care are not those of third parties, except as provided under the contract is necessary, as for example in the transmission of name and address information to the
Shipping companies.

Use of Facebook plugins
On these web pages are plugins used the social network facebook.com that by Facebook Inc., 1601 S. California Ave, Palo Alto, CA 94304, USA is operated ("Facebook").
If you call with such a plugin provided Internet pages of our website, a link to the Facebook servers and established in this case represented by the release plugin to your browser at the website. This is transmitted to the Facebook server, which of our web pages you have visited. Are you going logged in as a member of Facebook, Facebook assigns this information to your personal Facebook account. When using the plug-in functions (such as clicking on the "Like" button, submit a comment) and this information is associated with your Facebook account, you can only avoid by logging out before using the plugin.
For more information on the collection and use of data by Facebook, on your rights and ways to protect your privacy, please see the privacy policies of Facebook.
(Created by a lawyer LL.M. Annegret Mayer, Stand: 02.02.11) © Händlerbund Association - This text is protected by copyright. Any duplication or distribution of the information sheet to a third party is permitted, provided no modifications are made thereto and in particular the copyright notice is not removed.

As of October 2012

The sales tax is due to the exemption for small businesses (according to § 19 paragraph 1 VATA) is not applicable.