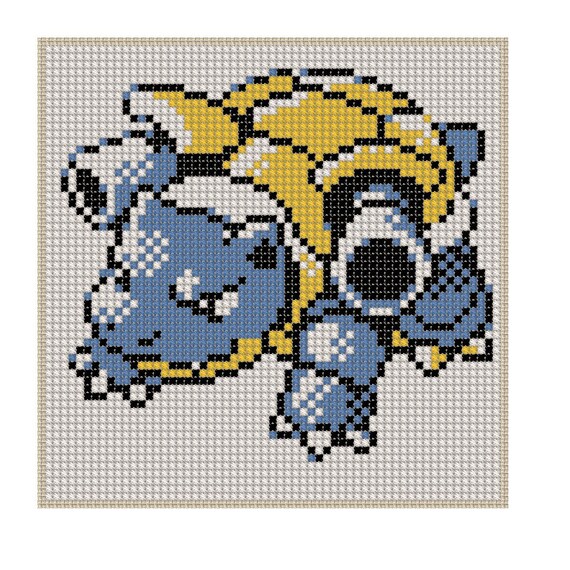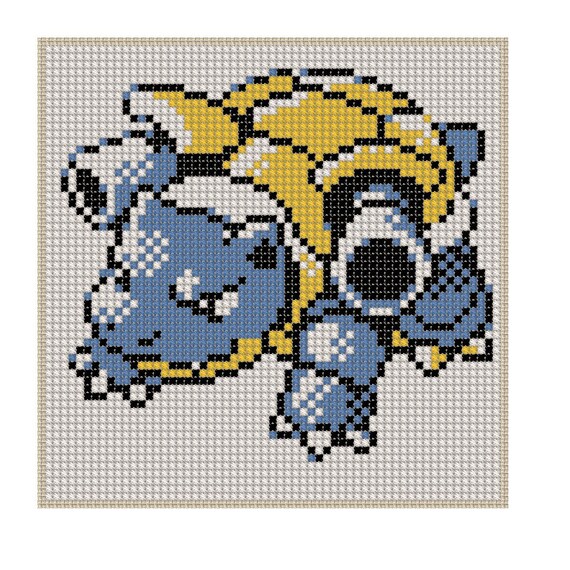 ---
Features
---
Item details
THIS PDF Pattern includes:
. Basic cross stitch tutorial.
. Pattern with the design in color, black and white and legend.

. Skill Level: easy
. Basic Skills Necessary: Basic cross stitching.

Size of Pattern:
61 x 61 Stitches

Finished Sizes:
14 count: 4.29" W x 4.29" H
16 count: 3.75" W x 3.75" H
18 count: 3.33" W x 3.33" H

This pattern forms part of the Silver Collection, all of the patterns in this collection have a compatible size of 60 x 60 stitches including the borders, please find our other patterns belonging to this series.

For this Cross Stitch pattern, you will also find our beginners guide on how to stitch, called Cross_Stitch_Manual.pdf in which you can read some tips on how to stitch and links to helpful resources.


----------------------------------
About Blastoise:

It evolves from Wartortle starting at level 36. It is the final form of Squirtle. It can Mega Evolve into Mega Blastoise using the Blastoisinite.

Blastoise is the game mascot of the Japanese and international versions of Pokémon Blue, appearing on the boxart of both.

Blastoise is a large, bipedal tortoise-like Pokémon. Its body is dark blue and is mostly hidden by its tough, brown shell. This shell has a pale yellow underside and a white ridge between the upper and lower halves, which also encircles the arms. Two powerful water cannons reside in the top sides of its shell. These cannons can be extended or withdrawn and can be used to assist in high-speed charges. Blastoise's head has triangular ears which are black on the inside, small brown eyes, and a cream-colored lower jaw. Its arms are thick and striated with three claws on each hand. Its feet have three claws on the front and one on the back. It has a stubby tail.

As Mega Blastoise, it develops two smaller shells over its arms, each with their own water cannon. The two cannons on its back are replaced by a single, central water cannon of greater size. This cannon extends forward over Mega Blastoise's head and is said to have a blast range of over 6 miles. Its eyes turn red, and its ears angle backwards. It has a small point on its chin.

The powerful cannons on this Pokémon's back are capable of producing water blasts that can pierce steel and concrete. Blastoise deliberately makes itself heavy to withstand these powerful blasts, and it will crush its opponents with its bulk. The anime has shown that Blastoise can take the role of a leader in large groups of Squirtle and Wartortle. Its preferred habitat seems to be freshwater ponds and lakes.

----------------------------------



::: Sell what you sew! ::: Items made using this pattern may be sold in your own shop. Just please be sure to give me credit for the design.

Re-sale and distribution of pattern pieces and instructions is expressly prohibited. Please do not sell or distribute this pattern.

::: Instant Download ::: Delivery of this digital product is automated. You will receive an immediate download link once payment has been confirmed. If you have problems downloading directly, please contact me.

Please note this is a PDF pattern only. No fabric, floss, or other materials are included in the listing. The finished cross stitch shown in the photos is for demonstration purposes only.

© Copyright 2015 Pokepats.

Happy Sewing!