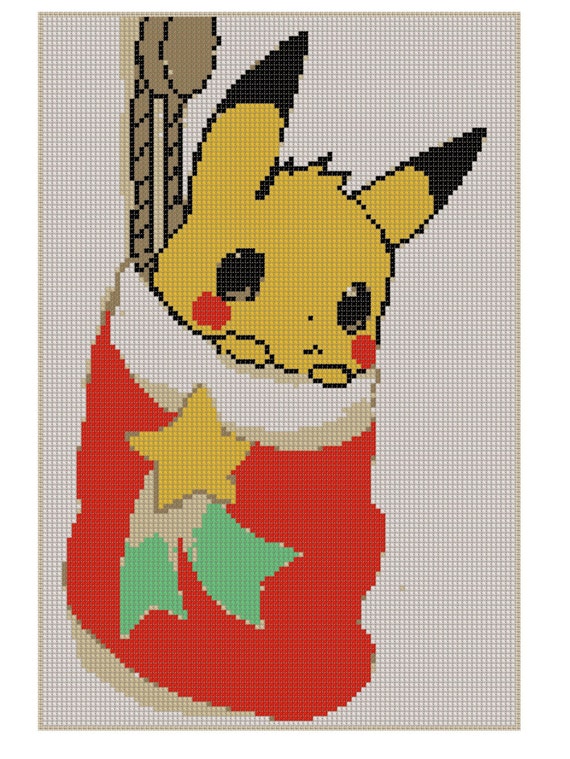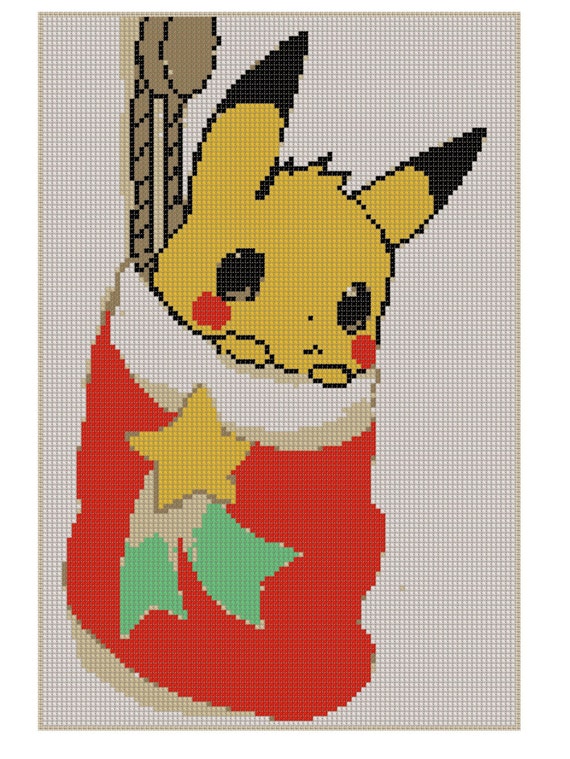 ---
Features
---
Item details
THIS PDF Pattern includes:
. Basic cross stitch tutorial.
. Pattern with the design in color, black and white and legend.

. Skill Level: easy
. Basic Skills Necessary: Basic cross stitching.

Size of Pattern:
100 x 149 Stitches

Aprox. Finished Sizes:
14 count: 7.14" W x 10.64" H
16 count: 6.25" W x 9.31" H
18 count: 5.56" W x 8.28" H

For this Cross Stitch pattern, you will also find our beginners guide on how to stitch, called Cross_Stitch_
Manual.pdf in which you can read some tips on how to stitch and links to helpful resources.

You will find the pattern in two formats, first in classic Black and White Symbols which could be easier to print and then in Colored Symbols, which might be easier to read and visualize. These are presented in a page and also in 4 pages for better view while sewing.

Also a bigger image of the whole size design is found on the last page.


----------------------------------
About Pikachu:

It evolves from Pichu when leveled up with high friendship and evolves into Raichu when exposed to a Thunder Stone. However, the starter Pikachu in Pokémon Yellow will refuse to evolve into Raichu unless it is traded and evolved on another save file.

Pikachu is popularly known as the mascot of the Pokémon franchise and a major representative of Nintendo's collective mascots.

It is also the game mascot of Pokémon Yellow, where it is the only starter Pokémon in that game. It has made numerous appearances on the boxes of spin-off titles.

Pikachu is also the starter Pokémon in Pokémon Rumble Blast and Pokémon Rumble World.

Pikachu is a short, chubby rodent Pokémon. It is covered in yellow fur, and its ears are long and pointed with black tips. It has a small mouth, brown eyes, and two red circles on its cheeks. There are pouches inside its cheeks where it stores electricity. Its forearms are short, with five fingers on each paw, and its feet have three toes. It has two brown stripes on its back, and its tail is in the shape of a lightning bolt with a patch of brown fur at the base. A female will have a V-shaped notch at the end of its tail, which looks like the top of a heart. It is classified as a quadruped, but it has been known to stand and walk on its hind legs.

The anime has shown that Pikachu sometimes travel in groups. It raises its tail to check its surroundings, and is occasionally struck by lightning in this position. Living in forested areas, Pikachu is found foraging for berries it roasts with electricity to make them tender enough to eat. It has been observed eating and sometimes destroying telephone poles, wires, and other electronic equipment.

Pikachu is able to release electric discharges of varying intensity. Pikachu has been known to build up energy in its glands, and will need to discharge to avoid complications. It is also able to release energy through its tail, which acts as a grounding rod, as well as recharging fellow Pikachu with electric shocks. Pikachu can also electrify itself to use its signature move, Volt Tackle. When threatened, it looses electric charges from its sacs, and a group can build and cause lightning storms. It is found mostly in forests, where a sure sign that Pikachu inhabits a location is patches of burnt grass.

----------------------------------



::: Sell what you sew! ::: Items made using this pattern may be sold in your own shop. Just please be sure to give me credit for the design.

Re-sale and distribution of pattern pieces and instructions is expressly prohibited. Please do not sell or distribute this pattern.

::: Instant Download ::: Delivery of this digital product is automated. You will receive an immediate download link once payment has been confirmed. If you have problems downloading directly, please contact me.

Please note this is a PDF pattern only. No fabric, floss, or other materials are included in the listing. The finished cross stitch shown in the photos is for demonstration purposes only.

© Copyright 2015 Pokepats.

Happy Sewing!