BIRDS-186 Collection of 205 vintage pictures Motmot Fiscal Eagle Bee-eater Roller Wattlebird digital download printable image 300 dpi animal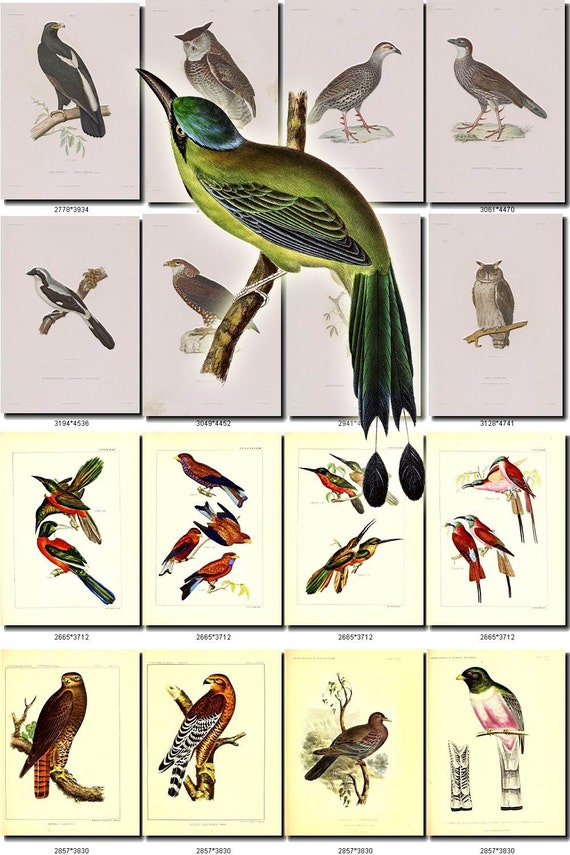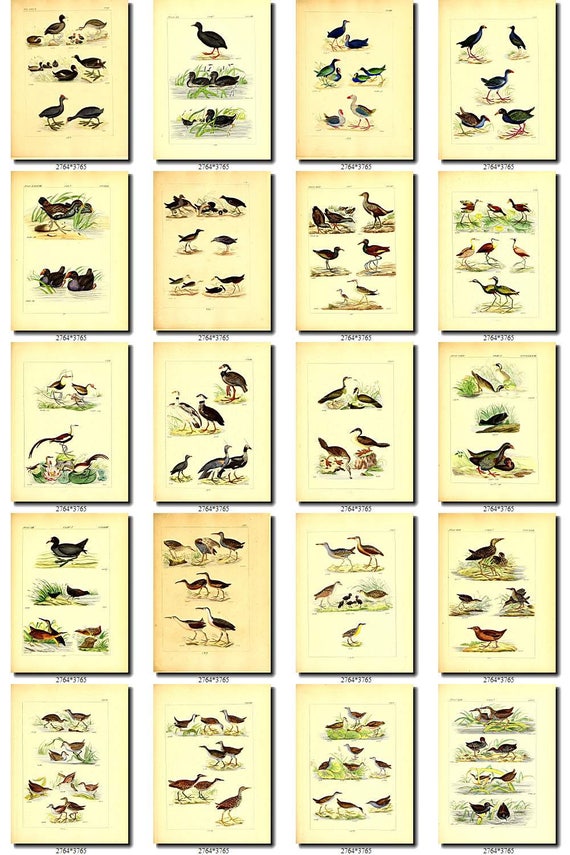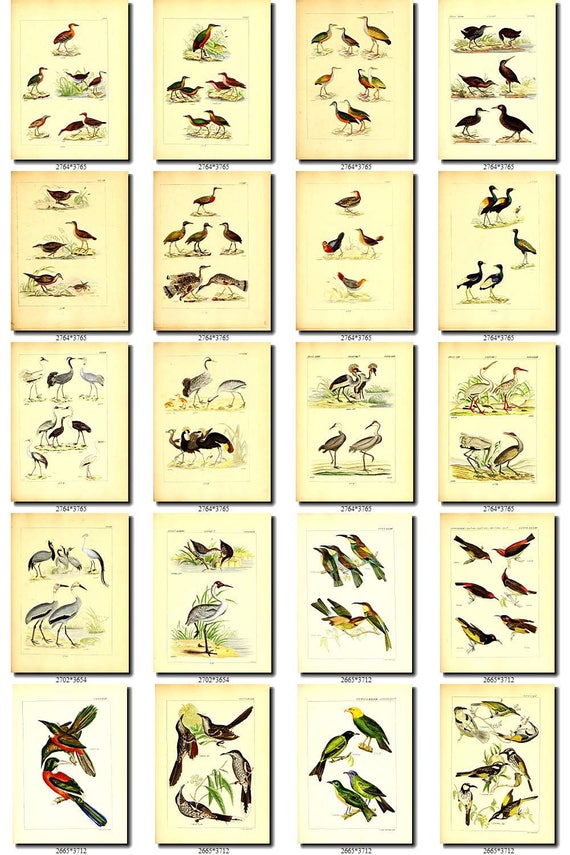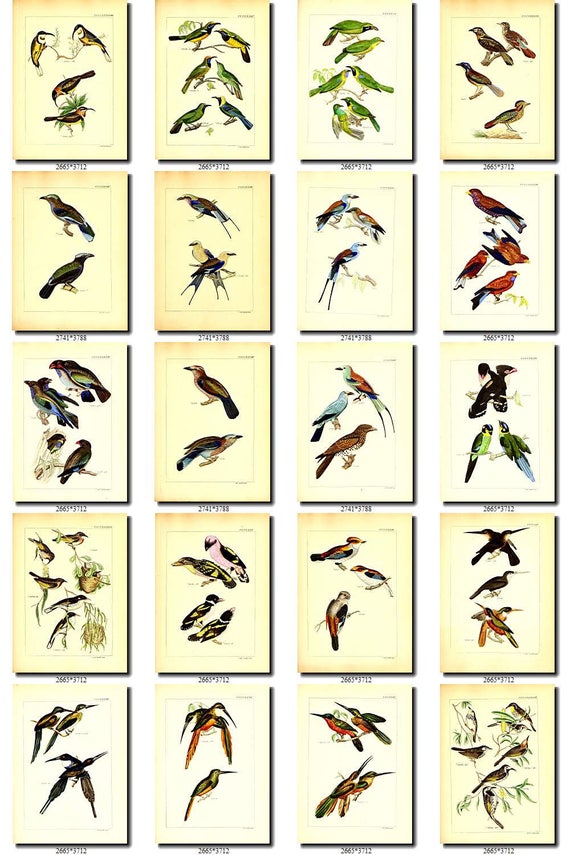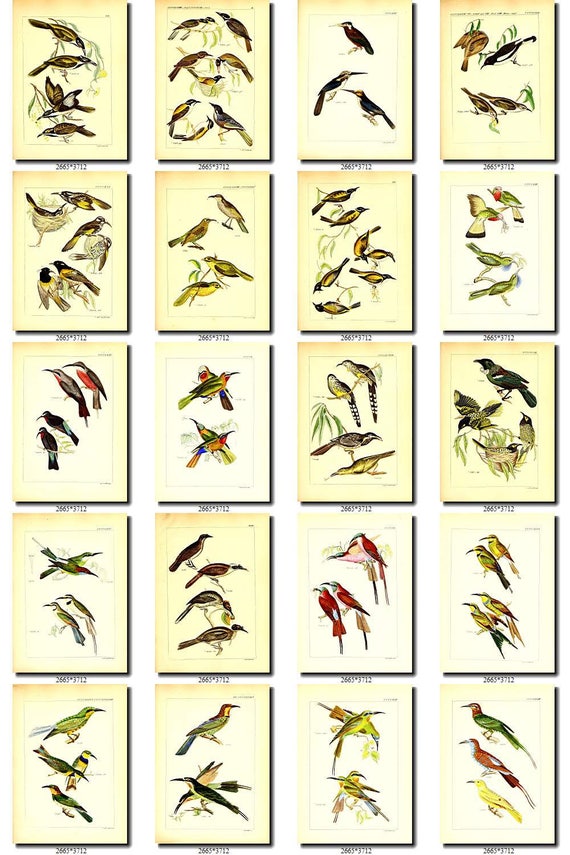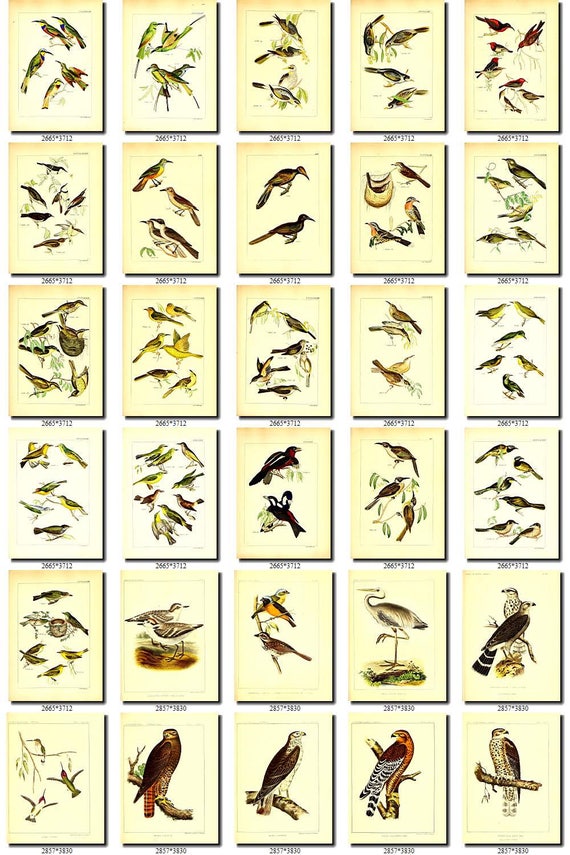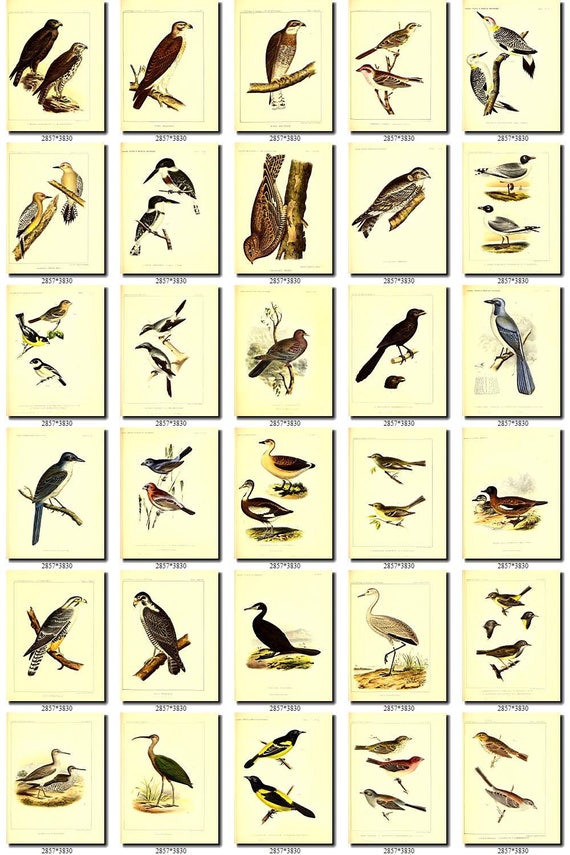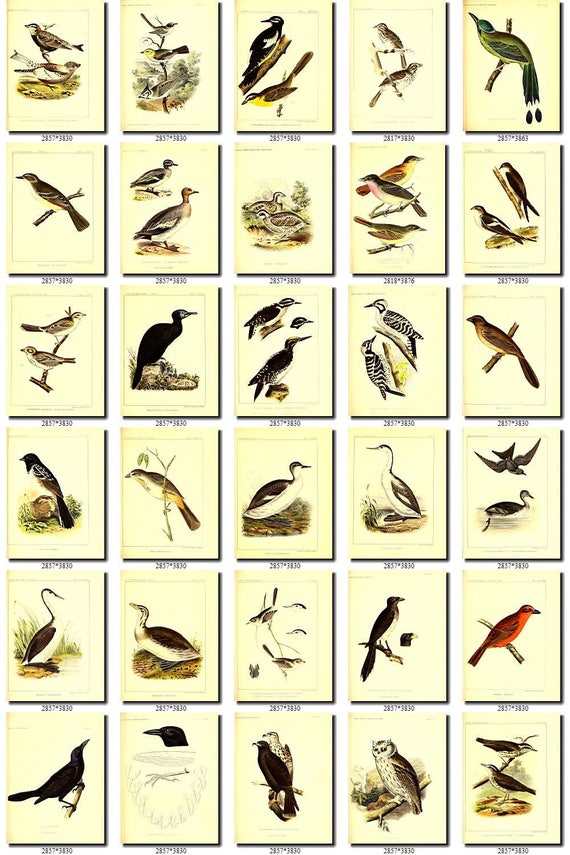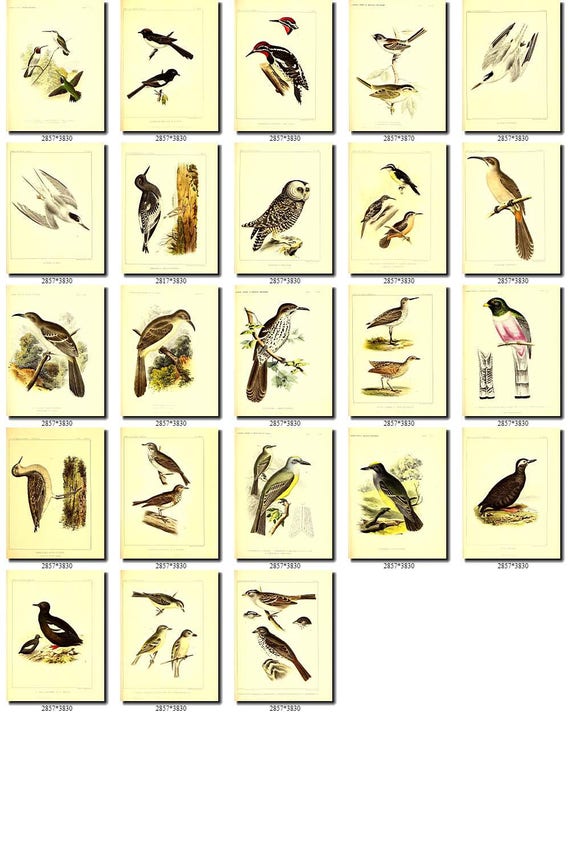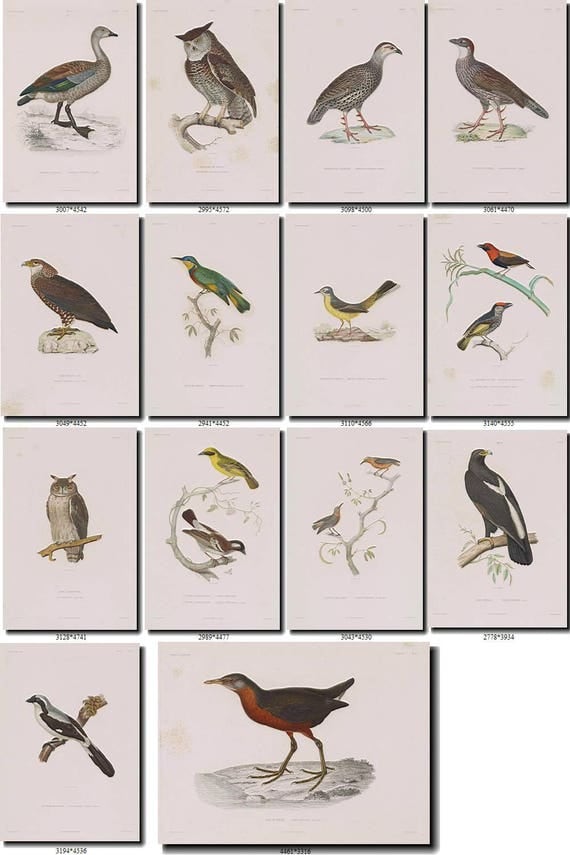 ---
Features
---
Item details
artscult.com - all images from artvintages.com

Instant digital download of 205 vintage pictures of birds in high resolution (300 dpi, sizes from 2600x3700 px to 3100x4700 px). Look at pictures to see sizes in pixels (click "Zoom", divide size in pixels on 300 - you'll get size of print in inches with high quality, ex. 2400/300=8''). Total size of the collection is 219 Mb.

Each file has a name of shown bird (ex. "Gray-backed Fiscal.jpg" or "francolinus erckellii.jpg"). Names of shown birds are listed below, at the end of description.

All images are in JPG format, separate files. Perfect for use in crafting, decoupage, collage, altered art, prints, etc. Images are in public domain in USA and may be used for any personal or commercial purposes. Information about source books is included.

Look at my other BIRDS collections:
https://www.etsy.com/shop/ArtVintages?section_id=13682371

All-in-one BIRDS collections:
https://www.etsy.com/shop/ArtVintages/search?search_query=all+birds

DISCOUNTS:
Save money - Use coupons shown here:
https://www.etsystudio.com/listing/168468869/

SHIPPING DETAILS:
Digital download (TXT file with link on file in zip format on dropbox and google drive, and gallery view). Before purchase, please, make sure that you are able to download large size files. Download may take long time some cases.

NAMES of shown birds:
Abyssinian Roller, Acanthogenys Rufogularis, Aegialitis Nivosa, Aegithalus Flaviceps, African Yellow White-Eye, Alcedo Aurea, Alcedo Paradisea, Ammodromus Samuelis, Anthochaera Mellivora, Anthornis Melanocephala, Apapane, Aquila Vereauxii, Ardea Wurdemannii, Asturina Nitida, Atthis Costae, Australian Yellow White-Eye, Banda Myzomela, Banded Honeyeater, Bell Miner, Black Bee-Eater, Black Guillemot, Black-And-Yellow Broadbill, Black-Bellied Whistling-Duck, Black-Breasted Myzomela, Black-Capped Speirops, Black-Chinned Honeyeater, Black-Chinned Hummingbird, Black-Eared Oriole, Black-Vented Oriole, Blue-Bearded Bee-Eater, Blue-Bellied Roller, Blue-Throated Bee-Eater, Blue-Throated Roller, Blue-Winged Goose, Blue-Winged Leafbird, Brachypteracia Squamigera, Bridled White-Eye, Bronzy Jacamar, Bubo Dillonii, Bucco Undulatus, Buteo Calurus, Buteo Cooperii, Buteo Elegans, Buteo Fuliginosus, Buteo Oxypterus, Buteo Swainsonii, Cape White-Eye, Carpodacus Californicus, Carpodacus Cassinii, Cassin's Sparrow, Centurus Flaviventris, Centurus Uropygialis, Certhia Agilis, Certhia Auriculata, Certhia Australasiana, Certhia Chloronotus, Certhia Chrysotis, Certhia Lunulata, Certhia Mexicana, Certhia Novae Hollandiae, Certhia Tenuirostris, Certhiola Flaveola, Ceryle Americana, Chaetura Vauxii, Chestnut-Crowned Sparrow-Weaver, Chloropsis Curvirostris, Chloropsis Malabaricus, Chloropsis Mystacalis, Chloropsis Sonnerati, Chordeiles Henryi, Chordeiles Texensis, Chroicocephalus Cucullatus, Chroicocephalus Franklinii, Chrysomitris Mexicanus, Colaris Leptosomus, Collyrio Elegans, Collyrio Excubitoroides, Columba Flavirostris, Connecticut Warbler, Coracias Afra, Coracias Bengalensis, Coracias Caudata, Coracias Garrula, Coracias Indica, Coracias Madagascariensis, Coracias Orientalia, Coracias Pacifica, Coracias Pilosa, Coracias Senegalensis, Coracias Sumatrana, Corn Crake, Crotophaga Rugirostra, Cuculus Madagascar, Cyanocitta Sordida, Cyanocitta Ultramarina, Cyanocitta Woodhousei, Cyanoloxia Parellina, Dacnis Westernensis, Dendrocygna Fulva, Dusky Myzomela, Elegant Euphonia, Empidonas Difficilis, Empidonax Hammondii, Entomophila Rufogularis, Entomyza Albipennis, Erismatura Dominica, Eurasian Wigeon, European Bee-Eater, Eurylaimus Blainvillei, Eurylaimus Javanicus, Eurylaimus Lunatus, Eurystomus Syanicollis, Falco Femoralis, Falco Nigriceps, Ficedula Borbonica, Ficedula Madagascariensis, Francolinus Clappertonii, Francolinus Erckellii, Gairdner's Woodpecker, Galbula Chalcoptera, Galbula Leucogastra, Galbula Macroura, Galbula Magna, Galbula Viridis, Glyciphila Fasciata, Glyciphila Ocularis, Gracula Cyanotis, Graculus Mexicanus, Gray-Backed Fiscal, Grey-Collared Becard, Grus Fraterculus, Haematops Validirostris, Helminthophaga Virginiae, Helotarsus Ecaudatus, Heteroscelus Brevipes, Ibis Guarauna, Icteria Longicauda, Icterus Parisorum, Jacamaralcyonides Leucotis, Jerdon's Leafbird, Junco Caniceps, Junco Dorsalis, Leaden Titmouse or Lead-Colored Titmouse, Leptornis Des Forests, Leucosticte Arctous, Little Friarbird, Little Wattlebird, Long-Tailed Broadbill, Lophophanes Wollweberi, Melanerpes Williamsonii, Melicophila Picata, Meliphaga Fulvifrons, Meliphaga Longirostris, Meliphaga Maculata, Meliphaga Sericea, Melithreptus Chloropsis, Melospiza Fallax, Melospiza Gouldii, Melospiza Heermanni, Merops Adansonii, Merops Aegyptius, Merops Amictus, Merops Badius, Merops Bicolor, Merops Bullockii, Merops Bullockoides, Merops Carunculatus, Merops Circinatus, Merops Cyanipectus, Merops Erythropterus, Merops Garrulus, Merops Hirundinaceus, Merops Hypoglaucus, Merops Javanicus, Merops Latresnayi, Merops Lefeburii, Merops Leschenaultii, Merops Lutens, Merops Monachus, Merops Nubicoides, Merops Ornatus, Merops Philippinus, Merops Quinticolor, Merops Savignyi, Merops Sonnini, Merops Superciliosus, Merops Urica, Merops Variegatus, Merops Viridissimus, Momotus Coeruleiceps, Motacilla Lunulata, Myarchus Lawrencii, Myiarchus Mexicanus, Myzantha Lutea, Myzantha Obscura, Myzomela Chermesina, Myzomela De La Farge, Myzomela Nigra, Myzomela Solitaria, Nettion Crecca, New Zealand Bellbird, Noisy Friarbird, Northern Carmine Bee-Eater, Olive Sparrow, Ortyx Texanus, Oryx Petitit, Otus Cineraceus, Ou, Pachyrhamphus Aglaiae, Painted Honeyeater, Painted Redstart, Panyptila Melanoleuca, Passerculus Alaudinus, Passerella Schistacea, Phalacrocorax Penicillatus, Philadelphia Vireo, Philedon Chrysotis, Philedon Musicus, Philedon Subcornutus, Philedon Vulturin, Picoides Dorsalis, Picus Nuttallii, Picus Scalaris, Pipilo Abertii, Pipilo Megalonyx, Pipilo Mesoleucus, Pitta-Like Ground-Roller, Plectorhyncha Lanceolata, Plectrophanes Melanomus, Ploceus Auricularis, Podiceps Californicus, Podiceps Clarkii, Podiceps Dominicus, Podiceps Occidentalis, Podylimbus Lineatus, Polioptila Plumbea, Psaltriparus Melanotis, Psilorhinus Morio, Ptilotis Analogue, Ptilotis Cratitius, Ptilotis Filigera, Ptilotis Flavescens, Ptilotis Flavigula, Ptilotis Fuscus, Ptilotis Penicillatus, Ptilotis Plumulus, Ptilotis Sonurus, Ptilotis Unicolor, Purple-Winged Roller, Pyranga Hepatica, Quiscalus Baritus, Quiscalus Macrourus, Rallus Rougetti, Raya Rubripygia, Red-Headed Myzomela, Regent Honeyeater, Rostrhamus Sociabilis, Rufous-Banded Honeyeater, Rufous-Tailed Jacamar, Savannah Sparrow, Scarlet Myzomela, Scops Mccallii, Seiurus Ludovicianus, Seiurus Noveboracensis, Selasphorus Platycercus, Setophaga Miniata, Silver-Crowned Friarbird, Silvereye or Capricornia Whiteye, Sitta Syriaca, Spermophila Moreletii, Sphyrapicus Nuchalis, Spizella Atrigularis, Sterna Elegans, Sterna Pikei, Stitchbird, Streaky-Breasted Honeyeater, Strepsilas Melanocephala, Stripe-Sided Rhabdornis, Sylvia Flava, Sylvia Palpebrosa, Sylvietta Brevicauda, Syrnium Occidentale, Tcherica Le Vaill, Thalassidroma Melania, Three-Toed Jacamar, Thriothorus Berlandieri, Todus Macrorhynchus, Toxostoma Crissalis, Toxostoma Curvirostris, Toxostoma Lecontei, Toxostoma Longirostris, Tringa Cooperi, Trogon Mexicanus, Tropical Kingbird, Tropidorhynchus Inornatus, Tryngites Rufescens, Turdus Aliciae, Turdus Leucotis, Turdus Ustulatus, Tyrannus Couchii, Tyrannus Vociferans, Uria Carbo, Uria Columba, Varied Bunting, Varied Honeyeater, Verdin Icterocephale, Vireo Cassinii, Vireo Huttonii, Western Spinebill, White-Chinned Jacamar, White-Fronted Honeyeater, White-Throated Honeyeater, Wright's Flycatcher or Grayish Flycatcher, Yellow Honeyeater, Yellow-Billed Jacamar, Yellow-Faced Honeyeater, Yellow-Plumed Honeyeater, Yellow-Throated Miner, Zonotrichia Gambelii, Zosterops Albiventris, Zosterops Chloronotus, Zosterops Frontalis, Zosterops Japonica, Zosterops Obscura, Zosterops Parvula.
---
---
More from this seller
---
Digital downloads
---
Payments
PayPal payment only accepted (including payment with a credit card via PayPal without having PayPal account)
---
Returns & exchanges
I gladly accept returns and exchanges
Contact me within:
14 days of delivery
Ship items back within:
30 days of delivery
I don't accept cancellations
But please contact me if you have any problems with your order.
The following items can't be returned or exchanged
Because of the nature of these items, unless they arrive damaged or defective, I can't accept returns for:
Custom or personalized orders
Perishable products (like food or flowers)
Digital downloads
Intimate items (for health/hygiene reasons)
Conditions of return
Buyers are responsible for return shipping costs. If the item is not returned in its original condition, the buyer is responsible for any loss in value.
Additional return information
Full refund available if you are not satisfied with your item. Please feel free to email me. Thanks
---
Additional policies
Images from my collections are in public domain in the US.