INSECTS-67 Collection of 203 vintage illustration Spider Crab Beetle animals picture image High resolution digital download printable
(1)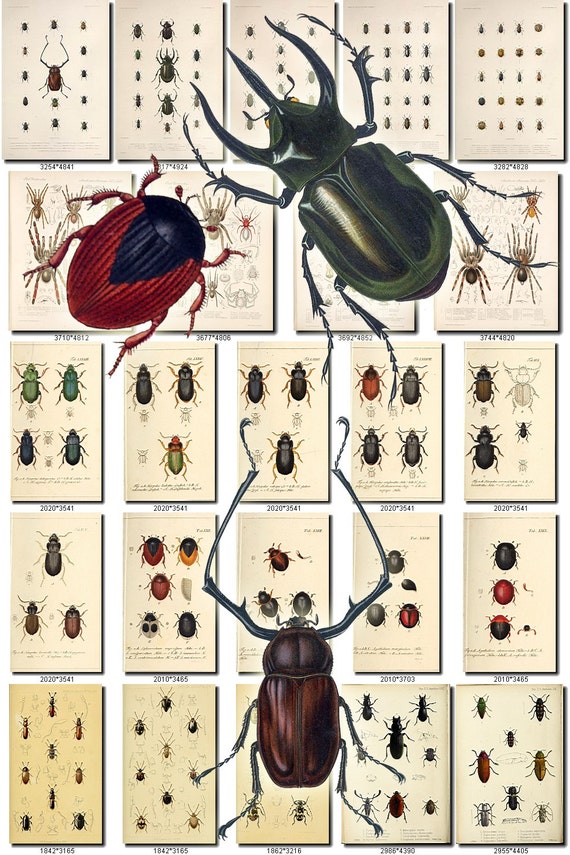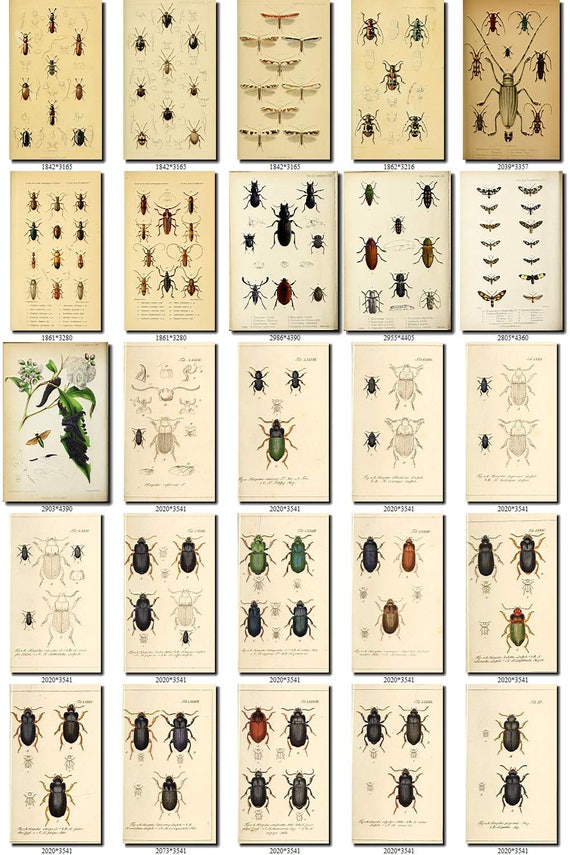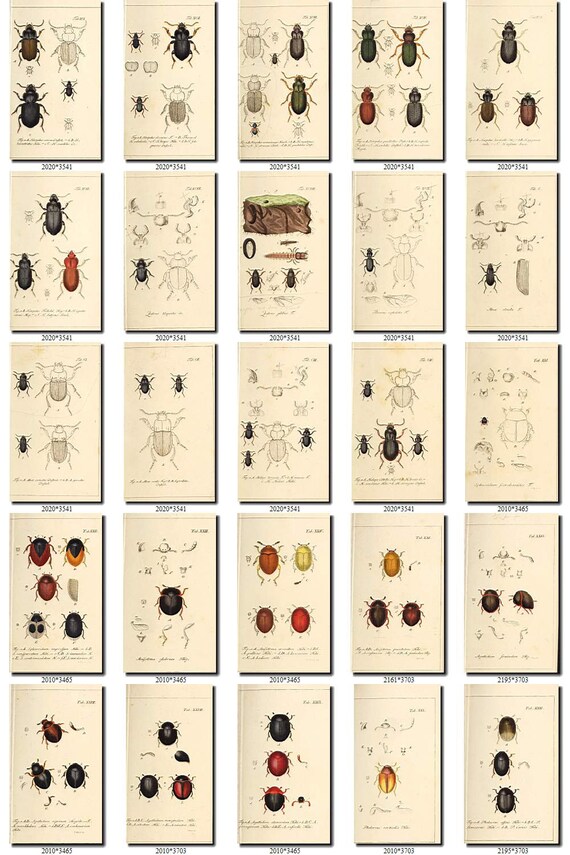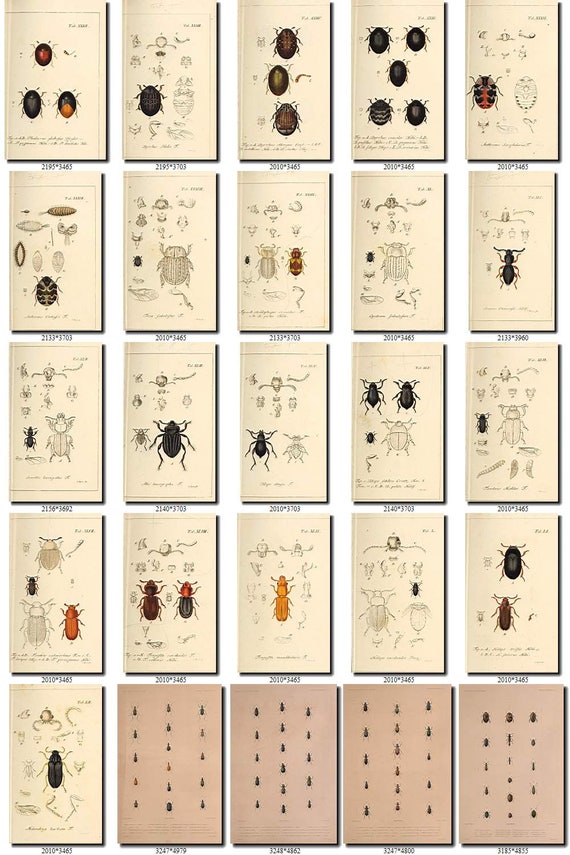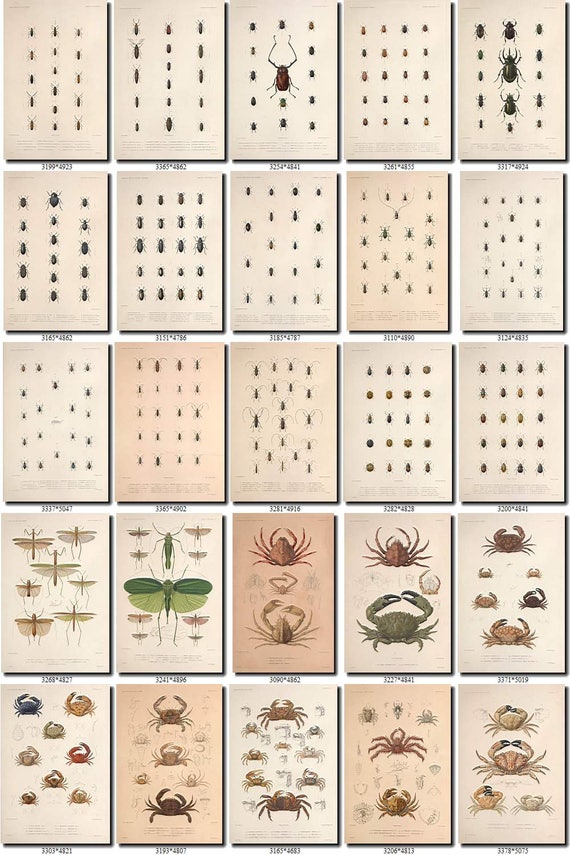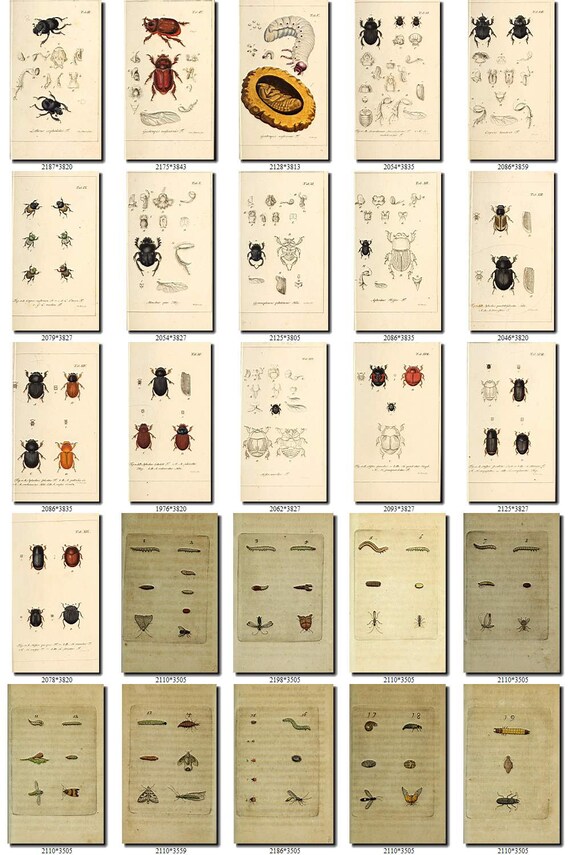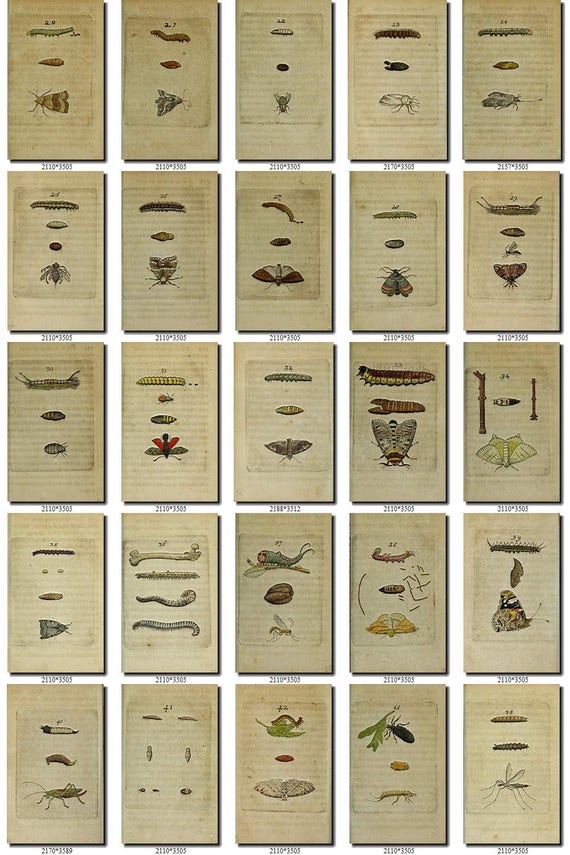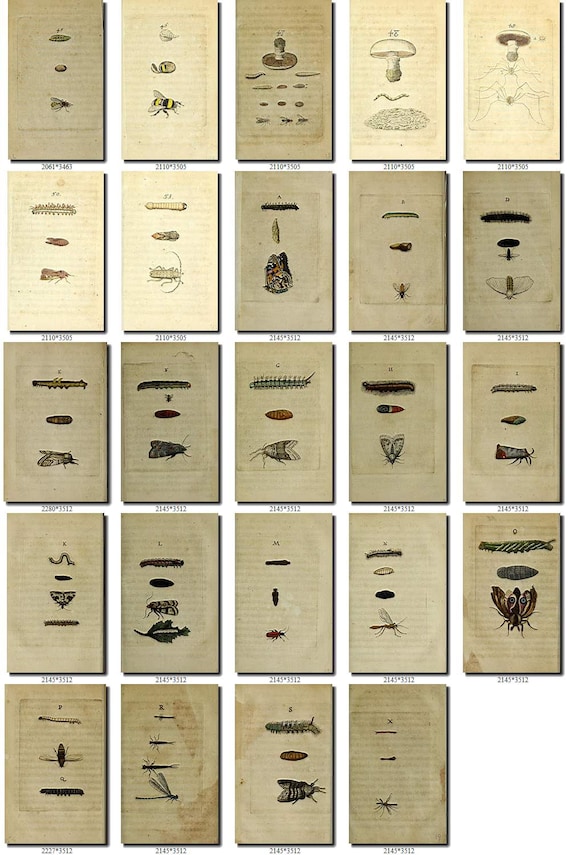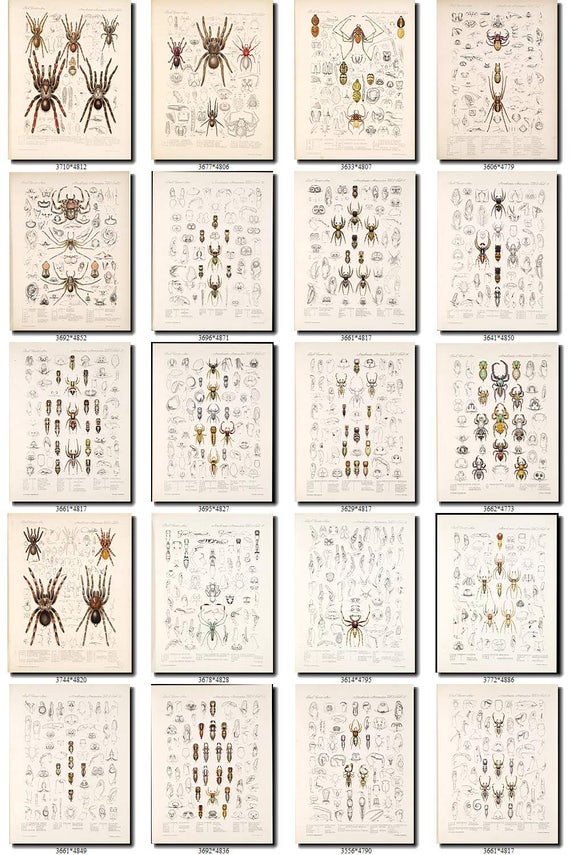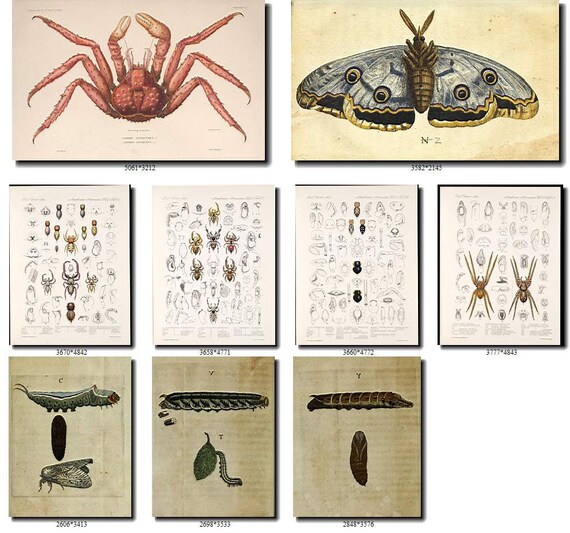 ---
Features
---
Item details
artscult.com - all images from artvintages.com

Instant digital download of 203 vintage pictures of arthropods (insects, coleoptera, flies, etc. and related) in high resolution (300 dpi, sizes from 1800x3100 px to 3300x5000 px). Look at pictures to see sizes in pixels (click "Zoom", divide size in pixels on 300 - you'll get size of print in inches with high quality, ex. 2400/300=8''). Total size of the collection is 257 Mb.

Each file has a name of genus of shown animal (ex. "anobium.jpg"). Names of shown genuses are listed below, at the end of description.

All images are in JPG format, separate files. Perfect for use in crafting, decoupage, collage, altered art, prints, etc. Images are in public domain in USA and may be used for any personal or commercial purposes. Information about source books is included.

Look at my other INSECTS (arthropods) collections:
https://www.etsy.com/shop/ArtVintages/search?search_query=insects

All-in-one INSECTS collections:
https://www.etsy.com/shop/ArtVintages/search?search_query=all+insects

DISCOUNTS:
Save money - Use coupons shown here:
https://www.etsystudio.com/listing/168468869/

SHIPPING DETAILS:
Digital download (TXT file with link on file in zip format on dropbox and google drive, and gallery view). Before purchase, please, make sure that you are able to download large size files. Download may take long time some cases.

NAMES of shown genuses:
Abax, Abryna, Acalles, Acanthoderus, Acanthodis, Acanthopelma, Acmocera, Acridium, Acronia, Acupalpus, Adelium, Adetus, Adoretus, Adorium, Agabus, Agathidium, Agriotes, Agrypnus, Akela, Akis, Alcides, Amarygmus, Amphionycha, Amycus, Anacamphthorina, Anchastus, Anchomenus, Ancylonycha, Anisotoma, Anoka, Anomala, Anoplognathus, Anoplosthaeta, Antarctia, Anthrenus, Anthribus, Anyphaena, Apenes, Aphodius, Apoderus, Ardistomis, Argutor, Asemonea, Ashtabula, Aspidimorpha, Aterpus, Ateuchus, Aulacopris, Avitus, Aysha, Bagheera, Balmaceda, Balocera, Beata, Belus, Blaps, Bolitophagus, Bothriocyrtum, Botryonopa, Brachyphylla, Broscus, Buprestis, Byrrhus, Cacostola, Calathus, Callidiomorphus, Callidium, Callirhipis, Calocnemis, Calodemum, Cancer, Canthydrus, Caponina, Carabus, Casapus, Cascellus, Cassida, Catadromus, Caterpillar, Caulonomus, Celaetycheus, Cephaloleia, Cerambyx, Cereopsius, Cesonia, Cetonia, Chalcolampra, Chauliognathus, Cheliferoides, Chemmis, Chlorodius, Chrysodema, Cicindela, Cilibe, Cionus, Cleistotoma, Clerus, Clytus, Cobanus, Coccorchestes, Coeleutetes, Colobogaster, Colonus, Colpodes, Continusa, Copris, Coptomma, Coptorhynchus, Corymbites, Crab, Cragus, Cratogaster, Cratorrhagus, Crinotarsus, Crioceris, Cryptophagus, Cryptorhynchus, Ctenus, Cupiennius, Cyclograpsus, Cylindrepomus, Cylydrorhinus, Cymindus, Cyrene, Cyrtomerus, Davus, Diaphonia, Diaprepes, Dignomus, Diguetia, Dineutes, Disstocera, Distichocera, Dolphus, Domecia, Drassodes, Dromius, Dysderina, Echemus, Elater, Elateropsis, Elytrogonus, Elytrurus, Emalodera, Enrico, Epiblemum, Epilampus, Epilasium, Epinga, Erica, Eris, Etisus, Euagrus, Eubrachium, Euchirus, Eucnemis, Eucteniza, Eumolpus, Euophrys, Eupholus, Eurypelma, Euthryinus, Eutriptus, Eutychides, Figulus, Filistata, Filistatoides, Fornax, Fuentes, Fufius, Galene, Gelasimus, Geonemus, Geotrupes, Glaea, Gnaphosa, Gnoma, Gonipterus, Gracilaria, Grapsus, Gromilus, Gymnopleurus, Habronattus, Hapalopus, Harpalus, Hatlia, Helops, Hesperophanes, Heteroclytomorpha, Heteronychus, Heteronyx, Heteropoda, Hister, Homalattoides, Homalium, Hoplionota, Hydaticus, Hydnocera, Hymenoplia, Hymenosoma, Ischnothele, Isomerinthus, Jonas, Keyserlingiella,, Lacon, Lagria, Lamia, Lauricius, Lebia, Leiopus, Leipaspis, Leptochirus, Lethrus, Liparetrus, Listroderes, Listronyx, Lithodes, Lomaptera, Loxosceles, Lucanus, Luciola, Lycosa, Lycus, Lyssomanes, Macrones, Macrophyes, Mantis, Marpissa, Mecodema, Mecopus, Melandrya, Messua, Metacyrba, Metaphidippus, Metius, Metriopelma, Microplophorus, Millocerus, Molops, Monaedus, Monochamus, Monocrepidius, Monohammus, Moth, Nagaina, Nanilla, Neocorus, Neocteniza, Nitidula, Nitpus, Nomalota, Nops, Nyctelia, Nyctobates, Ocypoda, Odontria, Oedipoda, Omalodera, Omaloplia, Omaseus, Onthophagus, Onypterygia, Oodes, Oopterus, Opatrinus, Opatrum, Opilus, Oplocephala, Oryctes, Otiorhynchus, Pachylomerus, Pachyrhynchus, Pachyteles, Paecilus, Paradamoetas, Paralindria, Paramarpissa, Paraphidippus, Paraphysa, Parastasia, Pardessus, Peltarion, Pensacola, Perga, Phalacrus, Phalanna, Phaneroptera, Phanias, Phauda, Phidippus, Phillydrus, Phoracantha, Phyllocharis, Phyllochloenia, Phyllophora, Phymasterna, Physorhinus, Piarus, Pilus, Pinnotheres, Piotes, Platycaelus, Platycarcinus, Platydema, Platymopsis, Platysma, Platyurus, Poederus, Polyphyllum, Portunus, Praocis, Prioneta, Prionophorus, Pristonychus, Pristoscelis, Promecoderus, Promecotheca, Prosthesima, Pselophax, Pseudhelops, Pseudosparianthis, Psomeles, Pterohelaeus, Remipes, Rhaphidopalpa, Rhinaria, Rhyephenes, Rhytiphora, Rudra, Rygmodus, Ryssocarpus, Saperda, Saprinus, Scarabaeus, Scarites, Scaurus, Schizopelma, Schizorhina, Scotophaeus, Scytodes, Selenops, Serica, Sericesthis, Sericopelma, Sesarma, Shira, Sicarioides, Sicarius, Sidusa, Silis, Sillus, Simonella, Sphaericus, Sphaeridium, Sphaerobothria, Sphenopalpus, Sphoerorhinus, Stamnoderus, Stenoderus, Stigmodera, Strongylium, Synageles, Syntomis, Tachycnemis, Tanychilus, Telephorus, Temognatha, Tenebrio, Tesseromma, Tetraodes, Teudis, Thalamita, Thallestus, Thotmes, Threchus, Tillus, Titanattus, Tmesisternus, Tomis, Trapezia, Trichodes, Trigonops, Trogosita, Trox, Truxalis, Trypanophora, Tulpius, Uloma, Wulfila, Xantho, Xiphicera, Zabrus, Zonitis, Zopherosis, Zophobas, Zozymus, Zygoballus.
---
---

Some were wonderful and some wasn't.

Apr 15, 2017 by Bakverk
---
More from this seller
---
Digital downloads
---
Payments
PayPal payment only accepted (including payment with a credit card via PayPal without having PayPal account)
---
Returns & exchanges
I gladly accept returns and exchanges
Contact me within:
14 days of delivery
Ship items back within:
30 days of delivery
I don't accept cancellations
But please contact me if you have any problems with your order.
The following items can't be returned or exchanged
Because of the nature of these items, unless they arrive damaged or defective, I can't accept returns for:
Custom or personalized orders
Perishable products (like food or flowers)
Digital downloads
Intimate items (for health/hygiene reasons)
Conditions of return
Buyers are responsible for return shipping costs. If the item is not returned in its original condition, the buyer is responsible for any loss in value.
Additional return information
Full refund available if you are not satisfied with your item. Please feel free to email me. Thanks
---
Additional policies
Images from my collections are in public domain in the US.