Holidays Christmas Gift Wrap Sunshine Yellow DIY PRINTABLE Digital Paper Watercolor Watercolour Instant Download Wrapping Party Boy Girl New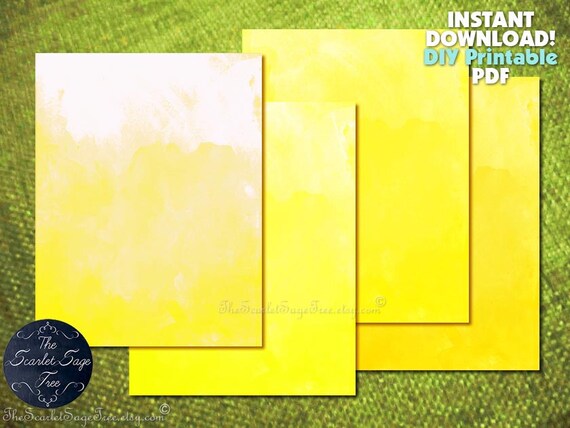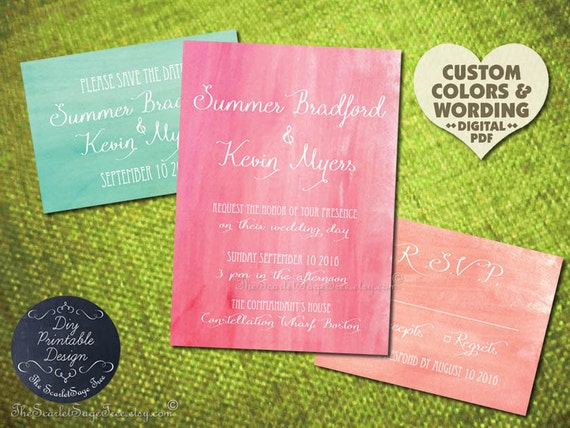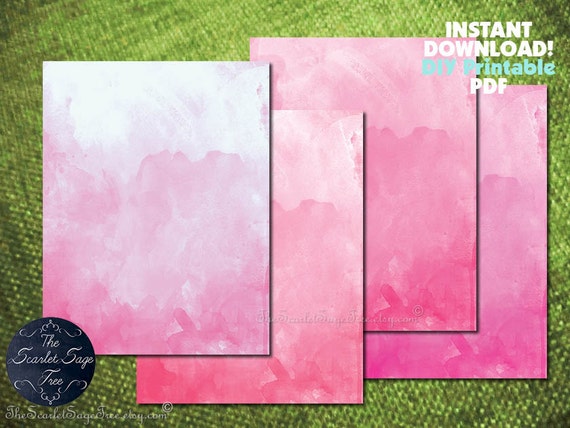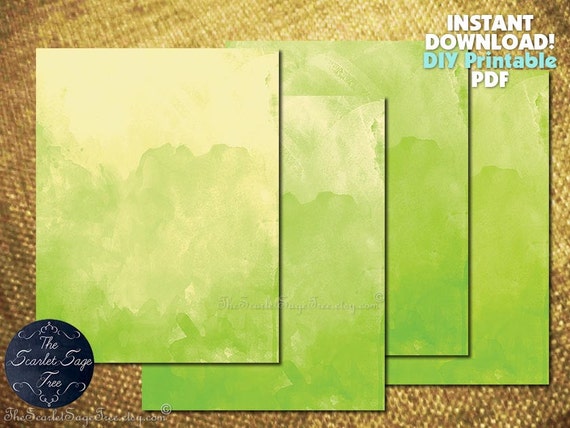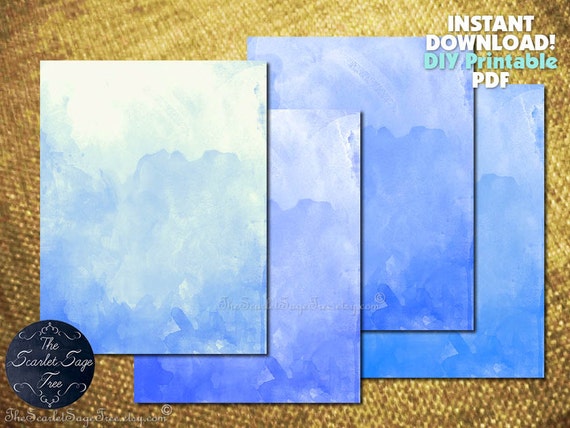 ---
Features
---
Item details
❤ Honoured to have my designs featured in the BRIDES UK magazine & website, Bespoke Bride, Onewed, WeddingWindow's Wed Loft, Where Lilacs Bloom, OnePaperHeartOnetsy blogs... ❤

❤ NOTE: This listing is for the 4 digital papers as shown in Pic 1. For other papers and designs shown in other pics, message me or see my Instant Downloads Section: https://www.etsy.com/shop/TheScarletSageTree?section_id=14281913 ❤

DESCRIPTION:
This is a ready-to-print Instant Download PDF file for 4 beautiful Sunshine Canary Lemon Yellow digital papers as shown in pic 1. Your instant download PDF will contain 4 different shades of Sunshine Canary Lemon Yellow, each page/sheet sized 8.5X11 inches, so you can print off any one or all as best suits your purpose! These gorgeous Pale Sunshine Canary Lemon Yellow Watercolour papers are sure to set the perfect tone of elegance for your DIY project. These Digital Papers are perfect for scrapbooking, DIY printable paper goods, DIY wedding decor, DIY wedding invitations and paper goods, gift wrap paper, DIY Invitation Templates, and loads more.

My range of Watercolor / Watercolour Digital Papers includes lots of gorgeous and fun colors : Aqua, Mint, Blue, Cobalt, Pink, Fuchsia, Yellow, Orange, Green, Gray / Grey, and lots more. Message me for a custom color request, and also a discount if you want 3 Digital Paper sets or more!!

VIEW ALL MY WATERCOLOR DESIGNS:
https://www.etsy.com/shop/TheScarletSageTree/search?search_query=WATERCOLOR
View all my INSTANT DOWNLOADS:
https://www.etsy.com/shop/TheScarletSageTree?section_id=14281913
View all my SAVE THE DATES:
https://www.etsy.com/shop/TheScarletSageTree?section_id=11731944
View all my WEDDING INVITATIONS:
https://www.etsy.com/shop/TheScarletSageTree?section_id=7573180
View all my WEDDING INVITATION SUITES:
https://www.etsy.com/shop/TheScarletSageTree?section_id=13969397
View all my WEDDING PROGRAMS:
https://www.etsy.com/shop/TheScarletSageTree?section_id=11282773
View all my PLACE/ESCORT CARDS & THANK YOU/FAVOR TAGS:
https://www.etsy.com/shop/TheScarletSageTree?section_id=13974342
View all my TABLE NUMBERS & MENUS:
https://www.etsy.com/shop/TheScarletSageTree?section_id=13974410

DETAILS:
You can download your Digital Paper PDF file from your Etsy Downloads page post your purchase. This file is set to print on letter sized paper, though you can use A4 paper too. This file is for usage as per my terms stated below. Thanks for respecting my design copyrights and privacy :)

MORE OF ME:
MY OTHER SHOP: http://www.etsy.com/shop/TheIndianPaperForest
LIKE ME ON FACEBOOK http://www.facebook.com/pages/ScarletSage-Design/127160767924
FOLLOW ME ON TWITTER http://twitter.com/#!/ScarletSageDsgn

TERMS OF USAGE:
COPYRIGHTS: All rights reserved.
USAGE: These files are for your own individual usage only, please do not share with family and friends, and do guide them to my stores if they wish to use these as well, so they can buy their own designs/sets :) You may not sell this digital file 'as is', be it separately or paired with any other kit (scrapbooking, clip art, etc). You are free to use these papers/files for both your personal projects and commercial use, provided these images/backgrounds are just a component of your own work and constitute less than 40% of the digital design/physical finished product. Commercial digital products must be sold as flattened JPEG or PDF files. Thanks for respecting my design copyrights and privacy :)
---
Digital downloads
---
Payments
Via Paypal only. Once a purchase has been made, any cancellation, exchange of design, or refunds are not possible.
---
Returns & exchanges
Once a purchase has been made, any cancellation, exchange of design, or refunds are not possible.
---
Additional policies
Additional Policies & FAQs:
MY FREQUENTLY ASKED QUESTIONS:

Q: What is a DIY PRINTABLE?
❤ A DIY Printable or DIY Printable design is a digital file for a design for paper items such as Invitations, Programs, Place Cards, Tags etc, that you can simply download and print out yourself from your home printer! Most such files can also be printed at a professional printer's.

Q: What is an EDITABLE PDF?
❤ A DIY Printable design file is usually in a PDF format, the preferred file format for print. An editable PDF file allows you to customize and make certain changes in the design file as mentioned. For example: My Editable PDFs in this store allow you to type in your own custom wording in the PDF files.

Q: WHY A DIY PRINTABLE DESIGN?
❤ Here's 3 reasons that make DIY Printable Design a great option:
1. ? High on Original Chic- My designs are all about original style and chic at affordable prices. I work with a lot of varied ideas and inspiration; though the one thing I aim for is that every design I create has to be not just beautiful, but also unique and unusual; a breath of fresh air, always.
2. ? Big Savings - DIY printing my designs gets you unique and beautiful paper goods for your big day plus huge savings. Even when you get my design printed at your nearest copyshop/local printer, you still spend far less than you would on ready and printed items.
3. DIY Bliss - While you may not have the time or energy for really elaborate DIY projects, my printable designs let you indulge in some really simple and fun DIY. Whether it's with a little help from close ones or just on your ownsome, getting involved in the small details of your little one's big day is an experience to savor, and also an achievement to treasure.

❤ Q: What FILE FORMAT will I receive?
You will receive a perfect print resolution pdf. Pdfs are the most preferred printing format, and especially so when DIY printing. For my final design pdfs, I usually have 2 or as many pieces of the design as fit onto a letter size sheet - 8.5X11 inches.

Q: I downloaded my file, but it's A ZIP FILE AND NOT A PDF file?
❤ For my designs that include 2 or more pieces, I bundle up the separate PDF files in a ZIP file. You simply need to unzip the file, to access the folder with the PDFs.
To unzip on a PC, you will need to have a program like WINZIP or WINRAR to unzip your files. On a Mac you can double click on the ZIP file and it will unzip automatically. Once your file is unzipped, navigate to your unzipped folder and open the individual files/pages in Adobe Reader.

Q: WHAT SOFTWARE WILL I NEED to edit the PDF?
❤ You will need the software Adobe Reader installed on your computer to open the Editable PDF file and edit it. Use a PC or Mac, etc as Tablets, Smartphones, etc cannot be used to edit these pdfs. Open Adobe Reader and then open my file(s) directly from Adobe Reader itself. Get the Adobe Reader Free Download here:
PC: http://get.adobe.com/reader/
MAC: http://www.adobe.com/support/downloads/product.jsp?platform=macintosh&product=10

Q: What if I don't have THE SAME FONTS on my computer?
❤ I choose fonts with great care for my designs, so that they match the character and tone of the piece. Which is why it's important to use the same fonts that I've used. In case, you don't have them on your computer or laptop, I have provided full instructions and links for download and installation in my accompanying Instructions File.

Q: HOW DO I EDIT the text wording in the PDF?
❤ Use a PC or Mac, etc as Tablets, Smartphones, etc cannot be used to edit these pdfs. Open the PDF file in Adobe Reader, select the sample text wording that's already there, and type your own wording over it. You can also save your file once you finish personalizing.

Q: CAN I CHANGE COLORS, GRAPHICS, BACKGROUNDS, FONTS, etc?
❤ No, the design is fixed and these cannot be changed. My files are secured to protect my design and copyrights.

Q: CAN I REQUEST A CUSTOM FONT, CUSTOM SIZE or any other variation of the design?
❤ All additional custom changes like size, font, adaptation to other pieces, etc are definitely possible, though only if my work schedule at the given moment permits. You can message me your specific requests to check about info & prices.

Q: What MATERIALS do I need for DIY Printing?
❤ All you need to DIY print my design files are a regular basic home/office printer, some card stock/paper of your choice, and a craft paper-cutting blade.

Q: How do I get the BEST COLOR RESULTS when printing?
❤ Keep in mind that colors vary from screen(monitor) to screen, and also screen to printer, and printer to printer, depending on each one's individual settings. Do test print your design first, on the printer that you will finally use. Print on regular white matte finish paper or cardstock for best color and do make sure the level of ink in your ink cartridges is not depleted.

Q: Any other DIY PRINTING TIPS from my home computer and printer?
❤ 1. Keeping your paper or cardstock within 300 GSM thickness or 140 lb weight works well for most home printers.
2. Please ensure you print from ADOBE READER only.
3. Select the the correct type of paper in the Print Settings of the Print Dialog Box. For eg. select cardstock if you are printing on cardstock).
4. Select the Best Quality print settings in the Print Dialog Box.

Q: What PAPER SIZE should I buy to print your Editable PDfs on?
❤ You will need Letter size or A4 size sheets.

Q: WHERE CAN I BUY PAPER FROM?
❤ You can buy paper from any local craft/stationery store or opt to order from online stores. If you're getting the printing done from professional printers or copyshops, most of them will have Letter/A4 size paper and cardstock options to choose from.

Q: Any MORE TIPS ON CHOOSING PAPER?
❤ * For invitations and other wedding/event decor, I highly recommend paper of cardstock thickness for a sophisticated finish. Usually keeping it within 300 GSM thickness or 140 lb weight works well for most home printers. Refer to the maximum recommended paper weight(thickness) for your printer.
* For items like labels, envelope wraps, etc, you could use thinner paper.
* Using matte, textured or handmade paper can add extra flair. Try colored paper or even recycled paper for an unusual effect! Though bear in mind that the printed output and color tones will vary as compared to regular white matte paper.
* It's also a good idea to test print on a couple of sheets before buying your entire paper lot.

Q: Can I BUY INDIVIDUAL DESIGN PIECES a la carte from your party pack listings?
❤ Of course! While my suite listings are a great buy as they are hugely discounted, you can definitely buy 1 or more design pieces a la carte as per your needs. Though the cost of individual files is higher in proportion to the discounted party packs. If you can't find a separate listing for the individual piece you want, message me, and I'll send you pricing.

Q: Is it possible to EMAIL THE INVITATIONS to guests?
❤ Yes, you can use the PrintScreen function on your computer to create an image of your personalized invitation that will be the perfect size for emailing. You cannot email out the editable PDF file.