VIDEO 16x12mm Top Gem Grade Australian Opal Triplets.Listed to sell w/ AmyKJewels Jewelry ONLY. NOT sold by itself! Thank you.
(1)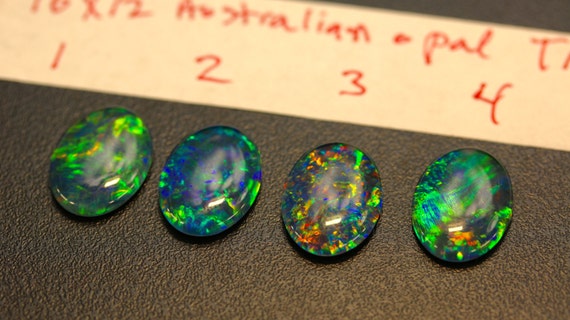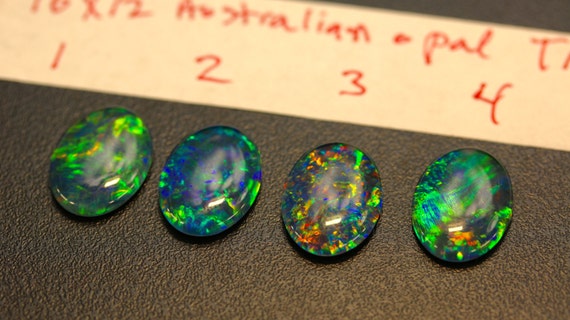 Arrives from the United States
---
Features
Made in San Jose, California
---
Item details
Gem Grade UPGRADE for 16x12mm Top Gem Grade Natural Australian Opal Triplets.

PLEASE READ THIS: NOT SOLD BY ITSELF!

Sorry, but these opals are ONLY for sale WITH my Jewelry!

(Every week people try to just buy the opal by itself anyway! LOL).

Unfortunately I will just have to refund your purchase if you try to buy these without a setting! Thank you.

The actual full price of the opal is calculated into the price of the Jewelry. This is just an UPGRADE fee on top of that base price.
_____________________________________________________________

OPAL TYPE:

Top Gem Grade Natural Australian Opal Triplets


OPAL SIZE:

16x12mm

___________________________________________________________________________________________________________________________________

1: Please cut and paste this link into your URL browser to view videos of available opals.


2: Then select opal by number in the menu option at checkout.

VIDEO 1

https://youtu.be/86Y-MH-5oyc
________________________________________________________________

ABOUT MY ONE-OF-A-KIND CREATIONS:
________________________________________________________________
ABOUT OPALS:
Opal is one of the most popular gemstones in the world. Precious Opals reveal many iridescent colors, which change as a stone is viewed from different angles.

Please look at all 5 pictures to see the different colors and hues of your opal.

Surprisingly, pure Opal matrix is primarily colorless, but minerals impart various colors to it ranging from reds and yellows to vibrant Blues and Greens. The reds come from iron oxides, the blacks from manganese oxides and carbon etc.

Australian Solid Black Opal: - Is rare and highly prized. All true Black Opals come from the famous Lightning Ridge Australian Opal Mine. They feature a very dark black to blue color back ground and can contain fiery colors of the entire rainbow. A Solid Black Opal this size would cost in the thousands of dollars.

Australian White Solid Opal has beautiful delicate light pastel colors accept when sliced and used in a Triplet.
Then the colors are Vivid and rival that of a Black Opal.

Australian Boulder Opal: Primarily Blue with red or orange and Green iridescent fire. A boulder opal has the opal stone matrix marbled throughout it.

Mexican Fire Opal features a yellow to deep orange or red colors in the highest end Mexican Fire Opals.

Ethiopian Opals feature an iridescent color from nature in a primarily clear or yellow matrix.

Australian Boulder Opal: Boulder opals are distinguished by their layer of solid brown "ironstone" on the back of the stone. Boulder opals are mined from large ironstone boulders under the ground. Thin veins of colorful opal forms in cracks in these boulders. Because these veins of color are so thin, opal cutters need to leave the ironstone on the back of the opal to form a full sized stone. The thin layer of opal in boulder opals can display any color of the spectrum in a beautiful play of color.

Opal Triplets:
I am sure you have rarely seen opal Triplets as vibrant as mine. Here's why.

These Top Quality Gem Grade Natural Australian Opal Triplets were made from opals mined at the famous Coober Pedy Australian Opal mine Valley. It was made into Triplet from to increase it's beauty, durability and to make a vivid colored Natural Opal available affordable price!

I special ordered these Opals from my Gemstone Cutter in Australia. He cut these opal Triplets from the absolutely Top Gem quality Grade Opal Rough. He set aside his "Cutters Choice" most beautiful and vibrant opals for me as he cuts his opals for other clients.

After a time, he has enough of these special "cutters choice" selections to make up a parcel for me.

I procure them for you so that you may have the most vibrant Opal Triplets available

It is rare to be in that position to pick from the cream of the crop before the gemstones do a rotation around the world on the gemstone market and all the good ones get picked through.

I guarantee you will love these beautiful Opal Triplets!

Buy a genuine gemstone as unique as you are. An Opal is a lifetime investment.

3: WHAT IS AN OPAL TRIPLET?
I go the extra mile and make some of my opals into Triplet form with a durable crystal clear cap.

WHY CHOOSE AN OPAL TRIPLET?
Because I choose to make my Opal rings wearable on a Daily basis including in engagement and wedding rings, I like to provide the option to set an Opal Triplet in your ring if you so choose.

a: INCREASED BEAUTY:
Making your opal into a Triplet intensifies the beauty of the opal's colors. The process helps the light reflect much more vivid colors than that type of opal would otherwise present.

b: TEMPERATURE TOLERANT:
You can be assured that you can wear your opal ring as safely in a hot tub as in the snow! Where as the beautiful opal underneath without a cap is almost guaranteed likely to crack if you did that.

c: IMPACT RESISTANT:
The cap also makes this opal impact resistant. Which is a huge plus for opals. Making is Opal intoa triplet elevates it from a "special wear" ring to a daily wear ring. As a triplet you no longer have to worry about "whacking" your expensive ring on something and shattering or chipping your beautiful opal.

d: AFFORDABILITY:
In addition to these obvious benefits, an opal Triplet is much more affordable than it's solid opal cousin.
Now more people can afford a beautiful opal.

4: OPAL GRADES:
I sell my opals and three grades Listed here from highest to lowest price:

AAA Known as "Top Gem Grade": Large Swaths of Multi color bright reds, and yellow fire over a Blue/ green iridescent background...

A Grade: Swaths of Multi Color Oranges and iridescent greens of color over Blue background.

B Grade: Features a Pin-Fire Multi-color pattern dominant in Iridescent Greens and Blues.

Enjoy your one-of-a-kiind heirloom quality handmade creation from California Artisan Amy Klitsner.

--live your dream

-with warm regards, Amy K

Amy K Jewels
---
---
Beautiful opal, just stunning, so much more than I anticipated.
Sep 22, 2017 by LD
---
More from this seller
---
Shipping & policies
Arrives from the United States
Estimated Shipping
SHIPPING:
Your item is carefully packed and shipped Priority 1-3 day mail, with insurance and signature required.

Shipping options within the US :

First Class is about a week transit time to the East Coast. West Coast runs around 3 days. L.A. metro is next day and so on. This comes with tracking. $4- $6

Priority Mail :
West Coast 1-2 days.
East Coast 2-4 days.

Express is 1 to 2 days guaranteed with tracking.

Shipping International :

France : Due to rampant loss all items must go Express Mail with signature confirmation.

** All delivery times are in given business days.
---
Payments
PAYMENT "LAY AWAY" SCHEDULES AVAILABLE:
We can work out any payment schedule that would work best for you.

A Downpayment then...

A Payment every two weeks of an agreed minimum as you get paid is a common arrangement.

SHIPPING:
Once the Final Payment is made I immediately send out the jewel Priority 1-3 day mail with INSURANCE and Tracking. Signature Required or not, depending on your preference.

1/2 PRICE SHIPPING:
My shipping fee may seem higher than expected, but I am charging you only 1/2 of what I actually pay.

That is because I INSURE everything at $20 -120 per package.

Domestic 1-3 days.

Or Europe/Australia 4-10 days.

*Remember, additional items shipped for free!

ARTIST SIGNED:
Each original piece has my signature engraved on the inside.

GET STARTED WITH YOUR CUSTOM PIECE:
Contact me in the "Ask a Question" box to the right of this listing, or select the "Request a Custom Order" box on the left side of the main page. Tell me a little bit about what you are envisioning and we'll get started making your creation.

PAYMENT:
To get started on a custom piece all I need is a $50.00 down payment which is applied toward the final Price of your Jewel.
Each custom designed Jewel is different so we will negotiate the price depending on the specifics of your design.

Once you have decided that you want me to make you this ring, either pay in full or I can invoice you for a $50 down payment which goes towards the price of the ring.

TIME FRAME:
Most creations are done in less than a week! But 1-3 weeks is normal.

PAYMENT PLANS:
I realize that this is an expensive once-in-a-lifetime purchase of an heirloom quality ring, and so I offer payment plans for those who need it.

1: As I said you put a $50 down payment down for me to get started...
2: Then you can pay me as low as $50 -100 every two weeks when you get paid until the ring is paid off.
3: Then I mail it to you immediately via priority mail 1-3 day Priority mail with insurance and tracking.

HEIRLOOM QUALITY:
Rest assured that you are investing in an original lifetime heirloom piece of highest quality. Art Jewelry for life.

There are matching Genuine Australian Opal Earrings and Pendants in the shop for this item!

GIFT BOXED:
You will receive this spectacular Handmade jewel in an Amy K Jewels monogrammed gift box. We can even include a blank artistic card completely ready to give as a gift. *Pls ask for gift card.

15% OFF COUPON CODE:
* Reviews are very important on Etsy. If you take the time to leave me a review, I will immediately send you a 15% off coupon code for my shop for your next purchase.

You may also give this coupon code to a friend do some to my shop! I wish you would...!

Enjoy your one-of-a-kiind heirloom quality handmade creation from California Artisan Amy Klitsner.

--live your dream

-with warm regards, Amy K

Amy K Jewels

Shipping options International :

First Class is 10 days plus. No tracking $8 to $11 based on weight
Priority International is 6 to 10 days no tracking. $23.50
Fed Ex International overnight with tracking. $91.00

France : Due to rampant loss all items must go Express Mail with signature confirmation.

** All delivery times are in given business days.
---
Returns & exchanges
All Items refundable if notified within 14 days of receipt. Item must not be used or damaged.