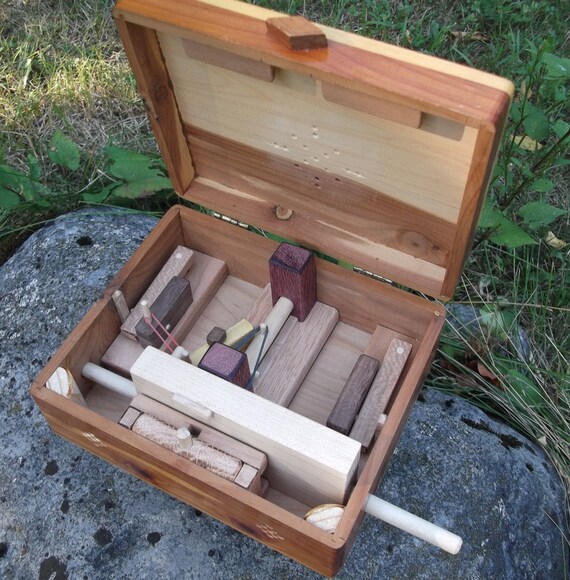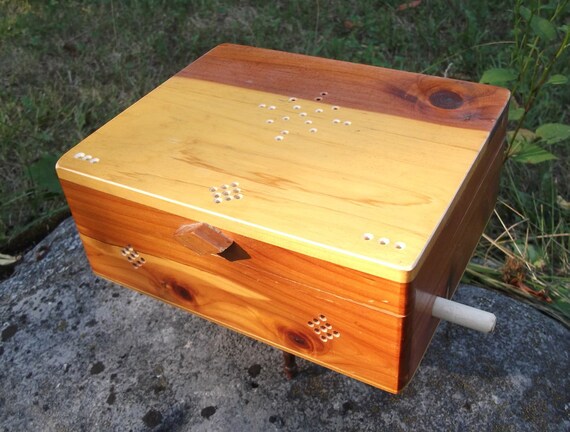 ---
Features
---
Item details
Don't Let it Out - This crafty little puzzle box has a noisy surprise waiting for you. The final move that aligns the internal mechanisms also sets off a blast of gun powder, in the form of kids cap gun blast pack. The holes in the top add to the illusion that there might be something inside that needs oxygen, ...really, they are sound ports that will allow more sound to leave the inside of the box. This is a fun and easy locking system that you can build in a weekend.

Requirements: This size of this box can vary, though you should make sure that it is very solid to start with as the continued explosions can tend to weaken the box over many, many repeated uses. A box of this general proportion will be easiest to build along with the plans.

Available Storage: There are some small spaces that can be utilized for making storage compartments to hold extra explosives
or what not.

These plans are written in a way that reaches out to the guy\gal that loves to tinker in their shop and make something tangible in a few hours. There are many wood boxes around you now that have no real use am I right? ...why not turn it into a puzzle box?

We promote the upcycling of what is around you now. You will find designs for every lid style and doors and drawers. An average woodworker will grasp what is being shown and so not all measurements need to be given, but rather the method of construction is shown so clearly that you can adapt this system to your specific needs. Since it is unlikely that your random found wood box will be exactly the same size as this one is unlikely, ...and unnecessary. Just make sure the lid styles are similar and the general proportions are similar and your off.

What is great is that when you begin with an existing box is that you get to begin working on the locking system right away, ...and if all goes accordingly, you will have a working puzzle box by the end. Once you start amassing a collection of different ones a warm glow will overcome you. ; )

You could have this together and easily working in a day or two depending on woodworking confidence and experience. Learn and appy the skills to your woodworking and get out and make yourself some money!


Skill Level: 2

You will find these plans in your personal Etsy account immediately after payment.

Enjoy!
---
---

Mar 13, 2016 by Ubaldo Nacci
---
More from this seller