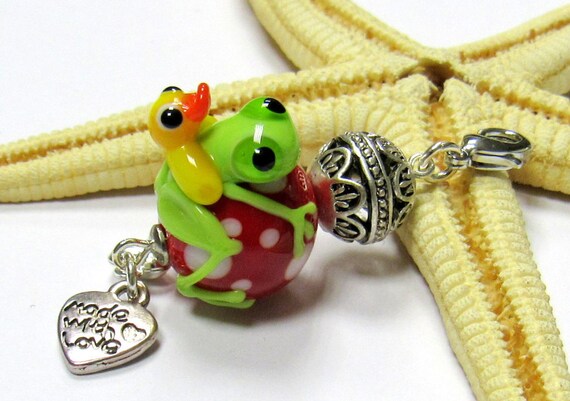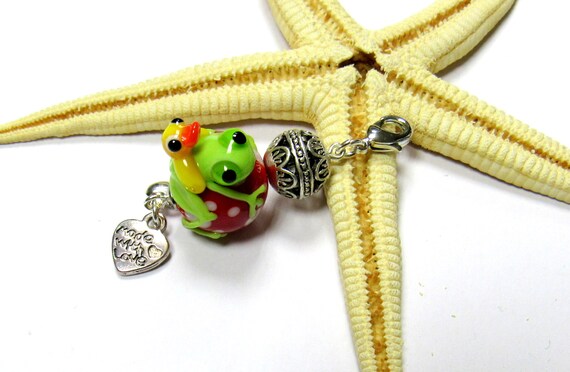 Preparation takes 3-5 business days
---
Features
---
Item details
This is a cute little pendant with a clasp which you can wear as jewelry (necklace or leathercord) or use as a keychain. It is also nice to decorate your handbag or a zipper of a jacket!

The bead measures 17mm in diametre.
I´ll make this frog-bead with swimming ring with duck out off venetian glass. The clasp measures 12mm.

All my beads are designed and handmade by me in my little studio in germany.
They are anealed in my digitally controlled kiln for strength and durability.
---
---
More from this seller
---
Shipping & policies
Preparation takes 3-5 business days
Estimated Shipping
---
Returns & exchanges
I gladly accept returns and exchanges
Contact me within:
14 days of delivery
Ship items back within:
21 days of delivery
I don't accept cancellations
But please contact me if you have any problems with your order.
Conditions of return
Buyers are responsible for return shipping costs. If the item is not returned in its original condition, the buyer is responsible for any loss in value.
Additional return information
Impressum/ Widerrufsbelehrung/ Muster-Widerrufsformular/
Allgemeine Geschäftsbedingungen und Kundeninformationen/ Datenschutzerklärung

Impressum

Gesetzliche Anbieterkennung:

Christiane Imkamp
SMAUGGS Glasperlenatelier
Antoniusstr. 2
59269 Beckum
Deutschland
Telefon: 025218579091
E-Mail: cimkamp@aol.com
USt-IdNr.: DE815029413





Alternative Streitbeilegung:
Die Europäische Kommission stellt eine Plattform für die außergerichtliche Online-Streitbeilegung (OS-Plattform) bereit, aufrufbar unter https://ec.europa.eu/odr.





Widerrufsrecht für Verbraucher
(Verbraucher ist jede natürliche Person, die ein Rechtsgeschäft zu Zwecken abschließt, die überwiegend weder ihrer gewerblichen noch ihrer selbstständigen beruflichen Tätigkeit zugerechnet werden kann.)

Widerrufsbelehrung

Widerrufsrecht
Sie haben das Recht, binnen vierzehn Tagen ohne Angabe von Gründen diesen Vertrag zu widerrufen.
Die Widerrufsfrist beträgt vierzehn Tage ab dem Tag,

- an dem Sie oder ein von Ihnen benannter Dritter, der nicht der Beförderer ist, die Waren in Besitz genommen haben bzw. hat, sofern Sie eine oder mehrere Waren im Rahmen einer einheitlichen Bestellung bestellt haben und diese einheitlich geliefert wird bzw. werden;

Um Ihr Widerrufsrecht auszuüben, müssen Sie uns (Christiane Imkamp, Antoniusstr. 2, 59269 Beckum, Telefonnummer: 02521-8579091, E-Mail-Adresse: cimkamp@aol.com) mittels einer eindeutigen Erklärung (z.B. ein mit der Post versandter Brief, Telefax oder E-Mail) über Ihren Entschluss, diesen Vertrag zu widerrufen, informieren. Sie können dafür das beigefügte Muster-Widerrufsformular verwenden, das jedoch nicht vorgeschrieben ist.

Zur Wahrung der Widerrufsfrist reicht es aus, dass Sie die Mitteilung über die Ausübung des Widerrufsrechts vor Ablauf der Widerrufsfrist absenden.

Folgen des Widerrufs

Wenn Sie diesen Vertrag widerrufen, haben wir Ihnen alle Zahlungen, die wir von Ihnen erhalten haben, einschließlich der Lieferkosten (mit Ausnahme der zusätzlichen Kosten, die sich daraus ergeben, dass Sie eine andere Art der Lieferung als die von uns angebotene, günstigste Standardlieferung gewählt haben), unverzüglich und spätestens binnen vierzehn Tagen ab dem Tag zurückzuzahlen, an dem die Mitteilung über Ihren Widerruf dieses Vertrags bei uns eingegangen ist. Für diese Rückzahlung verwenden wir dasselbe Zahlungsmittel, das Sie bei der ursprünglichen Transaktion eingesetzt haben, es sei denn, mit Ihnen wurde ausdrücklich etwas anderes vereinbart; in keinem Fall werden Ihnen wegen dieser Rückzahlung Entgelte berechnet.

Wir können die Rückzahlung verweigern, bis wir die Waren wieder zurückerhalten haben oder bis Sie den Nachweis erbracht haben, dass Sie die Waren zurückgesandt haben, je nachdem, welches der frühere Zeitpunkt ist.

Sie haben die Waren unverzüglich und in jedem Fall spätestens binnen vierzehn Tagen ab dem Tag, an dem Sie uns über den Widerruf dieses Vertrags unterrichten, an uns zurückzusenden oder zu übergeben. Die Frist ist gewahrt, wenn Sie die Waren vor Ablauf der Frist von vierzehn Tagen absenden.

Sie tragen die unmittelbaren Kosten der Rücksendung der Waren.

Sie müssen für einen etwaigen Wertverlust der Waren nur aufkommen, wenn dieser Wertverlust auf einen zur Prüfung der Beschaffenheit, Eigenschaften und Funktionsweise der Waren nicht notwendigen Umgang mit ihnen zurückzuführen ist.

Ausschluss- bzw. Erlöschensgründe

Das Widerrufsrecht besteht nicht bei Verträgen

- zur Lieferung von Waren, die nicht vorgefertigt sind und für deren Herstellung eine individuelle Auswahl oder Bestimmung durch den Verbraucher maßgeblich ist oder die eindeutig auf die persönlichen Bedürfnisse des Verbrauchers zugeschnitten sind;
- zur Lieferung von Waren, die schnell verderben können oder deren Verfallsdatum schnell überschritten würde;
- zur Lieferung alkoholischer Getränke, deren Preis bei Vertragsschluss vereinbart wurde, die aber frühestens 30 Tage nach Vertragsschluss geliefert werden können und deren aktueller Wert von Schwankungen auf dem Markt abhängt, auf die der Unternehmer keinen Einfluss hat;
- zur Lieferung von Zeitungen, Zeitschriften oder Illustrierten mit Ausnahme von Abonnement-Verträgen.

Das Widerrufsrecht erlischt vorzeitig bei Verträgen

- zur Lieferung versiegelter Waren, die aus Gründen des Gesundheitsschutzes oder der Hygiene nicht zur Rückgabe geeignet sind, wenn ihre Versiegelung nach der Lieferung entfernt wurde;
- zur Lieferung von Waren, wenn diese nach der Lieferung aufgrund ihrer Beschaffenheit untrennbar mit anderen Gütern vermischt wurden;
- zur Lieferung von Ton- oder Videoaufnahmen oder Computersoftware in einer versiegelten Packung, wenn die Versiegelung nach der Lieferung entfernt wurde.


Muster-Widerrufsformular

(Wenn Sie den Vertrag widerrufen wollen, dann füllen Sie bitte dieses Formular aus und senden Sie es zurück.)

- An Christiane Imkamp, Antoniusstr. 2, 59269 Beckum, E-Mail-Adresse: cimkamp@aol.com :

- Hiermit widerrufe(n) ich/ wir (*) den von mir/ uns (*) abgeschlossenen Vertrag über den Kauf der folgenden Waren (*)/
die Erbringung der folgenden Dienstleistung (*)

- Bestellt am (*)/ erhalten am (*)

- Name des/ der Verbraucher(s)
- Anschrift des/ der Verbraucher(s)
- Unterschrift des/ der Verbraucher(s) (nur bei Mitteilung auf Papier)
- Datum

(*) Unzutreffendes streichen.




Allgemeine Geschäftsbedingungen und Kundeninformationen / Datenschutzerklärung

I. Allgemeine Geschäftsbedingungen

1 Grundlegende Bestimmungen

(1) Die nachstehenden Geschäftsbedingungen gelten für alle Verträge, die Sie mit uns als Anbieter (Christiane Imkamp) über die Internetplattform etsy schließen. Soweit nicht anders vereinbart, wird der Einbeziehung gegebenenfalls von Ihnen verwendeter eigener Bedingungen widersprochen.

(2) Verbraucher im Sinne der nachstehenden Regelungen ist jede natürliche Person, die ein Rechtsgeschäft zu Zwecken abschließt, die überwiegend weder ihrer gewerblichen noch ihrer selbständigen beruflichen Tätigkeit zugerechnet werden kann. Unternehmer ist jede natürliche oder juristische Person oder eine rechtsfähige Personengesellschaft, die bei Abschluss eines Rechtsgeschäfts in Ausübung ihrer selbständigen beruflichen oder gewerblichen Tätigkeit handelt.

2 Zustandekommen des Vertrages

(1) Gegenstand des Vertrages ist der Verkauf von Waren.

(2) Wird ein Artikel von uns bei etsy eingestellt, liegt in der Freischaltung der Angebotsseite bei etsy das verbindliche Angebot zum Abschluss eines Kaufvertrages zu den in der Artikelseite enthaltenen Bedingungen.

(3) Der Kaufvertrag kommt über das Online-Warenkorbsystem wie folgt zustande:
Die zum Kauf beabsichtigten Waren werden im Warenkorb abgelegt. Über die entsprechende Schaltfläche in der Navigationsleiste können Sie den Warenkorb aufrufen und dort jederzeit Änderungen vornehmen. Nach Auswahl der Zahlungsart und Aufrufen der Seite Zur Kasse gehen oder Mit PayPal kaufen erfolgt die Eingabe der persönlichen Daten sowie der zahlungsartbezogenen Daten. Abschließend werden nochmals alle Bestelldaten auf der Bestellübersichtsseite angezeigt.

Soweit Sie als Zahlungsart ein Sofortzahl-System (z.B. PayPal oder Sofortüberweisung) nutzen, werden Sie zunächst auf die Webseite des Anbieters des Sofortzahl-Systems weitergeleitet. Abschließend werden Sie zurück zu etsy auf die Bestellübersichtsseite geleitet.

Vor Absenden der Bestellung haben Sie die Möglichkeit, auf der Bestellübersichtsseite sämtliche Angaben nochmals zu überprüfen, zu ändern (auch über die Funktion zurück des Internetbrowsers) bzw. den Kauf abzubrechen.
Mit dem Absenden der Bestellung über die entsprechende Schaltfläche erklären Sie rechtsverbindlich die Annahme des Angebotes, wodurch der Kaufvertrag zustande kommt.

(4) Die Abwicklung der Bestellung und Übermittlung aller im Zusammenhang mit dem Vertragsschluss erforderlichen Informationen erfolgt per E-Mail zum Teil automatisiert. Sie haben deshalb sicherzustellen, dass die von Ihnen bei uns hinterlegte E-Mail-Adresse zutreffend ist, der Empfang der E-Mails technisch sichergestellt und insbesondere nicht durch SPAM-Filter verhindert wird.

3 Individuell gestaltete Waren

(1) Sie stellen uns die für die individuelle Gestaltung der Waren erforderlichen geeigneten Informationen, Texte oder Dateien über das Online-Bestellsystem oder spätestens unverzüglich nach Vertragsschluss per E-Mail zur Verfügung. Unsere etwaigen Vorgaben zu Dateiformaten sind zu beachten.

(2) Sie verpflichten sich, keine Daten zu übermitteln, deren Inhalt Rechte Dritter (insbesondere Urheberrechte, Namensrechte, Markenrechte) verletzen oder gegen bestehende Gesetze verstoßen. Sie stellen uns ausdrücklich von sämtlichen in diesem Zusammenhang geltend gemachten Ansprüchen Dritter frei. Das betrifft auch die Kosten der in diesem Zusammenhang erforderlichen rechtlichen Vertretung.

(3) Wir nehmen keine Prüfung der übermittelten Daten auf inhaltliche Richtigkeit vor und übernehmen insoweit keine Haftung für Fehler.

(4) Soweit in der jeweiligen Artikelbeschreibung angegeben, erhalten Sie von uns eine Korrekturvorlage übersandt, die von Ihnen unverzüglich zu prüfen ist. Sind Sie mit dem Entwurf einverstanden, geben Sie die Korrekturvorlage durch Gegenzeichnung in Textform (z.B. E-Mail) zur Ausführung frei.
Eine Ausführung der Gestaltungsarbeiten ohne Ihre Freigabe erfolgt nicht.
Sie sind dafür verantwortlich, die Korrekturvorlage auf Richtigkeit und Vollständigkeit zu überprüfen und uns etwaige Fehler mitzuteilen. Wir übernehmen keine Haftung für nichtbeanstandete Fehler.

4 Zurückbehaltungsrecht, Eigentumsvorbehalt

(1) Ein Zurückbehaltungsrecht können Sie nur ausüben, soweit es sich um Forderungen aus demselben Vertragsverhältnis handelt.

(2) Die Ware bleibt bis zur vollständigen Zahlung des Kaufpreises unser Eigentum.

5 Gewährleistung

(1) Es bestehen die gesetzlichen Mängelhaftungsrechte.

(2) Als Verbraucher werden Sie gebeten, die Sache bei Lieferung umgehend auf Vollständigkeit, offensichtliche Mängel und Transportschäden zu überprüfen und uns sowie dem Spediteur Beanstandungen schnellstmöglich mitzuteilen. Kommen Sie dem nicht nach, hat dies keine Auswirkung auf Ihre gesetzlichen Gewährleistungsansprüche.

6 Rechtswahl

(1) Es gilt deutsches Recht. Bei Verbrauchern gilt diese Rechtswahl nur, soweit hierdurch der durch zwingende Bestimmungen des Rechts des Staates des gewöhnlichen Aufenthaltes des Verbrauchers gewährte Schutz nicht entzogen wird (Günstigkeitsprinzip).

(2) Die Bestimmungen des UN-Kaufrechts finden ausdrücklich keine Anwendung.





II. Kundeninformationen

1. Identität des Verkäufers

Christiane Imkamp
Antoniusstr. 2
59269 Beckum
Deutschland
Telefon: 025218579091
E-Mail: cimkamp@aol.com


Alternative Streitbeilegung:
Die Europäische Kommission stellt eine Plattform für die außergerichtliche Online-Streitbeilegung (OS-Plattform) bereit, aufrufbar unter https://ec.europa.eu/odr.

2. Informationen zum Zustandekommen des Vertrages

Die technischen Schritte zum Vertragsschluss, der Vertragsschluss selbst und die Korrekturmöglichkeiten erfolgen nach Maßgabe der Regelungen Zustandekommen des Vertrages unserer Allgemeinen Geschäftsbedingungen (Teil I.).

3. Vertragssprache, Vertragstextspeicherung

3.1. Vertragssprache ist deutsch.

3.2. Der vollständige Vertragstext wird von uns nicht gespeichert. Vor Absenden der Bestellung können die Vertragsdaten über die Druckfunktion des Browsers ausgedruckt oder elektronisch gesichert werden. Nach Zugang der Bestellung bei uns werden die Bestelldaten, die gesetzlich vorgeschriebenen Informationen bei Fernabsatzverträgen und die Allgemeinen Geschäftsbedingungen nochmals per E-Mail an Sie übersandt.

4. Wesentliche Merkmale der Ware oder Dienstleistung

Die wesentlichen Merkmale der Ware und/oder Dienstleistung finden sich im jeweiligen Angebot.

5. Preise und Zahlungsmodalitäten

5.1. Die in den jeweiligen Angeboten angeführten Preise sowie die Versandkosten stellen Gesamtpreise dar. Sie beinhalten alle Preisbestandteile einschließlich aller anfallenden Steuern.

5.2. Die anfallenden Versandkosten sind nicht im Kaufpreis enthalten. Sie sind über eine entsprechend bezeichnete Schaltfläche auf unserer Internetpräsenz oder im jeweiligen Angebot aufrufbar, werden im Laufe des Bestellvorganges gesondert ausgewiesen und sind von Ihnen zusätzlich zu tragen, soweit nicht die versandkostenfreie Lieferung zugesagt ist.

5.3. Erfolgt die Lieferung in Länder außerhalb der Europäischen Union können von uns nicht zu vertretende weitere Kosten anfallen, wie z.B. Zölle, Steuern oder Geldübermittlungsgebühren (Überweisungs- oder Wechselkursgebühren der Kreditinstitute), die von Ihnen zu tragen sind. Entstandene Kosten der Geldübermittlung sind von Ihnen auch in den Fällen zu tragen, in denen die Lieferung in einen EU-Mitgliedsstaat erfolgt, die Zahlung aber außerhalb der Europäischen Union veranlasst wurde.

5.4. Die Ihnen zur Verfügung stehenden Zahlungsarten sind unter einer entsprechend bezeichneten Schaltfläche auf unserer Internetpräsenz oder im jeweiligen Angebot ausgewiesen.

5.5. Soweit bei den einzelnen Zahlungsarten nicht anders angegeben, sind die Zahlungsansprüche aus dem geschlossenen Vertrag sofort zur Zahlung fällig.

6. Lieferbedingungen

6.1. Die Lieferbedingungen, der Liefertermin sowie gegebenenfalls bestehende Lieferbeschränkungen finden sich unter einer entsprechend bezeichneten Schaltfläche auf unserer Internetpräsenz oder im jeweiligen Angebot.

Soweit im jeweiligen Angebot oder unter der entsprechend bezeichneten Schaltfläche keine andere Frist angegeben ist, erfolgt die Lieferung der Ware innerhalb von 3-5 Tagen nach Vertragsschluss (bei vereinbarter Vorauszahlung jedoch erst nach dem Zeitpunkt Ihrer Zahlungsanweisung).

6.2. Soweit Sie Verbraucher sind ist gesetzlich geregelt, dass die Gefahr des zufälligen Untergangs und der zufälligen Verschlechterung der verkauften Sache während der Versendung erst mit der Übergabe der Ware an Sie übergeht, unabhängig davon, ob die Versendung versichert oder unversichert erfolgt. Dies gilt nicht, wenn Sie eigenständig ein nicht vom Unternehmer benanntes Transportunternehmen oder eine sonst zur Ausführung der Versendung bestimmte Person beauftragt haben.

7. Gesetzliches Mängelhaftungsrecht

Die Mängelhaftung richtet sich nach der Regelung Gewährleistung in unseren Allgemeinen Geschäftsbedingungen (Teil I).

letzte Aktualisierung: 07.12.2017






Datenschutzerklärung

Soweit nachstehend keine anderen Angaben gemacht werden, ist die Bereitstellung Ihrer personenbezogenen Daten weder gesetzlich oder vertraglich vorgeschrieben, noch für einen Vertragsabschluss erforderlich. Sie sind zur Bereitstellung der Daten nicht verpflichtet. Eine Nichtbereitstellung hat keine Folgen. Dies gilt nur soweit bei den nachfolgenden Verarbeitungsvorgängen keine anderweitige Angabe gemacht wird.
Personenbezogene Daten sind alle Informationen, die sich auf eine identifizierte oder identifizierbare natürliche Person beziehen.


Erhebung, Verarbeitung und Weitergabe personenbezogener Daten bei Bestellungen

Bei der Bestellung erheben und verarbeiten wir Ihre personenbezogenen Daten nur, soweit dies zur Erfüllung und Abwicklung Ihrer Bestellung sowie zur Bearbeitung Ihrer Anfragen erforderlich ist. Die Bereitstellung der Daten ist für den Vertragsschluss erforderlich. Eine Nichtbereitstellung hat zur Folge, dass kein Vertrag geschlossen werden kann. Die Verarbeitung erfolgt auf Grundlage des Art. 6 Abs. 1 lit. b DSGVO und ist für die Erfüllung eines Vertrags mit Ihnen erforderlich.

Eine Weitergabe Ihrer Daten erfolgt dabei beispielsweise an die von Ihnen gewählten Versandunternehmen und Dropshipping Anbieter, Zahlungsdienstleister, Diensteanbieter für die Bestellabwicklung und IT-Dienstleister. In allen Fällen beachten wir strikt die gesetzlichen Vorgaben. Der Umfang der Datenübermittlung beschränkt sich auf ein Mindestmaß.

Dauer der Speicherung
Nach vollständiger Vertragsabwicklung werden die Daten zunächst für die Dauer der Gewährleistungsfrist, danach unter Berücksichtigung gesetzlicher, insbesondere steuer- und handelsrechtlicher Aufbewahrungsfristen gespeichert und dann nach Fristablauf gelöscht, sofern Sie der weitergehenden Verarbeitung und Nutzung nicht zugestimmt haben.

Rechte der betroffenen Person
Ihnen stehen bei Vorliegen der gesetzlichen Voraussetzungen folgende Rechte nach Art. 15 bis 20 DSGVO zu: Recht auf Auskunft, auf Berichtigung, auf Löschung, auf Einschränkung der Verarbeitung, auf Datenübertragbarkeit.
Außerdem steht Ihnen nach Art. 21 (1) DSGVO ein Widerspruchsrecht gegen die Verarbeitungen zu, die auf Art. 6 (1) f DSGVO beruhen, sowie gegen die Verarbeitung zum Zwecke von Direktwerbung.

Kontaktieren Sie uns auf Wunsch. Die Kontaktdaten finden Sie in unserem Impressum.

Beschwerderecht bei der Aufsichtsbehörde
Sie haben gemäß Art. 77 DSGVO das Recht, sich bei der Aufsichtsbehörde zu beschweren, wenn Sie der Ansicht sind, dass die Verarbeitung Ihrer personenbezogenen Daten nicht rechtmäßig erfolgt.

Widerspruchsrecht
Beruhen die hier aufgeführten personenbezogenen Datenverarbeitungen auf Grundlage unseres berechtigten Interesses nach Art. 6 Abs. 1 lit. f DSGVO, haben Sie das Recht aus Gründen, die sich aus Ihrer besonderen Situation ergeben, jederzeit diesen Verarbeitungen mit Wirkung für die Zukunft zu widersprechen.
Nach erfolgtem Widerspruch wird die Verarbeitung der betroffenen Daten beendet, es sei denn, wir können zwingende schutzwürdige Gründe für die Verarbeitung nachweisen, die Ihre Interessen, Rechte und Freiheiten überwiegen, oder wenn die Verarbeitung der Geltendmachung, Ausübung oder Verteidigung von Rechtsansprüchen dient.

Erfolgt die personenbezogene Datenverarbeitung zu Zwecken der Direktwerbung, können Sie dieser Verarbeitung jederzeit durch Mitteilung an uns widersprechen. Nach erfolgtem Widerspruch beenden wir die Verarbeitung der betroffenen Daten zum Zwecke der Direktwerbung.

letzte Aktualisierung: 25.04.2018



---
Additional policies
Standard Business Terms and customer information

I. Standard business terms

§ 1 Basic provisions

(1) The following business terms are applicable to all the contracts which you conclude with us as a supplier (Christiane Imkamp) via the etsy Internet platform. Unless otherwise agreed upon, the inclusion, if necessary, of your own conditions is ruled out.

(2) A 'consumer' in the sense of the following regulations is every natural person who concludes a legal transaction which, to an overwhelming extent, cannot be attributed to either his commercial or independent professional activities. The term 'businessman' refers to every natural person, legal person or legally responsible partnership that concludes a legal transaction in pursuance of his/its independent professional or commercial activity.

§ 2 Conclusion of the contract

(1) The subject-matter of the contract is the selling of products.

(2) If we set up an item vis-a-vis etsy, the activation of the supply-side domain at etsy encompasses the binding offer associated with the conclusion of a purchase contract under the conditions specified on the page associated with the item in question.

(3) The purchase agreement takes place via the online shopping cart system as follows:
The products intended for purchase are moved to the "shopping cart". You can select the "shopping cart" using the appropriate buttons on the navigation bar and make changes there at any time. After selecting the payment method and selecting "proceed to checkout" or "pay with PayPal", personal information and payment data is entered. Finally, all of the order data is shown again on the order summary page.

If you use an upfront payment system (e.g. Paypal or Sofortüberweisung), you will initially be transferred to the website of the payment system provider. Finally, you will be routed back to Etsy on the order summary page.

Before submitting the order, you have the ability once more to review or change any information on the order summary page (you may also use the "back" button on the Internet browser), or to cancel the purchase.
By clicking the appropriate button to submit the order, you declare acceptance of the order in a legally binding way by which the purchase agreement takes place.

(4) The execution of the order and the sending of all the details necessitated by the conclusion of the contract take place via e-mail, in a partially-automated manner. Consequently, you have to ensure that the e-mail address that you have deposited with us is the correct one, and that the receipt of the respective e-mails is guaranteed. In particular, you have to ensure that the respective e-mails are not blocked by a SPAM filter.

§ 3 Individually-designed products

(1) You are to use the on-line ordering system to provide us with the respective details, texts or files that are necessary for the customised designing of the products in question. This can also be done via e-mail, in which case it must be done in a prompt manner after the contract has been concluded. Any potential specifications issued by the supplier regarding file formats are to be borne in mind.

(2) You are obligated to ensure that you do not transfer data whose contents violate the rights of external parties (especially copyrights, rights to names and trademark rights) or break existing laws. You explicitly free us from any and all claims related to this matter that may be raised by external parties. This also applies to the costs associated with any legal representation that may become necessary in this regard.

(3) We do not check the transferred data for textual accuracy. In this respect, we assume no liability for errors.

(4) Insofar as such a provision is specified in the product description, you shall receive a correction template from us, which you should check in a prompt manner. If you approve of the design, you are to approve the correction template for execution through a counter-signature in text format (e.g. e-mail).
Tasks related to the creation of the product in question are not carried out without your approval.
You are responsible for checking the correction template for accuracy and completeness and bringing any potential errors to our attention. We assume no liability for unqueried errors.

§ 4 Right of retention, reservation of proprietary rights

(1) You can only exercise a right of retention if the situation in question involves claims arising from the same contractual relationship.

(2) The goods remain our property until the purchase price is paid in full.

§ 5 Warranty

(1) The statutory warranty rights are applicable.

(2) As a consumer, you are requested to promptly check the product for completeness, visible defects and transport damage as soon as it is delivered, and promptly disclose your complaints to us and the shipping company in writing. Even if you do not comply with this request, it shall have no effect on your legal warranty claims.

§ 6 Choice of law

(1) German law shall apply. This choice of law only applies to customers if it does not result in the revocation of the protection guaranteed by the mandatory provisions of the law of the country in which the respective customer's usual place of residence is located (benefit-of-the-doubt principle).

(2) The provisions of the UN Convention on Contracts for the International Sale of Goods are explicitly inapplicable.

_______________________________________________________________________________________


II. Customer information

1. Identity of the seller

Christiane Imkamp
Antoniusstr. 2
59269 Beckum
Germany
Telephone: 025218579091
E-Mail: cimkamp [!at] aol.com


Alternative dispute resolution:
The European Commission provides a platform for the out-of-court resolution of disputes (ODR platform), which can be viewed under https://ec.europa.eu/odr.

2. Information regarding the conclusion of the contract

The technical steps associated with the conclusion of the contract, the contract conclusion itself and the correction options are executed in accordance to the regulations "conclusion of the contract" in our standard business terms (part I.).

3. Contractual language, saving the text of the contract

3.1 Contract language shall be English.

3.2 The complete text of the contract is not saved with us. Before the order is sent, the contract data can be printed out or electronically saved using the browser's print function. After the order is received by us, the order data, the legally-mandated details related to distance selling contracts and the standard business terms are re-sent to you via e-mail.

4. Main features of the product or service

The key features of the goods and/or services can be found in the respective quote.

5. Prices and payment arrangements

5.1 The prices mentioned in the respective offers represent total prices, as do the shipping costs. They include all the price components, including all the incidental taxes.

5.2 The dispatch costs that are incurred are not included in the purchase price. They can be viewed by clicking the appropriate button on our website or in the respective quote, are shown separately over the course of the order transaction and must additionally be borne by you, insofar as free delivery is not confirmed.

5.3 If delivery is made to countries outside of the European Union, we may incur unreasonable additional costs, such as duties, taxes or money transfer fees (transfer or foreign exchange fees charged by the banks), which you must bear. You must also bear the costs arising from money transfers in cases in which the delivery is made to an EU Member State, but the payment is initiated outside of the European Union.

5.4 The payment methods that are available to you are shown by clicking the appropriate button on our website or are disclosed in the respective quote.

5.5 Unless otherwise specified for the respective payment methods, the payment claims arising from the contract that has been concluded become payable immediately.

6. Delivery conditions

6.1 The delivery conditions, delivery date and existing supply restrictions, if applicable, can be found by clicking the appropriate button on our website or in the respective quote.

Unless a different period is specified in the item description or our delivery conditions, the goods are delivered within 3-5 days after the conclusion of the contract (in case an advance payment has been agreed upon, after the payment authorisation).

6.2 If you are a consumer, the following is statutorily regulated: The risk of the sold item accidentally being destroyed or degraded during shipping only passes over to you when the item in question is delivered, regardless of whether or not the shipping operation is insured. This condition does not apply if you have independently commissioned a transport company that has not been specified by us or a person who has otherwise been appointed to execute the shipping operation.

7. Statutory warranty right

Liability for defects is governed by the "Warranty" provisions in our General Terms and Conditions of Business (Part I).

last update: 07.12.2017