Lovely Raven Haired Dark eyed Latin Pinup with Gardenia Waterslide Decal for guitars, lockers, toolboxes, furniture jewelry boxes S789
(1)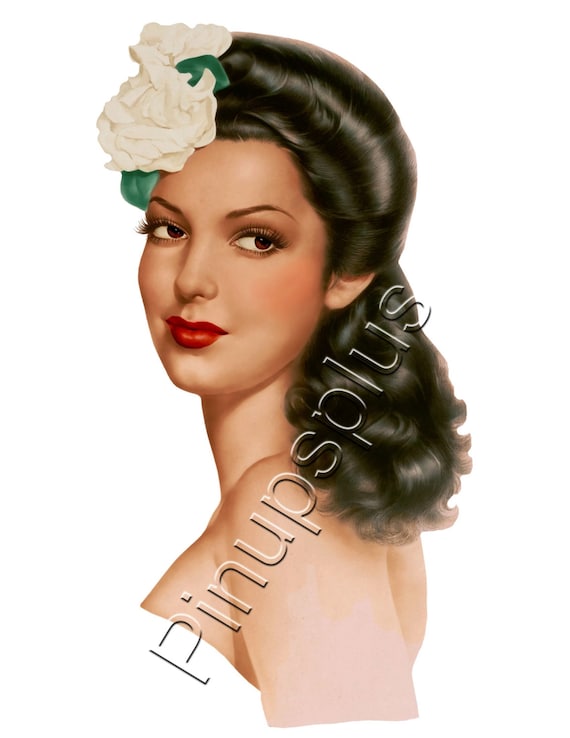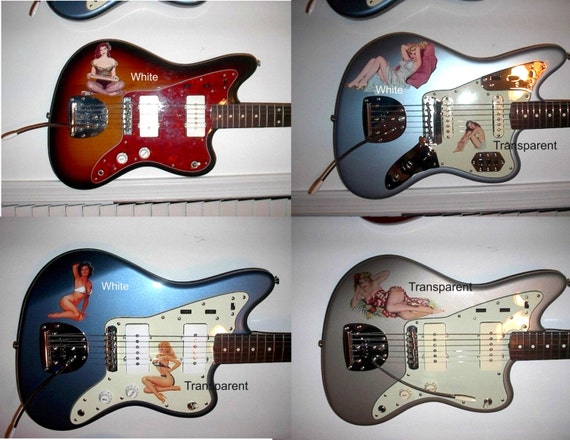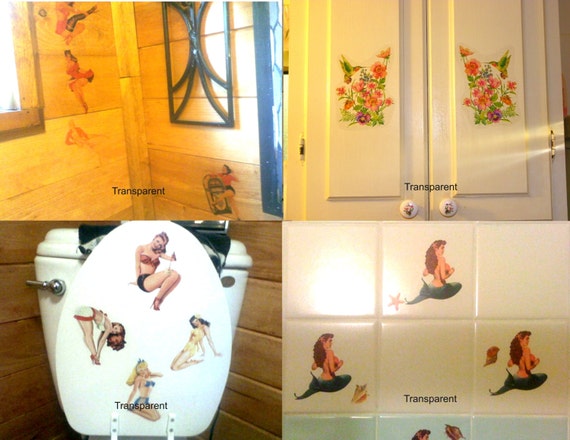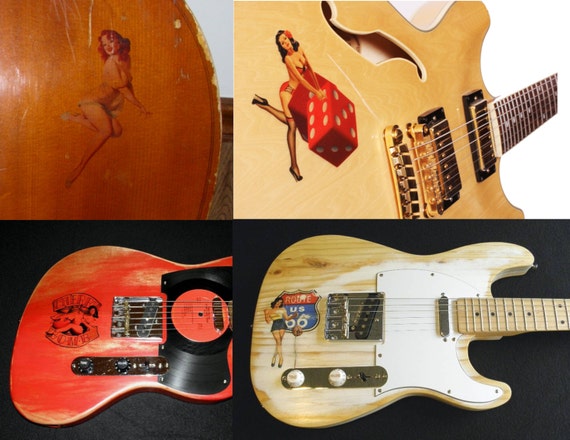 Preparation takes 1-2 business days
Arrives from the United States
---
Features
Made in Yorba Linda, California
---
Item details
This image measures 5 inches tall from the tallest point top to bottom and 2 & 3/4 inches wide at its widest point side to side and is printed on a 4 & 1/4 x 5 & 1/2 inch sheet of water slide material.

Important ordering information

This is a Waterslide Decal Sticker and not a Peel and Stick Sticker. Water applies it and Water will remove it. Please keep this in mind when ordering. The uses for waterslides are only limited by your imagination.

Decals are offered in white or transparent, please choose the appropriate substrate for your surface.

The transparent water slides look great on light colored surfaces but will not show up on darker or black or transparent (glass) surfaces. There is no white print on transparent decals therefore any white areas shown on the image will take on the color of the surface they are placed on.

White water slides are completely opaque and white shown on the monitor will remain white on your object, they must be trimmed more carefully to prevent a white outline from showing on your object. If you have determined that white is the correct choice for your project, please be mindful that intricate designs with strings, ribbons or lettering that protrude beyond the image will be very difficult to trim.

Water slides are fabulous for guitars and indoor application and are not suitable for application to vehicles unless they will be clear-coated into the finish. Our decals can be used for guitars, toolboxes, gum machines, lockers, jewelry boxes and much much more. We have many custom chopper shops that opt to use our decals in their custom paint jobs instead of hand painting the designs which would cost much much more.

Water slides may not be compatible with all clear-coats or surfaces, please utilize our tester to check compatibility.
---
---
More from this seller
---
Shipping & policies
Preparation takes 1-2 business days
Arrives from the United States
Estimated Shipping
We generally ship within 24 hours of purchase Monday through Friday.

Please note, shipping upgrades speed up the shipping time and not the amount of time we take to process the order. Processing times remain the same as are quoted in the listing.
---
Payments
We do accept payment by PayPal or through Etsy check out. You can use your major credit card to check out via Paypal through Guest checkout and do NOT need to join Paypal to pay.

Cancellations are accepted up until the item actually ships. Once shipped the buyer is welcome to return the item at their expense, see returns and refunds section below.
---
Returns & exchanges
We are happy to accept returns or exchanges on any non-custom item.

Decals:
Returns or exchanges are accepted for any reason provided they are returned within 14 days in their original uncut condition and in their plastic protective sleeve. We do send out a tester with each waterslide purchase so our buyers can try out and practice with it prior to cutting into their purchase.

Non Decal items:
Returns are accepted for any reason provided they are returned within 14 days in their original condition.

For returns, the buyer pays return shipping and original shipping will be deducted from the refund.

For exchanges, the buyer pays return shipping and would be responsible for shipping costs to have the replacement item shipped

If you item arrives damaged, please do not attempt to repair it since we will not accept a return on an altered item. We do not provide partial refunds for any reason since we do not want our buyers to be partially happy. If there is a problem with your item, please contact us and we will arrange a return.
---
Additional policies
Please Convo us in regards to wholesale inquiries.

FAQ

Question -
How do I know whether to purchase a waterslide decal or a vinyl decal? What is the difference?

Answer -
Waterslides are great for guitars or generally any smooth indoor items, items that will not come in contact with large amounts of water or items that will be clear-coated over. The general rule of thumb we give is.... Water on, water off. This is not to say that if the decals come in contact with small amounts of water they will come off. We have had waterslides in our bathrooms on cabinets that have endured the daily steam caused by showers for several years now and they remain as nice today as the day we applied them. We have had some customers decide they wanted to embed our waterslides into their custom paint jobs on their motorcycles, scooters or motor vehicles, these have been clear-coated over.

Vinyl on the other hand are great for any outdoor item, whether it is a motor vehicle or a boat, these vinyl decals should last and last. If your vinyl is going to be in direct sun though you may wish to treat them with a UV protectant that will help to extent the life of the decal, you can pick up a great UV protection spray for about $3.00 at your local home and garden center. We don't recommend the vinyl decals be applied to guitars unless it will be applied to the pick guard due to some nitro cellulose finishes reacting with vinyl. We offer two types of Vinyl, semi-permanent which uses an adhesive to attach the decal to the surface and a temporary (cling) which uses static electricity to attach the decal to the surface. The semi-permanant vinyl decals will leave a residue once removed from the object but the residue can easily be removed by common rubbing alcohol. The temporary or cling vinyl decals will not leave any residue at all. We have tested the cling on a vehicle driving on the freeways and city streets and they are not removed by wind resistance.

Question -
How do I know whether I should order white or transparent decals?

Answer -
Transparent should only be chosen for white or light colored surfaces. Anything shown on our decals as white is actually the lack or color, that portion of the decal is completely transparent. This means that if the decal is placed on something that is pink anything that is showing white on the image will now be pink. Also since the decals are very transparent these will not show on dark or black surfaces, you would need to order the white decal material for black or dark surfaces. The advantage of the transparent decals is that once applied they look very much like a custom paint job, they really blend into whatever surface they have been applied to. The disadvantage of the transparent decals is that they blend into whatever surface they have been applied to, if you are trying to put a transparent decal on a black guitar it is much like a polar bear in a snow storm.... It isn't going to show up.

White can be chosen for any colored surface but is really your only alternative for black or dark colored surfaces. The success of the white decals is really in the hands of the person who trims the decal, the tighter the image is trimmed, the better the application will look. If the trimmer leaves a white outline around the image, there will be a white outline around the image. You can see some great examples of both white and transparent applications in the Wall of Fame 1 and the Wall of Fame 2 on our store page, just look for the link towards the top.


Question -
I've heard that some waterslide decals can cause damage to a guitar finish, is this true?

Answer -
Not at all, Waterslides use a gum adhesive that is safe for any guitar finish. Whether you are purchasing the inkjet version or the laser verision there is no damage. We happen to use the laser version, but either is very safe. As stated before Vinyl can cause damage but since neither the inkjet or the laser versions use vinyl there is no damage. Inkjet decals must be clear-coated to fix the inks but the clear-coat would NEVER be vinyl.

Question -
What if we want to order one of your sheets that have writing on them or really small images on them, how are we going to cut out the lettering or the small images... say for model airplanes.

Answer -
We do not recommend the sheets that have writing on them or very small images for application to dark or black surfaces because they are virtually impossible to trim and have them look appropriate. There are a few work arounds especially for the little model airplanes, please contact us and we will be happy to share those work arounds with you. If you see one of the decals that has writing on it and you need for a dark surface, please contact us and we will see if there is an alternative for you.