25pcs 8mm x 3mm - 1/3" x 1/8" N52 Strong Round Small Disc Rare Earth Neodymium Fridge Magnets
(6)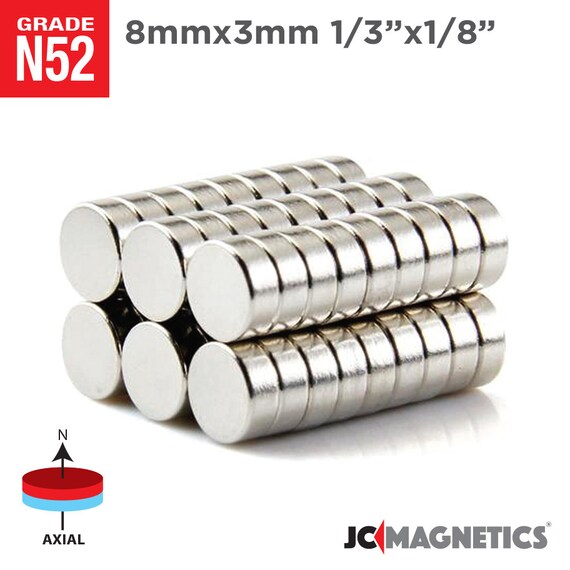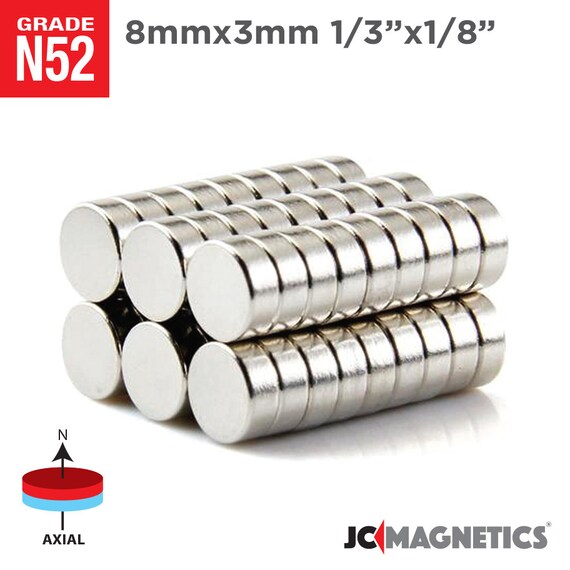 Arrives from the United States
---
Item details
25pcs 8 x 3 mm N52 Strong Round Magnets Rare Earth NdFeB Neodymium Magnets

Specification:
Dimensions: 8mm x 3mm thick (approx. 1/3" x1/8" thick)
Tolerances: ±0.2mm x ±0.2mm (0.01in)
Material: NdFeB, Grade N52 (maximum strength)
Plating/Coating: Ni-Cu-Ni (Nickel)
Magnetization Direction: Axial (Poles on Flat Ends)
Max Operating Temp: 176ºF (80ºC)

Material Features:
Neodymium (chemical symbol Nd) is element 60 on the periodic table. It is a rare earth metal and forms one of the Lanthanides series. When added to Iron (Fe) and Boron (B) (chemical formula Nd14Fe21B) the resultant magnets are the strongest magnets currently available. Neodymium magnets are sometimes known as Neo, Neod or NIB magnets.
Neodymium magnets are usually coated Nickel-Copper-Nickel plating to prevent the iron from rusting.
Neodymium magnets are made of a brittle material. These magnets are not as strong as steel. They are more like a brittle ceramic. If you let two magnets slam together, they can crack and break. This is true for magnets large and small.

WARNING!!!
Strong magnets should Keep away from Ironware and some easily magnetized iron products, such as monitors, bank cards, computers, televisions, mobile phones and other.
These magnets are very powerful which should be handled with great care. Without parents supervised do not allow children to playing magnets as they could get injured. Especially pay attention to the small magnets , please place in somewhere children can't reach place.
---
---
Hard to find size and strength magnets. Thank you.
May 9, 2018 by Susan Karg
Item was exactly as described. Arrived on the early side of the expected arrival window. (always a pleasant surprise when that happens!) The magnets are small but strong! I picked these up to experiment with using magnets as latches on some wooden boxes I make. Two pairs of these do an excellent job of snapping my 5" box shut and holding it tightly closed. I've already come up with 3 other creative ways to use these in my wood working to create awesomely subtle latching, spacing, and connecting mechanisms. I'm genuinely excited about the creativity these little guys are inspiring, and how easily they are hidden in projects.
Nov 9, 2016 by Garrett Raney
Seriously strong magnets! And the perfect size!
Sep 15, 2016 by AmandaPrice83
Aug 24, 2016 by Younghui Slania
---
More from this seller
---
Shipping & policies
Arrives from the United States
Estimated Shipping