PDF Gracefaerie Pattern no. 31, Shorts Story; BJD SD shorts and dress shirt pattern AoD cp Luts Delf and Metro Gender Steampunk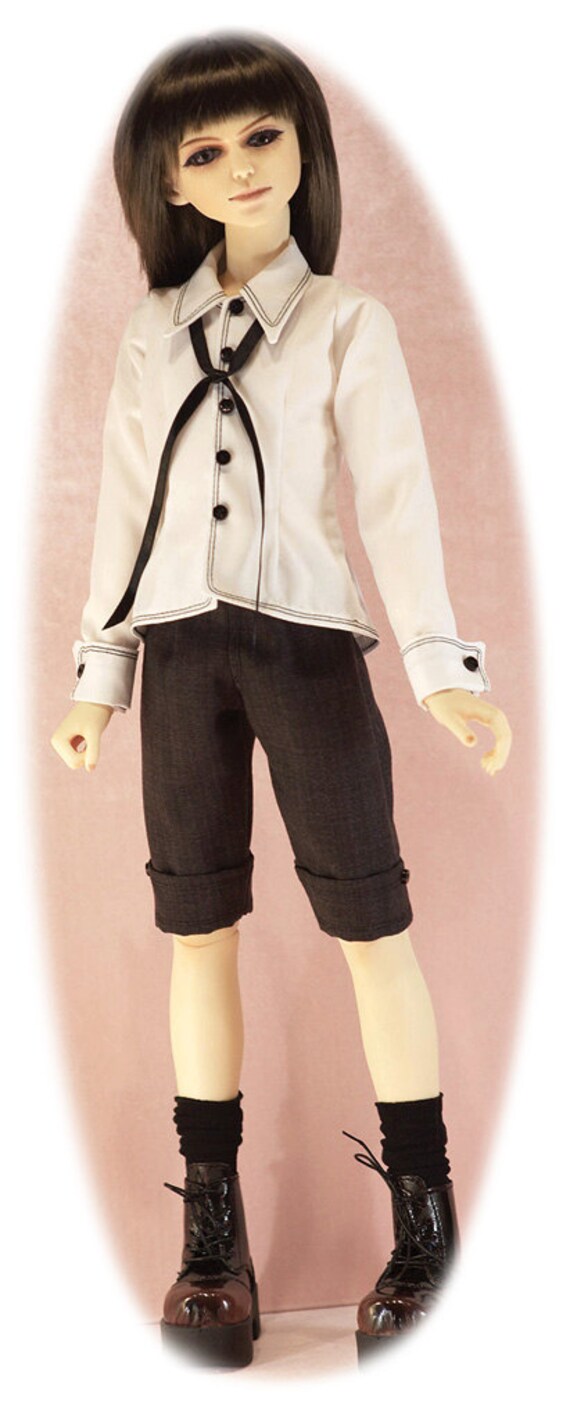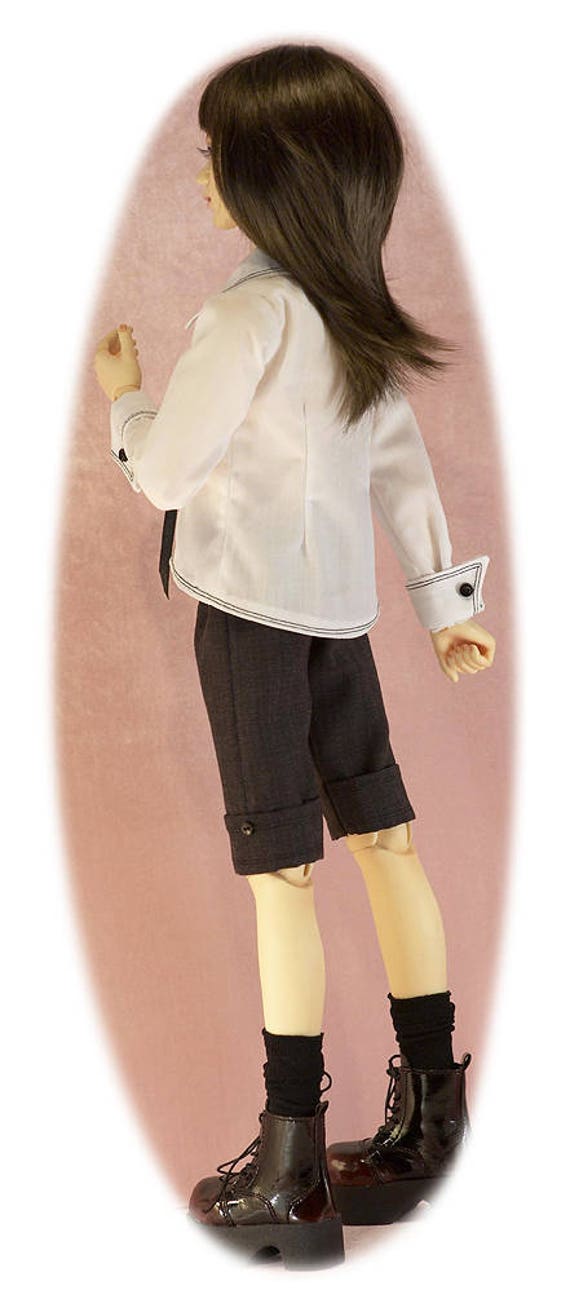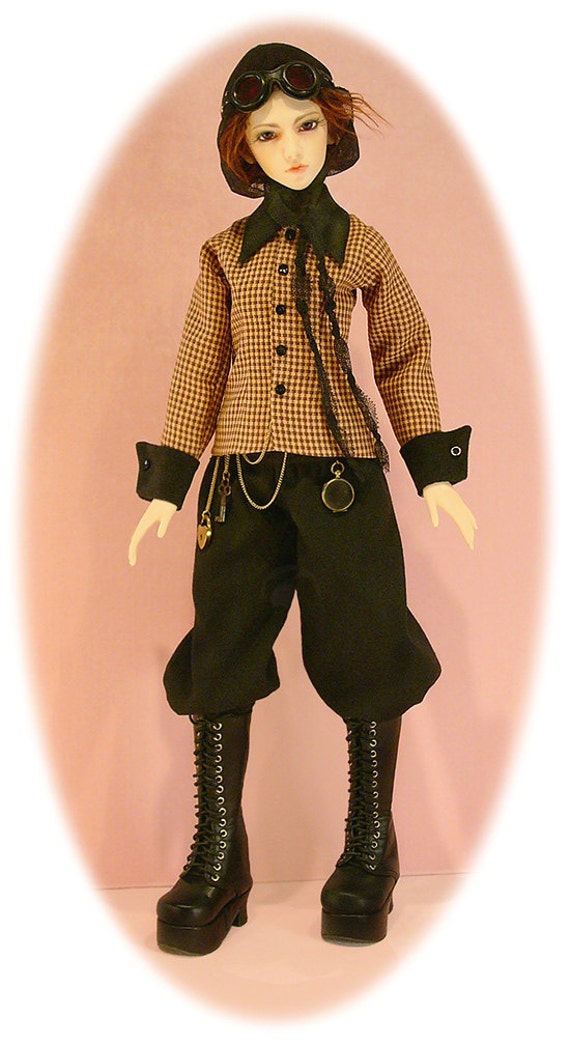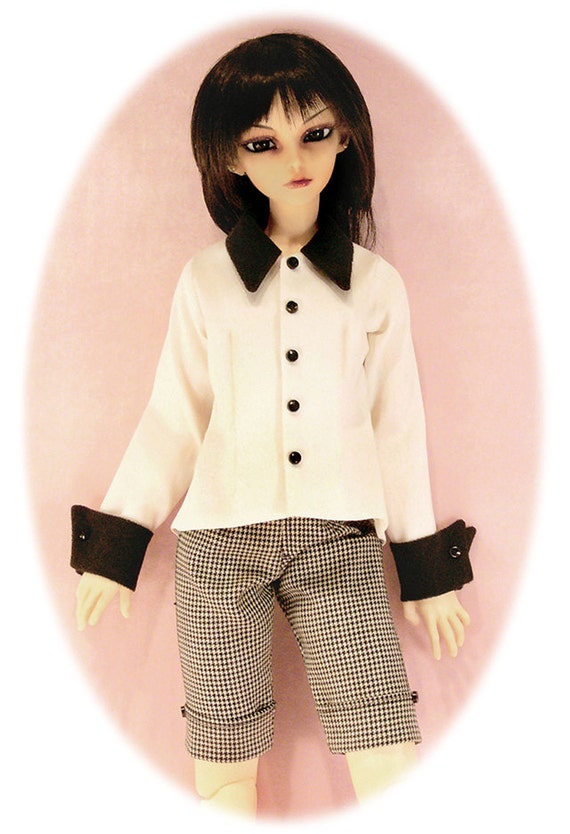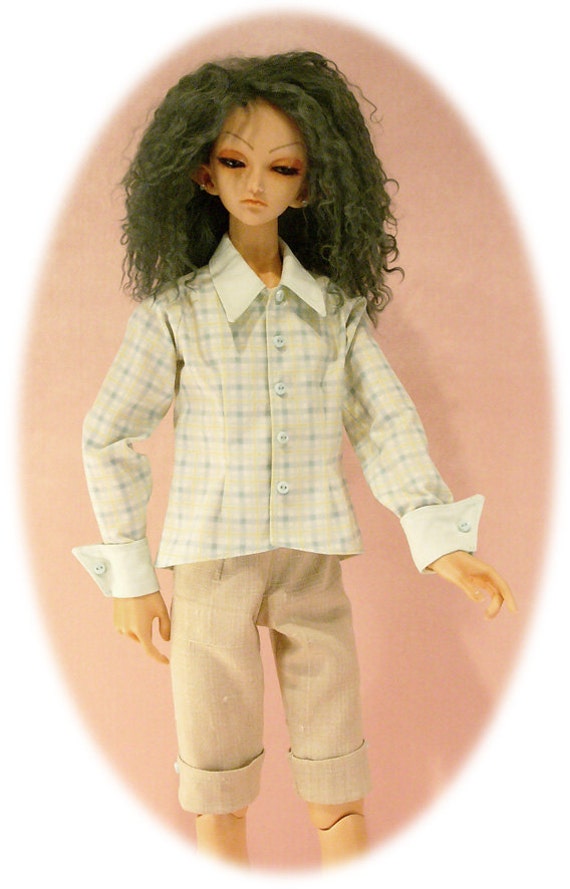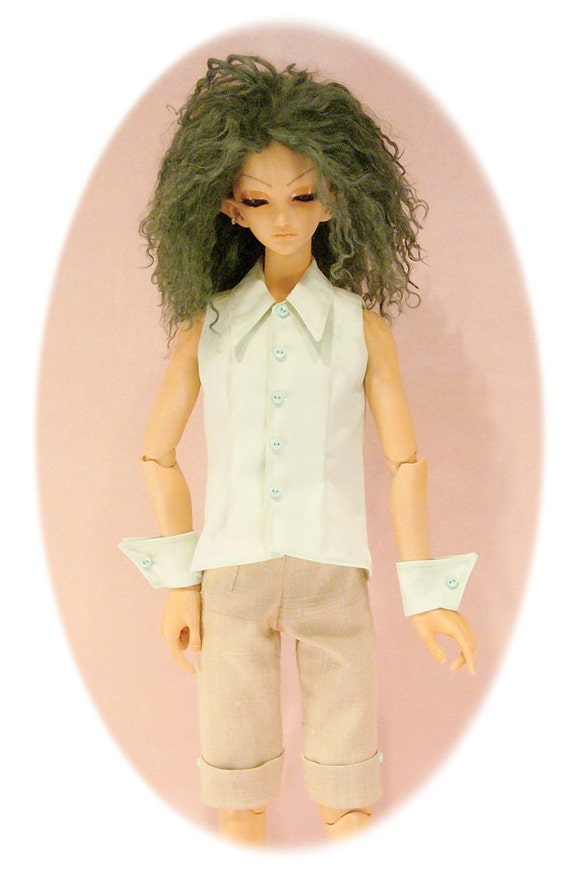 ---
Features
Made in River Falls, Wisconsin
---
Item details
Gracefaerie Designs offers you:


#31 - Shorts Story
Cuffed Shorts and a Shirt in three custom sizes for 1/3 scale Angel of Dream, LeDolls, CP Luts Delf, and similar SD boys

Knee length cuffed shorts are slim-fit and flattering. . . add a classic button down shirt: sleeveless or long sleeve with detachable cuffs and your boy will be the leading man in any story!

My Models for three custom sizes are:
AoD Jimi (now Thalion, face-up and esthetics by Spa Becky), LeDolls Kali (now Arron),
and CP Luts Delf El (now Akira, face-up by ddbeubuza

For the Metro-Gender Steampunk outfit, look at directions below measurements


Models measurements:

Angel of Dream (AoD) Jimi
Height: 62 cm
Chest: 26 cm
Waist: 22 cm
Hips: 26 cm

Cerberus Project (CP Luts Delf) El
Height: 60.5 cm
Chest: 23.5 cm
Waist: 20 cm
Hips: 25.5 cm

Ledolls Kali:
Height: 58 cm
Chest: 22 cm
Waist: 18 cm
Hips: 23 cm

Metro Gender Steampunk Set
My model is the Elfdoll/Rainy Emma facial sculpt on SB Rainy body (pre-2008 Hazy body):

SB Elfdoll
Height: 57cm
Bust: 23.5cm
Waist:18.5cm
Hips: 25.5cm

Guidelines below are given for her body sculpt, though this set can be made to fit most 1/3 scale boys and girls by customizing the Pant Yoke and selecting the appropriate #31 Shirt pattern. Three sizes are included in the #31 pattern.

Knickers:

Begin with the #33 Silk Road Romper Pants (sized for Sprite) copied at 130%. Reduce fullness by 1" (crease the paper pattern along the grain line, machine stitch ½" from the crease, then open up the pattern so it lays flat).

For the Cuffs at the pant hem edge, cut 2 rectangles ON BIAS of the grain, each 1 ½" x 5".

For the Pant Yoke, select the Skirt Yoke pattern (LB Elfdoll size) from #10 Takeshita-dori. Trim off ¼" from the lower edge of the Skirt Yoke Front and Skirt Yoke Back. Stitch the side seams using 3/8" seam allowance (so the yoke sits higher on her hips).

Follow #33 instructions, adding the Cuff bias binding at the pant hem rather than the ankle-length Pant Cuff that is included in the #33 pattern.

The Jacket;

is constructed with the CP Luts Delf size Shirt in #31 Shorts Story. Add ½" length at the hem edge of the Shirt Front and Shirt Back. Add 5/8" to ¾" length at the hem edge of the Sleeve.

Add steam punk accessories such as hats, scarves, goggles, watches, keys, gears and other metal items

~Patterns~ to grace their curves & mysteries

~Designs~ to set your imagination in flight

A perfect fit is just the beginning . . .
---
---
More from this seller
---
Digital downloads
---
Payments
We appreciate your payment as soon as possible. If you can't pay at the time of purchase, please pay within a day or two. Anything not paid for within a week and without an email to explain will be canceled.

---
Returns & exchanges
If you feel this item has been grossly misrepresented or is damaged when you receive it you may return it for credit on one of our other listings.
---
Additional policies
You can email Joni at: fisherjoni@msn.com for any questions you may have. If I can't answer them, I will forward the question along to Grace, the designer and maker of the patterns.