1 AMETHYST and 1 ROSE Quartz Crystal Double Terminated Polished Semi-Precious Gemstone Free USA Shipping!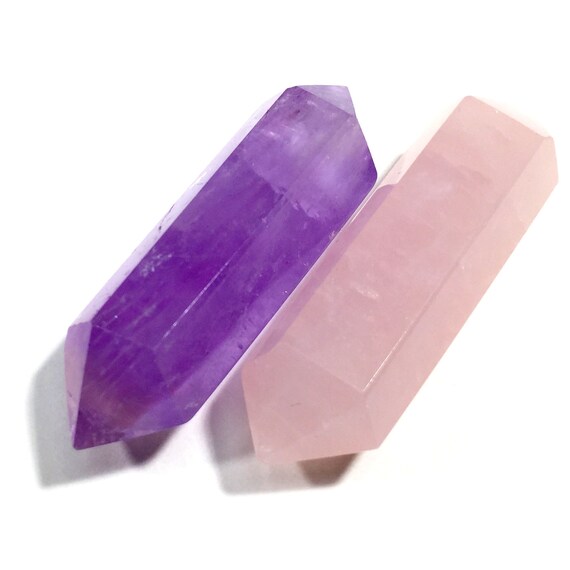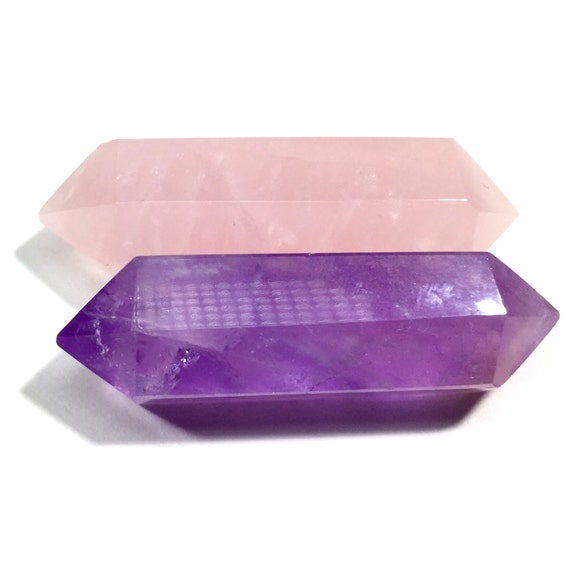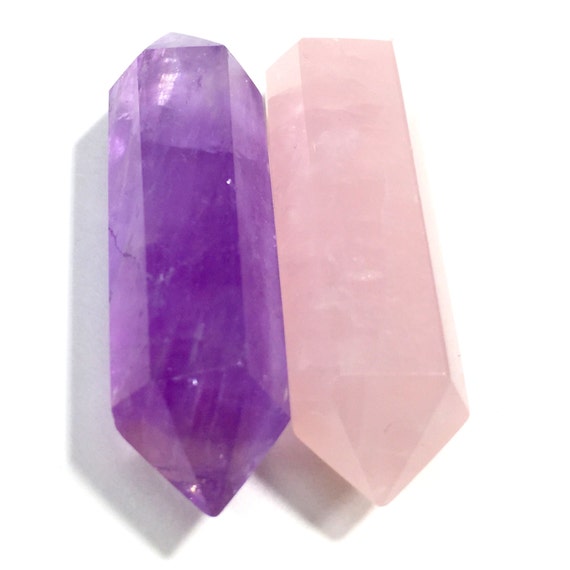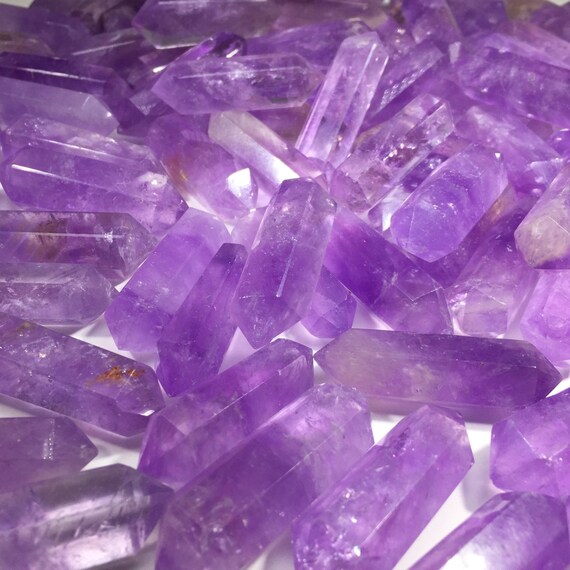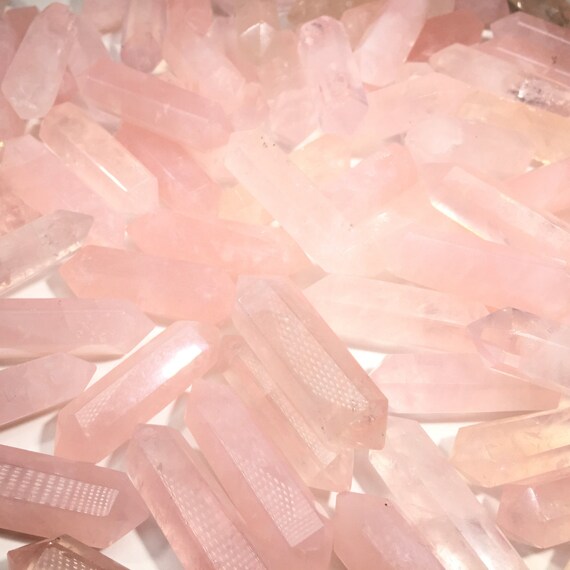 Arrives from the United States
---
Item details
You will receive 1 RANDOMLY SELECTED Uruguay Amethyst Quartz Crystal and 1 RANDOMLY SELECTED Brazilian Rose Quartz Crystal Double Point Display Specimen Semi-Precious Gemstone.

Each polished, semi-precious, Amethyst and Rose Quartz gemstone crystal has two points (double terminated) and ranges in size from 1" - 2" each (between 15 to 50+ carats each). The double terminated Amethyst and Rose Quartz points in the photos are from the same lot that yours will be randomly selected from.

These sparking stunners are jewelry grade, polished, natural double point Rose Quartz Crystals from Brazil, known for having the best, richest, darkest Pink colour. The double terminated Amethyst points are also jewelry grade, natural, polished gems from Uruguay, known for having the best, richest, darkest Purple colour. Both the Rose Quartz and Amethyst points are highly sought after by collectors, jewelers, hobbyists, crafters, gemologists, Reiki healers and others!

Asking price is very low for natural pink lemonade Rose Quartz and rich, purple coloured Amethyst double terminated semi-precious gems. This is an amazing find from our desert outpost!

ENJOY FREE SHIPPING ON USA ORDERS!


ABOUT AMETHYST:
Amethyst is a meditative and calming stone which works in the emotional, spiritual, and physical planes to provide calm, balance, patience, and peace. Amethyst is used as beneficial when dealing with legal problems and money issues, which can lead to prosperity and abundance, though it is not the best known prosperity stone.

In the psychic and spiritual realms, amethyst is an excellent all-purpose stone that can increase spirituality and enhance intuition and psychic powers of all kinds. It does this by making a clear connection between the earth plane and other planes and worlds. Amethyst is also excellent for meditation and lucid dreaming. It is used to open one's channels to telepathy, past life regression, clairaudience, clairvoyance, and communication with angels. Amethyst also protects against psychic attacks, especially during spiritual work. Amethyst is not only a psychic protection stone, but is also used to protect one from thieves, and to protects travelers.

Emotionally, amethyst is used in crystal healing to help heal personal losses and grief, bringing one gently past. Amethyst has a gently sedative energy that ca promote peacefulness, happiness, and contentment. It also is said to bring emotional stability and inner strength. This stability and strength not only helps one hold firm in one's life, but it can enhance flexibility and cooperation. To be flexible at need is a sure sign of strength.

Amethyst is very well known -- as from the ancients -- as a sobriety stone. It has been used for millenia to prevent drunkenness, and is used to assist in getting rid of addictions to alcohol, drugs, smoking, etc, and destructive compulsive behaviors of all kinds. Physically amethyst is said by spiritual healers and mystical lore to heal the withdrawal symptoms of any sort of addiction, help with headaches, insomnia, arthritis, diabetes, pain relief, circulatory system issues, endocrine system problems, chronic fatigue, fibromyalgia, immune system deficiencies, asthma, phobias, pregnancy and preventing miscarriage, menopause, PMS, and general healing.

Amethyst is associated with the third eye and crown chakras primarily, but can also open the heart chakra.


ABOUT ROSE QUARTZ:
Rose quartz is often called the "Love Stone." It's energetic hallmark is that of unconditional love that opens the heart chakra. This makes rose quartz a stone for every type of love: self-love, family, platonic, romantic, and unconditional. As a variety of quartz, rose quartz has high energy, and this strong energy can enhance love in virtually any situation.

This stone of unconditional love that opens the heart chakra to all forms of love: self-love, family love, platonic love, and romantic love. The high energy of quartz gives rose quartz the property of enhancing love in virtually any situation. Bringing love in to life and daily situations not only brings inner warmth, but it also lowers stress and soothes those around it. Rose quartz is a very happy and loving stone.

In the psychic and spiritual realms, rose quartz is often used to attract love, for love spells and charms. It is also used to ease the process of transition in dying to make the transition gentle and surrounded by the unconditional love of the Divine. Rose quartz can also be helpful for dream recall and dream work.

Rose quartz is used to raise self-esteem and a strong sense of self-worth. Its loving energies teach us to apply this love to ourselves and thereby find ourselves more worthy.

Emotionally, rose quartz is used to balance emotions and bring peace and calm. This calm emotional balance brings stress relief and easing of anxiety. All these things carry energies of forgiveness, tolerance, and compassion to the fore, enabling us to see the good in both ourselves and others.
---
---
More from this seller
---
Shipping & policies
Arrives from the United States
Estimated Shipping