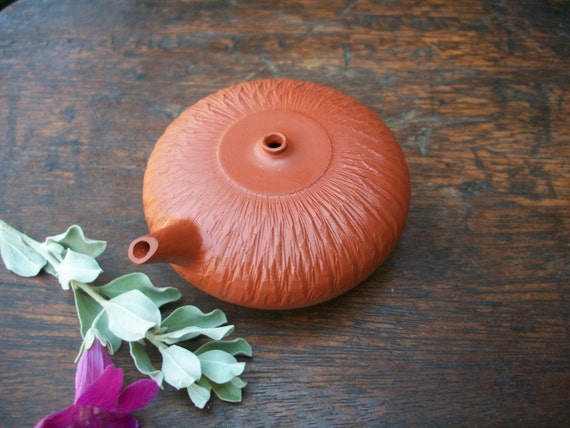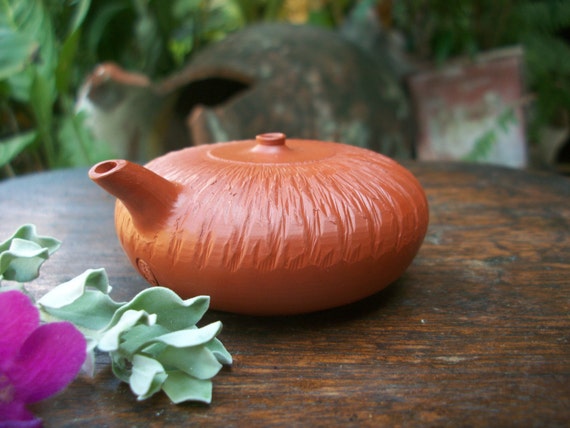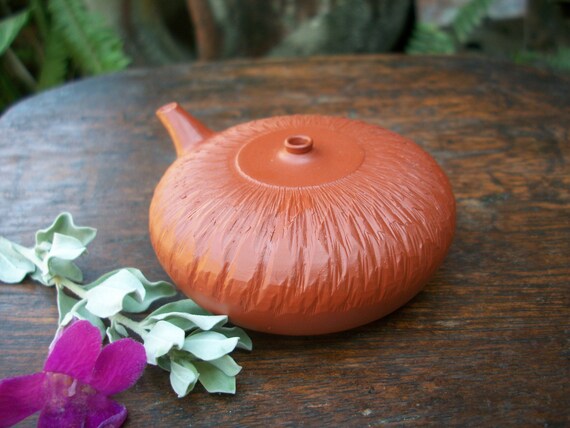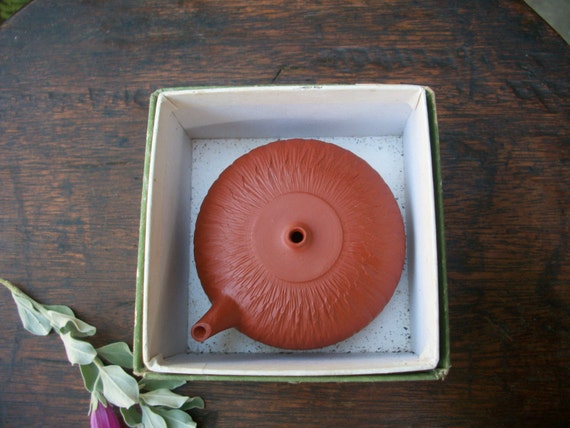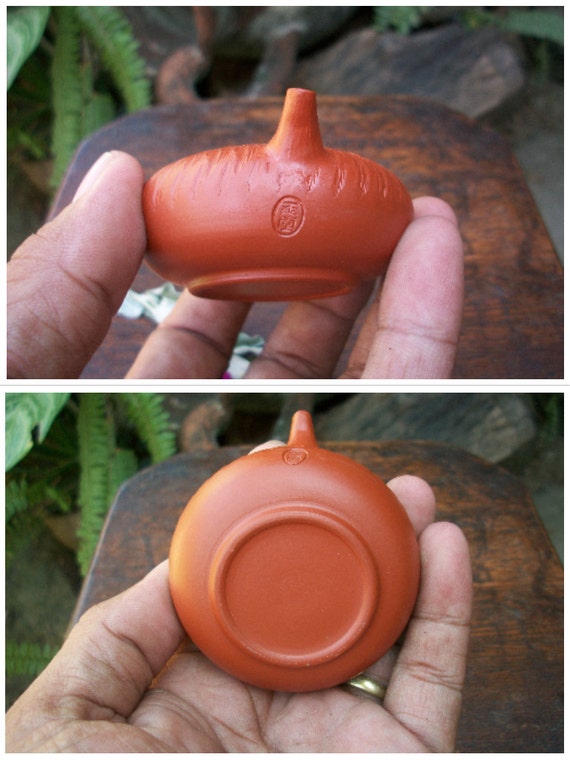 Preparation takes 1-3 business days
---
Features
---
Item details
1970s Japanese Vintage Mumyoi Yaki 水滴 Suiteki Calligraphy Water-Dropper. This old Suiteki is in mint condition and comes with it's original presentation box and paper. Box is made of Japanese washi paper but in worn out condition with dirt dust due to long keeping. Old and used item, please expect wearing.

Mumyoi is the name of the red soil containing ferrous oxide which comes out of the mine shafts in Sado's gold mines and mumyoi-yaki is the name of the pottery produced by mixing this soil with clay and baking the mixture at high temperatures till it is hard.
Known throughout Japan as a type of ceramic unique to Sado it has many admirers. Mumyoi-yaki wares are extremely hard and make a clear sound when tapped. Their luster increases with use. During the Meiji Period in the latter half of the 19th century Jozan Miura, Sekisui Ito and others created a movement oriented towards fine arts and crafts.
At present twelve pottery workshops as well as the workshop of the living national treasure "Sekisui Ito" are to be found in the Aikawa district which is widely known as the home of Mumyoi ceramics.

Mumyoi Yaki is a traditional craft of Sado Island (佐渡島) in Niigata prefecture (新潟県).
Once upon a time, Sado Island produced large quantity of gold. When we mention Sado Island, most of Japanese think of the gold mine. The Sado gold mine produced not only gold, but silver as well, and most importantly, it has natural clay with very high percentage of mineral granulew. Long time ago, the red clay collected from the gold mine was used as a medicinal concoction. It was applied to the wound to stop bleeding.

In 1819, a man named Ito Kanbei (伊藤甚平) started to use the by-product of gold mine to make Raku Ware (楽焼). In 1857, the pottery in Sado Island was further developed by Ito Tomitaro (伊藤富太郎). At that time, red clay was partly used. It was mixed with other clays to get a specific character of Raku Ware.

The red clay produced in Sado Island is called Mumyoi Yaki (無名異焼). A revolution in Mumyoi Yaki was made by the first generation of Miura Jozan (三浦常山). He studied the art of Yi Xing tea pot, and developed his own baking method using mumyoi red clay. There was only a handful of artists who specializes in Mumyoi Yaki, nevertheless, they have managed to achieve acclaim and recognition by obtaining two National Living Treasure (人间国宝) awards; the first award in the history of Mumyoi Yaki was given to Miura Koheiji ( 三浦小平二), son of the 3rd generation of Miura Jozan, while the second award was given to Ito Sekisui (伊藤赤水).

Why Is It called Mumyoi (無名異)?
In China, the natural red clay was used as a medicine to stop bleeding. In 1596, when a Chinese medical doctor (李時珍) re-organized the Chinese medicine book (本草網目), he realized that no suitable name was given to this "red clay". He had tried to think hard for its name, yet he could not get a suitable name. Finally, he named it as
Mumyoi (無名異), which means "Unknown".
During Edo era,
Japan was also importing the "Mumyoi Medicine" from China. As they found Sado red clay posses the same properties, it was also named as Mumyoi. The clay ware made from this clay was called Mumyoi Yaki (無名異焼).

------------------------------------------------------------------------------------------------

Suiteki - is a small device used in East Asian calligraphy. It's a container designed to hold a small amount of water. In order to make ink a few drops of water must be dropped onto the plain of the inkstone, by grinding an inkstick on the inkstone one can make ink. Due the grinding small particles comes off the inkstick and will mix with the water, these two components will form ink.

Water-droppers may be made of copper, jade and stone or ceramic. A water-dropper has two small holes for water and air, it is designed so that only a few drops of water can fall at one time.

Measurements: Stands 3 cm. from Base to tip of the spout. Body is 6 cm. in diameter.

Weight: 65 grams. NOTE: Small item but would be heavy because of good and safe packaging.

PLEASE STUDY THE PICTURES VERY WELL AS IT DESCRIBES THE ITEMS BETTER.

Packet would be shipped via Philpost Registered mail and estimated to arrive 2 to 4 weeks sometimes more than 4 weeks if it would encounter custom delay. I offer shipping discount on combine shipping. Please convo me.

Please visit my shop for more vintage items. thank you.
www.etsy.com/shop/PaulsJunkCloset
---
---
More from this seller
---
Shipping & policies
Preparation takes 1-3 business days
Estimated Shipping
Items purchased would be shipped From the PHILIPPINES via Philpost registered mail. Packet is estimated to arrive 2 to 4 weeks from the time it was shipped. Sometimes it would take more than 4 weeks, this is if the packet would encounter custom delay. NOTE: We don't ship more than 1 kilogram package to countries without EMS service. You would be able to track the packet using this website = www.phlpost.gov.ph =

We don't ship to Africa and Middle East. Purchases from these places would be canceled. Sorry, we can not serve everybody.
---
Payments
Payment method that we prefer is Paypal.
---
Returns & exchanges
In case you receive the item damaged, please contact us so that we would be able to resolve the problem.
---
Additional policies
Please understand that any customs and additional charges from the buyers country would be shouldered by the buyer.