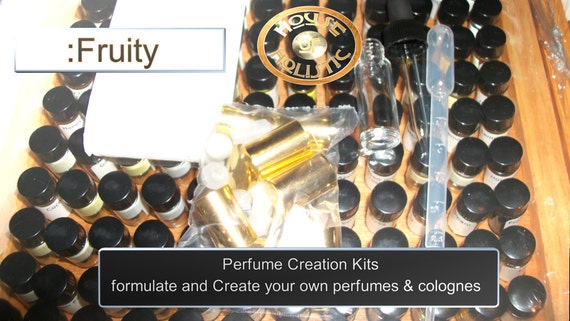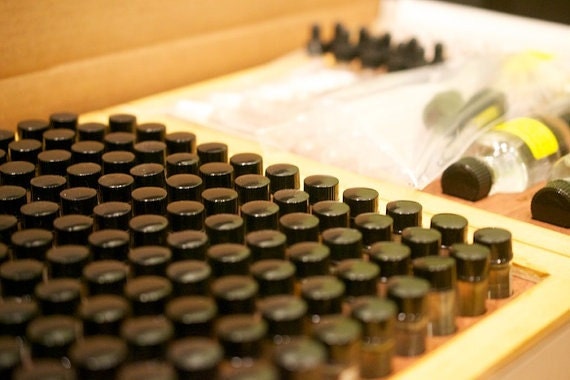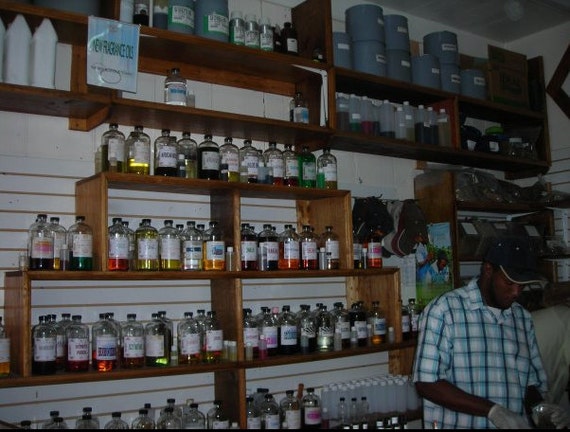 Preparation takes 1-2 business days
Arrives from the United States
---
Item details
Favorite this shop and receive 10% off with this coupon code: PERFUMECRAFT10
Kit includes:
Over 50 fragrances/.essential oils/compounds for blending
1 dram fragrance blending notes in a sturdy wooden rack - list of oils from this category
Pyramid Accord reference sheet
10 x 1 dram glass mixing vials with glass dropper tops
10 x 1 dram pocket sized glass atomizers for perfumes
10 x 1 dram roll-ons for body oils
8 oz. (2 x 4 oz bottles) DPG for body oils
8 oz. (2 x 4 oz bottles) Perfumers Alcohol 40B for perfumes
100 x scent strips to test your creations
20 x disposable pipette droppers
2 x glass eye droppers for DPG & Alcohol bases
Instructions

Fragrance list:

Top/Head
Aldehyde-Sparkling, Apple (Mcintosh), Bergamot, Black Currant, Brown Sugar, Grapefruit, Green Apple, Honeydew, Lemon, Lime, Mandarin, Orange (Fresh Squeezed), Orange Zest, Pineapple, Sparkling Note, Violet, Yuzu

Mid/Heart
Anise, Berris (Mixed), Brown Sugar, Carnation, Cherry, Chypre, Cinnamon, Clove, Coconut, Fig, Freesia, Honeydew, Jasmine, Lily Of The Valley, Litchi (Lychee), Mahogany, Mango, Narcissus, Orange Blossom, Orchid, Orris, Papaya, Peach, Peony, Pineapple, Plum, Raspberry, Rose, Rosewood, Strawberries (Fresh Picked), Tea, Violet, Water, Watermelon, Ylang Ylang

Base
Amber, Benzoin, Cedarwood, Cinnamon, Musk, Oakmoss, Patchouli (Indonesian), Sandalwood Classic, Vanilla, Vetiver

Each of the listed categories in these perfume formulating kits (1.Aquatic 2.Aromatic 3.Chypre 4.Citrus 5 Cologne 6 Complete Master 7 Earthy 8 Floral bouquet 9 Fougere,Greens,Herbs 10.Fruity 11. Gourmand,Sweets 12 Green 13.Leather 14 Musk 15 Oriental 16 Spice 17.White Flowers 18 Wood) include fragrances & essential oils that are dominant in it's category. For example; Citrus: would include fragrances & essential oils such as Lemon grass, verbena, grape fruit, bergamot as top notes that allows your fragrance to lean towards a more citrus feeling. Another example would be Floral: Baby powder, freesia, carnation, geranium, violet etc are just some notes this category would include to help direct your formula towards a perfume/cologne with this type of feel. Each kit contains fragrances that can be blended to create scents with notes in ALL categories.
Some examples of Fruity fragrances would be: Lolipop Bling, Prada Candy, Juicy Couture

Basic terms you should understand:

1.Notes- are descriptors of scents that can be sensed upon the application of a perfume. Notes are separated into three classes; top/head notes, middle/heart notes, and base notes; which denote groups of scents which can be sensed with respect to the time after the application of a perfume.
2.Top/head notes- Perceived immediately upon application of a perfume
3.Middle/heart notes- The scent of a perfume that emerges just prior to when the top notes dissipates
4.Base notes- The scent of a perfume that appears close to the departure of the middle notes.
5.Perfume-  is a mixture of fragrant essential oils or aroma compounds, fixatives and solvents 
Note: These kits can be used to craft scents for cosmetics, soaps, lotions/creams, incense, cologne, candles + more

For further questions feel free to contact me.
---
---
More from this seller
---
Shipping & policies
Preparation takes 1-2 business days
Arrives from the United States
Estimated Shipping