THREE ROLLS of Hug Snug Seam Binding - 100 yards - Made in the USA - Schiff
(19)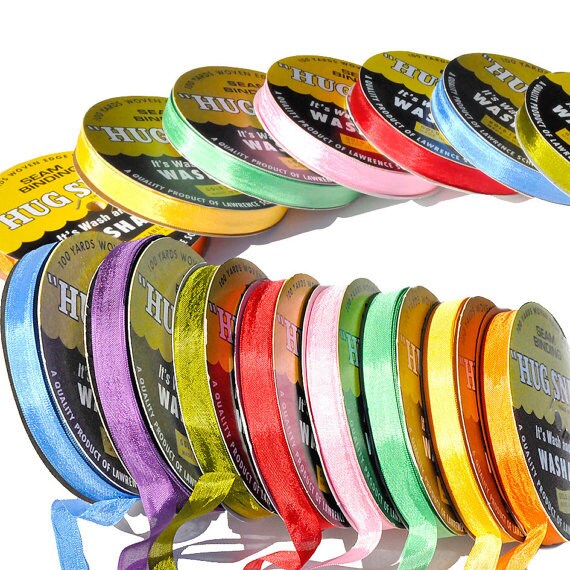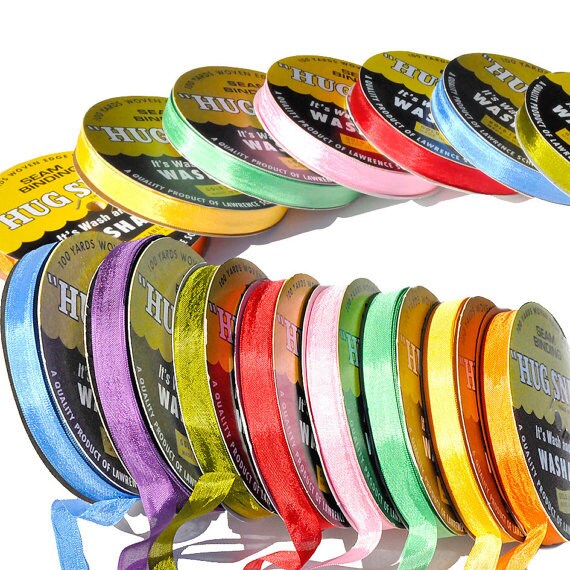 Arrives from the United States
---
Item details
Hug Snug Seam Binding 100-yds Roll ½" Wide Hug Snug ~ 100 percentage Woven-edge Rayon ~ Wash 'n Wear ~ made in USA

3 Rolls of Hug Snug Seam Binding 100-yds Roll ½" Wide Hug Snug ~ 100 percentage Woven-edge Rayon ~ Wash 'n Wear ~ made in USA


Your choice of any combination of Hug Snug Seam Binding . Mix and Match them however you would like. Please let us know your selection in message to seller or a separate convo or email.

(Color shades may vary on your monitor)
Buy as many as you need


Your choice of any combination of Hug Snug Seam Binding . Mix and Match them however you would like. Please let us know your selection in message to seller or a separate convo or email.

$9.50 each roll

******Please visit our Store*****
ALL COLORS AVAILABLE

Color No. Color Name
049 AMBER BROWN
335 AMBROSIA
410 AMERICAN BEAUTY
511 ANTIQUE GOLD
702 AQUARELLE
050 ARGENTINA
102 ASCOT GREY
210 ASH PINK
1021 AUTUMN BROWN
203 BABY PINK
402 BANGKOK RED
045 BARK TAN
438 BASQUE RED
612 BAY LEAF
BLACK BLACK
912 BLUE IRIS
812 BLUE JAY
733 BLUE MAGIC
755 BLUE PEACOCK
425 BORDEAUX WINE
436 BRIGHT RED
042 BRIQUE
037 BURNT RUST
020 CAMELS HAIR
013 CAMEO BEIGE
643 CANTON GREEN
637 CARAFE GREEN
227 CAVIAR
000 CHALK WHITE
009 CHAMPAGNE
123 CHARCOAL GREY
059 CHOCOLATE BROWN
1084 CLARET BROWN
1654 CLEAR GREEN
109 CLIPPER GREY
024 COCONUT
056 COLONIAL BROWN
1080 COMO BEIGE
025 COVERT
004 CREAM
015 CROQUETTE BEIGE
014 CRUISE BEIGE
819 DANISH BLUE
1866 DANUBE BLUE
125 DARK SLATE GREY
115 DEEP GREY
1873 DEEPEST NAVY
1869 DEEPWATER BLUE
811 DELFT BLUE
212 DIADEM
2696 DK. CARAFE GREEN
1675 DK. OLIVE GREEN
822 DUSK BLUE
644 DUSTY OLIVE
001 EGGSHELL
983 ELDERBERRY
771 ELEGANT PEACOCK
1015 FAWN
487 FESTIVE FUCHSIA
086 FIG BEIGE
943 FIREWEED
201 FLESH
844 FLOWER BLUE
513 FORSYTHIA
1734 FORUM TEAL
408 FUCHSIA
722 GABARDINE GREEN
662 GEM GREEN
729 GLAMOUR PEACOCK
824 GLORY BLUE
569 GOLDENROD
1431 GRAPE WINE
625 GRASS GREEN
206 GRECIAN PINK
2636 GREEN GLINT
171 GREY MIST
113 GUN GREY
043 HAVANA BROWN
723 HEATHER
623 HOLLYWOOD GREEN
602 ICED LIME
627 JADE GREEN
039 JAPONICA
635 JUNGLE GREEN
093 KAP BROWN
621 KELLY GREEN
838 LACE BLUE
988 LADY LAVENDER
1032 LAURA B.
908 LAVENDER
111 LEADVILLE
044 LEATHER TAN
913 LIDO VIOLET
905 LILAC
807 LIMOGES BLUE
437 LIPSTICK RED
053 LOG BROWN
035 LONDON TAN
866 LOSANG BLUE
002 LT. BEIGE
094 LT. MINK
727 LT. PEACOCK
208 LYRIC ROSE
054 MAHOGANY
327 MANGO ORANGE
008 MASTIC BEIGE
900 MAUVE MIST
930 MAUVE ROSE
422 MEDOC
401 MELON
617 METAL GREEN
836 MIDNIGHT NAVY
2097 MIMI BROWN
503 MIMOSA
604 MINT LEAF
1619 MODE GREEN
618 MOSS GREEN
088 MOTTLE BROWN
022 MUSHROOM
821 MUTED BLUE
835 NAVY
104 NICKL GREY
1737 NOBLE PEACOCK
1002 NU - RUST
012 OATMEAL
047 OLOROSO
303 ORANGE
948 ORCHID
268 ORCHID PINK
916 PANSY PURPLE
787 PARADISE AQUA
718 PATIO PEACOCK
301 PEACH
1707 PEACOCK ALLEY
1702 PEARL AQUA
926 PERIWINKLE
994 PERSIAN LILAC
218 PINK ASTER
400 PINK SALMON
247 PINK TULIP
230 POSIE
747 POWDER AQUA
501 PRIMROSE
917 PURPLENITE
808 QUEEN BLUE
110 RAIL GREY
421 RANCHO RED
051 REWOOD BROWN
914 RIVIERA LILAC
2027 ROSE BEIGE
209 ROSE PETAL
826 ROYAL BLUE
732 ROYAL PEACOCK
424 RUBYTONE
019 SANDSTONE BEIGE
708 SCARAB
609 SEA MOSS
742 SEA PEACOCK
097 SERBIN BROWN
217 SIAM PINK
101 SILVER
806 SISTINE BLUE
833 SKIPPER BLUE
800 SKY BLUE
907 SKY MAUVE
122 SMOKE GREY
028 SOAPSTONE
728 SPREY TEAL
620 SPRING GREEN
406 STRAWBERRY GLAZE
172 STUCCO GREY
850 SULPHUR BLUE
244 SUMMER ROSE
234 SUN ROSE
065 SUNTAN
910 SWEET GRAPE
066 TAFFEE BEIGE
300 TANGERINE
027 TAUPE TAN
720 TEAL BLUE
734 TEXAS TEAL
843 TILE BLUE
961 TITAN LILAC
1007 TOBACCO BROWN
517 TROPHY GOLD
906 TROPIC LILAC
1424 TROPIC WINE
724 TUNIS BLUE
435 TURKEY RED
705 TURQUOISE
871 UNION BLUE
416 VENETIAN RED
902 VIOLET
272 VIVID PINK
055 WALNUT
610 WAVE CREST
WHITE WHITE
823 WINDSOR BLUE
616 WINTER AQUA
005 WINTER WHITE
527 YELLOW
714 ZIRCON


Also if you would like a different COLOR or quantity please contact us. We would be glad to set up a listing for you. Please let us know in message to seller or a separate convo or email.


Michelle
michelle [!at] zipperstop.com

Thank you,
PLEASE VISIT OUR TWO STORES

RIBBONSBYZIPPERSTOP & Zipperstop

ZIPPERSTOP has been helping you zip up since 1941! Over the past 70 years, we have grown from a Supplier of YKK Zippers to a World-Class Supplier of Ribbons, Swarovski Crystals, Sewing Supplies, Thread, Boning, Pins, Packing Tape, & much more. WE SHIP WORLDWIDE with NO MINIMUM!!

For our other shop please visit - http://www.zipperstop.etsy.com
---
---
Great customer service - they were in contact with me right from the placement of my order. Product exactly as described and shipped quickly.
Apr 6, 2018 by Cindyanne
Shipped within a reasonable timeframe and beautiful product - thanks so much
Feb 1, 2018 by Violet
Always a great experience! Thanks!
Dec 12, 2017 by Cathy Couri
Perfect as usual, very fast delivery
Nov 2, 2017 by Mary Dixon
---
More from this seller
---
Shipping & policies
Arrives from the United States
Estimated Shipping