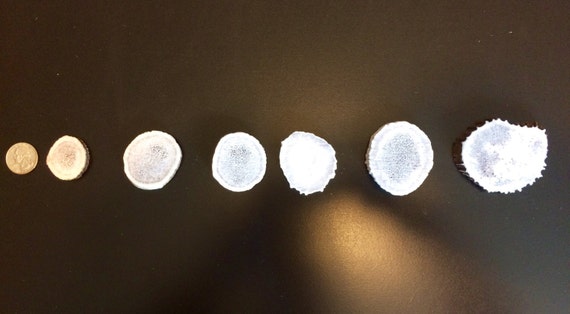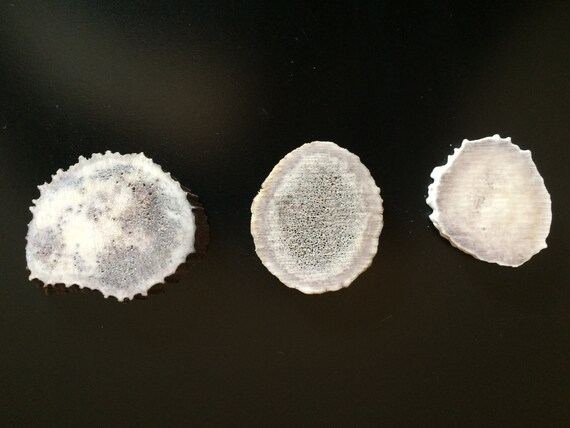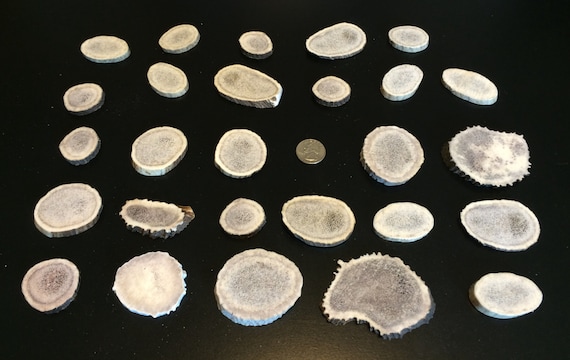 Preparation takes 1-3 business days
Arrives from the United States
---
Features
---
Item details
Deer and elk antler slices can be used in a variety of crafts and make great buttons. Our prices are including shipping which makes them one of the best deals around! These slices are solid pieces of antler and are approximately 1/4" thick. Their thicknesses will range slightly as they are cut by hand. Most of the pieces are round, but some are also oval in shape.
All of these slices are cut from solid antler, although the exteriors will range from brown to white or grey. They may have slight cracks, also.
Packages will include the following approximate ranges of slices:
Single packs: 1 slice- this applies to all sizes
Starter Packs:
Small: 10
Medium: 8
Large: 6
XL: 4
Multipacks:
Small: 20
Medium: 16
Large: 12
XL: 8
Mega packs- best deal possible!! About 15 ounces (to be able to ship under 1 lb). These quantities are estimates because there are a lot in these packs!
Small: 60+
Medium: 40+
Large: 30+
XL: 20+





Our mission at Tines N Things is to provide quality antlers that are both natural and hand crafted. We strive to meet the needs of people looking to create beautiful antler crafts or who have dogs needing a natural and health boosting treat. We offer a variety of antler dog chews in many variations of sizes and cuts. We also have different cuts of antlers that can be crafted into beautiful jewelry, drawer and knife handles, or for any types of arts and craft ideas you may have. If you don't see what you need listed please contact us we would love to be able to accommodate you.

The antlers we provide for your dog are typically found on the hillsides of our country's western states. We do not treat our antlers with any products. That means you can rest assured you are giving your pet a safe, healthy, 100% organic treat. Not only will antlers help clean teeth and support proper gum health, but they offer many essential vitamins and minerals such as calcium, iron, phosphorus, potassium, and zinc. As an added bonus they can provide hours of enjoyment and relief from boredom.

Not all dogs have the same chewing needs, therefore it is very important that you choose the right type of antler and cut for your dog. Here are some things to keep in mind, but please do not hesitate to contact us directly for specific recommendations for your dog.

-Deer antlers are less porous and more dense than elk antlers. Deer are not recommended for dogs who cannot tolerate chewing on extremely hard surfaces.

-The deer species is smaller than elk, therefore their antlers are smaller. We appropriately price our deer antlers to reflect this size difference. Hence a large whole deer is less expensive than a large whole elk antler because it is a smaller cut.

Split antlers will not last as long as whole antlers. This is because the marrow is completely exposed on split antlers. Whereas with a whole antler the dog will have to work through the entire outside shell to get to the tasty marrow on the inside. Whole antlers are a better choice if you are looking for a long lasting chew, however it is important to keep in mind that some dogs will only chew split antlers.

Please let us know if you prefer soft, medium, or harder density antlers when purchasing in the elk categories (deer only come in hard density). Softer antler marrow will be more porous and less dense than a harder antler. Softer marrow is ideal for dogs who are gentle chewers, have sensitive teeth and gums, or are very young or old in age, they will not hold up to aggressive chewing dogs and are not as durable as a harder marrow antler. If you do not attach a message or directly contact us with your preference an antler will randomly be selected for you.

Contrary to popular belief antlers are not indestructible, they are a consumable item. Since antlers are eaten it is important to choose the right size and cut to not only ensure it will last but to ensure your pet has a safe chewing experience. We are here to help you purchase the right antler for your dog, however do not replace our opinions with that of the expert; your vet! Please consult with your veterinarian before choosing any new treats to give to your pet.

Monitor your pet appropriately while chewing antlers. Pieces that have broken off or an antler that has been chewed down too small may cause a choking hazard. Remove and discard the antler once it reaches an unsafe size. We hope your dog enjoys their antlers but your pet's chewing habits should be monitored by you to ensure the safest experience possible.

If you are making an offer on one our "best offer" listings please include any terms or conditions you have at the time of your offer. Any special requests after an offer has been accepted may be denied. Thank you.

We accept returns on any unused, unchewed antlers up to 30 days after a purchase. After the buyer has paid for the return and the antler is returned in the condition it was sold in, we will refund the buyer's money.

Please contact us with any questions or concerns, we look forward to hearing from you!
---
---
Thank you very much for assisting me on my journey of discovering beautiful textures for my art! These are exactly what I was hoping they would be - love the texture!!!
Jun 17, 2017 by Elena Isayenko
May 16, 2017 by Jeanette Broussard
Aug 13, 2016 by chrisdan31
---
Shipping & policies
Preparation takes 1-3 business days
Arrives from the United States
Estimated Shipping
Items are handcrafted in our workshop, usually once the order is placed. We want to get you your product quickly, but even more so we want it to be beautiful. Beauty takes time, but we typically ship our items in 2-3 business days or less.
---
Returns & exchanges
We want you to be so pleased that you run and tell all your friends about us! If you are unhappy for any reason and we cannot come to an agreement we will refund the purchase price when you return the item un-damaged. 14 days from receipt and buyer pays return shipping.